On National Security, Trump and Clinton Found Plenty To Agree On
And it's all terrifying.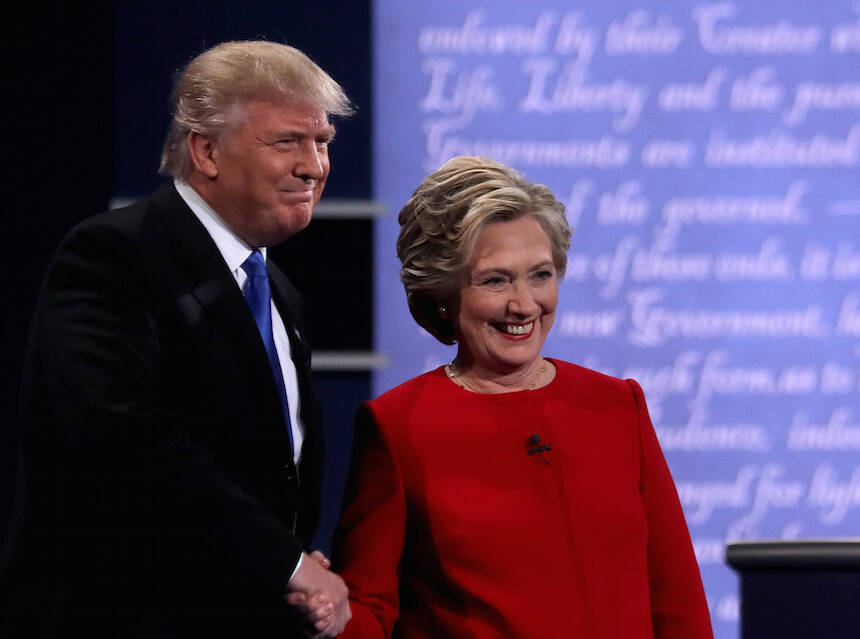 Much has been made about the dif­fer­encees between the two can­di­dates dur­ing last night's debate: Don­ald Trump's wild-eyed rav­ing vs. Hillary Clinton's calm poise; his waf­fling vs. her firm com­mand of facts and figures.
No-fly lists are notoriously unfair and riddled with errors, listing people who happen to share names with suspected terrorists, including a U.S. senator, reporters who have travelled to particular locations and, in one case, a baby.
When it came to the issue of nation­al secu­ri­ty, how­ev­er, the can­di­dates often seemed to be read­ing from the same play­book. Their con­ver­gence sig­nals a bipar­ti­san con­sen­sus on cer­tain nation­al secu­ri­ty mea­sures that is like­ly to car­ry on well past the elec­tion and into the president's first term.
Cyber war
Both Trump and Clin­ton voiced the belief that the Unit­ed States needs to be best in the world at cyber war­fare. Clin­ton vowed to ​"make it very clear…the Unit­ed States has much greater capac­i­ty" to wage such attacks itself. Trump agreed. ​"As far as the cyber," he said, ​"we should be bet­ter than any­body else."
Such rhetoric sug­gests both can­di­dates are hap­py to com­mit the Unit­ed States to esca­lat­ing a glob­al cyber arms race that would like­ly have dan­ger­ous con­se­quences. Cyber­at­tacks can the­o­ret­i­cal­ly under­mine a nation's finan­cial sys­tem, shut down its pow­er grid and even infil­trate its military's com­put­er systems.
By Obama's admis­sion, Amer­i­ca has ​"more capac­i­ty than any­body, both offen­sive­ly and defen­sive­ly." The Oba­ma admin­is­tra­tion was respon­si­ble for the Stuxnet com­put­er virus, which crip­pled Iran's nuclear cen­trifuges in 2010 and has been called ​"the most men­ac­ing mal­ware in his­to­ry" and ​"the first pub­licly dis­closed cyber­weapon." The virus has been com­pared to a dig­i­tal ver­sion of drop­ping the atom bomb on Hiroshi­ma and is blamed for trig­ger­ing the exist­ing glob­al cyber arms build-up. The Unit­ed States was plan­ning a sim­i­lar attack on North Korea that year and had also planned a much larg­er and more exten­sive cyber­at­tack on Iran in case nuclear talks failed, with the aim of tar­get­ing the country's pow­er grid, air defens­es and com­mu­ni­ca­tion systems.
The risk is that by fur­ther ampli­fy­ing its cyber capa­bil­i­ties, the Unit­ed States will serve to esca­late an already fran­tic glob­al cyber arms race. At least 29 gov­ern­ments have been col­lect­ing mali­cious code and hack­ing soft­ware in response to fears of being left behind, while a mul­ti-bil­lion dol­lar ​"cyber-indus­tri­al com­plex" has sprung up in recent years. Just as with nuclear weapons decades ago, such an arms race threat­ens to desta­bi­lize a del­i­cate glob­al equilibrium.
Recruit­ing tech com­pa­nies as glob­al police
Next, the can­di­dates sug­gest­ed that the Unit­ed States' sta­tus as a tech hub could some­how be used against ter­ror groups that use the internet.
"We came up with the Inter­net, and I think Sec­re­tary Clin­ton and myself would agree very much…they're beat­ing us at our own game," said Trump.
"I think we need to do much more with our tech com­pa­nies to pre­vent ISIS and their oper­a­tives from being able to use the Inter­net to rad­i­cal­ize, even direct peo­ple in our coun­try and Europe and else­where," said Clinton.
It was a famil­iar refrain for Clin­ton, who in June (fol­low­ing the Orlan­do shoot­ing) sug­gest­ed tech com­pa­nies should help with ​"inter­cept­ing ISIS' com­mu­ni­ca­tions, track­ing and ana­lyz­ing social media posts."
The idea of weaponiz­ing tech com­pa­nies and using them as polit­i­cal oper­a­tives at the ser­vice of the gov­ern­ment has the poten­tial to set a dan­ger­ous prece­dent: Today, it's ter­ror­ists; tomor­row, it will be anoth­er ide­ol­o­gy viewed as sus­pect or dangerous.
In 2013, the rev­e­la­tion that U.S. telecom­mu­ni­ca­tions com­pa­nies had been giv­ing the NSA secret back­door access to their data was a major scan­dal. Clinton's pro­pos­al would be even more inva­sive, requir­ing Sil­i­con Val­ley employ­ees to mon­i­tor people's com­mu­ni­ca­tions online and deter­mine whether or not they are secu­ri­ty risks.
It's also dif­fi­cult to see how the plan would be work­able in prac­tice, as it would require tech work­ers to comb the Web for every sus­pi­cious-seem­ing com­mu­ni­ca­tion. Face­book alone stores around 600 ter­abytes of data per day. The NSA itself is inun­dat­ed with more data than its employ­ees can han­dle, iron­i­cal­ly mak­ing it less effec­tive at dis­cov­er­ing actu­al threats. Why would tech com­pa­nies do any better?
"

No fly, no buy"

Each can­di­date also endorsed the much-maligned so-called ​"no fly, no buy" pro­pos­al cham­pi­oned by Democ­rats after the Orlan­do shoot­ing: the idea that any­body on a ter­ror­ist watch­list should be auto­mat­i­cal­ly barred from pur­chas­ing a gun.

"If you're too dan­ger­ous to fly, you are too dan­ger­ous to buy a gun," said Clin­ton. ​"I think we have to look very strong­ly at no-fly lists and watch­lists," said Trump.

As many point­ed out the first time the mea­sure was pro­posed, there are sev­er­al prob­lems with this. No-fly lists are noto­ri­ous­ly unfair and rid­dled with errors, list­ing peo­ple who hap­pen to share names with sus­pect­ed ter­ror­ists, includ­ing a U.S. sen­a­tor, reporters who have trav­elled to par­tic­u­lar loca­tions and, in one case, a baby. And once your name is added to a list, remov­ing it proves vir­tu­al­ly impos­si­ble.

More­over, the mea­sure would have done noth­ing to pre­vent any of the recent mass shoot­ings car­ried out by ter­ror­ists in the Unit­ed States, as none of those indi­vid­u­als were on watch­lists when they bought their guns. The ban would sim­ply entrench and legit­imize a gross­ly unjust, not to men­tion con­sti­tu­tion­al­ly dubi­ous, system.
Coun­ter­ing ter­ror with terror
Nei­ther Clin­ton nor Trump laid out a counter-ter­ror­ism strat­e­gy beyond sim­ply bomb­ing ISIS until it ceas­es to be.
Clin­ton rec­om­mend­ed the Unit­ed States ​"inten­si­fy our air strikes against ISIS and even­tu­al­ly sup­port our Arab and Kur­dish part­ners" against the group in Syr­ia, while Trump assert­ed that ​"we have to get NATO to go into the Mid­dle East with us, in addi­tion to sur­round­ing nations, and we have to knock the hell out of ISIS."
Such poli­cies do lit­tle to address the under­ly­ing roots of the sup­port for ISIS and ter­ror­ism in gen­er­al. A cam­paign of end­less bomb­ing can do lit­tle against an end­less sup­ply of recruits.
Addi­tion­al­ly, the sit­u­a­tion with our ​"part­ners" is far from as sim­ple as the can­di­dates sug­gest. While the Kurds have been the most effec­tive fight­ing force against ISIS, Turkey sees the Kur­dish expan­sion in Syr­ia as a threat to its own secu­ri­ty and has waged war on the them. To avoid alien­at­ing Turkey, a key ally in the region, the U.S. has in fact lent air and ground sup­port to the Turk­ish cam­paign against the ​"Kur­dish part­ners" that Clin­ton pledges to support.
Clin­ton also spoke about a strat­e­gy she first out­lined last week: defeat­ing ISIS by tak­ing out the group's lead­er­ship, par­tic­u­lar­ly Abu Bakr al-Bagh­da­di, its top leader. To this end, she cit­ed her suc­cess­ful efforts in elim­i­nat­ing the lead­er­ship of Al Qae­da and Osama bin Laden while she was sec­re­tary of state.
Except this strat­e­gy was only a suc­cess in the most nar­row sense. While Democ­rats cel­e­brat­ed the killing of Bin Laden and the ​"dec­i­ma­tion" of Al Qae­da in 2012, ISIS — a mean­er, more extreme suc­ces­sor — was mov­ing to fill the vac­u­um left by the weak­en­ing of the group. If ISIS were tru­ly to dis­ap­pear by this time next year, the con­di­tions and griev­ances that ani­mate its fol­low­ers would sim­ply push them into the arms of anoth­er group.
Trump's eager­ness to resume tor­tur­ing pris­on­ers and com­mit war crimes has often been cit­ed as proof that a Trump pres­i­den­cy would be unique­ly dan­ger­ous. Yet yesterday's debate showed that when it comes to sev­er­al cru­cial ques­tions regard­ing nation­al secu­ri­ty, there is lit­tle day­light between the two can­di­dates. If the debate is any­thing to go by, who­ev­er wins come Novem­ber, the Unit­ed States is like­ly to con­tin­ue march­ing inex­orably down the path it began back in Sep­tem­ber 2001.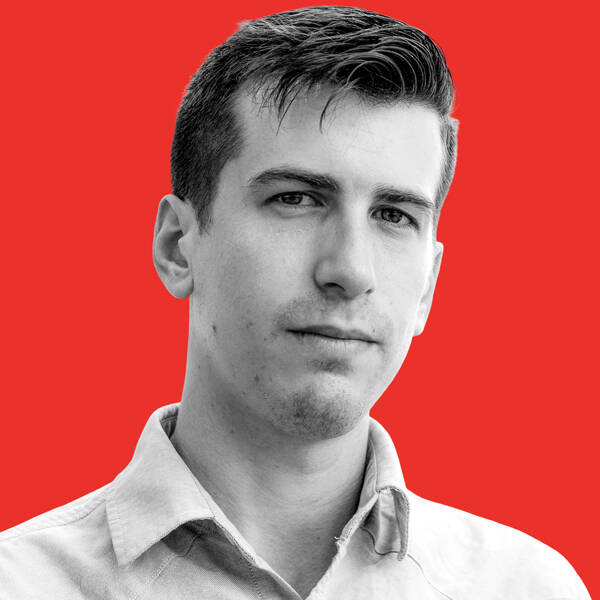 Branko Marcetic
is a staff writer at Jacobin mag­a­zine and a
2019
 – 
2020
Leonard C. Good­man Insti­tute for Inves­tiga­tive Report­ing fel­low. He is work­ing on a forth­com­ing book about Joe Biden.