Beta Testing Fascism: How Online Culture Wars Created the Alt-Right
Angela Nagle's "Kill All Normies" charts the ideology's emergence from the internet's darkest corners.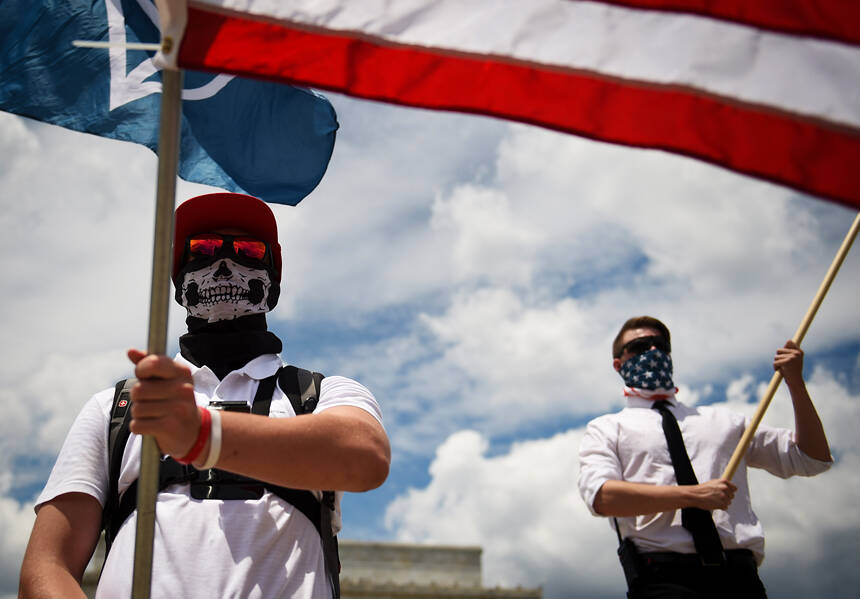 Left­ists who write think­pieces or satires about the alt-right tend to pro­duce more sen­sa­tion­al­ism than sub­stance. Too often, sat­is­fy­ing but unhelp­ful insults like ​"ani­mé Nazi dorks" and ​"neck­beard fedo­ras" stand in for analysis.
In the new culture wars, the alt-right is able to claim the mantle of free speech and countercultural transgression that leftists once proudly boasted to represent.
Rarely do we try to under­stand why some­one who thinks of them­self as a good per­son would want to join what amounts to the online youth wing of a glob­al neo­fas­cist move­ment. Yet many have — espe­cial­ly, yes, young white men — and the reac­tionary wave con­tin­ues to spread.
By con­trast, in Kill All Normies: Online Cul­ture Wars From 4chan and Tum­blr to Trump and the Alt-Right, the Irish jour­nal­ist Angela Nagle has made efforts not just to mock and con­demn but to under­stand what's dri­ving the alt-right's rise — and how the Left's worse ten­den­cies help it grow.
The new book is an expan­sion of Nagle's report­ing on the sub­ject for Amer­i­can social­ist mag­a­zines. Build­ing on work by anthro­pol­o­gist Gabriel­la Cole­man and essay­ist David Auer­bach, Nagle traces the alt-right's ori­gins to the anony­mous mes­sage boards, chat rooms, wikis and blogs that dom­i­nat­ed cyber­space through the mid-2000s and ear­ly 2010s, before today's pub­lic and inter­linked social media accounts had reached their cur­rent lev­el of dom­i­nance. Defined by total anonymi­ty, fleet­ing inter­ac­tions and infor­ma­tion over­load, these spaces fos­tered a milieu of dig­i­tal prankster­ism and sophis­ti­cat­ed in-jokes cen­tered on two core inter­ests: cel­e­brat­ing geek cul­ture and trans­gress­ing moral boundaries
This cul­ture was a mess of con­tra­dic­tions. On the one hand, it was for a time a hotbed of prin­ci­pled left­ist cyber-activism that cul­mi­nat­ed in endeav­ors such as the Anony­mous move­ment and ear­ly Wik­ileaks. Though their meth­ods were con­tro­ver­sial, these ​"hack­tivists" were key to expos­ing much Oba­ma-era cor­po­rate and gov­ern­ment wrong­do­ing. In April 2010, for exam­ple, Wik­ileaks released the Col­lat­er­al Mur­der video of U.S. heli­copters shoot­ing a Reuters jour­nal­ist and sev­er­al civil­ians in Bagh­dad. The next year, hack­ers revealed that Bank of Amer­i­ca — with help from the Depart­ment of Jus­tice — had assem­bled a team of shad­owy intel­li­gence con­trac­tors to coor­di­nate a cam­paign of dis­in­for­ma­tion and hack­ing against jour­nal­ists and activists.
As Nagle sees it, this rad­i­cal ele­ment has fad­ed away, under­mined not only by state spy­ing and repres­sion but also by the inher­ent lim­its of its lead­er­less struc­ture and ide­o­log­i­cal vagueness.
What's arisen in its place is some­thing more tox­ic: a shal­low online iden­ti­ty pol­i­tics of both the Left and Right that Nagle calls ​"pol­i­tics as cul­ture war."
The right-wing side grew out of forums like 4chan, where white and upper-mid­dle-class teenagers, pro­tect­ed by screen names and dri­ven by deep social alien­ation, could plot to ruin the lives of ran­dom strangers through harass­ment and the pub­li­ca­tion of per­son­al infor­ma­tion (known as doxxing) while crack­ing inten­tion­al­ly hyper­bol­ic and sup­pos­ed­ly iron­ic jokes on sex­ist, pedophil­i­ac, anti-Semit­ic and racist themes. In these web com­mu­ni­ties, it's inten­tion­al­ly ambigu­ous whether jokes like ​"Jews did 9÷11" are sup­posed to be fun­ny because they're absurd or because they're true. This proves a fruit­ful ambi­gu­i­ty for actu­al racists, as it helps them nor­mal­ize and spread their beliefs.
It was the 2014 ​"Gamer­gate" con­tro­ver­sy, Nagle explains, that turned this large­ly apo­lit­i­cal ​"cul­ture of trans­gres­sion" into a far-right cul­tur­al move­ment. When female video-game jour­nal­ists such as Ani­ta Sar­keesian took issue with sex­ism in the gam­ing world, offend­ed male gamers unleashed a sus­tained cam­paign of harass­ment, doxxing, and rape and death threats against the crit­ics. Like-mind­ed young men (and some women) took note. Soon a decen­tral­ized coali­tion of rabid anti-fem­i­nists, white nation­al­ists, ​"free-mar­ket" lib­er­tar­i­ans and even self-pro­claimed monar­chists had declared war on polit­i­cal cor­rect­ness. The shared cul­ture they devel­oped, Nagle writes, was ​"char­ac­ter­ized by a par­tic­u­lar­ly dark pre­oc­cu­pa­tion with thwart­ed or failed white West­ern mas­culin­i­ty as a grand metaphor."
This pri­mor­dial stew of pro­to-fas­cism is what came to be called the alt-right. After mov­ing through its ori­gins, Nagle spends the bulk of her book sketch­ing its var­i­ous com­po­nent move­ments and their figureheads.
There's the Manos­phere, whose diverse col­lec­tion of misog­y­nists is unit­ed in the belief that fem­i­nism has destroyed both the tra­di­tion­al fam­i­ly and their own sex­u­al prospects. There's Richard Spencer and his white nation­al­ist brigade, who argue for the bio­log­i­cal real­i­ty of race, the impos­si­bil­i­ty of a mul­ti­cul­tur­al soci­ety, and the need for white eth­nos­tates to defend the West from immi­grants and Islam. There are car­ni­val bark­ers like Milo Yiannopou­los, Gavin McInnes and Lau­ren South­ern who man­u­fac­ture whole media careers by bait­ing over-earnest pro­gres­sives into shrill and pre­dictable denun­ci­a­tions. And there's the whole sad parade of self-help gurus, con­spir­a­cy the­o­rists and sup­ple­ment-ped­dling huck­sters — think InfoWars​.com own­er Alex Jones — who have found a way to make a quick buck and a name for them­selves in the alt-right dig­i­tal ecosystem.
It all has the feel of a whirl­wind tour — which isn't always to the book's ben­e­fit. Much of Kill All Normies is a series of anec­dotes that doesn't take the time to define its terms or give more than cur­so­ry sum­maries of its sub­jects. Often these anec­dotes are illu­mi­nat­ing in them­selves, but read­ers who aren't already famil­iar with the rel­e­vant sub­cul­tures and slang may strug­gle to keep up. (This improves in the last three chap­ters and con­clu­sion, which stand on their own as ana­lyt­ic essays.)
Nagle is at her best when she moves past the fleet­ing scan­dals and fads of dig­i­tal cul­ture and cuts to the psy­cho­log­i­cal roots of this new far-right cul­tur­al pol­i­tics — par­tic­u­lar­ly its anti-fem­i­nist core. With sur­pris­ing sym­pa­thy, she out­lines their ​"anx­i­ety and anger about their low-rank­ing sta­tus" in the sex­u­al hier­ar­chy. She quotes ​"men's rights activist" F. Roger Devlin, who argues that the free­dom of women to choose sex­u­al part­ners out­side mar­riage and defy tra­di­tion­al gen­der roles has led to ​"promis­cu­ity for the few" and ​"lone­li­ness for the major­i­ty." Put blunt­ly, Devlin and his ilk believe women choose to hook up with elite men and leave the vast major­i­ty invol­un­tar­i­ly celi­bate, or ​"incel." Whether or not this argu­ment holds, those lone­ly out­casts who see them­selves as the vic­tims of this nar­ra­tive express their resent­ment at sex­u­al rejec­tion not only through trolling online but also by oppos­ing women's basic human rights and, in extreme cas­es, by com­mit­ting sex­u­al­ly moti­vat­ed mur­ders as in the 2014 mas­sacre near the Uni­ver­si­ty of Cal­i­for­nia, San­ta Bar­bara. Nagle con­cludes, con­vinc­ing­ly, that this is ​"the cen­tral issue dri­ving this kind of reac­tionary sex­u­al pol­i­tics, per­haps even the cen­tral per­son­al moti­va­tion behind the entire turn to the far Right among young men."
But Nagle argues these ideas gained cur­ren­cy as part of an online cul­ture war — and every war has more than one side.
The alt-right's mor­tal ene­mies came into their own at the microblog­ging ser­vice Tum­blr, where oth­er social­ly alien­at­ed teens con­struct­ed sub­cul­tures based around increas­ing­ly arcane racial, gen­der, sex­u­al and oth­er iden­ti­ties. Nagle argues — and I agree — that this sup­pos­ed­ly lib­er­al move­ment retreat­ed into sym­bol­ic pol­i­tics and a pro­found­ly illib­er­al cul­ture of virtue sig­nal­ing, griev­ance and social authoritarianism.
Draw­ing on the work of the late writer Mark Fish­er, Nagle defines ​"Tum­blr-lib­er­al­ism" (her term, though I think this under­es­ti­mates the tendency's reach into rad­i­cal as well as lib­er­al cir­cles) by its intol­er­ance of dis­sent: ​"The very idea of win­ning peo­ple over through ideas now seems to anguish, offend and enrage." Instead, those who would express some­thing dif­fer­ent from the par­ty line must be harassed or even denied a plat­form entirely.
Nagle cat­a­logues many damn­ing instances of this ten­den­cy using pub­lic humil­i­a­tion, cen­sor­ship, harass­ment and fir­ings in order to pro­mote and enforce its dog­mas, both online and off. (In fact I'd argue the sheer breadth of her exam­ples shows Tum­blr lib­er­al­ism is some­thing that extends far beyond Tum­blr and has deep­er roots.) In one case, an ​"antiracist" Twit­ter user responds to the death of a six-year-old attacked by an alli­ga­tor by mock­ing the ​"white male enti­tle­ment" of his par­ents; in anoth­er, anony­mous stu­dents bring the aca­d­e­m­ic Lau­ra Kip­nis before a Title IX court sim­ply for writ­ing an essay argu­ing love affairs between pro­fes­sors and their stu­dents don't nec­es­sar­i­ly con­sti­tute an abuse of power.
The spread of ​"antifa" tac­tics among anar­chists and lib­er­als in the Trump era has seen no-plat­form­ing increas­ing­ly applied to the alt-right. But Tum­blr lib­er­als, it seems, more often than not tar­get oth­ers on the Left, deny­ing a plat­form to those guilty of thought-crime against var­i­ous sacred cows. This trend con­tin­ues, as evi­denced by a recent scan­dal in which philoso­phers called on a fem­i­nist jour­nal to retract an arti­cle that dared to engage seri­ous­ly with the notion of Rachel Dolezal-style ​"tran­sra­cial­ism."
Nagle believes these Tum­blr lib­er­als have ​"made the Left a laugh­ing­stock for a whole new gen­er­a­tion." Though nom­i­nal­ly opposed, Nagle argues, the alt-right and Tum­blr lib­er­al­ism feed off each oth­er and form ​"essen­tial­ly two rival wings of con­tem­po­rary iden­ti­ty pol­i­tics." In the new cul­ture wars between these two groups, the alt-right is able to claim the man­tle of free speech and coun­ter­cul­tur­al trans­gres­sion that left­ists once proud­ly boast­ed to rep­re­sent, so that the Tum­blr lib­er­als are posi­tioned as a sort of moral­i­ty police — prud­ish, inquisi­to­r­i­al, and wide­ly despised. This in turn has made being on the Right ​"some­thing excit­ing, fun and coura­geous for the first time since … well, pos­si­bly ever."
No doubt Nagle's assault on iden­ti­ty pol­i­tics will spark many nec­es­sary and over­due debates on the Left. Already this has been a key part of the book's con­tro­ver­sial recep­tion. But what strikes me most is some­thing else.
Though Kill All Normies is a fine piece of jour­nal­ism and cul­tur­al crit­i­cism — the first seri­ous pop­u­lar study of its sub­ject — I found as I read it that I kept com­ing up against the book's most impor­tant lim­i­ta­tion. Nagle has a ten­den­cy to see the alt-right as essen­tial­ly a pop-cul­tur­al phe­nom­e­non or social malaise to be diag­nosed, not a polit­i­cal move­ment with ideas that must be refut­ed. As a result, the book leaves many urgent ques­tions unan­swered. Does the alt-right con­sti­tute a twen­ty-first cen­tu­ry fas­cism? What kind of pol­i­tics, ulti­mate­ly, fol­lows from their beliefs? What con­nec­tion do they have to the xeno­pho­bic nation­al­ism cur­rent­ly sweep­ing elec­toral pol­i­tics across the indus­tri­al­ized world? Read­ers must look else­where for answers.
Fur­ther­more, Nagle's focus on minor Twit­ter celebri­ties means she neglects the more seri­ous intel­lec­tu­als in the move­ment — whether it's the post-lib­er­tar­i­an dreams of author­i­tar­i­an city-states one finds in Nick Land and Men­cius Mold­bug, the cor­po­ratist nation­al­ism of Michael Anton, or the bio­log­i­cal racism and white suprema­cy of Steve Sail­er and Richard Spencer. These writ­ers make com­pli­cat­ed argu­ments against democ­ra­cy and for racial and sex­u­al hier­ar­chy root­ed in his­tor­i­cal analy­sis, evo­lu­tion­ary psy­chol­o­gy, IQ test­ing and polit­i­cal the­o­ry. Even when ordi­nary alt-righters can't rec­og­nize them by name, they are often regur­gi­tat­ing vul­gar­ized ver­sions of their ideas.
These ideas are refutable and the pol­i­tics under­ly­ing them is hor­rif­ic. But every time the Left refus­es to even try coun­ter­ing them with our own, the alt-right's por­trait of us as dog­ma­tists who can only con­front their ter­ri­ble truths with cen­sor­ship and vio­lence gains cred­i­bil­i­ty. (And that por­trait, as we've seen, is a key com­po­nent of how they recruit.) Nagle would prob­a­bly respond that the alt-right's insipid Inter­net luna­cy reveals it to be fun­da­men­tal­ly unse­ri­ous and not worth engag­ing intel­lec­tu­al­ly. But today's revived social­ist move­ment, of which Nagle and I are both a part, is no less a prod­uct of social alien­ation and post­mod­ern irony than the new fas­cism, nor does it lack its own Twit­ter bull­shit. In a coun­try that elect­ed Trump, it's worth tak­ing seri­ous­ly the appeal of both move­ments as attempts to escape the dead end of neolib­er­al­ism — one by expand­ing democ­ra­cy, the oth­er by doing away with it.
Still, Nagle's book is a good start. What we get from it is a brief his­to­ry and a por­trait of the cul­tur­al log­ic that may breed tomorrow's author­i­tar­i­an­ism. Hope­ful­ly it is the first con­tri­bu­tion of many to that part of the antifas­cist strug­gle that employs means oth­er than fists and makeshift shields.
John Michael Colón
is a writer and jour­nal­ist based in Brook­lyn, N.Y. He is a mem­ber of the Demo­c­ra­t­ic Social­ists of Amer­i­ca and on the edi­to­r­i­al board of
New Pol­i­tics
.