Orange Is the New Black, Episode 6: Democracy Fail
In the end, the guards run the show.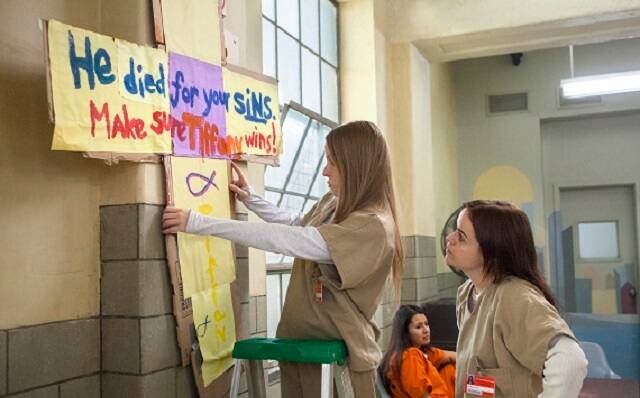 Give Orange is the New Black credit: It may be the only TV show widely embraced by most feminists to open with a photo of a disembodied, spread vagina.
That slammed-down vag shot does seem to convey at least one clear message: If you're hoping that this episode of Orange is the New Black will be comfortable, abandon all such optimism now. This is the one that wants to make you squirm.
The vagina pic in question is slammed down on a desk by prison administrator Natalie Figueroa — a minor character in the show, and not a friendly one — and it's provided as evidence that an inmate has both smuggled in a forbidden cell phone and is using it for the most salacious purpose possible.
For those who have doubts as to Orange is the New Black​'s progressive street cred, that beaver shot serves as proof of a few other things. The fact that the Georgia O'Keefe homage in question is the work of a Latina woman seems, for one, like the ultimate proof of Yasmin Nair's allegations that Orange is the New Black fetishizes and exploits the bodies of women of color. (Aura Bogado cites it as a line in the sand, as well; ​"WAC Pack" is the episode where she stopped watching the show.) For another, it seems like compelling evidence that Orange is the New Black can't condemn the cruelties women experience without, to some extent, both recreating and profiting from them.
Personally, I don't mind the graphic gross-out — Judd Apatow's man-children and their ilk have long had the right to make jokes of their own bodies, and girls shouldn't have to feel left out. Anyway, given that the show more or less opened with a fisting sequence between Nichols and Morello, continued to the infamous McTampon sandwich, and from thence traveled on to incorporate a lesson in Fun With Screwdrivers, anyone looking for a gauzy Merchant Ivory-style take on the lady-garden and its pleasures has probably tuned out already. But that slammed-down vag shot does seem to convey at least one clear message: If you're hoping that this episode of Orange is the New Black will be comfortable, abandon all such optimism now. This is the one that wants to make you squirm.
Because this is the episode that dives, directly and at length, into the prison's racial divides. Orange is the New Black is continuing down its path of telling stories in which the entire prison community acts as the protagonist. But if ​"The Chickening" showed the power of a rumor, ​"WAC Pack" dives into a more potent source of chaos yet: What happens when a bunch of cooped-up, stressed-out, unhappy women discover a real cause for conflict.
Not that they wouldn't find it anyway. The opening scenes are fantastic little vignettes of cabin fever reaching a peak, not to mention superbly artful ways of expanding side characters beyond stereotype. Whether it's the secret MVP team of Maritza and Flaca deconstructing the latter's pretentious pseudo-expertise in re: The Smiths, or Taystee and Poussey driving their BFF-ship to the point of breaking with the eternal Cooking Shows vs. Nature Documentary Debate, or just Big Boo's psychological warfare in the name of Scrabble supremacy, we know every character much better by the time they're at each other's throats. We also know what a diet of sustained powerlessness can do to aggravate normal human irritation to the point of screaming arguments and thrown Scrabble tiles.
But then, the ever-paternalistic Healy — after discovering that the ​"you ladies need to start acting like ladies" line of reasoning does not quell conflict among any but the most self-loathing of seven-year-old girls — gets the bright idea of re-introducing the Women's Advisory Council: basically a student council for prison. And, because prison guards are just super great at tapping into the best potentials of human nature, prisoners can only vote for a representative of their own race.
Every power dynamic the prison has snaps into play, at once. The white folks are divided between Red's ​"family" — represented by Morello, Red explains, because she's ​"pretty and unthreatening, and I like her lipstick;" I get the feeling Red is a HUGE Taylor Swift fan — and the unfortunately stereotypical ​"Christian meth-head" demographic, led by Pennsatucky and her habit of passing down racist and homophobic messages from God. Sophia has a progressive and issues-based candidacy that just so happens to center around issues that are immediately relevant to Sophia; Taystee has some cringe-worthy rad-fem rhetoric about Sophia ("You want a MAN representing you?") and the ability to spellbind a crowd with charisma and talk of waterbeds. Maritza and Flaca have nothing but an eternal and deep-seated desire to make sure the other one doesn't get elected, because they are everyone's worst high school friendship in human form. Meanwhile, everyone has a deep and appalling fund of negative things to say about the other races competing, because people at the bottom are always looking for a reason to push someone else down a rung.
Naturally, this devolves into Pennsatucky suggesting a ​"whites-only bathroom," and being summarily told to eat shit. Naturally, this evolves into a freestyle battle. Naturally, this becomes a dance number from Big Boo, and naturally, that becomes simulated sex between Big Boo and Crazy Eyes, and at that point, nothing matters any more, because Healy sees what Healy hath wrought and just picks the winners himself.
And he picks Piper. Which comes as a surprise, because Piper has been embarked on her own little narrative, mostly separate from the rest of the episode's drama. Fittingly, it's been the narrative Piper is continually telling herself, which seems to be entitled ​"Piper is the Nicest Lady in the World and Everybody Always Has to Like Piper for Reasons That Are Not At All Narcissistic on Piper's Part: The Piper Chapman Story, starring Piper." Having been lied to by both Alex and Larry as to whether Alex got her thrown into Litchfield (she did; Alex and Larry are both maintaining Alex's innocence) and having been witness to The World's Blamiest AA Testimony from Alex (Alex has done a searching and fearless moral inventory, and has concluded that she was addicted to heroin because Piper, that's why), Piper is now trying to win Alex over to prove how nice and forgiving she is. At the same time, she's also doing a fair bit of protesting that there are no lingering feelings involved, in between casting longing glances at Alex and sniffing her things.
Which barely matters, either. Because the problems of two crazy drug cartel members don't amount to a hill of beans in Litchfield, and because the house always wins. Ironically, Taystee, the candidate who is most open about the fact that WAC will solve nothing — ​"You ain't never going to change [the prison's injustices]," she tells Sophia, ​"You think this is white people politics?" — is the only actual candidate who gets picked by Healy. And Piper, who has declared that she actively doesn't want to be involved, has been picked solely because Healy fetishizes her privilege, wants to believe she's ​"different" and better than her fellow inmates. The entire prison community has torn itself apart and come together again around its one, rare, infinitely valuable chance at agency — and all of it was for nothing, because the narrative they live in will always, for the most part, be the narrative the guards construct for them. What they do to survive in the margins of that story is an open question. But there won't be an election again any time soon — at least not until a new group of prisoners gets just a little bit too bored.