Orange Is the New Black, Episode 11: Toys for Tots
Everyone in Litchfield just keeps making the same mistakes.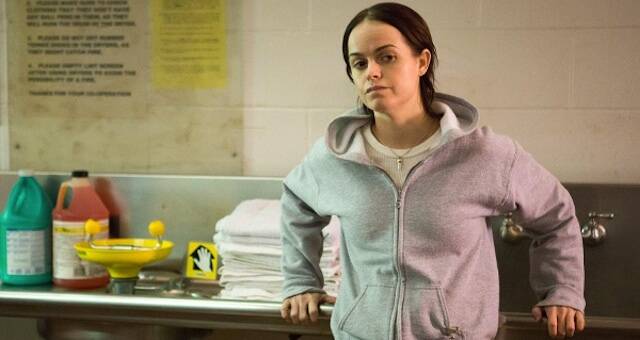 Sig­mund Freud was wrong about many, many things. But, in light of ​"Fool Me Once," we might con­sid­er being a lit­tle bit kind about poor Sig­mund. Because some­where along the line, he picked up on some­thing fun­da­men­tal about human behav­ior when it comes to mak­ing bad choices.
Take a toddler playing in her crib. Children this age will often take a toy and, on the spur of the moment, throw it across the room. Of course, when the child realizes that throwing her toy away means losing it, that she can't play with it any more, she'll cry. [...] In "Fool Me Once," we get to see several reasons why the people in Litchfield keep throwing their toys.
Take a tod­dler play­ing in her crib. Chil­dren this age will often take a toy and, on the spur of the moment, throw it across the room. Of course, when the child real­izes that throw­ing her toy away means los­ing it, that she can't play with it any more, she'll cry. If you've spent much time around tod­dlers, you have seen this hap­pen. Freud appar­ent­ly saw it hap­pen, too.
What Freud real­ized, though, is the part of this rou­tine that has dri­ven every sin­gle babysit­ter in the his­to­ry of the world to the edge of bleak despair: If you try to solve things for the child, if you pick the lost toy up and bring it to her playpen, she'll throw it across the room again. Then she'll freak out. You'll bring it back again. She'll throw it. This will hap­pen over and over, until she gets sick of it. The weird part of this game, Freud noticed, was that repeat­ed­ly los­ing some­thing, and repeat­ed­ly freak­ing out over it, seemed to be the point.
This has passed into the­o­ry as the ​"rep­e­ti­tion com­pul­sion:" The fact that mis­er­able or trau­ma­tized adults nev­er seem to get sick of play­ing this par­tic­u­lar game. They spend their whole lives throw­ing the same toy, mak­ing the same bad deci­sions — they'll date 19 ver­sions of the same alco­holic, work their whole lives for a string of equal­ly ter­ri­ble boss­es — for rea­sons that are still being debat­ed to this day. It could be a desire to self-destruct, it could be a means of numb­ing them­selves, it could be a per­verse way of pur­su­ing insight. Some think it's just habit: Once a cer­tain form of dis­tress gets engraved in your neur­al path­ways, you tend to be more com­fort­able with that dis­tress than with unfa­mil­iar stim­uli, like hap­pi­ness. But there are prob­a­bly as many rea­sons for the rep­e­ti­tion com­pul­sion as there are peo­ple. In ​"Fool Me Once," we get to see sev­er­al rea­sons why the peo­ple in Litch­field keep throw­ing their toys.
In the case of Claudette and Taystee, they repeat their mis­takes because they don't have many oth­er options. Taystee comes back to Litch­field, in this episode, and Claudette leaves it. But both of these choic­es come down to sur­ren­der­ing to what feels like an inevitable, and grim, destiny.
Claudet­te's icy Fortress of Soli­tude has been melt­ing all sea­son long, as she allows her­self to take vis­its from her life­long crush Jean-Bap­tiste (the amount of romance between these two char­ac­ters is The Note­book lev­els of tear-jerk­ing) and to file for an appeal. She's even allowed her­self to believe that the appeal will be suc­cess­ful. When she tells Piper her plans for her first night as a free woman — ​"I'm going to eat din­ner at din­ner time. At sev­en o'clock. Like a per­son" — the empha­sis Michelle Hurst puts on the word ​"per­son" could make you cry.
But when her appeal is denied, she's got to re-swal­low sev­er­al decades' worth of repressed emo­tion all at once. It does­n't work. It could­n't work. So when Offi­cer Fis­ch­er starts scream­ing at her, Claudette — who's spent her life try­ing to get beyond the idea that she's just some scary killer — tries to choke her to death. Claudet­te's going to Max­i­mum Secu­ri­ty, and we won't be see­ing her in Litch­field again.
Which makes it even harsh­er that this Taystee picks this pre­cise moment to show back up. Claudette encour­aged Taystee to have faith, too, back when her own walls were com­ing down: to believe that she real­ly was a smart girl, that she real­ly could be a legal sec­re­tary, that despite hav­ing spent her life in insti­tu­tions, she was­n't des­tined to end her life in one. Taystee, mean­while, took one look around at what ​"free" meant for an ex-con with no fam­i­ly or mate­r­i­al resources — three job inter­views a week with no offers, con­stant sur­veil­lance, a $900 debt with no income and no place to live — and walked her­self right back into Litch­field. She took the free­dom she'd been work­ing for all sea­son, and threw it right across the room.
​"Every­one I know is poor, in jail, or gone," she says to Poussey. ​"Don't nobody ask how my day went. I got fucked up in the head, you know? I know how to play it here."
And, aside from being yet anoth­er show­case for the intense­ly great chem­istry of Sami­ra Wiley and Danielle Brooks — their Bat­tle of the Tear­ful Solil­o­quies here strikes me as some­thing you only do for two actors that you know will be able to sell every sec­ond of it — this scene is also the show's most direct and effec­tive con­dem­na­tion of class and the prison-indus­tri­al com­plex. Taystee did­n't have to come back to Litch­field, which is pre­cise­ly why Poussey tells Taystee off, at length. But the scene itself does­n't indict Taystee; it calls out the pover­ty and lack of sup­port that made life­long impris­on­ment look like her best option.
Which is worth keep­ing in mind because, like it or not, this is the episode where we get to know the life sto­ry of Pennsatucky.
Pennsat­ucky is the one female char­ac­ter on this show who has­n't quite gelled; her con­cep­tion (the poor hick fun­da­men­tal­ist anti-choicer) seems like lazy lib­er­al-bait­ing, an encour­age­ment to build a more pro­gres­sive and inclu­sive soci­ety by hat­ing a whole new set of stereo­types. And her back­sto­ry — as a meth addict who had a series of abor­tions and was trau­ma­tized and hurt enough by the process to kill a nurse who made fun of her — is bound to make fem­i­nists such as myself uncom­fort­able. But as a sto­ry of how Pennsat­ucky found faith, and why she needs it, it works bet­ter to human­ize her than you might expect.
With­out her faith in Christ, Pennsat­ucky is bro­ken. She was bro­ken when she first walked into that abor­tion clin­ic, before she became reli­gious, and she's bro­ken when she real­izes that her ​"faith heal­ing" abil­i­ty was a lie from Piper, that her rela­tion­ship with God could be used to fool her. Pennsat­ucky killed that nurse because she ​"dis­re­spect­ed" her. But if you'd spent your whole life nev­er being respect­ed, by any­one — being poor, rur­al, une­d­u­cat­ed, the vic­tim of con­ser­v­a­tive poli­cies and the butt of lib­er­al jokes — could­n't you, even­tu­al­ly, get angry enough to kill some­one? Even if you nev­er pulled the trig­ger, would­n't the rage build up?
But Pennsat­uck­y's tar­get hap­pened to be polit­i­cal­ly con­ve­nient. Which result­ed, even­tu­al­ly, in an exploita­tive Chris­t­ian law firm pick­ing her as a hero in the War for the Unborn, mak­ing her both a mar­tyr and a saint. Pennsat­uck­y's vision of God, encour­aged by the sto­ry the law firm spins for her, is an ugly one: He's hate­ful, he's vio­lent, he's big­ot­ed. But when she walks into that court­room, and hears a room full of peo­ple cheer­ing and scream­ing her name, I believe that she does have a gen­uine reli­gious con­ver­sion. If you had nev­er mat­tered to any­one in your life, encoun­ter­ing all that love at once would be a spir­i­tu­al expe­ri­ence. It would be a mir­a­cle. It would be a sign that some­where, all along, you were worth some­thing. And you just did­n't know it until He showed up.
Pennsat­ucky spends a lot of this episode being furi­ous at Piper for lying to her about the faith heal­ing, and lat­er, try­ing to con­vert her to Chris­tian­i­ty to make things right between them. (To give the writ­ers cred­it, Piper's speech­es about the joys of athe­ism are pre­cise­ly as insuf­fer­able and incon­sid­er­ate as most well-mean­ing lib­er­al speech­es on this top­ic.) But Pennsat­ucky has to be furi­ous at Piper's lie, because it threat­ens to expose an even scari­er truth: The idea that she was nev­er worth any­thing, all along. That her lawyer, and those peo­ple, did­n't care about her. They cared about prov­ing their point. Pennsat­ucky decides to kill Piper for her ​"dis­re­spect" — re-throws her toy, makes her big mis­take all over again — because the oth­er option, real­iz­ing how pro­found­ly she's been exploit­ed and dis­re­spect­ed by the fun­da­men­tal­ist Right, would destroy her abil­i­ty to function.
So Piper's life is in dan­ger. Which, in clas­sic Piper fash­ion, she does­n't even notice. She's busy throw­ing her Alex and Lar­ry toys, work­ing out things with her ex — Alex decides to make Piper process her emo­tions by grop­ing her; Piper lat­er push­es Alex across the room and into a wall scream­ing ​"FUCK YOU," then tells Alex that she loves her; man, these two are great for each oth­er, aren't they?— and field­ing Lar­ry's last-minute, des­per­ate pro­pos­al for an imme­di­ate prison mar­riage. It's a grim scene all around. To be fair, if I had to choose between being mur­dered and get­ting mar­ried to Lar­ry, I would have to spend some time con­sid­er­ing my options. But, more to the point: No mat­ter how hard these three peo­ple are freak­ing out over their loss­es at the moment, we can be sure that, the moment they get what they want, they'll throw it away all over again.