Orange Is the New Black, Episode 7: The Larry Problem
In which we finally bring ourselves to confront OITNB's least likable character.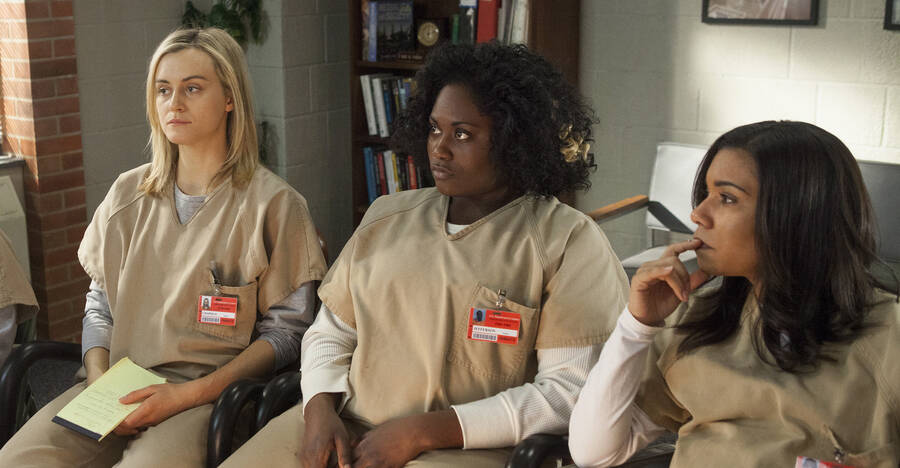 Friends: We have come, at last, to the day every Orange Is the New Black recap­per dreads. There is a mon­ster at the heart of this show, a human vor­tex so hideous and destruc­tive that many would pre­fer not to speak of him at all. But speak we must. For the first time, we are forced to con­sid­er Larry.
The WAC—hand-picked by Healy—has assembled, just like the Avengers, except that they can't actually do anything.
To date, he's most­ly been a bore, verg­ing on an irri­tant. He pops into the worst expe­ri­ence of Piper's life to vis­it, and invari­ably either freaks out over the pos­si­bil­i­ty that she'll ​"turn gay" or attempts to pres­sure her into sex­u­al acts. But in this episode, Lar­ry becomes a full-blown vil­lain. He's received an offer from the New York Times to write about Piper's impris­on­ment. When Piper tells him she's uncom­fort­able with the idea, he goes ahead and pub­lish­es it behind her back.
Which is not the worst thing he does. The worst thing he does is this: He goes to a bar, to cel­e­brate, and begins whin­ing about Piper. Her impris­on­ment is so hard, for him! He deserves to have a girl­friend next to him at the bar, so that he does­n't ​"look like a los­er!" When his friends ditch him, he starts flirt­ing with the bar­tender. And when that does­n't work, he begins yelling at the bar­tender about how angry he is that he can't have sex with her, and mak­ing mucho inap­pro­pri­ate com­ments about this female ser­vice pro­fes­sion­al's ass, and insist­ing that this is, some­how, all Piper's fault.
Piper's upset because she's been starved, sex­u­al­ly assault­ed, stalked, ver­bal­ly abused, impov­er­ished, placed in inden­tured servi­tude, and forcibly removed from her own life. Lar­ry's upset because he can't sex­u­al­ly harass a woman with­out feel­ing sort of guilty. This scene does­n't only make Lar­ry look weak. It makes him look stu­pid, heart­less, misog­y­nis­tic and mon­strous­ly self­ish. The Lar­ry-Piper-Alex ​"love tri­an­gle" has been sim­mer­ing all sea­son long. But from this point for­ward, no rea­son­able view­er will be able to root for Larry.
Which is a shame, because the rest of the episode focus­es on some of the show's most lov­able char­ac­ters — name­ly Janae Wat­son, recent­ly released from SHU, and Taystee, who may be get­ting released from Litch­field altogether.
The Wom­en's Advi­so­ry Coun­cil — hand-picked by Healy — has assem­bled, just like the Avengers, except that they can't actu­al­ly do any­thing. The team: Maria Ruiz (Daya's preg­nant room­mate, who wants more pil­lows), Piper (the self-appoint­ed Cap­tain Amer­i­ca, who wants the reform of every sin­gle bad prison pol­i­cy, and also a pro­mo­tion to GED teacher so that she can serve as a more effec­tive White Sav­ior), and Chang, an elder­ly Asian woman who either (a) has Alzheimer's, (b) does­n't speak much Eng­lish, and/​or © does not give half a shit for any of this WAC busi­ness. Either way, Chang isn't talk­ing. And final­ly, there's Taystee, the only mem­ber who actu­al­ly cam­paigned to be on the coun­cil, and we final­ly know why: She could be released, very soon, and she needs a rec­om­men­da­tion from Healy in order to make it hap­pen. Which means that, being a smart woman, she's going to give Healy pre­cise­ly what he wants so that she can get what she needs.
This isn't good enough for Piper, how­ev­er, because Janae is final­ly out of soli­tary, and she knows it was Piper's mis­take that put her there. Janae, we learn, was a supreme­ly gift­ed track and field ath­lete in high school, with schol­ar­ships, col­lege and a hap­py future in front of her. What Janae did not have in front of her, how­ev­er, was Dudes. Since she was a lit­tle girl, she's been a prodi­gy, and every time she showed oth­er peo­ple what she could do, she had some boy or anoth­er accus­ing her of ​"show­ing off." The mute look of con­fu­sion and lone­li­ness on Janae's face every time she gets shut out or ignored or insult­ed is just a heart­break­er, and the strongest sell­ing point of what is prob­a­bly OITNB​'s strongest fem­i­nist sto­ry line. Janae is good at some­thing, actu­al­ly good; so, why is being good so bad?
Any strong-mind­ed or tal­ent­ed woman in the audi­ence can con­nect with that look. And lots of them prob­a­bly know that this kind of con­fu­sion has an expi­ra­tion date on it. Once you fig­ure out what's real­ly going on, and why those boys real­ly dis­like you, it tips inevitably into rage. And Janae fig­ures it out in the worst way pos­si­ble: She final­ly finds a dude who does­n't seem scared of her. He's a rob­ber, and he fig­ures Janae will be real­ly use­ful for the get­away. When he fig­ures out that she'll be get­ting away, and he won't, he throws one last bit of shame her way. It slows her down. And here she is, in Litch­field, serv­ing his time — fail­ing so that some man can suc­ceed, the way she was always intend­ed to — with a rage the size of the world eat­ing her alive.
Mean­while, Taystee is fig­ur­ing out exact­ly how to make the world allow her to suc­ceed. This is the first seri­ous plot­line for Taystee, who has large­ly served as com­ic relief up to this point, and it's a plea­sure to see more depth and vul­ner­a­bil­i­ty added to the char­ac­ter. Then there's the fact that more Taystee also means more Poussey, and the chem­istry between the actress­es — just as Danielle Brooks' elas­tic voice is made for hit­ting laugh lines, Sami­ra Wiley is a grand mas­ter of the bewil­dered reac­tion shot — is enough to make you under­stand why there's a fer­vent Inter­net fan­dom devot­ed to their scenes. Taystee, Poussey and Cindy run over Taystee's tes­ti­mo­ny, her word choice and her hair (should she go for the unthreat­en­ing, Eat, Pray, Love-invok­ing ​"Vio­la Davis," or lever­age Chris Brown hate with a ​"2009 Rihan­na" mod­el?), and we begin to get a sense of just how high the deck is stacked against Taystee, and how much that must weigh on her. In what seems like a slap at big parts of OITNB​'s audi­ence, the group tells her to pray for a review com­mit­tee of white women who will feel good about them­selves for being nice to her.
Speak­ing of over-com­pen­sat­ing white ladies: Piper, whose saint­ly self-con­cept makes her unable to tol­er­ate three sec­onds of dis­like from any oth­er human being on the plan­et, has land­ed square in the mid­dle of Janae's very jus­ti­fied anger. And, in a hor­ri­fied bid to retain her title of Nicest Lady In The World, she's lever­ag­ing every insti­tu­tion­al con­nec­tion she has — sell­ing out Satan Stall Lady and her con­tra­band cell phone, going behind Healy's back to ply a soft-heart­ed guard — to get the track re-opened for Janae. She suc­ceeds, and the smile on Janae's face when she gets to excel for even a minute will make you cry. But the look Healy's giv­ing Piper, as the episode clos­es… Well. That look com­mu­ni­cates a lev­el of hate matched only by the look on my face when I see Larry.