Orange Is the New Black, Season 1 Finale: No More Ms. Nice Blonde Lady
The show we didn't see coming socks us in the teeth.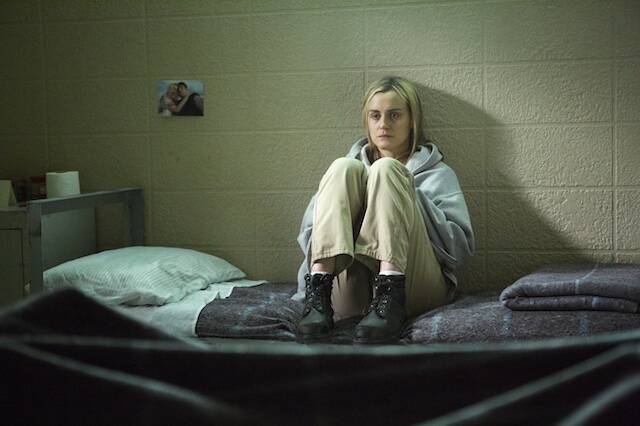 As its first sea­son comes to a close, I have to give Orange is the New Black a sin­cere com­pli­ment: It is a gen­uine­ly huge show.
For the entertainment industry to progress from Girls to Orange is the New Black in just nine months seems incredible to me, like the transportation industry going from the pennyfarthing bicycle to the jet engine over the space of a long weekend.
It's huge in terms of its ambi­tion, sure. It's a show run by a woman, with a most­ly female writ­ing staff, focus­ing almost entire­ly on female char­ac­ters, with those female char­ac­ters being pri­mar­i­ly eco­nom­i­cal­ly, racial­ly or sex­u­al­ly mar­gin­al­ized women, and with that cast being most­ly women of col­or, and with the roman­tic plot lines being large­ly les­bian or queer, with the break­out char­ac­ter being a sym­pa­thet­ic por­tray­al of a trans woman of col­or, who is played by a trans woman of col­or, who hap­pens to be a trans rights activist and an author of com­pelling op-eds on trans rights and race.
I have been cov­er­ing fem­i­nism in pop cul­ture for five years now, and I will tell you, I did not see this one com­ing. In 2012, we were all fight­ing about Girls: the TV show tasked with Rep­re­sent­ing A Fem­i­nist Take On Women Today, which was about four wealthy, white, het­ero­sex­u­al 20-some­things with self-con­scious­ly great bangs and Green­point apart­ments. For the enter­tain­ment indus­try to progress from Girls to Orange is the New Black in just nine months seems incred­i­ble to me, like the trans­porta­tion indus­try going from the pen­ny­far­thing bicy­cle to the jet engine over the space of a long weekend.
But Orange is the New Black is a huge show in oth­er ways, too: name­ly, it's com­mit­ted itself, in this first sea­son, to telling one of the biggest sto­ries I've seen in recent years. This show has so many sto­ry­lines run­ning simul­ta­ne­ous­ly, and so many fas­ci­nat­ing char­ac­ters to car­ry those threads, that even at the end of the sea­son, some of my favorite char­ac­ters and per­for­mances — Yoga Jones' jour­ney of atone­ment, Black Cindy (oh, Black Cindy; with her astrol­o­gy fix­a­tion, preach­er father and piano-play­ing skills, she's basi­cal­ly the Tori Amos of Litch­field), or the for­mi­da­bly tough and always fun­ny Glo­ria Men­doza, who's most­ly been stand­ing off to the side of the Daya plot­line until this episode — have bare­ly been addressed in the recaps. Through­out the sea­son, it's some­times been dif­fi­cult for me to bal­ance the insu­lar dra­ma of the Lar­ry-Piper-Alex love tri­an­gle with the ever-expand­ing sto­ry of Litch­field. But here, in the final episode, it's clear where it's all been head­ing: This has been the sto­ry of a com­mu­ni­ty com­ing togeth­er, and the sto­ry of Piper becom­ing com­plete­ly alone.
The com­mu­ni­ty sto­ry reach­es its peak with Litch­field­'s annu­al Christ­mas pageant. These scenes read like a vic­to­ry lap, as much as any­thing else. In par­tic­u­lar, the audi­tions are pret­ty much an Orange is the New Black vari­ety hour, with all the cast mem­bers whip­ping out their extracur­ric­u­lar tal­ents. Big Boo sings! Cindy beat­box­es! Leeanne does ani­mal sounds! Mar­itza and Fla­ca do a Mean Girls sexy-Christ­mas rou­tine, which is per­fect for them, and Suzanne …"fig­ure skates," sort of. Suzan­ne's real tal­ent is that she's played by Uzo Adu­ba, who can com­mit with her entire being to even the sil­li­est mate­r­i­al — I par­tic­u­lar­ly enjoyed the real­is­tic, Olympic-ath­lete intense-exer­tion-face she made while hold­ing her last pose — so that's fine.
The Christ­mas pageant is explic­it­ly and entire­ly a chance to remind us of how many char­ac­ters we've met, over the course of the first sea­son, and how much we've enjoyed them. As such, it risks being sap­py: The idea of Poussey singing ​"Amaz­ing Grace" (get it? ​"A wretch like me?" She's in prison, guys) or the nor­mal­ly silent Nor­ma re-gain­ing her voice through the pow­er of the Christ­mas Spir­it sounds like pure cheese on paper. But the exe­cu­tion is right, and I for one gen­uine­ly do feel unrea­son­able lev­els of affec­tion for these women. So it works.
It's also good to have some heart­warm­ing scenes for the audi­ence to hold on to, giv­en that a num­ber of indi­vid­u­als at Litch­field are still hav­ing a gen­uine­ly mis­er­able Christmas.
Porn­stache's last move, before being put on indef­i­nite unpaid leave for hav­ing sex with Daya, was to frame Red for his nar­cotics traf­fick­ing. Red, there­fore, has been kicked out of the kitchen — she's replaced as head chef by Glo­ria, who has always seemed like a par­tic­u­lar­ly strong-mind­ed woman, and who makes a very con­vinc­ing case for her­self as a wor­thy rival to Red in this episode — and is rapid­ly descend­ing into clin­i­cal depres­sion. Being Red, she decides to cure her despair with intrigue and plot­ting. When her for­mer sub­or­di­nates, Gina and Nor­ma, refuse to sab­o­tage Glo­ri­a's cook­ing, she tries to start a grease fire in the hopes of con­vinc­ing the admin­is­tra­tion that Glo­ri­a's unfit to run a kitchen. Gina is cat­a­stroph­i­cal­ly injured, los­ing Red the sup­port of even her prison ​"daugh­ters."
Mean­while, Daya is deal­ing with the Porn­stache fall­out in her own life. Ben­nett can't for­give her for ​"cheat­ing," because Ben­nett does­n't under­stand that this is a prison and not his senior year of high school, and threat­ens to walk out on Daya. (Or, at least, as far out as he can walk, giv­en that they still have to spend every day of their lives in the same build­ing.) But the afore­men­tioned grease fire, unfor­tu­nate­ly enough, has two hor­ri­ble con­se­quences: Not only does Gina get burned, the explo­sion knocks the Daya-Ben­nett Pup­py Eyes of Doom romance back into align­ment by scar­ing them into each oth­er's arms, and seems to assure that we'll be deal­ing with their high­ly prob­lem­at­ic rela­tion­ship for the fore­see­able future.
And then there's Piper, who's learn­ing an unfor­tu­nate fact about love tri­an­gles: At a cer­tain point, they turn into bit­ter, angry breakup tri­an­gles. She's under the impres­sion that she sim­ply has to ​"choose" — and she choos­es Lar­ry, for rea­sons I sus­pect humankind was not meant to under­stand — but both rela­tion­ships are too com­pro­mised to car­ry her any fur­ther. Alex, now hav­ing been painful­ly dumped twice by the same self-absorbed woman, for­bids Piper to ever speak to her again. When Lar­ry gets the bril­liant idea to vis­it Alex, she also gives him quite the speech, about the ​"fucked-up" woman he's land­ed him­self with. And Lar­ry, who has all the resolve and emo­tion­al matu­ri­ty of a par­tic­u­lar­ly mal­ad­just­ed ham­ster, imme­di­ate­ly dumps Piper as a direct result.
Oh, and here's a fun bonus: Lar­ry dumps Piper while she's telling him that Pennsat­ucky is try­ing to mur­der her, con­firm­ing my sus­pi­cion that Lar­ry gen­uine­ly does not under­stand that women are human beings. Every time he talks to or about Piper, he behaves as if he's the only per­son on Earth, strand­ed in a soci­ety of cyborgs who can­not feel pain: Some­one cor­nered you in the show­er and threat­ened to cut your body open with a razor blade, leav­ing you to bleed out alone and in pain on the floor of a prison? What does that have to do with any­thing? My feel­ings are hurt! So, though I doubt we've seen the last of Jason Big­gs, it's my hope that the writ­ers of OITNB will lis­ten to the fan feed­back and make Piper and Larry's breakup permanent.
Because it turns out that Piper is going to be in Litch­field for quite a while. After all the heart-warm­ing com­mu­nal grace of the Christ­mas pageant, Piper wan­ders out, alone, into the prison yard, where she's met by Pennsat­ucky wield­ing a shiv whit­tled from a cru­ci­fix. (And wear­ing an angel out­fit. This show is not very sub­tle in its view on main­stream Chris­tian­i­ty, is what I'm say­ing.) She tries to talk Pennsat­ucky down, and it does­n't work. She calls out for help, and Healy walks away. And then Pennsat­ucky tells Piper that she does­n't deserve love.
Friends, I'm warn­ing you: Nev­er tell a nar­cis­sist that they don't deserve their pre­ferred form of val­i­da­tion. Because in that moment, Piper, the nice blonde lady who nev­er real­ly belonged in prison and did­n't real­ly do any­thing all that wrong, aban­doned by every­one who pro­fessed to care about her, leaps on top of Pennsat­ucky and beats her so hard that her head snaps to the side and her teeth go fly­ing. It's a good thing we've learned to like Litch­field and its inhab­i­tants, because for Piper, prison is no longer a cri­sis or a bad spell to pass through. Now, it's home.