CHICA­GO — Some labor strug­gles can feel like long, dra­mat­ic sagas: unex­pect­ed twists, bro­ken hopes, valiant attempts to over­come unyield­ing giants. Michael Smith knows this tale well as a mem­ber of the small, belea­guered Bak­ery, Con­fec­tionery, Tobac­co Work­ers and Grain Millers Inter­na­tion­al Union, BCTGM.
600 Mondelēz workers had been laid off—half the plant. In job-hungry Chicago neighborhoods, the union plant, with an average $27 wage, had been an oasis.
Smith lost his deliv­ery job of 15 years in the mas­sive 2008 DHL Express lay­off, then fell into debt, lost his house, and skimped by on unem­ploy­ment checks and any work he could find. He final­ly land­ed a $25-an-hour job on Chicago's South Side in 2010, with pen­sion and health­care ben­e­fits, on a fac­to­ry line at snack-foods com­pa­ny Mon­delēz Inter­na­tion­al (known at the time as Kraft Foods). The job was a union one, with BCTGM.
But Smith again found him­self in the crosshairs of a mas­sive lay­off six years lat­er, as Mon­delēz announced it was shift­ing 600 jobs to a new fac­to­ry, with far low­er wages, in Mex­i­co. At 58, Smith had four chil­dren, bills for prostate can­cer treat­ments, and slim prospects for find­ing anoth­er decent fac­to­ry job in Chica­go. So when BCT­GM launched a pub­lic cam­paign to pres­sure Mon­delēz into bring­ing the jobs back, Smith agreed to become a spokesper­son, and the union offered him a mod­est stipend. Smith could have signed up for fed­er­al­ly fund­ed job train­ing instead, but he want­ed to fight the union fight.
Smith and BCT­GM have now been bat­tling the $26 bil­lion glob­al behe­moth for near­ly four years. Back in 2016, pres­i­den­tial can­di­dates Don­ald Trump and Hillary Clin­ton both briefly took up the cause. Mean­while, Mon­delēz has sent hun­dreds of union bak­ery jobs to Mex­i­co and dealt a blow to the union's remain­ing 2,000 mem­bers by end­ing their guar­an­teed pen­sion plan.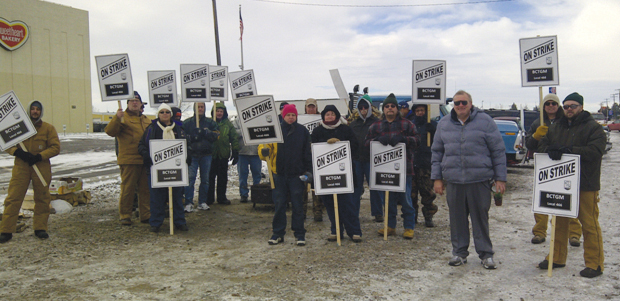 BCT­GM has suf­fered for years: Fac­to­ry work­ers in Billings, Mont., joined a nation­wide BCT­GM strike in Novem­ber 2012 in response to uni­lat­er­al con­tract con­ces­sions imposed by Host­ess in bank­rupt­cy court. In response to the strike, Host­ess shut down all its plants and laid off 18,500 work­ers. (Pho­to cour­tesy of BCTGM)
As a union, BCT­GM has suf­fered. Automa­tion, non-union shops, plant clo­sures and off­shoring in the bak­ery and con­fec­tionery indus­tries have shrunk the union's ranks from 115,000 mem­bers in 2002 to 66,000 in 2018.
Mon­delēz, for its part, has been doing just fine. Most con­sumers know the com­pa­ny for its Nabis­co prod­ucts: Ore­os, Ritz, Triscuits and more. After the snack giant spun off from Kraft Foods in 2012, it turned steady prof­its, return­ing $2.9 bil­lion to its share­hold­ers in 2014 as then-CEO Irene Rosen­feld took a 50% pay increase, to $21 mil­lion. To meet share­hold­er demand for con­tin­u­ing prof­its, Rosen­feld then embarked on an ​"aggres­sive cost-cut­ting plan." Since 2015, the com­pa­ny has been shut­ter­ing plants and trim­ming labor costs.
In May 2015, BCT­GM received a jolt­ing offer from the com­pa­ny: Mon­delēz would con­sid­er $130 mil­lion in equip­ment upgrades at the 62-year-old Chica­go plant if the union accept­ed $46 mil­lion in annu­al wage and ben­e­fit cuts — a 60% cut in pay and ben­e­fits, the union cal­cu­lat­ed. If the union refused, the invest­ment and jobs would go to a new mul­ti-mil­lion-dol­lar plant in Mexico.
The union refused, hop­ing to deal with the issue when com­pa­ny-wide con­tract talks began in Feb­ru­ary 2016. Then, Mon­delēz ​"stonewalled" on pro­vid­ing ​"cost com­par­isons" and infor­ma­tion about the Mex­i­co plant, says BCT­GM Inter­na­tion­al Strate­gic Cam­paign Coor­di­na­tor Ron Bak­er. ​"There was no nego­ti­a­tion," Bak­er recalls. (Mon­delēz spokesper­son Lau­rie Guzzi­nati says that all ​"valid requests for infor­ma­tion" received a response ​"with­in a rea­son­able timeframe.")
Mon­delēz began lay­offs in March 2016, say­ing the union hadn't offered a proposal.
A vet­er­an of Unit­ed Mine Work­ers of America's long bat­tles with coal behe­moths, Bak­er doubt­ed that nego­ti­a­tions could con­vince Mon­delēz to stay in Chica­go — but he believed pub­lic pres­sure could draw sym­pa­thy over the loss suf­fered by work­ers at a plant that makes the Oreo, a tru­ly icon­ic Amer­i­can snack.
Indeed, Trump had repeat­ed­ly brought up the Oreo saga as part of his cam­paign rhetoric about off­shoring jobs. ​"I'm not eat­ing Ore­os any­more," Trump said in New Hamp­shire in Sep­tem­ber 2015. ​"Nabis­co is clos­ing their plant, a big plant in Chica­go, and they're mov­ing it to Mex­i­co." The plant remains open (it had nev­er planned to close), but about half of its jobs were moved.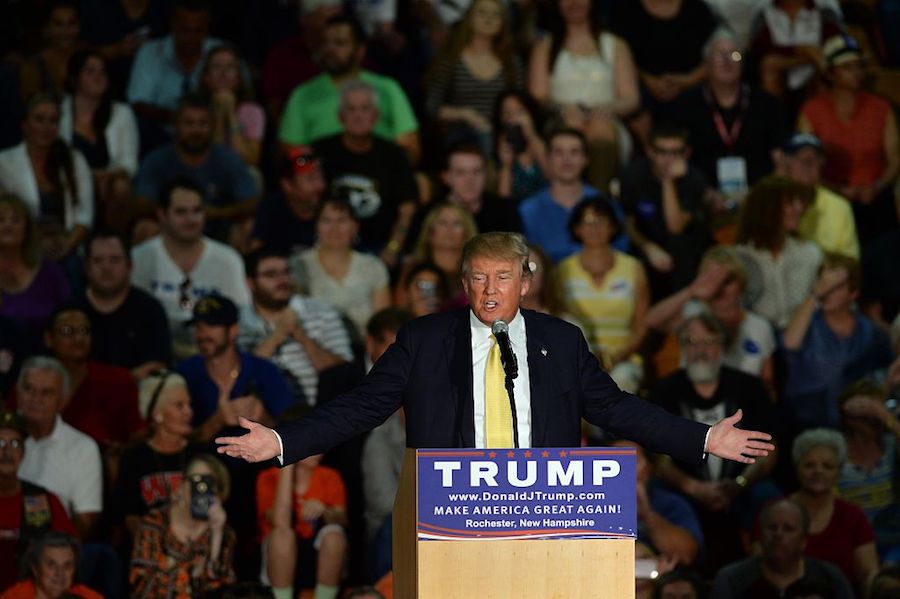 Don­ald Trump swears off Ore­os at a pres­i­den­tial cam­paign event in Rochester, N.H., Sept. 17, 2015. (Pho­to by Dar­ren McCollester/​Getty Images)
When Mon­delēz began its first round of 277 lay­offs in March 2016, BCT­GM stepped up its boy­cott cam­paign against Mex­i­can-made Mon­delēz prod­ucts, begun months ear­li­er, and opened a makeshift office across from the fac­to­ry. The union was count­ing on pub­lic­i­ty from the 2016 pres­i­den­tial campaigns.
Clin­ton vis­it­ed the union's cam­paign office that March, meet­ing with Michael Smith and oth­er work­ers, then with Rosen­feld, report­ed­ly to urge a halt to the move. Noth­ing changed.
The union sent Smith and oth­ers across the Unit­ed States to meet­ings, pub­lic ral­lies and media inter­views to talk about the harm done by pros­per­ous com­pa­nies seek­ing cheap­er labor over­seas. At a June 2016 Demo­c­ra­t­ic Par­ty plat­form com­mit­tee meet­ing in Wash­ing­ton, D.C., Smith appealed: ​"I am not a num­ber, nor [is] my fam­i­ly, nor my neigh­bors, nor my cowork­ers … We are, how­ev­er, vic­tims of [the] glob­al snatch-and-grab that has gut­ted our community."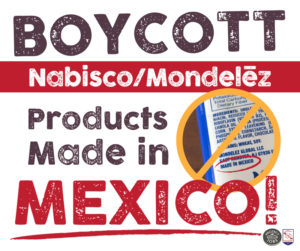 In vis­its to 25 col­lege cam­pus­es, BCT­GM reps urged stu­dents to boy­cott Mex­i­can-made Mon­delēz prod­ucts and have their schools do the same (though the union is not sure whether any schools did). More than 280 U.S. reli­gious lead­ers signed a let­ter ask­ing Mon­delēz to stop ship­ping jobs out­side the Unit­ed States. The boy­cott made head­lines and the rounds on social media, though some crit­ics point­ed to the lim­it­ed suc­cess of such efforts and the xeno­pho­bic poten­tial of ​"buy Amer­i­can" rhetoric.
After Trump became pres­i­dent, the union was opti­mistic he would take up the fight from the White House. In 2017, BCT­GM reached out to Trump direct­ly but received no reply, not even a tweet. Ron Bak­er says Trump has done noth­ing to help the union since 2016.
The 2016 job loss land­ed like a ham­mer. By sum­mer, 600 Mon­delēz work­ers had been laid off—half the plant — though the com­pa­ny did begin call­backs to fill open­ings cre­at­ed by retire­ments, per the union con­tract, and kept the process in place after the con­tract expired, accord­ing to a com­pa­ny spokesperson.
Accord­ing to the union, the major­i­ty of work­ers at the plant were over 40, and many came from fam­i­lies that had worked for gen­er­a­tions at the mas­sive South­west Side Chica­go fac­to­ry, which was built in the 1950s and employed up to 4,000 work­ers in its hey­day. In job-hun­gry Chica­go neigh­bor­hoods, the union plant, with an aver­age $27 wage, had been an oasis. Man­u­fac­tur­ing, once a dri­ver of Chicago's econ­o­my, account­ed for about 18% of the city's jobs in 1994 and only 10% in 2017. Chicago's Black com­mu­ni­ties were hit espe­cial­ly hard: The per­cent­age of work­ers in fac­to­ry jobs dropped from almost 30% in 1960 to 6.5% in 2017, while unem­ploy­ment more than dou­bled, to 20%. Two-thirds of the laid-off Mon­delēz work­ers were peo­ple of color.
Lisa Peatry land­ed a job at Mon­delēz in 2013, after four dif­fer­ent lay­offs and clos­ings, includ­ing the Kool-Aid plant that sent some work to Mex­i­co in 2002. She was 50, liv­ing on her own after rais­ing three chil­dren. She liked her job on the pro­duc­tion lines because they were fast and she appre­ci­at­ed her cowork­ers. ​"There was a diver­si­ty of races and every­one got along," she says. Peatry was laid off in March 2016. Unable to keep up with rent, she lost her home and has been stay­ing with a relative.
Even­tu­al­ly, Peatry found a fac­to­ry job at $14 an hour — a job that often left her cry­ing night­ly from its dif­fi­cul­ty and the treat­ment she received from boss­es — and then a bet­ter job at $18. She still want­ed to return to her $25.43-an-hour job at Mon­delēz, but the com­pa­ny stopped its recalls, strand­ing Peatry and about 100 oth­ers on the recall list.
After being laid off, for­mer Mon­delēz work­er Sal­vador Ortiz, 49, signed up for Eng­lish class­es and hoped to do bet­ter than friends, who were find­ing $11-an-hour jobs. Talk­ing about his future one day in May 2016, in the liv­ing room of a com­fort­able bun­ga­low not far from the plant, his wife cried, say­ing their mid­dle-class dream was over. Ortiz feared los­ing his house and car. More than a year lat­er, Ortiz was recalled back to the plant, but had suf­fered finan­cial­ly, get­ting by on unem­ploy­ment checks and $14-an-hour jobs.
When Michael Smith was called back to Mon­delēz in March 2018, he found the work­ing con­di­tions had changed for the worse. Smith was on manda­to­ry over­time almost dai­ly, some­times work­ing a dou­ble shift, get­ting only four or five hours of sleep and nev­er know­ing when he could make a doctor's appoint­ment. Smith felt the com­pa­ny was in dis­ar­ray. He was now run­ning an oven, a new job for him that was uncom­fort­able because of the high tem­per­a­tures. ​"It's 120 degrees and it's like I'm sit­ting in the oven," he tells In These Times. (Guzzi­nati says manda­to­ry over­time may be required more than once week­ly, to accom­mo­date workload.)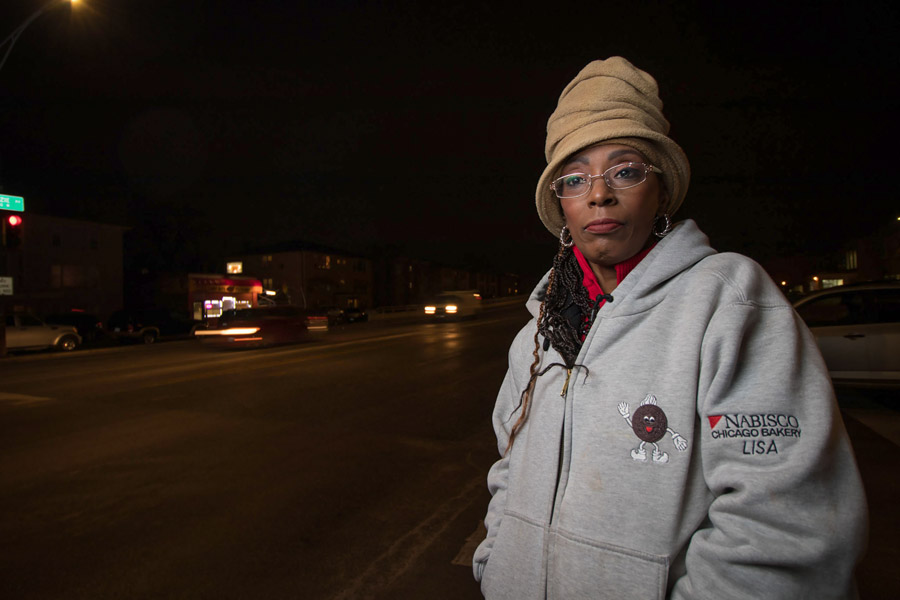 Lisa Peatry enjoyed work­ing on the pro­duc­tion lines at Mon­delēz — for the pay, but also the diverse com­mu­ni­ty. After Mon­delēz off­shored her job in March 2016, she was unable to pay rent, and lost her home. (Pho­to by Mered­ith Goldberg)
In May 2018, just over two years after the union con­tract expired, Mon­delēz imposed part of its ben­e­fits cuts, switch­ing Smith and his cowork­ers' retire­ment ben­e­fits from a guar­an­teed pen­sion to a 401(k) account. Mon­delēz hon­ored exist­ing pen­sions but pulled its 2,000 remain­ing union bak­ery work­ers out of BCTGM's mul­ti­em­ploy­er pen­sion fund, com­mit­ting to instead pay an ear­ly with­draw­al fee of $560 mil­lion over 20 years. Mon­delēz told work­ers it was think­ing about their future: The mul­ti­em­ploy­er plan could col­lapse by 2030, the com­pa­ny warned.
But the union sees it as just anoth­er blow to one of the most trou­bled mul­ti­em­ploy­er pen­sion plans, which has suf­fered since the 2008 reces­sion. When Host­ess Brands, once the fund's largest con­trib­u­tor, closed and filed bank­rupt­cy in 2012, the com­pa­ny left a $2 bil­lion pen­sion lia­bil­i­ty. By 2018, the fund had $7.9 bil­lion in lia­bil­i­ties and only $4.1 bil­lion in assets.
In 2018, Mon­delēz CEO Dirk Van de Put earned $15 mil­lion. The medi­an Mon­delēz work­er world­wide, mean­while, is a part-time hourly employ­ee earn­ing $30,639, an income ratio of 489 to 1.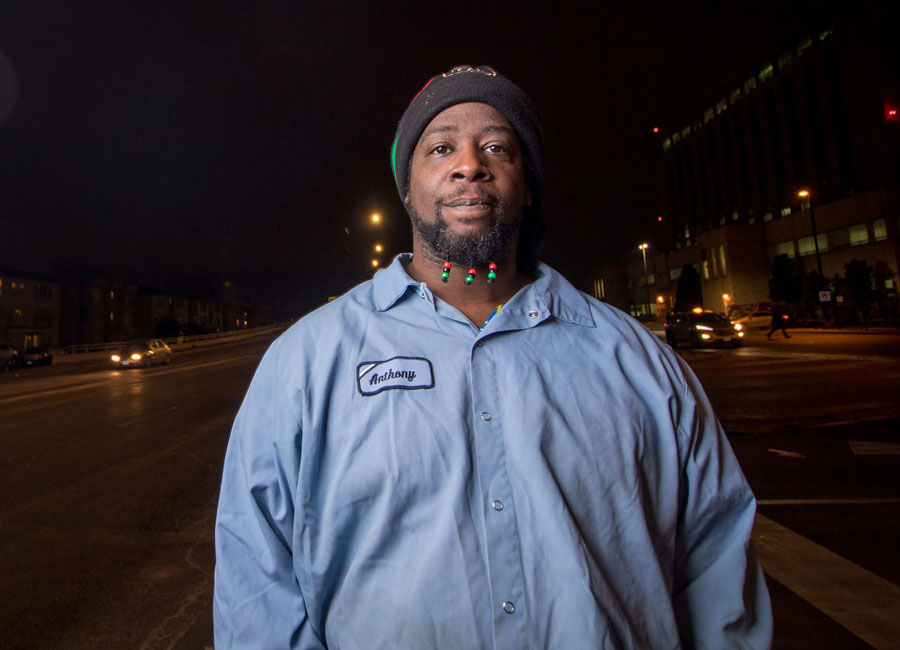 A Navy vet with three chil­dren, Antho­ny Jack­son mourned the loss of his job at Mon­delēz, his best-pay­ing job ever. Since the lay­off in March
2016, when Mon­delēz moved hun­dreds of jobs to a new fac­to­ry in Mex­i­co, Jack­son says he's only found low-wage work. (Pho­to by Mered­ith Goldberg)
Pre­vent­ing U.S. firms from out­sourc­ing jobs was a drum­beat for the 2016 Trump cam­paign. ​"These com­pa­nies aren't going to be leav­ing any­more," Trump declared in Decem­ber 2016 in Indi­anapo­lis. ​"They're not going to be tak­ing people's hearts out. They're not going to be announc­ing, like they did at Car­ri­er, that they're clos­ing up and they're mov­ing to Mexico."
But Rose­mary Coates, head of the Reshoring Insti­tute, a Cal­i­for­nia-based non­prof­it, says that, rather than bring­ing jobs back to the Unit­ed States, com­pa­nies are increas­ing­ly look­ing for new places to send pro­duc­tion. The lat­est reshoring sur­vey by con­sult­ing com­pa­ny A.T. Kear­ney shows that imports of man­u­fac­tured items to the Unit­ed States from 14 low-cost coun­tries have steadi­ly grown for the past five years, indi­cat­ing that off­shoring continues.
The Trump admin­is­tra­tion has laud­ed tar­iffs and trade wars as a way to pres­sure com­pa­nies into keep­ing jobs in the Unit­ed States. Yet, as Tobi­ta Chow, direc­tor of the Jus­tice Is Glob­al project at the People's Action Insti­tute (and mem­ber of In These Times' board of direc­tors), explains, this strat­e­gy has back­fired. ​"Trump's trade wars have raised costs, reduced demand, killed jobs in the Unit­ed States and wors­ened work­ing con­di­tions across much of the Glob­al South," Chow says.
In Mex­i­co, fac­to­ry work­ers earn 40% less than those in Chi­na. Mondelēz's new plant opened in Sali­nas Vic­to­ria, Mex­i­co, in late 2014 and now has 1,800 work­ers, accord­ing to the com­pa­ny. But work­ers in Mex­i­co have been pinned under a moun­tain of problems.
Most Mex­i­can unions serve com­pa­nies under ​"pro­tec­tion con­tracts," in which the com­pa­ny actu­al­ly picks the union and dic­tates con­tract terms, defang­ing work­er move­ments before they begin. Pro­tec­tion con­tracts are often signed by unions when a fac­to­ry has very few work­ers to actu­al­ly nego­ti­ate. In Octo­ber 2014, with just 20 work­ers at the new plant, Mon­delēz signed a union con­tract that capped the top day rate at 200 pesos, about $14.90 per day. BCT­GM even­tu­al­ly obtained a copy of the con­tract, which it called proof that the Mex­i­can work­ers were vic­tims of a pro­tec­tion contract.
Accord­ing to an August 2017 rul­ing from the Nation­al Labor Rela­tions Board, a Mon­delēz offi­cial told an admin­is­tra­tive law judge that its Mex­i­can work­ers earned $7 an hour in wages and ben­e­fits. As for the union there, a Mon­delēz offi­cial told In These Times that the 2014 con­tract was no longer in effect and dis­put­ed the ​"pro­tec­tion union" moniker.
Mean­while, BCT­GM con­tin­ued pres­sur­ing Mon­delēz to reshore its jobs. In May 2017, 17 Democ­rats in the U.S. Sen­ate called on Mon­delēz to hire back work­ers let go at its plants in Chica­go and at its oper­a­tions in Fair­lawn, N.J., Rich­mond, Va., Port­land, Ore., and Atlanta — but noth­ing happened.
In Novem­ber 2017, BCT­GM part­nered with reli­gious and union lead­ers to arrange a vis­it with Mex­i­can union activists from dif­fer­ent groups in Mon­ter­rey, Mex­i­co. The union has since reached out to the inde­pen­dent Mex­i­can Los Mineros union, which sep­a­rates itself from Mexico's more cor­rupt or com­pro­mised unions. Mex­i­can Pres­i­dent Andrés Manuel López Obrador has pushed through stronger work­er pro­tec­tions, but imple­ment­ing them will be a chal­lenge as long­stand­ing pro­tec­tion unions fear los­ing control.
Impor­tant­ly, the new trade agree­ment between the Unit­ed States, Mex­i­co and Cana­da — passed in Decem­ber 2019 with sup­port from U.S. labor unions — is a blow to the pro­tec­tion con­tracts signed by cor­rupt unions, call­ing for union mon­i­tor­ing and access to bi-nation­al pan­els for inspec­tions trig­gered by work­er complaints.
Mon­delez and BCT­GM remain in a stale­mate over lost jobs and a lost pen­sion plan. They have not talked in a year, each claim­ing the oth­er has quit nego­ti­a­tions. Mondelēz's stock is up more than 30% since May 2015.
BCT­GM Strate­gic Cam­paign Coor­di­na­tor Nate Zeff, who picked up the torch when Bak­er retired in 2018, says a new cam­paign will launch ear­ly this year and will involve mobi­liz­ing Mon­delēz work­ers in Mexico.
"We are almost four years into this fight," Zeff says. ​"Even­tu­al­ly, we are going to win."
"The real solu­tion to off­shoring is not trade wars — it's to raise stan­dards for work­ers across bor­ders," says Jus­tice Is Global's Chow. ​"We can get there through inter­na­tion­al work­er sol­i­dar­i­ty, not by pit­ting work­ers against each oth­er across bor­ders as Trump has done."
Michael Smith, who now works at the Chica­go plant, has his own strat­e­gy. Ever an opti­mist, he is writ­ing to Trump to ask for his help sav­ing pen­sion plans like his.
"It's an oppor­tu­ni­ty for him to own up to say­ing he would nev­er eat Ore­os again," Smith says. ​"It's only a hope. He is still my president."