Organizers Come Together To 'Move from Checkers to Chess'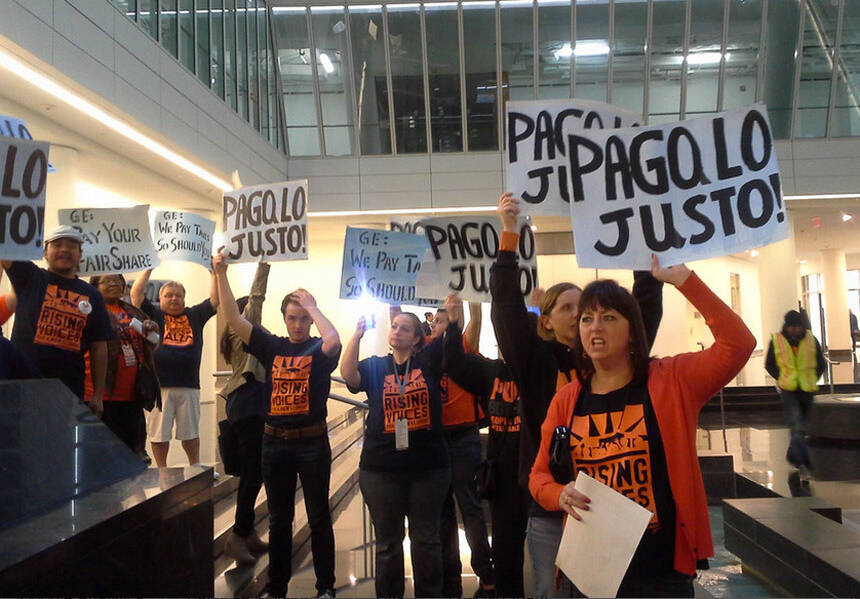 With its glit­ter­ing chan­de­liers in the lob­by and $200-per-night room rate, the Omni Shore­ham hotel in Wash­ing­ton, D.C. seems like an incon­gru­ous place for a con­ven­tion of work­ing-class peo­ple talk­ing about tak­ing pow­er back from the 1 percent.
As Ai-Jen Poo, direc­tor of the Nation­al Domes­tic Work­ers Alliance (NDWA), points out when she takes the stage to address a crowd full of orga­niz­ers from around the coun­try, the peo­ple mak­ing deci­sions about the econ­o­my don't look like the ones in this room.
​"But," she declares over rau­cous cheers, ​"They should."
About 1000 activists have con­gre­gat­ed for the joint con­ven­tion between NDWA and the com­mu­ni­ty-orga­niz­ing net­work Nation­al Peo­ple's Action (NPA). NPA has been hold­ing such gath­er­ings, in which mem­bers from its affil­i­ate groups around the nation come togeth­er to share sto­ries, strate­gize, and raise a lit­tle hell in the streets of D.C., for 41 years. This year, it's joined with NDWA in an attempt to build some­thing big­ger that can work for long-term suc­cess — what NPA direc­tor George Goehl calls in an inter­view ​"mov­ing from check­ers to chess."
As David Moberg report­ed for In These Times in Feb­ru­ary, under Goehl, NPA has shift­ed its for­mer com­mu­ni­ty-orga­niz­ing mod­el toward some­thing that looks a lot more like move­ment-build­ing. That includes team­ing up with groups like NDWA and oth­ers in order to add to their col­lec­tive strength and actu­al­ly build a strat­e­gy that won't stop at win­ning neigh­bor­hood or even city­wide vic­to­ries. Ulti­mate­ly, the NPA and their allies hope to reshape the Amer­i­can econ­o­my so it actu­al­ly works for everyone.
Their plan for a ​"peo­ple's new econ­o­my" calls for ​"demo­c­ra­t­ic con­trol of cap­i­tal, racial jus­tice, cor­po­ra­tions for the com­mon good, eco­log­i­cal sus­tain­abil­i­ty and real democ­ra­cy." That's not a small list of goals, but NPA isn't inter­est­ed in small any longer. The phrase ​"struc­tur­al trans­for­ma­tion" is fre­quent­ly invoked over the week­end. Orga­niz­ers repeat­ed­ly point out at ple­nary ses­sions and pan­el dis­cus­sions that inequal­i­ty was not an acci­dent — that it hap­pened by design as a result of delib­er­ate steps tak­en by the wealthy to con­sol­i­date their own pow­er — and that long-term plans will be need­ed to coun­ter­act it as well.
​"We real­ized," Goehl tells me, ​"that we actu­al­ly had to fig­ure out how to do real strat­e­gy and put togeth­er a set of moves that were designed to con­test for pow­er — in the world of nar­ra­tive, in the world of elec­tions, and in terms of struc­tures — the kind of legal forms that dic­tate who has pow­er and who doesn't."
Pow­er. It's a word being used a lot by orga­niz­ers in the post-Occu­py Wall Street moment. Goehl notes, ​"I think that a lot of peo­ple thought if we could move that many peo­ple into the streets, that would maybe cre­ate some sort of tip­ping point and it would ush­er in a lot of change." When it turned out that was­n't enough, he says, instead of just being dis­il­lu­sioned, many orga­niz­ers did some reflect­ing and began think­ing about how to real­ly build power.
That means con­tem­plat­ing the kinds of vic­to­ries that NPA's affil­i­ates have won and want to win. The ques­tion, for Goehl, is how to turn short-term con­crete suc­cess­es that improve the lives of their mem­bers and make orga­ni­za­tions stronger into wins that do some­thing to change long-term rela­tions of pow­er. He points to the Nation­al Labor Rela­tions Act as an exam­ple of a tri­umph for work­ers' orga­niz­ing that, in turn, was designed to then spur even more organizing.
Of course, the NLRA is a shad­ow of its for­mer self these days, and for many of the work­ers at the con­fer­ence, it nev­er applied in the first place. Martha Oje­da, cam­paign orga­niz­er at the Fe y Jus­ti­cia (Faith and Jus­tice) Work­er Cen­ter in Hous­ton, Texas, works with domes­tic work­ers who are try­ing to enforce their rights in a cli­mate where they have almost none. Many of those domes­tic work­ers are vic­tims of wage theft, par­tic­u­lar­ly when they live with the fam­i­lies that employ them. The work­er cen­ter's indi­vid­ual cam­paigns to help, she says, were just ​"putting a Band-Aid on things," so they decid­ed to work on an ordi­nance at the munic­i­pal lev­el in order to stop wage theft.
They orga­nized City Coun­cil dis­trict by dis­trict, mobi­lized allies, and put pres­sure on the Coun­cil mem­bers and (Demo­c­ra­t­ic) May­or Annise Park­er, flood­ing Tues­day evening pub­lic hear­ings with work­ers telling their sto­ries of wage theft.
​"Every­one was say­ing what they were going through — ​'I lost my car, I did­n't have the mon­ey to make the pay­ment because this employ­er did not pay me' — all these kinds of sto­ries of how it impact­ed them but also how [wage theft] impacts the econ­o­my," she explains. ​"If they did not have any mon­ey they were not able to go con­sume, to pay the gas, to pay the gro­ceries, to pay the rent."
The bill passed unan­i­mous­ly. ​"We were told that in Texas it was impos­si­ble because Texas is the state of the right-to-work, of the oil, of the cap­i­tal, so it's impos­si­ble," Oje­da says with a smile.
Yet now the prob­lem is enforc­ing the ordi­nance, and Oje­da says that the city focus­es more on tar­get­ing large employ­ers than indi­vid­ual employ­ers of domes­tic work­ers. As always, orga­niz­ing can't sim­ply stop with one vic­to­ry, and so Fe y Jus­ti­cia is join­ing with oth­er groups to push for a Texas domes­tic work­er's bill of rights like the ones passed in New York and oth­er states recently.
For Goehl, this kind of strug­gle is fur­ther evi­dence that a tru­ly trans­for­ma­tive move­ment must cen­ter the peo­ple, such as domes­tic work­ers, who have been left out of labor and oth­er pro­tec­tions. As he puts it, ​"How do we build a move­ment that ensures, not just out of the good­ness of our heart, that the most invis­i­ble in our econ­o­my and our pol­i­tics are at the front, not out of just some lib­er­al idea but actu­al­ly because it's right in terms of strat­e­gy and the ulti­mate impact?" After all, a labor rights régime that leaves out domes­tic work­ers has wound up putting more and more work­ers in the same pre­car­i­ous con­di­tions domes­tic work­ers have long faced.
As Toby Chow, an orga­niz­er with NPA affil­i­ate Illi­nois Indi­ana Region­al Orga­niz­ing Net­work (IIRON), says dur­ing a pan­el, ​"The econ­o­my has to be for every­one. It's not because it's a nice idea, it's because if the new econ­o­my does­n't include every­one it's not going to hap­pen for anyone."
It's work­ers like Patri­cia Fuller from NPA affil­i­ate Michi­gan Unit­ed in Detroit who are push­ing for those changes in the econ­o­my. Fuller works long hours for min­i­mum wage pack­ing auto parts; she once worked for Gen­er­al Motors for decent pay, but that plant closed down. But after her shifts are done, she spends a few hours can­vass­ing her neigh­bors for sig­na­tures to raise the min­i­mum wage in her state.
​"Most of them are very eager to sign, no expla­na­tion nec­es­sary," she tells In These Times. ​"All I have to do is ask ​'Would you like to see the min­i­mum wage raise?' and they're like ​'Sure, give me that, can he sign too?' They're eager. They want to see a change."
And in Des Moines, Iowa, Nataly Espinoza joined the fight against low wages and wage theft after work­ing as in a ware­house for four years mak­ing $8.50 an hour—with no ben­e­fits—as a temp for Kel­ly Ser­vices. As part of Iowa Cit­i­zens for Com­mu­ni­ty Improve­ment, Espinoza began orga­niz­ing with fel­low temps and oth­er work­ers; Iowa CCI is now push­ing for­ward with a state bill to crack down on wage theft.
For Fuller and Espinoza, as well as oth­er mem­bers of NPA and NDWA, inequal­i­ty is old news. Yet Goehl points out that for politi­cians and econ­o­mists every­where, ​"inequal­i­ty" is now a hot-but­ton issue. That's why it's impor­tant, he says, ​"to be sure nation­al­ly that we get the diag­no­sis right. There are deep struc­tur­al rea­sons why we have always had inequal­i­ty, why we have expand­ing inequal­i­ty now. And if we get that diag­no­sis wrong, the pre­scrip­tion will be wrong and we'll fail. Or we'll get a few reforms here and there and life might be a lit­tle less hate­ful for peo­ple, but we also won't have changed the under­ly­ing struc­tures that cre­at­ed the situation."
That diag­no­sis, Goehl and oth­ers say, has to include race, gen­der, sex­u­al­i­ty, abil­i­ty and more. At the con­fer­ence, more spe­cif­ic work sur­round­ing such a diag­no­sis includes issues of mass incar­cer­a­tion (a pan­el on the sub­ject is stand­ing-room-only and still over­flows into the hall) and fair hous­ing for peo­ple with HIV/AIDS, like the 30 per­cent-of-income rent cap NPA affil­i­ate VOCAL-New York just won.
As for the pre­scrip­tion, Goehl says, that includes inde­pen­dent polit­i­cal pow­er. (Moberg report­ed on the for­ma­tion of a sep­a­rate 501(c)(4) arm, called the Nation­al Peo­ple's Action Cam­paign, to do more explic­it polit­i­cal work.) ​"I think we look at the Demo­c­ra­t­ic Par­ty as a field of strug­gle in and of itself," he says and ​"There's no path to trans­form­ing whom our econ­o­my serves that does­n't include a lot of ten­sion with the Demo­c­ra­t­ic Party."
Sev­er­al of the work­ers who speak with In These Times plan to use upcom­ing elec­tions as points of lever­age to push would-be offi­cials to focus on their issues: Oje­da tells me about con­fronting Texas guber­na­to­r­i­al can­di­date Wendy Davis at a cam­paign stop to ask her if she would back a domes­tic work­ers' bill of rights, and Espinoza looks for­ward to vis­its to Iowa by pres­i­den­tial can­di­dates so she can press them on prob­lems fac­ing low-wage workers.
That does­n't mean they don't have any Demo­c­ra­t­ic allies; at the Capi­tol Hill ral­ly con­clud­ing the con­fer­ence on Mon­day, Rep. Kei­th Elli­son (D‑Minnesota) address­es the crowd. ​"When these cor­po­ra­tions, when they say they need a tax break, I'm going to tell you why they say they need a tax break," he tells the assem­bled orga­niz­ers. ​"They always say it's for jobs. They go to Con­gress in your name and say ​'Give us a tax break and we'll kick the work­ers back.' But they're lying!"
Yet the main atti­tude toward elect­ed offi­cials of any par­ty seems to be the one expressed by an orga­niz­er from Chicago's ONE North­side at Sat­ur­day night's open­ing ple­nary. When his group chal­lenged Demo­c­ra­t­ic Rep. Jan Schakowsky recent­ly, he says, some of their allies were con­cerned that they weren't being nice enough to an elect­ed offi­cial who was most­ly on their side. ​"Don't be nice, be just," he replied.
​"We're ready for a pol­i­tics that puts peo­ple and a set of prin­ci­ples over polit­i­cal par­ties," Goehl says, ​"and our loy­al­ty is to peo­ple and a set of principles."
Sarah Jaffe
is a for­mer staff writer at
In These Times
and author of
Nec­es­sary Trou­ble: Amer­i­cans in Revolt
, which Robin D.G. Kel­ley called ​
"
The most com­pelling social and polit­i­cal por­trait of our age." You can fol­low her on Twit­ter
@sarahljaffe
.