Why People Across the Country Are Raising Money to Bail Strangers Out of Jail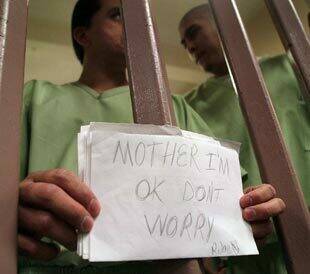 This arti­cle first appeared on Wag­ing Nonviolence.
The premise of Mari­ame Kaba's idea, which she tweet­ed on New Year's Eve with the hash­tag #FreeTheP­eo­ple, was sim­ple — donate the price of one drink to a local bail fund, orga­ni­za­tions that raise mon­ey and post bail for peo­ple who would oth­er­wise lan­guish in jail until their day in court.
Orga­niz­ers took up the call to #FreetheP­eo­ple. Chica­go orga­niz­er Kel­ly Hayes reached out to oth­ers to cre­ate memes to cir­cu­late and keep momen­tum going. She and Kaba also com­piled fact sheets about cash bail and its con­se­quences. ​"We want­ed to use this as an oppor­tu­ni­ty for edu­ca­tion, not just to raise mon­ey," Kaba explained.
Their efforts took off and, in one day, raised over $233,000 for at least 14 local bail funds across the coun­try. Hun­dreds of peo­ple par­tic­i­pat­ed, tweet­ing and retweet­ing the calls, cre­at­ing graph­ics for the event or tweet­ing the amount they donat­ed as a way to encour­age oth­ers to do the same. Some used the hash­tag to edu­cate about how cash bail works — and its dev­as­tat­ing con­se­quences. Those thou­sands of dol­lars are now enabling them to post bail for hun­dreds of people.
In court­rooms nation­wide, when a per­son first appears in court after arrest, the judge has the option of releas­ing them, jail­ing them until tri­al or set­ting bail. The rea­son­ing behind bail is not because the per­son is deemed a risk to them­selves or their com­mu­ni­ties. Instead, the rea­son­ing is based on mon­ey — by pay­ing a cer­tain amount, that per­son is more like­ly to return for sub­se­quent court dates. If they fail to show up, they for­feit that money.
In prac­tice, how­ev­er, bail sets up a two-tiered sys­tem for the 12 mil­lion peo­ple arrest­ed each year: those who can afford to pay bail can go home to await their day in court. Those who can­not — approx­i­mate­ly 450,000 peo­ple on any giv­en day — stay behind bars, mak­ing up two-thirds of the jail pop­u­la­tion.
In Mass­a­chu­setts, for exam­ple, between 77 and 88 per­cent of women remained in jails (and in the state prison's over­crowd­ed Await­ing Tri­al Unit) because they and their fam­i­lies could not afford to post bail amounts of $2,000 or less. In New York City, approx­i­mate­ly 85 per­cent of peo­ple held at Rik­ers Island, the island-jail com­plex noto­ri­ous for its cul­ture of vio­lence, are still await­ing their day in court.
The con­se­quences of not being able to afford bail extend beyond days lost. Though tech­ni­cal­ly inno­cent until proven guilty, while wait­ing in jail, peo­ple often lose their jobs, homes, access to social ser­vices and child cus­tody. More­over, those lan­guish­ing behind bars are more like­ly to plead guilty as a way to escape the often-hell­ish con­di­tions of local jails. Peo­ple who refuse to plead guilty can spend years in jail and suf­fer tremen­dous vio­lence dur­ing that time.
Just look at Kalief Brow­der, the teenag­er who refused to plead guilty to steal­ing a back­pack and spent three years at Rik­ers Island, where he was assault­ed by both staff and oth­er teens. After three years, the pros­e­cu­tor final­ly dropped the charges, but the vio­lence and trau­ma he suf­fered at Rik­ers con­tin­ued to haunt him. Two years lat­er, he com­mit­ted sui­cide. Kalief's sto­ry is only unusu­al in that it's well-known; count­less oth­ers remain in sim­i­lar­ly hell­ish conditions.
The inequal­i­ties inher­ent in bail — and its role in enabling mass incar­cer­a­tion — have gained crit­i­cal atten­tion in recent years. In var­i­ous cities, orga­niz­ers have cre­at­ed bail funds, which are revolv­ing funds that post bail for those who can­not oth­er­wise afford free­dom. Once that person's case is com­plet­ed, the courts return the mon­ey (minus any fees) and bail fund orga­niz­ers use it to buy some­one else's freedom.
#FreetheP­eo­ple was the lat­est in sev­er­al mass fundrais­ers around bail in 2017. In the weeks lead­ing up to Mother's Day, orga­niz­ers launched Mamas' Bailout Day, rais­ing over $1 mil­lion to post bail for at least 106 black moth­ers in time for the hol­i­day. Their efforts weren't lim­it­ed to peo­ple who were bio­log­i­cal moth­ers, but extend­ed those who were embraced as moth­er fig­ures by peo­ple in their com­mu­ni­ties. They also con­nect­edpeo­ple to sup­port ser­vices and resources to ensure that they can take care of them­selves and their fam­i­lies. For Father's Day, Gay Pride, June­teenth and Black August, anoth­er 82 peo­ple were bailed out.
In Decem­ber, the Mass­a­chu­setts Bail Fund and Black Lives Mat­ter Cam­bridgelaunched a hol­i­day bailout. Each week, orga­niz­ers sat in court­rooms or vis­it­ed local jails to iden­ti­fy and post bail amounts of less than $500 for peo­ple who would oth­er­wise remain in jail. That month, they bailed out 78 peo­ple in the Boston area alone.
But buy­ing free­dom for 78 peo­ple isn't cheap. Atara Rich-Shea of the Mass­a­chu­setts Bail Fund not­ed that, alto­geth­er, those bails cost $41,591 and cred­its a grant from Nation­al Bailout, a coali­tion of orga­ni­za­tions, for allow­ing them to post bail for 24 more peo­ple than they would have been able to oth­er­wise. In Mass­a­chu­setts, each bail is accom­pa­nied by a $40 fee, which is not refunded.
Among them was a preg­nant woman held in the state prison's Await­ing Tri­al Unit. The orga­niz­er who post­ed her bail recount­ed that, before the two part­ed ways, the woman told her ​"how scared she was for her and her baby's safe­ty. And also how impos­si­ble it is to get prop­er sleep on a prison bed. She was so relieved to be out."
In Con­necti­cut, orga­niz­ers with the Con­necti­cut Bail Fund and the Immi­grant Bail Fund also held a hol­i­day bailout, free­ing 29 peo­ple from local adult jails, youth deten­tion and immi­gra­tion deten­tion. The amounts that they post­ed var­ied wild­ly. Co-founder Brett David­son recalled post­ing a $50 bail for a man who did not have phone num­bers of friends or fam­i­ly who could post his bond; the fund also post­ed $5,000 for a woman arrest­ed for sex work. Con­necti­cut does not charge a fee for post­ing bail, so all of the mon­ey is even­tu­al­ly returned to each bail fund.
#FreetheP­eo­ple raised $26,060 for the Mass­a­chu­setts Bail Fund. Com­bined with a match­ing grant for funds raised in the last two weeks of Decem­ber, the Bail Fund now has $59,060, an amount that will allow them to free at least 100 peo­ple. #FreetheP­eo­ple raised $2,127 for the Con­necti­cut Bail Fund and anoth­er $4,312 for the Immi­grant Bail Fund. David­son not­ed that the lat­ter funds went towards a $10,000 immi­gra­tion bond in ear­ly January.
Bail fund orga­niz­ers are not only work­ing to free peo­ple from jail, but also fight­ing to end cash bail alto­geth­er. In some places, they are begin­ning to see results. Orga­niz­ers with the Chica­go Com­mu­ni­ty Bond Fund, of which Kaba is an advi­so­ry mem­ber, have pushed for court inter­ven­tions and worked with leg­is­la­tors on bills to change bail laws. In July 2017, in response to a law­suit, a judge issued Gen­er­al Order 18.A, a rule requir­ing that all bails in Chicago's Cook Coun­ty must be afford­able. The order applies only to bails set after that deci­sion and orga­niz­ers have not­ed that not all judges have been adher­ing to the new rule. Nonethe­less, the Cook Coun­ty Jail has had 1,500 few­er pris­on­ers since the rul­ing took effect in September.
In Con­necti­cut, grass­roots orga­niz­ing has been slow­er. David­son notes efforts among pol­i­cy mak­ers to replace cash bail with risk assess­ment, which replaces one flawed sys­tem with anoth­er. Many of the peo­ple bailed out of local jails are hous­ing unsta­ble or home­less, thus mak­ing them more vul­ner­a­ble to police contact.
"For us, it's a chal­lenge to even start the con­ver­sa­tion about abo­li­tion and the cash bail sys­tem because most of the peo­ple we're bond­ing out, it's not a famil­iar con­cept," he said. ​"We're try­ing to cre­ate a con­ver­sa­tion less about replac­ing the bail sys­tem with risk assess­ment and more about pre­tri­al decarcer­a­tion. That's a longer process, to have those con­ver­sa­tions and do the nec­es­sary orga­niz­ing in the community."
"Peo­ple are orga­niz­ing and not just giv­ing their mon­ey in a char­i­ty way that actu­al­ly rein­forces the cur­rent sys­tem," Kaba reflect­ed. ​"It's not just the actu­al bail­ing out, but the bail­ing out is super-impor­tant because, as we know, the cas­cad­ing effects on people's lives can­not be under­es­ti­mat­ed or minimized."