U.S. Prisons and Jails Are Threatening the Lives of Pregnant Women and Babies
Our 6-month investigation reveals the horrific and shameful conditions facing pregnant prisoners—and the inhumane treatment they receive.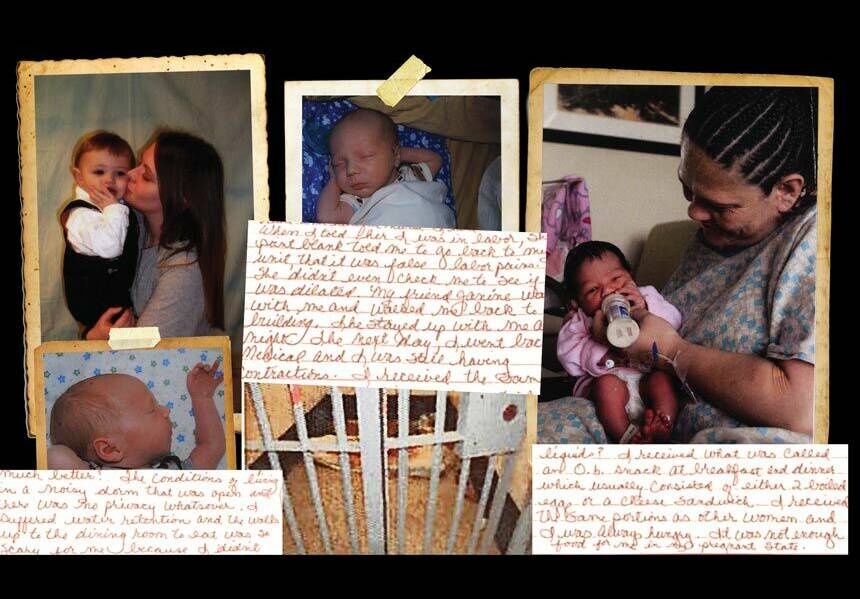 At 5 a.m. on June 12, 2012, lying on a mat in a locked jail cell, with­out a doc­tor, Nicole Guer­rero gave birth.
Though the United States accounts for only 5 percent of the world's women, it has 33 percent of the world's women prisoners.
Guer­rero was eight-and‑a half months preg­nant when she arrived 10 days ear­li­er at Texas' Wichi­ta Coun­ty Jail. The med­ical mal­prac­tice law­suit Guer­rero has filed — against the coun­ty, the jail's health­care con­trac­tor, Cor­rec­tion­al Health­care Man­age­ment, and one of the jail's nurs­es, LaDon­na Ander­son — claims she began expe­ri­enc­ing low­er back pain, cramps, heavy vagi­nal dis­charge and bleed­ing on June 11. The nurse on duty told her there was no cause for con­cern until she had bled through two san­i­tary nap­kins. Sev­er­al painful hours lat­er, Guer­rero pushed the med­ical emer­gency but­ton in her cell.
At 3:30 a.m., more than four hours lat­er, Guer­rero was final­ly tak­en to the nurse's sta­tion. Guer­rero says she showed Ander­son her used san­i­tary pads filled with blood and flu­ids, but was not exam­ined. Instead, she was tak­en to a one-per­son hold­ing cell with no toi­let, sink or emer­gency call but­ton, known as the ​"cage." At 5 a.m., her water broke. She called out to Ander­son, but, Guer­rero says, Ander­son refused to check on her. Short­ly after, Guer­rero felt her daughter's head breach. A pass­ing guard stopped to assist her, and Guer­rero, unable to keep from push­ing, gave birth on a blood and pus-cov­ered mattress.
The baby was dark pur­ple and unre­spon­sive, with the umbil­i­cal cord wrapped around her neck. When Ander­son arrived min­utes lat­er, she did not attempt to revive the baby, Guer­rero says. The EMTs got there after 20 min­utes and rushed the baby to the hos­pi­tal. Guer­rero remained in the cage, where she deliv­ered the pla­cen­ta. At 6:30 a.m., the baby was pro­nounced dead.
No data, no problem
The num­ber of women who cycle through U.S. jails is increas­ing by approx­i­mate­ly 1.6 per­cent each year, to 109,100 in 2014, while the num­ber of women in pris­ons has risen near­ly ten­fold in the past 40 years, to 111,300 in 2013. Though the Unit­ed States accounts for only 5 per­cent of the world's women, it has 33 per­cent of the world's women prisoners.
There is no cur­rent data on how many of those women are preg­nant. In 2004, a Bureau of Jus­tice Sta­tis­tics sur­vey found that 3 per­cent of women in fed­er­al pris­ons and 4 per­cent of those in state pris­ons were preg­nant upon arrival. The sta­tis­tics on preg­nan­cy in local jails is old­er — a 2002 sur­vey found that 5 per­cent of women entered local jails preg­nant. At those rates, approx­i­mate­ly 9,430 preg­nant women are incar­cer­at­ed annually.
There is even less data on what kind of care preg­nant pris­on­ers receive: their nutri­tion, pre­na­tal check-ups and med­ical atten­tion, which can be a mat­ter of infant life or death in cas­es like Guerrero's. Nor do we hear much about the trau­ma of preg­nan­cy and child­birth under prison con­di­tions, or the heart­break of hav­ing an infant tak­en away hours after birth.
In a six-month inves­ti­ga­tion, In These Times reached out to dozens of incar­cer­at­ed women, activists and advo­cates, seek­ing to reach women who had been preg­nant behind bars. Twelve came for­ward to share their stories.
In These Times then request­ed infor­ma­tion about preg­nan­cy care and poli­cies from the pris­ons and jails where the women were incar­cer­at­ed. Only four of eight com­plied. Cor­rect Care Solu­tions, a con­trac­tor that pro­vides health­care at Nashville's David­son Coun­ty Jail, refused, declar­ing that pri­vate com­pa­nies do not need to open their records to pub­lic scruti­ny. Those that did pro­vide records typ­i­cal­ly took months to do so, and the data was often poor. Phoenix's Mari­co­pa Coun­ty Jail records live births, mis­car­riages and abor­tions, but not still­births. Washington's Clark Coun­ty Jail keeps track of the num­ber of med­ical vis­its by preg­nant women (42 in 2014), but not the num­ber of preg­nant women incarcerated.
How­ev­er, from the 12 indi­vid­ual women's accounts, a pic­ture began to emerge. Many received no med­ical care or expe­ri­enced long waits. Most were con­stant­ly hun­gry. Oth­ers were restrained dur­ing labor, deliv­ery or post­par­tum recov­ery, even in states that ban the prac­tice. The major­i­ty of those who gave birth in cus­tody had their infants tak­en away with­in 48 hours.
Care and loathing
Med­ical neglect can endan­ger the lives of preg­nant women as well as fetuses.
Diana Claitor, exec­u­tive direc­tor of the Jail Project of Texas, says she inter­viewed a young woman whose com­plaints of extreme pain were dis­missed by a jail doc­tor as morn­ing sick­ness. But ​"it was because her fetus had been dead for some time," says Claitor, who also exam­ined the woman's med­ical records. ​"She was very ill and could have died." The woman was final­ly tak­en to the emer­gency room, where she deliv­ered the dead fetus.
Brid­gette Gibbs says that, despite telling staff of her his­to­ry of mis­car­riages, she received no med­ical atten­tion in two months of preg­nan­cy at the Westch­ester Coun­ty, N.Y., jail. She still hadn't been exam­ined when, ear­ly in her sec­ond trimester, she went into labor. Before being tak­en to the hos­pi­tal, she was strip-searched and shack­led at the hands, waist and ankles. She gave birth to twins hand­cuffed to the bed, and was still hand­cuffed there hours lat­er when she learned that her pre­ma­ture new­borns had died. The hos­pi­tal told her that the ear­ly labor was the result of a treat­able infec­tion. (The Westch­ester Coun­ty Depart­ment of Cor­rec­tion could not con­firm or deny her sto­ry, say­ing that it no longer has Gibbs' records.)
In Ari­zona, com­plaints about prison med­ical care prompt­ed the ACLU and the Prison Law Office to file a class-action suit in 2012. An accom­pa­ny­ing inves­ti­ga­tion uncov­ered two inci­dents in the sum­mer of 2013 when offi­cials at the state prison in Per­ryville dis­missed women's claims that they were going into labor. One woman said that it took two hours to con­vince the guards to trans­port her to the hos­pi­tal. She gave birth 20 min­utes after arrival. The oth­er said nurs­es refused to believe her water had bro­ken even after it test­ed pos­i­tive for amni­ot­ic flu­id. Offi­cers sent her to the hos­pi­tal only when she began screaming.
'

It hurts to be hun­gry like that'

Preg­nant women espe­cial­ly need nutri­ent-rich food. It's typ­i­cal­ly rec­om­mend­ed that they eat three or more serv­ings of fresh fruits, veg­eta­bles, dairy and pro­tein each day, as well as sev­er­al serv­ings of whole grain breads or oth­er com­plex car­bo­hy­drates. Nutri­tion­al deficits can, for exam­ple, increase the risk of ges­ta­tion­al dia­betes, which can cause a fetus's trunk and shoul­ders to become too big for vagi­nal birth.

"With­hold­ing healthy food from a preg­nant woman is with­hold­ing med­ical care," says Tess Tim­o­ney, a cer­ti­fied nurse-mid­wife and direc­tor of women's HIV ser­vices at New York's Bronx-Lebanon Hospital.

In jails and pris­ons, meal times, foods and por­tions are lim­it­ed. More than half of the dozen women inter­viewed by In These Times recalled an over­whelm­ing, unre­lent­ing hunger.

Some jails and pris­ons spec­i­fy a spe­cial preg­nan­cy diet and an addi­tion­al snack. But women report that these foods are often inadequate.

Twen­ty-three-year-old Min­na Long was preg­nant with twins when she entered the Clark Coun­ty jail in Wash­ing­ton state in 2010. She received an extra 8‑ounce car­ton of milk with all three meals, but, she recalls, ​"There were count­less times the milk was expired and sour and I couldn't drink it." Her preg­nan­cy also caused her to feel revul­sion toward many of the foods served. Dur­ing her four months in jail, she sub­sist­ed on milk, fruit and cold cere­al, as well as com­mis­sary pur­chas­es of donuts, can­dy, trail mix, meat and cheese sticks, and fla­vored popcorn.

Kandyce (who is still incar­cer­at­ed, and asked that her last name not be used and her prison not be spec­i­fied, for fear of retal­i­a­tion) says that when she was preg­nant in prison in 2014, between break­fast and din­ner was a 12-hour wait. ​"It hurts to be hun­gry like that," she says.
'

I don't ever want to be preg­nant again'

Even when med­ical care is ade­quate, the restric­tions and con­fine­ment inher­ent in pris­ons can make preg­nan­cy and birthing trau­mat­ic. It is stan­dard pol­i­cy in U.S. pris­ons and jails to strip search pris­on­ers upon enter­ing and exit­ing, includ­ing a squat and cough, with no excep­tions for preg­nant or post­par­tum women.

A five-year study by the non­prof­it Cor­rec­tion­al Asso­ci­a­tion of New York found that while there were delays in preg­nan­cy care upon arrival, most women in state pris­ons then received pre­na­tal care at rough­ly the fre­quen­cy rec­om­mend­ed by the U.S. Depart­ment of Health. Wait­ing for those vis­its, how­ev­er, was often painful. Women were seat­ed for up to five hours on a nar­row wood­en bench with no food or water. Though preg­nant women are sup­posed to move around fre­quent­ly to ease mus­cle ten­sion and pre­vent flu­id build-up, the women were not allowed to stand, and were often threat­ened with dis­ci­pli­nary tick­ets if they leaned back.

Kandyce saw a doc­tor reg­u­lar­ly dur­ing her preg­nan­cy, but the nurs­es, she says, strict­ly enforced the prison's poli­cies and often refused her doctor's requests. For instance, her doc­tor asked for a wedge pil­low and an extra mat­tress to sup­ple­ment the thin prison mat­tress. ​"As you get big­ger, they get thin­ner," Kandyce recalls. ​"I'm already heavy­set and being preg­nant was even worse — I couldn't real­ly breathe if I wasn't propped up." The nurs­es denied her the pil­low but allowed extra blan­kets. Those were con­fis­cat­ed by offi­cers in the month­ly room search, how­ev­er, and each time, Kandyce had to go to the sergeant to get them back. ​"By the time I was eight months preg­nant, I was real­ly frus­trat­ed," she said.

Med­ical staff told Kandyce that she need­ed a cae­sare­an sec­tion. The night before, she was placed in the prison's Inpa­tient Unit. ​"You're in a room by your­self — no TV, no book, no noth­ing," she recalls. ​"All you do is sit in this room by your­self. You know that you're about to have your baby [and] that you're going to have to give your daugh­ter up. All you have time to do is think about it." By 11 a.m., when offi­cers arrived to trans­port her to the hos­pi­tal, she no longer want­ed to go through with it. ​"I just want­ed to keep my baby with me."

Nor­mal­ly, cae­sare­an sec­tions require only region­al anes­the­sia, but when Kandyce arrived at the hos­pi­tal, she was so stressed and anx­ious that the doc­tor — a man she had nev­er met — decid­ed to put her to sleep. ​"My daugh­ter was going to be here and every­thing was wrong," she recalls think­ing. Her daugh­ter was born healthy, but the entire expe­ri­ence was so dev­as­tat­ing that Kandyce says, ​"I don't ever want to be preg­nant again."

Each time Min­na Long went to court, jail staff placed her in hand­cuffs, ankle cuffs and a waist chain, a prac­tice known as shack­ling. Then, they stopped. Wash­ing­ton had become the sev­enth state to pass leg­is­la­tion restrict­ing the shack­ling of preg­nant women. That was in 2010; four­teen states have fol­lowed suit.

But advo­ca­cy groups in Cal­i­for­nia, Mass­a­chu­setts, New York, Penn­syl­va­nia and Texas have found that the prac­tice per­sists despite bans. Sier­ra Watts, 37, incar­cer­at­ed in Wash­ing­ton state just after the law went into effect, learned this first­hand. While she was allowed to give birth with­out restraints, she was then cuffed to the bed. Her son was placed in a cra­dle next to her. ​"I just had to lean over to get him out, but it's hard­er when you can't move that far," she says.

The Wash­ing­ton State Depart­ment of Cor­rec­tions says that ​"a post-inci­dent review deter­mined she was not sup­posed to be cuffed."
Sierra's choice
For Sier­ra Watts, the worst part wasn't the shack­ling, but what fol­lowed. Although she had grant­ed her moth­er tem­po­rary guardian­ship, child wel­fare work­ers told her that they would not send her son to live with his grand­moth­er. After spend­ing 24 hours with her new­born, Watts was tak­en back to prison with­out know­ing her son's fate. Because he was born on a Fri­day, he was to remain in the hos­pi­tal until child wel­fare offices opened on Monday.
As Watts tells this sto­ry, her eyes fill with tears."He was going to stay in the hos­pi­tal with nobody hold­ing him, nobody knows where he's going, nobody's even going to tell me where he's going," she says. ​"Nobody said [to me], ​'It's going to be okay. We're going to watch him. We won't let any­thing hap­pen to him.' " She did not learn where he was placed until the fol­low­ing Tues­day. The next — and last — time she saw him in per­son was dur­ing a prison vis­it one year lat­er, short­ly before he was adopted.
Under the 1997 Adop­tion and Safe Fam­i­lies Act, if a child is in fos­ter care for 15 of 22 months, the state must begin pro­ceed­ings to ter­mi­nate parental rights. Watts says that she ini­tial­ly fought to main­tain cus­tody, but final­ly signed away her rights. ​"They told me that if I was to take it to tri­al and lose, then I wouldn't be able to get pho­tos or hear how he's doing or send him cards or any­thing," she says. She receives pho­tos of her son, age 3, sev­er­al times a year, but nev­er sees or speaks to him.
That's rel­a­tive­ly com­mon for incar­cer­at­ed women who give birth; two oth­er women inter­viewed by In These Times arranged for their babies to be adopted.
By con­trast, when Michelle Bar­ton, 37, gave birth in an Okla­homa prison in 2013, she knew that her baby would be safe with her sis­ter-in-law, who was already tak­ing care of Barton's 3‑year-old son until her release from prison. But she still cried when it was time to leave the hos­pi­tal. Upon her return to prison, she was remind­ed how lit­tle moth­er­hood means there. A nurse had giv­en her a piece of paper with her daughter's foot­print. The offi­cer who strip-searched her upon arrival threw it away. ​"Get­ting strip searched is noth­ing," Bar­ton says, but watch­ing her daughter's foot­print tossed into the garbage ​"just tore my heart out."
Anoth­er way
Michelle Barton's daugh­ter was 18 months old when Bar­ton was released from prison in August. She board­ed a bus to Okla­homa City with only the clothes on her back. Although she has a job lined up at Church's Chick­en, she is home­less and can­not reclaim her two young chil­dren from her sis­ter-in-law until she finds afford­able housing.
The Mabel Bas­sett Cor­rec­tion­al Cen­ter spends $14,800 per year to incar­cer­ate each woman. Bar­ton was there for near­ly two years. What if that $29,600 had been spent direct­ly on resources for her and her family?
Oklahoma's incar­cer­a­tion cost is dra­mat­i­cal­ly low. At the Wash­ing­ton Cor­rec­tions Cen­ter for Women, incar­cer­at­ing each woman costs $44,400 per year. Sier­ra Watts was sen­tenced to 40 months. What if the $148,000 spent to imprison her had instead been spent to help her stay out of the prison system?
The UN Rules for the Treat­ment of Women Pris­on­ers and Non-cus­to­di­al Mea­sures for Women Offend­ers, known as the Bangkok Rules, rec­om­mend that for a preg­nant woman or a child's pri­ma­ry care­giv­er, ​"non-cus­to­di­al mea­sures should be pre­ferred where pos­si­ble and appro­pri­ate." But preg­nan­cy and par­ent­ing are rarely tak­en into con­sid­er­a­tion in the U.S. legal sys­tem. Across the nation, more than 120,000 moth­ers and 1.1 mil­lion fathers of chil­dren under 18 are behind bars. Approx­i­mate­ly 10 mil­lion chil­dren have had a par­ent incar­cer­at­ed at some point in their lives.
Rec­og­niz­ing that mater­nal incar­cer­a­tion can dev­as­tate chil­dren, some states are explor­ing alter­na­tives. In Novem­ber 2014, the Delaware Depart­ment of Cor­rec­tion cre­at­ed New Expec­ta­tions, a group home for preg­nant women with drug addic­tions who would oth­er­wise be impris­oned. The home pro­vides meals, pre­na­tal vit­a­mins, cloth­ing, toys, inten­sive sub­stance abuse coun­sel­ing, and class­es on infant care, par­ent­ing, breast­feed­ing, nutri­tion and bud­get­ing. But the facil­i­ty is run by the Depart­ment of Cor­rec­tions and its health­care provider, Con­nec­tions Com­mu­ni­ty Sup­port Pro­grams, and the doors are locked and alarmed.
By con­trast, New York City's Drew House and Jus­tice­Home oper­ate inde­pen­dent­ly of the prison sys­tem. To be eli­gi­ble, moth­ers must plead guilty to felony charges — but the charges are dis­missed once they com­plete the pro­gram. In the mean­time, they avoid prison, and their chil­dren avoid fos­ter care.
Olgi­ta Blackwood's youngest child was bare­ly a week old when she was arrest­ed. ​"I was so wor­ried about my kids," she told the Asso­ci­at­ed Press. ​"They depend on me. They asked for me every day." The 24-year-old was sent to Drew House instead of prison, enabling her to stay with her three chil­dren. Near­ly two years lat­er, as she pre­pared to take her GED, she said that the pro­gram made her inde­pen­dent. ​"I can make deci­sions on my own, raise my kids. I can't imag­ine it any oth­er way now."
What if such alter­na­tives to incar­cer­a­tion were avail­able everywhere?
The Bangkok Rules rec­og­nize that women's needs are unmet in a prison mod­el designed for men and that women's incar­cer­a­tion is often a result of lay­ers of gen­der dis­crim­i­na­tion. In addi­tion to rec­om­mend­ing non-cus­to­di­al mea­sures for preg­nant women, the UN urges coun­tries to estab­lish alter­na­tives to impris­on­ment for all women.
If the Unit­ed States took these ideas seri­ous­ly — or at least took seri­ous­ly its basic health­care respon­si­bil­i­ties in its pris­ons and jails — today, Nicole Guer­rero might be watch­ing her 3‑year-old daugh­ter, Myrah Ari­an­na, scam­per around the playground.
This inves­ti­ga­tion was sup­port­ed by the Fund for Inves­tiga­tive Jour­nal­ism and the Leonard C. Good­man Insti­tute for Inves­tiga­tive Reporting.