How Organizers in Rural North Carolina Plan To Build Working-Class Power in 2018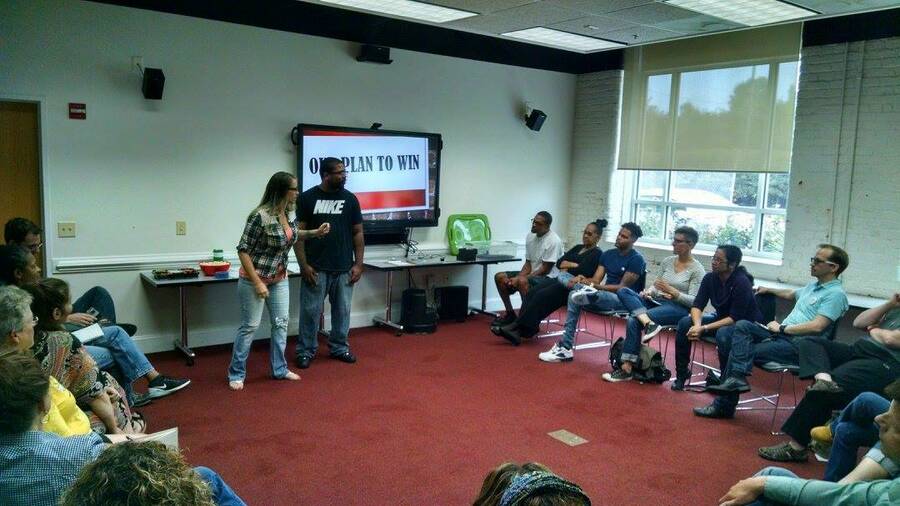 Wel­come to Inter­views for Resis­tance. We're now near­ly one year into the Trump admin­is­tra­tion, and activists have scored some impor­tant vic­to­ries. Yet there is always more to be done, and for many peo­ple, the ques­tion of where to focus and how to help remains. In this series, we talk with orga­niz­ers, agi­ta­tors, and edu­ca­tors, not only about how to resist, but how to build a bet­ter world.
Brigid Fla­her­ty: I am the co-founder and co-direc­tor of Down Home North Car­oli­na, and I live in Bal­sam, North Carolina.
Juan Miran­da: I am an orga­niz­er with Down Home, and I live in Greens­boro, North Carolina.
Kischa Peña: I live in Nevin, North Car­oli­na, and I am a mem­ber leader of Down Home North Carolina.
Sarah: Give peo­ple a sense of what Down Home North Car­oli­na is. When did it get started?
Brigid: Down Home North Car­oli­na is a mem­ber-led grass­roots orga­ni­za­tion. We believe in build­ing pow­er for work­ing com­mu­ni­ties in small-town and rur­al North Car­oli­na. We actu­al­ly were formed right after the elec­tion. Todd Zim­mer and I have been friends and orga­niz­ers for many years. When we saw the results of the 2016 elec­tion, we felt real­ly inspired to do some­thing dif­fer­ent and make big changes in our lives, because it felt like the polit­i­cal real­i­ties that we were fac­ing required that of us.
We were look­ing at the polit­i­cal make­up of North Car­oli­na and what had hap­pened since 2010 and the far-right takeover of the state. Mov­ing into 2016, we watched that hap­pen at the fed­er­al lev­el. It felt like the best offense that we were going to have was to make sure that we were build­ing strong local lead­er­ship in places in North Car­oli­na that weren't nec­es­sar­i­ly the places that had a lot of infra­struc­ture. For us, this felt like a long-term project that need­ed to hap­pen in order to make sure that work­ing peo­ple get what they deserve.
We said in Novem­ber that we were going to start Down Home and then actu­al­ly got off the ground in June this year. We have been around for about six months. Orig­i­nal­ly, it start­ed out just Todd and me doing the orga­niz­ing. I moved back to the moun­tains where my moth­er lives, and I was actu­al­ly liv­ing with her for the first few months and Todd was orga­niz­ing in Ala­mance in the cen­tral part of the state. We went door to door using a lis­ten­ing sur­vey. We went with three broad ques­tions: What are the issues that mat­ter most to you and your fam­i­ly? Who or what is respon­si­ble for those issues? What are your solutions?
One of the things we learned from the 2016 elec­tion is that a lot of work­ing peo­ple don't feel lis­tened to. The par­ties have nev­er con­tact­ed them. It felt like a lot of peo­ple were speak­ing for them and yet they were like, ​"Y'all have nev­er come to our door. You have nev­er sat in our liv­ing room."
Kischa: I met Juan and Todd in my apart­ment com­plex. It start­ed for me at the end of Sep­tem­ber. I went to a meet­ing that was led by a res­i­dent of Nevin. There is a lot of racial ten­sion that is kind of swept under the rug or no one real­ly talks about, but we know it is there. So, for me to hear about and see a diverse group of peo­ple in a room togeth­er talk­ing about build­ing pow­er for work­ing peo­ple in Ala­mance Coun­ty — black, white, who­ev­er — that was inter­est­ing to me.
When we did the sur­veys and talked to peo­ple in Ala­mance Coun­ty, that was some­thing that I had nev­er done. I had nev­er actu­al­ly lis­tened to my neigh­bors. Some peo­ple actu­al­ly invit­ed me into their homes, and I sat down — whether they were hav­ing din­ner or just sit­ting down watch­ing TV. I got to sit and lis­ten. I guess I didn't real­ize, like Brigid was say­ing, that peo­ple didn't feel like they had a voice or that their opin­ion mat­tered, because I am used to being online and see­ing every­body giv­ing their opin­ion on any and every­thing. But rur­al town peo­ple, a lot of peo­ple don't have access to the inter­net or com­put­ers in their home. I guess they are kind of sit­ting there con­fused or angry or bit­ter or con­cerned in their homes by them­selves and they don't feel like they have any­body to talk to.
Sarah: What were some of the things that you were hear­ing peo­ple talk about that they want­ed to change? What were the issues that you were strug­gling with?
Kischa: Health­care is def­i­nite­ly a con­cern for me, because I am a can­cer patient. In the back of my mind, that is a con­cern, but it is not some­thing I sit around and real­ly become fear­ful about. But I did find that a lot of peo­ple are wor­ried, espe­cial­ly old­er peo­ple. Senior cit­i­zens are wor­ried about los­ing their health­care, are wor­ried about los­ing their Social Secu­ri­ty. Min­i­mum wage is an issue here, as is afford­able housing.
Sarah: Juan, do you want to tell us about the process of get­ting the orga­ni­za­tion going and some of the first things you start­ed to work on as a group?
Juan: It is def­i­nite­ly very slow and grind­ing work. We have been very dis­ci­plined about not just dic­tat­ing what the issues were and what the solu­tions were, but real­ly just going in and talk­ing to peo­ple. As we said, work­ing peo­ple are the experts on their lives, right? So, we start­ed the sur­veys talk­ing to peo­ple, as many as we could, iden­ti­fy­ing the issues and then try­ing to fol­low up with them. Obvi­ous­ly, peo­ple had dif­fer­ent lev­els of engage­ment with the sur­vey. Many peo­ple were skep­ti­cal for very legit­i­mate rea­sons. I real­ly appre­ci­ate Kischa's skep­ti­cism four months in, because it speaks to how deep people's dis­en­gage­ment and sense of betray­al is: They're just feel­ing for­got­ten and tricked and duped. There have also been peo­ple who, as skep­ti­cal as they have been, are talk­ing to us more, invit­ing us to their house. It is sur­pris­ing how open peo­ple are to invit­ing you into their liv­ing rooms and trailers.
Peo­ple have skills. Peo­ple orga­nize every day in their com­mu­ni­ties. Peo­ple orga­nize every day in their jobs. It is basi­cal­ly just help­ing them see the tal­ent­ed orga­niz­ers they are already and help­ing chan­nel that. We start­ed doing the lis­ten­ing tour and then help­ing folks orga­niz­ing their own house meet­ings or some­times even big­ger meet­ings. Then, we start­ed doing some basic train­ings and talk­ing about pow­er. That is a very impor­tant thing in how we orga­nize. Pow­er is at the cen­ter of it. We are in this to build pow­er and to be able to make some real dif­fer­ences. We under­stand that we can only do that if we have an orga­ni­za­tion that is pow­er­ful. By that, we mean lots of mem­bers who are active­ly engaged and build­ing orga­ni­za­tion and tak­ing action.
Train­ing around racial jus­tice issues is also a key com­po­nent. We are in a coun­ty that is diverse — and in a state that is diverse in many ways. We know that racism, obvi­ous­ly, plays a huge role in people's lives, and we are explic­it­ly an anti-racist organization.
Brigid: We real­ly felt that, to win, you have to be so strong in your com­mu­ni­ties. This means lead­ers from the com­mu­ni­ties build­ing the orga­ni­za­tion and run­ning the work. Yet there were moments through­out the sum­mer and the fall that we took to mobi­lize and get into the streets, because we are a fight-back orga­ni­za­tion. We are an orga­ni­za­tion that believes that you need to make demands, and you need to be tak­ing on inter­ests that are mak­ing your life hard­er. We were find­ing those moments over the sum­mer to basi­cal­ly make inter­ven­tions around health­care and in response to Char­lottesville, and we have been work­ing around the Duke Ener­gy rate hike.
When Char­lottesville hap­pened, like Juan said, we are very explic­it about being a mul­ti-racial orga­ni­za­tion that is try­ing to defeat racism and build a world and a North Car­oli­na that val­ues every­one and sees the dig­ni­ty in every­one. We did a vig­il in Way­nesville, which is where I orga­nize in the moun­tains in Hay­wood Coun­ty. Over 200 peo­ple turned out, which was huge for that area and real­ly showed the ways that there are folks that are real­ly say­ing that hate has no place in rur­al red counties.
We did anti-racist train­ings fol­low­ing that for Hay­wood. In Ala­mance, there were two pan­els: one at the Gra­ham Civic Cen­ter and one at Ala­mance Com­mu­ni­ty Col­lege. That brought togeth­er the Black lead­er­ship with­in Ala­mance, as well as his­to­ri­ans and aca­d­e­mics and com­mu­ni­ty members
Sarah: It was a year. I don't even know what adjec­tives to use for it any­more. What are some of the big take­aways that you have from this work in the last year?
Brigid: One of the things that I am tak­ing away is that I am deeply proud of the mem­bers. We have seen it is impor­tant to take the time to lis­ten and take the time to tell peo­ple that they have the abil­i­ty to lead in their com­mu­ni­ty — to come togeth­er and deter­mine what solu­tions they want to see to improve. There is a fight­ing spir­it in these coun­ties where peo­ple know they deserve bet­ter, and they want to fight for pow­er to make their lives and their coun­ty and their com­mu­ni­ties bet­ter. It is about build­ing that vehi­cle that folks can own to do that work that I have real­ly seen in action.
There is a nar­ra­tive out there that we are in a moment of despair and that the big­ger polit­i­cal forces are out-orga­niz­ing us. In some ways that is true. But if you actu­al­ly cre­ate the vehi­cle in places that haven't had infra­struc­ture before, folks will come in, and they will work and they will use their work break to actu­al­ly do a call list to get peo­ple to come out to a meet­ing. If you have real folks from com­mu­ni­ties lead­ing, more peo­ple are going to join because it is going to be authen­tic and peo­ple are going to be real­ly moti­vat­ed even if they weren't moti­vat­ed by oth­er efforts in the past.
Sarah: What are you look­ing for­ward to work­ing on in 2018?
Juan: In Ala­mance, with our mem­bers we iden­ti­fied some of the things we want to take on for the first month around this Duke Ener­gy rate increase, for mobi­liz­ing folks to the hear­ing and doing some can­vass­ing and recruit­ing around that. In Ala­mance they recent­ly decid­ed to bring back 287(g), which is the depor­ta­tion pro­gram. It dep­u­tizes the Sheriff's Depart­ment to act as immi­gra­tion offi­cers. They are bring­ing it back and, now with Jeff Ses­sions and Trump in office there is even less over­sight over what hap­pens. It is real­ly ener­giz­ing to see folks, immi­grants and non-immi­grants, tak­ing on this ques­tion and real­ly talk about the impor­tance of orga­niz­ing around some­thing that cre­ates so much fear and dev­as­ta­tion in the com­mu­ni­ty and at the same time, being able to make those broad­er con­nec­tions. Obvi­ous­ly, it is impor­tant to talk about the fact that attacks on immi­grants are not inde­pen­dent from attacks on oth­er com­mu­ni­ties of col­or and police bru­tal­i­ty and the way that these resources are being used to police immi­grant folks.
Brigid: Part of our work is to be able to rebuild the democ­ra­cy so that we have gov­ern­ing pow­er, and the agen­da at the state lev­el reflects the agen­da of work­ing peo­ple. We are going to be active in the midterms and make sure that we are grow­ing our civic engage­ment pow­er. We are going to be doing get-out-the-vote work. We are going to be using that as an oppor­tu­ni­ty to hold can­di­date forums and real­ly make sure that peo­ple who are run­ning in these dis­tricts are going to be in favor of the agen­da of Down Home mem­bers. And if they are not, they should be ready to be held account­able around that. For us, this is also about flex­ing that polit­i­cal mus­cle, using the base that we have built through the lis­ten­ing process, using the base that will be devel­oped in these issue fights — and turn­ing that into the elec­toral moment and using that as a way to real­ly make sure that our democ­ra­cy is work­ing for us and our inter­ests and not the super wealthy and cor­po­ra­tions. That is going to be a big thing for us for the midterms.
Kischa: This next year, I am excit­ed because there are a lot of things that we have to work towards. But I am excit­ed about the unknown more than any­thing, because we still have the oppor­tu­ni­ty to grow. We still need new mem­bers. We have a lot more peo­ple to talk to, to meet, to edu­cate our­selves on. I am excit­ed about learn­ing more about my com­mu­ni­ty and the issues that are going on, because I feel like I had been dis­tant for a long time — just kind of liv­ing here and not pay­ing atten­tion. I am excit­ed about get­ting involved and grow­ing that pow­er that we are talk­ing about all of the time. This next year is going to be awe­some. If these last five or six months is any indi­ca­tion of what 2018 is going to look like, we are about to build that pow­er we have been talk­ing about and make some great changes in Hay­wood and Ala­mance Coun­ty and con­tin­ue to grow across North Carolina.
Inter­views for Resis­tance is a project of Sarah Jaffe, with assis­tance from Lau­ra Feuille­bois and sup­port from the Nation Insti­tute. It is also avail­able as a pod­cast on iTunes. Not to be reprint­ed with­out permission.
Sarah Jaffe
is a for­mer staff writer at
In These Times
and author of
Nec­es­sary Trou­ble: Amer­i­cans in Revolt
, which Robin D.G. Kel­ley called ​
"
The most com­pelling social and polit­i­cal por­trait of our age." You can fol­low her on Twit­ter
@sarahljaffe
.