As the Planet Warms, Can OSHA Protect Workers From Extreme Heat?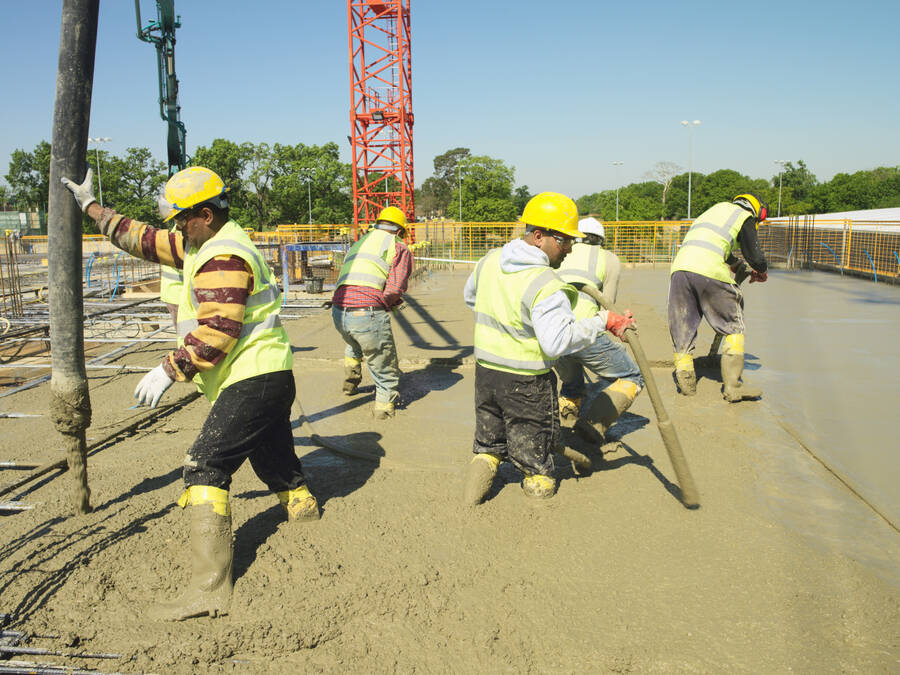 On July 17, more than 130 groups and indi­vid­u­als peti­tioned the Occu­pa­tion­al Safe­ty and Health Admin­is­tra­tion (OSHA) in an attempt to estab­lish a nation­wide work­place heat stan­dard. The peti­tion cites data from the Bureau of Labor Sta­tis­tics, which shows that at least 783 U.S. work­ers died as a result of extreme heat between 1992 and 2016, while at least 69,374 were seri­ous­ly injured. Orga­nized by the con­sumer and health advo­ca­cy group Pub­lic Cit­i­zen, the peti­tion demon­strates how the cli­mate change cri­sis will inevitably lead to more injuries and deaths, as it increas­es the amount of days that work­ers have to endure extreme heat.
There is a gen­er­al OSHA require­ment meant to pro­tect indi­vid­u­als from work­place haz­ards, but advo­cates for a heat stan­dard argue that this rule doesn't do enough to pro­tect work­ers from this spe­cif­ic dan­ger. Envi­ron­men­tal groups like Earth­jus­tice, labor orga­ni­za­tions like the Unit­ed Farm Work­ers, and for­mer OSHA direc­tors Eula Bing­ham and David Michaels, were among those who voiced their concerns.
"Although OSHA has author­i­ty to pro­tect work­ers from heat stress by enforc­ing [the gen­er­al require­ment], there are a lot of ben­e­fits to hav­ing a spe­cif­ic rule," David Arkush, man­ag­ing direc­tor of Pub­lic Citizen's cli­mate pro­gram, told In These Times. ​"First, OSHA sim­ply does­n't do much of that type of enforce­ment on heat stress.
"A spe­cif­ic rule on heat puts employ­ers on notice of what exact­ly they should do," Arkush con­tin­ued. ​"That's impor­tant because many will vol­un­tar­i­ly fol­low the law. It's much bet­ter to tell employ­ers direct­ly what they must do to keep work­ers safe than to police them after the fact under a vague safe­ty standard."
The peti­tion calls for a whole new set of work­place reg­u­la­tions geared towards extreme heat. These include suf­fi­cient shade dur­ing rest breaks, ade­quate hydra­tion, stricter mon­i­tor­ing for heat stress and train­ing to help super­vi­sors cut back on heat risks. The stan­dard would also require employ­ers to keep records of heat-relat­ed inci­dents and estab­lish a whistle­blow­er pro­tec­tion pro­gram to ensure that work­ers could report head stan­dard vio­la­tions with­out fear or repercussions.
The peti­tion comes at the same time as a new report from Pub­lic Cit­i­zen, which details the impact that extreme heat can have on work­ers. The report warns that glob­al warm­ing will wors­en work­place haz­ards, cit­ing a 2017 study by researchers at the Uni­ver­si­ty of Hawaii at Manoa, which esti­mates that almost half of the world's pop­u­la­tion will expe­ri­ence more than 20 days of dead­ly heat every year by 2100.
The report also relies on weath­er fore­casts com­piled by the non­prof­it group Cli­mate Cen­tral, which looked at 133 U.S. cities to deter­mine how many of their work­ers will expe­ri­ence dead­ly lev­els of heat in the com­ing years. Pub­lic Cit­i­zen matched Cli­mate Central's data against Cen­sus employ­ment sta­tis­tics to esti­mate how severe­ly work­ers will be impact­ed by cli­mate change. These cities expe­ri­enced an aver­age of 20 dan­ger­ous heat days in 2000 (the Nation­al Weath­er Ser­vice clas­si­fies any­thing above 104 degrees as dan­ger­ous). By 2050, that aver­age will increase to 58 days.
Pub­lic Cit­i­zen gen­er­at­ed a ​"work­er-days met­ric" by mul­ti­ply­ing the amount of work­ers in a giv­en occu­pa­tion by the amount of dan­ger­ous heat days that the respec­tive cities are pre­dict­ed to expe­ri­ence. For exam­ple, if a city has 1,000 con­struc­tion work­ers and is pre­dict­ed to expe­ri­ence three dan­ger­ous heat days, then that city would end up with 3,000 dan­ger­ous work­er-days. In 2000, agri­cul­ture work­ers in these 133 cities expe­ri­enced 3.4 mil­lion work­er-days in dan­ger­ous heat. Using Pub­lic Citizen's met­ric, that num­ber would go up to 12.8 mil­lion by 2030 and 15.3 by 2050.
The num­bers are even more extreme for con­struc­tion work­ers. In 2000, con­struc­tion work­ers in these cities expe­ri­enced 35.3 mil­lion work­er-days in extreme heat. That num­ber is set to reach 76.4 in 2030 and 95.1 mil­lion in 2050. While these num­bers might seem stag­ger­ing, they're actu­al­ly only con­ser­v­a­tive esti­mates, as they are based on 2016 pop­u­la­tion num­bers and the amount of work­ers in these cities will like­ly increase.
In addi­tion to the peti­tion, Cal­i­for­nia Rep. Judy Chu (D) announced last week on a Pub­lic Cit­i­zen press call that she will intro­duce a piece of relat­ed leg­is­la­tion soon. Cal­i­for­nia is just one of three states that already has local pro­tec­tive heat stan­dards, which were estab­lished in 2005 after Chu pushed them as a state assem­bly­woman. That fight was ini­ti­at­ed by the Unit­ed Farm Work­ers after a woman named Asun­cion Val­divia died from heat expo­sure dur­ing the sum­mer of 2004. Val­divia died after pick­ing grapes for 10 hours in weath­er that was over 100 degrees. ​"Work­ers, includ­ing farm­work­ers who endure dif­fi­cult labor and long hours to put food on our tables, are vul­ner­a­ble to dan­ger­ous work­ing con­di­tions," said Chu dur­ing the press event.
A study pub­lished in Nature Cli­mate Change last year finds that the fre­quen­cy of dead­ly heat waves is like­ly to increase, warn­ing: ​"An increas­ing threat to human life from excess heat now seems almost inevitable, but will be great­ly aggra­vat­ed if green­house gas­es are not con­sid­er­ably reduced." Despite this dan­ger, the Trump admin­is­tra­tion pulled the Unit­ed States out of the Paris cli­mate agree­ment last year. ​"I con­sid­er cli­mate change to be not one of our big prob­lems," he said on the cam­paign trail in 2015. The admin­is­tra­tion has also dras­ti­cal­ly cut back on OSHA work­place inspec­tions, eas­ing reg­u­la­tions and work­place deaths rise.
"
Michael Arria
is the U.S. cor­re­spon­dent for Mon­doweiss. Fol­low him on Twit­ter: @michaelarria.