Out of the Margins, Into the Fray
The Vermont Progressive Party wields outsized influence on state politics.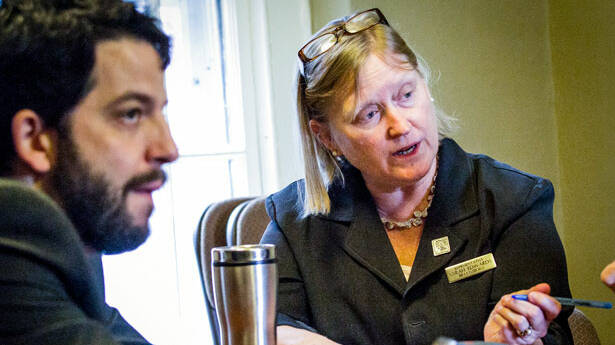 In this pres­i­den­tial elec­tion year, mil­lions of vot­ers find them­selves caught, once again, between a Repub­li­can rock and a Demo­c­ra­t­ic hard place. Because of the pri­ma­cy of the two-par­ty sys­tem, only major par­ty can­di­dates have the fund­ing, orga­ni­za­tion and media vis­i­bil­i­ty to be com­pet­i­tive in most fed­er­al, state and local elec­tions. As a result, Greens or oth­er minor par­ty stan­dard bear­ers are almost nev­er elect­ed to pub­lic office. (A hun­dred years ago, things were dif­fer­ent when thou­sands of Social­ists suc­cess­ful­ly ran for munic­i­pal office.)
The VPP's politically savvy and flexible approach ha helped it struggle against what Party Director Morgan Daybell calls 'the negative perception of third parties in general.'
One state where left-lean­ing vot­ers do have greater choice today – and their own polit­i­cal voice – is Ver­mont. Thanks to sev­er­al decades of per­sis­tent orga­niz­ing, the Ver­mont Pro­gres­sive Par­ty (VPP) now boasts sev­en mem­bers in the leg­is­la­ture – two sen­a­tors (out of 30) and five rep­re­sen­ta­tives (out of 150) in the House (some of whom affil­i­ate with the Demo­c­ra­t­ic Par­ty as well). Since Ver­mon­ters sent the first ​"Prog" to Mont­pe­lier in 1990, 16 have served a total of 48 leg­isla­tive terms in the state capi­tol. Pro­gres­sives have intro­duced leg­is­la­tion, served on key com­mit­tees and played a cat­alyt­ic role in pub­lic pol­i­cy formation.
Despite the VPP's recent loss of Burling­ton City Hall, where a Demo­c­rat was just elect­ed may­or for the first time since the late 1970s, the par­ty retains three city coun­cil seats (out of 14) in Vermont's largest munic­i­pal­i­ty. Over the years, more than 29 VPP mem­bers have served as part of the Pro­gres­sive bloc on the coun­cil. One new­ly-elect­ed mem­ber is Burling­ton Depart­ment of Pub­lic Works com­mis­sion­er Max Tra­cy, a 25-year-old for­mer stu­dent activist at the Uni­ver­si­ty of Ver­mont, long involved in orga­niz­ing cam­pus work­ers. He won in the city's Old North End sec­tion by cam­paign­ing for liv­ing wage jobs, afford­able hous­ing, a sus­tain­able trans­porta­tion sys­tem and sup­port for local farm­ers and gardeners.
In sim­i­lar fash­ion, Pro­gres­sives run­ning in non­par­ti­san races in small towns serve on local school com­mit­tees, select boards and com­mu­ni­ty plan­ning bod­ies. Plus, they turn out on Town Meet­ing Day to help pass res­o­lu­tions in favor of issues like tax reform and over­turn­ing the Supreme Court's pro-cor­po­rate deci­sion in Cit­i­zens Unit­ed – both the sub­ject of town meet­ing action in 70 Ver­mont com­mu­ni­ties in March. While nev­er for­mal­ly aligned with the par­ty him­self, Vermont's social­ist U.S. sen­a­tor, Bernie Sanders, has backed some VPP can­di­dates for state and local office, while VPP activists have, in turn, been his most ardent sup­port­ers in past statewide races.
Tak­ing a leaf from Sanders' sin­gu­lar 30-year career – as Burling­ton may­or, then Vermont's lone con­gress­man, and now junior sen­a­tor, the Pro­gres­sives have dis­tin­guished them­selves from their Demo­c­ra­t­ic com­peti­tors by focus­ing, in pop­ulist fash­ion, on eco­nom­ic issues. In areas of the state where work­ing-class vot­ers might oth­er­wise be swayed by cul­tur­al con­ser­vatism or resid­ual rur­al Repub­li­can­ism, the VPP has, like Sanders, won elec­tions by cam­paign­ing for labor rights, fair tax­es and sin­gle-pay­er health­care far more con­sis­tent­ly than the Democ­rats. The party's state­ment of prin­ci­ples has a dis­tinct tinge of Occu­py. ​"Democ­ra­cy," it declares, ​"requires empow­er­ing peo­ple not only in gov­ern­ment but also in the work­place, schools, and in the over­all econ­o­my. Society's wealth should not be con­cen­trat­ed in the hands of a few, and a wealthy minor­i­ty should not con­trol the con­di­tions under which we live."
Healthy com­pe­ti­tion
One mea­sure of the Pro­gres­sive impact on pub­lic pol­i­cy is the pre­lim­i­nary steps that Ver­mont took last year to cre­ate a first-in-the-nation sin­gle-pay­er health­care sys­tem – though this achieve­ment may still be thwart­ed, due to busi­ness oppo­si­tion dur­ing a com­pli­cat­ed mul­ti-year imple­men­ta­tion process or any inter­ven­ing loss of Demo­c­ra­t­ic Par­ty con­trol over the leg­is­la­ture or governor's office.
In coor­di­na­tion with a strong grass­roots move­ment, both Sanders and the VPP con­tin­ued to make sin­gle-pay­er a cen­tral polit­i­cal issue, keep­ing the pres­sure on local Democ­rats. Cur­rent Gov. Peter Shumlin's pre­vi­ous bid for statewide office – a run for lieu­tenant gov­er­nor in 2002 – end­ed in defeat when Pro­gres­sive Antho­ny Pol­li­na, a strong sin­gle-pay­er advo­cate and now a state sen­a­tor, received 25 per­cent of the vote.
Deter­mined to avoid that fate again, Shum­lin, a mil­lion­aire busi­ness­man and for­mer Sen­ate pres­i­dent, tacked left on health­care reform in the 2010 Demo­c­ra­t­ic guber­na­to­r­i­al pri­ma­ry and the gen­er­al elec­tion. He nar­row­ly won the five-way pri­ma­ry and then, with no Prog in the race, defeat­ed Repub­li­can Bri­an Dubie by a 2‑percent mar­gin after get­ting much-need­ed help from Sanders with last-minute work­ing-class vot­er turnout. With a Demo­c­ra­t­ic-Pro­gres­sive major­i­ty in both hous­es of the leg­is­la­ture, Shum­lin fol­lowed through on his cam­paign pledge to intro­duce a sin­gle-pay­er plan and make its pas­sage a top pri­or­i­ty of his admin­is­tra­tion last year.
"We have a home­o­path­ic role in the Ver­mont body politic," says Ellen David-Fried­man, a for­mer orga­niz­er for the Ver­mont-Nation­al Edu­ca­tion Asso­ci­a­tion (NEA) and long­time Pro­gres­sive Par­ty activist. ​"We've man­aged to cre­ate enough of an elec­toral pole out­side of the Democ­rats to con­stant­ly pull them to the left on pol­i­cy issues, by dis­pens­ing an alter­na­tive brand of med­i­cine that's become increas­ing­ly popular."
To main­tain its ​"major par­ty" sta­tus under Ver­mont law, the VPP must field a can­di­date every two years who gar­ners at least 5 per­cent of the statewide vote. Pro­gres­sives rarely per­form bet­ter in statewide races than Martha Abbott, a tax accoun­tant from Under­hill, who received 12 per­cent in her 2008 cam­paign for state audi­tor. To boost its win rate, the par­ty has late­ly focused on recruit­ing and sup­port­ing viable con­tenders for leg­isla­tive seats. ​"Our strat­e­gy of both chal­leng­ing and work­ing with Democ­rats … makes us some­what unique," says Abbott, who was re-elect­ed VPP chair at a live­ly par­ty con­fer­ence in Mont­pe­lier in Novem­ber 2011.
Small is beautiful
With a pop­u­la­tion of 626,000 peo­ple, Ver­mont has elec­toral con­stituen­cies small enough for peo­ple with pro­gres­sive ideas to can­vass door-to-door, meet near­ly every vot­er and drum up enough cam­paign con­tri­bu­tions to be com­pet­i­tive. House mem­ber Chris Pear­son, who spe­cial­izes in tax and bud­get issues for the VPP, rep­re­sents one of the state's larg­er mul­ti-seat dis­tricts; he only had to raise $12,000 for his last elec­tion campaign.
Some VPP leg­isla­tive can­di­dates have, like Pol­li­na, cam­paigned with the ​"D/P" label – a form of de fac­to cross endorse­ment achieved after run­ning suc­cess­ful­ly in a Demo­c­ra­t­ic pri­ma­ry. (Six of the sev­en Progs in the state leg­is­la­ture are D/​Ps.) Where pos­si­ble, oth­er Pro­gres­sives have also sought Sanders-like accom­mo­da­tions with Democ­rats in races where a strong gen­er­al elec­tion show­ing by two left-of-cen­ter can­di­dates would guar­an­tee Repub­li­can vic­to­ry. Sev­er­al VPP leg­is­la­tors, includ­ing state Rep. Susan Hatch Davis, actu­al­ly rep­re­sent dis­tricts where their main com­pe­ti­tion comes from GOP nom­i­nees; local Democ­rats are, in effect, the ​"third party."
The VPP's polit­i­cal­ly savvy and flex­i­ble approach has helped it strug­gle against what Exec­u­tive Direc­tor Mor­gan Day­bell calls ​"the neg­a­tive per­cep­tion of third par­ties in gen­er­al." In con­trast, local Greens and what's left of the Lib­er­ty Union Par­ty in Ver­mont – Bernie Sanders' orig­i­nal polit­i­cal home in the 1970s – have not suf­fered the fate of most left-wing par­ties else­where (i.e. being pre­sentable but mar­gin­al at best, ide­o­log­i­cal­ly pure, or just plain eccen­tric, with lit­tle to show, orga­ni­za­tion­al­ly, for any sin­gle-dig­it share of the vote they garner).
The Pro­gres­sive Cau­cus at work
On a recent vis­it to Mont­pe­lier I found Pol­li­na mak­ing his pres­ence felt under the gild­ed dome of the state capi­tol build­ing. A long­time advo­cate for farm­ers, tax jus­tice and cam­paign finance reform, Pol­li­na joined Sen. Tim Ashe (D/P) in the state Sen­ate two years ago. In the cur­rent leg­isla­tive ses­sion, Pol­li­na has been pro­mot­ing the idea of a state bank, a bill requir­ing Ver­mont to ​"hire and buy local" (when con­tract­ing for state ser­vices) and a bud­get-relat­ed sur­vey of pover­ty and income inequality.
Else­where in the same build­ing, Rep. Pear­son hud­dled with Reps. Mol­lie Burke and Sarah Edwards at the week­ly meet­ing where VPP mem­bers of the House gath­er to share infor­ma­tion and coor­di­nate leg­isla­tive strat­e­gy. Burke and Edwards are both from the Brat­tle­boro area and are engaged with envi­ron­men­tal and pub­lic health issues relat­ed to decom­mis­sion­ing the Ver­mont Yan­kee nuclear pow­er plant in their cor­ner of the state.
On this par­tic­u­lar mid-March day, Ver­mont unions, strong­ly sup­port­ed by the VPP, were work­ing to over­come Demo­c­ra­t­ic reluc­tance to grant col­lec­tive bar­gain­ing rights to pub­licly-fund­ed ​"ear­ly child­hood edu­ca­tors" who pro­vide home day care. Hop­ing to win fur­ther orga­ni­za­tion­al endorse­ments, dona­tions and sup­port – from the Amer­i­can Fed­er­a­tion of Teach­ers (AFT), the Ver­mont-NEA and Ver­mont State Employ­ees Asso­ci­a­tion (VSEA) unions, along with the AFL-CIO – the VPP has strong­ly sup­port­ed the AFT's child-care orga­niz­ing cam­paign. Pro­gres­sives have also defend­ed VSEA mem­bers against pub­lic crit­i­cism by Gov. Shum­lin dur­ing a dis­pute about state work­er con­tract enforce­ment last year.
In White Riv­er Junc­tion and oth­er com­mu­ni­ties, Wind­sor Coun­ty Par­ty Chair Liz Blum and sev­er­al elect­ed local VPP offi­cials are now work­ing with the Ver­mont Work­ers Cen­ter and local Occu­py activists to fight con­trac­tion of the U.S. Postal Ser­vice, which would elim­i­nate sev­er­al hun­dred union jobs and adverse­ly affect mail deliv­ery in the state.
As Blum explains, these ​"cuts would be dev­as­tat­ing for elder­ly, rur­al and low-income Ver­mon­ters who depend on the reli­a­bil­i­ty and afford­abil­i­ty of the mail, and for whom the post office func­tions as a social link. It's often the place where peo­ple inter­act with neigh­bors, peti­tion for bal­lot mea­sures and swap news, the kind of space that's made small-town Ver­mont so famous­ly demo­c­ra­t­ic." Such non­elec­toral activ­i­ty on behalf of a key labor and com­mu­ni­ty cause bare­ly reg­is­ters on the radar screen of Ver­mont Democrats.
Ver­mont State Labor Coun­cil Sec­re­tary-Trea­sur­er Tra­ven Leyshon, who also serves on the VPP's state coor­di­nat­ing com­mit­tee, says, ​"Local labor lead­ers are now will­ing to sup­port Pro­gres­sive can­di­dates over Democ­rats – when they're cred­i­ble – because of such pro-labor stances." In some cas­es, he said, rank-and-fil­ers have had to over­rule the safer, more con­ser­v­a­tive can­di­date endorse­ments favored by their own union lob­by­ists and polit­i­cal directors.
This small insur­gency from below, in Vermont's pub­lic sec­tor-ori­ent­ed labor move­ment, mir­rors the VPP's own tra­jec­to­ry in state pol­i­tics. In a fash­ion that one hopes will not be the excep­tion, Pro­gres­sives have moved from the mar­gins to Mont­pe­lier, from also-ran sta­tus to an influ­en­tial role in state and local gov­ern­ment. If there were more Left par­ty­ing like that in oth­er states, at least one of the two major par­ties might feel greater pres­sure to behave better.
Steve Ear­ly worked for 27 years as an orga­niz­er and inter­na­tion­al rep­re­sen­ta­tive for the Com­mu­ni­ca­tions Work­ers of Amer­i­ca. He is the author of sev­er­al books, includ­ing Refin­ery Town: Big Oil, Big Mon­ey, and the Remak­ing of an Amer­i­can City (Bea­con Press).