'Outsourced' Workers Chase Elusive 'Romney Hood'
After Bain moved their jobs to China, three auto-parts workers are knocking on Romney's door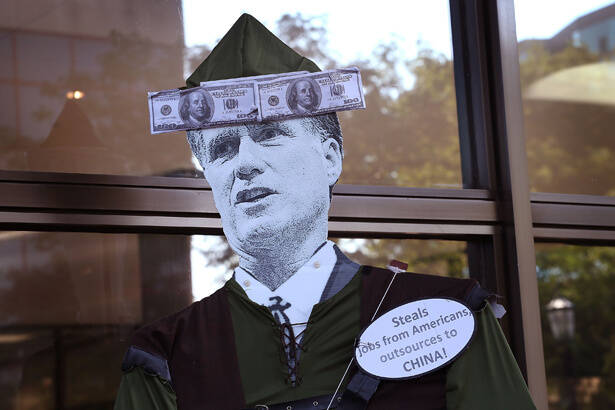 Cheryl Randecker is hot on the trail of an elusive bandit, and she needs your help.
"The Romneys' party doesn't realize what it's like to work 9 to 5, what it's like to worry about paying the bills."
The bad guy's name is Romney Hood. Unlike his good twin Robin, Romney made a career of robbing the poor to get rich before setting off on a quest to be president so that he could help all the rich rob all the poor. (Business school MBAs call this ​"scaling up.")
But Romney's old gang – the Bain (Capital) Gang–is still hard at work in the guise of a private equity firm. And Sensata, a Bain-owned company, is now in the process of shutting down the Freeport, Ill., sensor factory that it bought from Honeywell, in order to relocate it to China. Meanwhile, the roughly 170 workers like Randecker at the plant have been training their Chinese replacements while facing unemployment this November, in a region that has lost much of its once-strong industrial base.
In a last-ditch effort to save the jobs that the overwhelmingly female and middle-aged workforce has relied on to raise their families – often for several decades – Randecker and her co-workers have been trying to meet with candidate and Bain co-founder Mitt Romney to ask him to intervene.
They went to Romney campaign offices in Davenport, Iowa, and in Madison, Wis., where campaign staff called the police to disperse the workers – many of whom have voted for Republicans in past elections.
On Tuesday they travelled to a Bain office in the Chicago suburb of Evanston, Ill., to deliver additional petitions asking for Romney to help and for Bain to reconsider. With guards nearby, a Bain official cracked open the locked doors to accept the stack of petitions, which bore more than 35,000 signatures from around the country.
Across the street from the Bain office, a small group of supporters from labor and progressive groups stood behind the three Sensata workers and beside a giant ​"Romney Hood" cut-out, chanting ​"Romney Hood/​You're No Good/​Give Back the Jobs/​We Know You Could."
After years of making good quality products and healthy profits for their employer, workers were stunned when Sensata managers announced last year they were closing the plant right after buying it. Only recently, Randecker said, did management offer an explanation: Labor and materials are cheaper in China.
Randecker notes, however, that Chinese labor is less skilled. She claims that in some cases, it will take 13 Chinese worker to do what one Freeport worker did. Some analysts argue that markets for the products are shifting to China, but Randecker points out that U.S. auto companies – who have large U.S. market needs – are among Sensata's major customers.
​"I hold Romney and Bain responsible," says Bonnie Borman, a 23-year employee who treked to Evanston. ​"You can't say you're going to be creating jobs and then make millions outsourcing jobs."
​"Romney created the model," says Randecker. ​"We hold him responsible – along with corporate greed and CEOs who don't care about workers who work for them."
But Romney hasn't responded. ​"He's been real quiet on this issue," she continued. ​"other than to say he's creating jobs when he's taking them away – or his firm is."
Now Borman, Randecker and their co-worker Pam Lampros say they don't know how they'll find a job in their depressed local economy. Their children's lives are affected as well. One dropped out of a four-year college and works part time to save money; another works a low-wage job and will the lose health insurance she had through her mother. Without a new skill, Randecker figures she would need to work two or three low-wage jobs to match what she had at the factory. Yet school seems alien and much-changed from her youth – and even if she does go back, she fears age discrimination.
But when it comes to presidential politics, they're surprisingly uncertain what they'll do. Though Borman considers herself a Republican, she, like the other two women, voted for Obama because she thought having the first African-American president would be good for the country. And given the crises he inherited and the opposition from Republicans, all three think he's done reasonably well. But they say they're tired of mud-slinging politics and lack of attention to policies to make the country better. They say they might just write in a name, maybe Ross Perot or their own.
​"I would like to believe the Obamas care," Randecker said. ​"They're a little more down to earth. The Romneys' party doesn't realize what it's like to work 9 to 5, what it's like to worry about paying the bills." Ultimately, they acknowledged, they couldn't vote for Romney and might end up casting a ballot for Obama, but not with great enthusiasm.
Whatever they do, they'll keep fighting for their jobs, even if the odds are long, because it's the right thing to do. ​"I'm not going to get my job back probably," Borman says, ​"but it may help my kids or grandkid."
Next week the workers will take their case to the Republican National Convention in Tampa, Fla.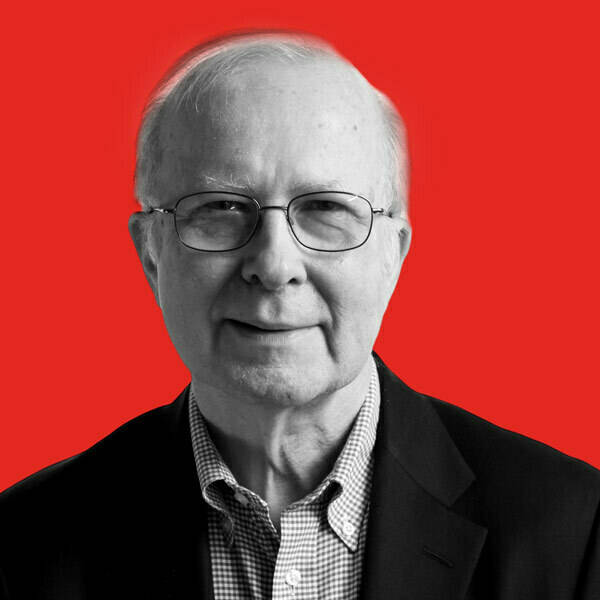 David Moberg, a senior editor of In These Times, has been on the staff of the magazine since it began publishing in 1976. Before joining In These Times, he completed his work for a Ph.D. in anthropology at the University of Chicago and worked for Newsweek. He has received fellowships from the John D. and Catherine T. MacArthur Foundation and the Nation Institute for research on the new global economy.