Overriding Bloomberg's Vetoes, New York City Council Bans NYPD Racial Profiling
Stop-and-frisk is dealt the second serious blow in as many weeks, and this one may be even more significant.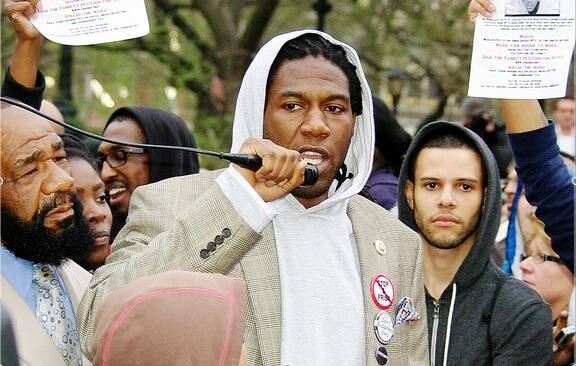 Mayor Bloomberg, NYPD Commissioner Ray Kelly, and New York City's stop-and-frisk policy have taken a pretty heavy one-two punch in the last couple of weeks. The first blow came from Judge Shira Scheindlin's ruling that the NYPD's policy violates the 4th and 14th Amendments to the Constitution. Then, today, the City Council overrode Bloomberg's veto of two bills that would further reform the NYPD's practices. A ban on racial profiling — with a right to take legal action — and an independent inspector general for the police department will take effect despite the mayor's best efforts. The vote broke down much as it had on first passage, with 39 in favor, 10 against for the NYPD Oversight Act and 34 in favor, 15 against for the End Discriminatory Profiling Act.
If this is what progressives are able to accomplish with a mayor and Speaker opposed to much of their agenda, imagine what's possible under a friendlier administration.
​"I am voting to uphold these bills and override the mayor's veto because he is out of touch with the realities in communities like my own," Councilmember Ydanis Rodriguez said in a statement. ​"His children will never be stopped and frisked, or accused of ​'fitting a description' but this is something I will have to worry about with my own two daughters, just as so many parents in our communities must worry about with their children. We need real reform of the stop-and-frisk practice and these bills are a strong start."
The votes were personal for many councilmembers. The voice of councilmember Jumaane Williams, the co-sponsor of the two bills, shook as he ​"proudly" cast his vote. Williams also pointed out in council that, particularly for the racial profiling ban, the vote broke down largely along racial lines. Meanwhile, Mark Weprin, who faced heavy pressure to change his support for the vote, noted ​"People opposed to this legislation tend to be people who have never been stopped." Several councilmembers, including the eight-and-a-half-months pregnant Julissa Ferreras, spoke passionately about being parents and wanting their children to grow up in a better city.
While last week's court victory was huge, the passage of these two bills, part of a package known as the Community Safety Act, is perhaps more significant. A coalition of community and racial justice groups, civil liberties, LGBTQ and youth organizations came together under the ​"Change the NYPD" banner and helped changed public opinion, pressuring the City Council and demanding change. The groups include Make the Road New York, VOCAL-NY, New York Communities for Change, FIERCE, Picture the Homeless, and the NYCLU (full list here). The momentum shift was most apparent during the two Democratic mayoral debates, as the candidates fought to be the most anti-stop-and-frisk. Christine Quinn, the mayoral candidate and Council speaker who voted against the racial profiling ban and has spoken positively about Ray Kelly's tenure as commissioner, is now busy touting her effectiveness in passing NYPD reform.
The experience of men in Brownsville, a Brooklyn neighborhood that is mostly black and lower-income, speaks to the need for further action beyond the judge's ruling. As Ryan Devereaux reported for the Guardian, nothing has changed yet in that neighborhood — young men are still being stopped and harassed, their pockets searched, their drinks sniffed. Charles, one of the Brownsville residents he spoke with, commented that without ​"serious consequences," the police won't change their behavior.
The bill most in danger of not passing, the End Discriminatory Profiling Act, creates a ​"private right of action" for citizens who believe themselves profiled by the NYPD. They will be able to bring intentional discrimination claims, though will not be eligible to receive monetary damages. Its opponents — including, of course, the mayor — claimed the legislation would make officers too afraid to do their jobs and also that it was unnecessary because racial profiling is already illegal.
But an important and little-remarked-upon part of the bill is that it expands the categories of people protected from profiling — from race, ethnicity, religion and national origin to age, gender, gender identity or expression, sexual orientation, immigration status, disability and housing status (the homeless). This is important because, as Molly Knefel reported for Rolling Stone, more than 40 percent of New York's homeless youth are LGBTQ, and they have been disproportionately targeted by the police. Young transgender women of color are particularly targeted; suspected of being sex workers simply for existing, they are profiled further if they happen to be carrying condoms, which are used as evidence of prostitution. As Melissa Gira Grant has written, those same condoms are distributed for safety by public health departments, but carried by someone wearing ​"provocative or revealing clothing" (in the police report's own pre-printed terms) they become evidence of a crime.
As Kristen Gwynne has written for AlterNet, stop-and-frisk is all too often a sexual assault on its victims even when they're not being profiled for sexuality or gender identity. Gwynne writes:
I've reported on stop-and-frisk for two years, and in that time I've talked to young men who have experienced stop-and-frisk, and the stories they tell are harrowing. A black teenager in Bedford-Stuyvesant described how embarrassed he was to have ​"old ladies" watch as his pants landed around his ankles while police searched him. A 17-year-old in the Bronx explained that police, ​"They go in my pants. You're not supposed to go in my pants." Being touched by a female police officer can be especially upsetting for adolescent males. ​"It's annoying because it doesn't matter what kind of cop it is, female or male, they're gonna frisk you. If you say something to the female about it, the female says something to you like ​'What? I can do what I want.' And they still frisk you. You can't say sexual harassment, nothing," 18-year-old South Bronx resident Garnell told me last year, adding, ​"And they go hard, grabbing stuff they're not supposed to."
The other bill, the NYPD Oversight Act, had passed with a stronger veto-proof majority the first time of 40 to 11. The act establishes an independent Inspector General to watch over the NYPD, make public reports on its policies, programs, and practices, and revisit them each year to make sure recommendations are followed. The Inspector General will be in addition to the federal monitor imposed by Judge Scheindlin, leading Bloomberg to complain about too much oversight. But as Councilmember Brad Lander, the co-sponsor of the bills, noted to The Nation, the monitor will be narrowly focused on stop-and-frisk, while the Inspector General will have an eye out as well for surveillance of the city's Muslim communities, quotas, and statistics fixing, among other issues.
It's worth noting that the progressive caucus within the City Council has, as Katrina vanden Heuvel noted, been ​"punching above its weight class," taking on not only the mayor, but Speaker Quinn and pushing through a wide swath of progressive bills. If this is what they're able to accomplish with a mayor and Speaker opposed to much of their agenda, imagine what's possible under a friendlier administration.
Williams said in a statement, ​"From Trayvon Martin to the NYPD's abuse of its stop-and-frisk program, this generation's great civil rights battle has and will continue to be ending institutionalized racism and discrimination in all forms."
On the floor, his voice trembling, he said that his family had told him his father would have been proud.
Sarah Jaffe is a Type Media Center Fellow, co-host (with Michelle Chen) of Dissent magazine's Belabored podcast, and a columnist at The New Republic and New Labor Forum. She was formerly a staff writer at In These Times and the labor editor at AlterNet. Her previous book is Necessary Trouble: Americans in Revolt, which Robin D.G. Kelley called ​"The most compelling social and political portrait of our age." You can follow her on Twitter @sarahljaffe.