"Anoth­er glo­ri­ous day, the air as deli­cious to the lungs as nec­tar to the tongue" – John Muir, My First Sum­mer in the Sier­ra (1911)
Most Amer­i­cans asso­ciate U.S. nation­al parks with pris­tine envi­ron­ments that rep­re­sent the very best of nature. In the 1916 law that estab­lished the Nation­al Park Ser­vice, Con­gress direct­ed the new agency to ​"con­serve the scenery and the nat­ur­al and his­toric objects and the wild life there­in and to pro­vide for the enjoy­ment of the same in such man­ner and by such means as will leave them unim­paired for the enjoy­ment of future generations."
But over the past cen­tu­ry it has become increas­ing­ly hard to pro­tect the parks from impacts of human activ­i­ties out­side their bound­aries. In 2015 the Nation­al Parks Con­ser­va­tion Asso­ci­a­tion, a nation­al advo­ca­cy group, released a blis­ter­ing report giv­ing many pop­u­lar parks poor grades for unhealthy air, haze and impacts from cli­mate change.
In a study just pub­lished in Sci­ence Advances, we ana­lyzed lev­els of ozone, the most wide­ly mon­i­tored pol­lu­tant in parks, and their impact on vis­its to 33 nation­al parks from 1990 to 2014. The sites we stud­ied includ­ed pop­u­lar parks such as Aca­dia, the Grand Canyon, Great Smoky Moun­tains, Joshua Tree, Sequoia and Kings Canyon and Yosemite. We found that while cities once had more ​"bad air days" with unhealthy ozone lev­els than nation­al parks, today parks and metro areas have vir­tu­al­ly the same num­ber of unhealthy ozone days per year on aver­age. We also found that park vis­its fall on high ozone days – espe­cial­ly dur­ing sum­mer and fall, when peak ozone lev­els typ­i­cal­ly occur.
The impact of bad air days
Reg­u­la­to­ry efforts to pro­tect the nation­al parks have a long his­to­ry. The Clean Air Act Amend­ments of 1977 and 1990 des­ig­nat­ed parks as Fed­er­al Class I Areas, grant­i­ng them spe­cial air qual­i­ty and vis­i­bil­i­ty pro­tec­tions.
The U.S. Envi­ron­men­tal Pro­tec­tion Agency's 1999 Region­al Haze Ruleincreased these pro­tec­tions by requir­ing states to devel­op and imple­ment plans to improve vis­i­bil­i­ty and air qual­i­ty in parks and wilder­ness areas.
How­ev­er, these reg­u­la­to­ry actions have spurred con­tentious debate and lit­i­ga­tion. Envi­ron­men­tal groups argue that these mea­sures are not strin­gent enough, while some states and indus­tries call them too costly.
Major sources of park air pol­lu­tion include pow­er plants, auto­mo­biles and indus­tri­al facil­i­ties. Unlike oth­er pol­lu­tants emit­ted direct­ly from these sources, like sul­fur diox­ide or lead, ozone is a sec­ondary pol­lu­tant. It forms in the atmos­phere through chem­i­cal reac­tions between nitro­gen oxides, volatile organ­ic com­pounds and sun­light. Nitro­gen oxides orig­i­nate from the usu­al urban pol­lu­tion sources, but bio­genic sources like trees are actu­al­ly the largest source of volatile organ­ic com­pounds, above indus­tri­al sources and cars.
Ozone pol­lu­tion is a seri­ous threat to human health and the envi­ron­ment. It has been linked to increased res­pi­ra­to­ry symp­toms, hos­pi­tal­iza­tion rates and mor­tal­i­ty. It also is cor­re­lat­ed with poor vis­i­bil­i­ty in parks, and can dam­age sen­si­tive plant species.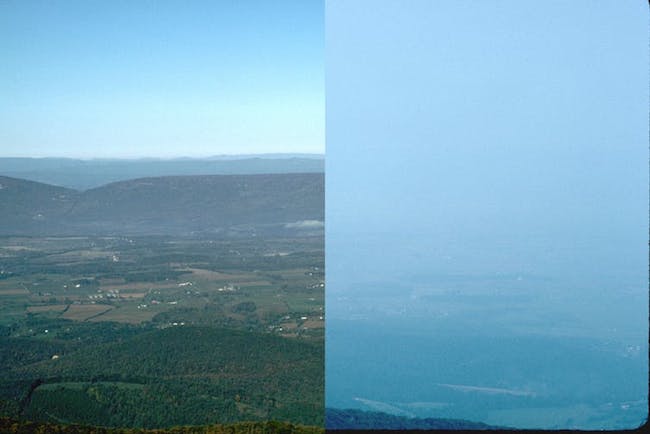 Look­ing west from Shenan­doah Nation­al Park's Shaver Hol­low on clear (left) and hazy (right) days. (Image: NPS)
Ozone trends over time
To our sur­prise, for most of our study peri­od we found that aver­age annu­al ozone con­cen­tra­tions in nation­al parks were near­ly iden­ti­cal to those in met­ro­pol­i­tan areas. How­ev­er, sum­mer­time lev­els and the inci­dence of unhealthy days told a dif­fer­ent story.
Since ozone forms in sun­light, lev­els typ­i­cal­ly are high­est on hot, sun­ny days. When ozone lev­els exceed the nation­al stan­dard, which is cur­rent­ly 70 parts per bil­lion, local and region­al gov­ern­ments may issue alerts or urge peo­ple to avoid out­door activities.
In 1990 cities had far more days bad ozone days on aver­age than nation­al parks. But through the decade, sum­mer­time ozone and unhealthy ozone days wors­ened in nation­al parks. By the year 2000, ozone lev­els in nation­al parks were, on aver­age, very sim­i­lar to those in met­ro­pol­i­tan areas. Explain­ing this increase was beyond the scope of our study. Accord­ing to the Nation­al Park Ser­vice, pol­lu­tion in nation­al parks can come from many sources, includ­ing pow­er plants, indus­tri­al sources, vehi­cle emis­sions and wildfires.
Since the ear­ly 2000s, ozone lev­els in both nation­al parks and met­ro­pol­i­tan areas have improved. But bad air days still occur. On aver­age, among the loca­tions we stud­ied, metro areas cur­rent­ly have 18 unhealthy ozone days per year, while parks have 16.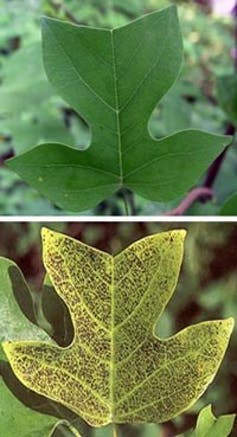 Healthy (top) and ozone-injured (bot­tom) tulip tree (yel­low poplar) foliage (Image: NPS)
Bad air days dri­ve away park visitors
To see whether vis­i­tors respond­ed to chang­ing ozone lev­els in the parks, we matched month­ly vis­i­ta­tion data from the Nation­al Park Ser­vice with var­i­ous mea­sures of month­ly aver­age ozone lev­els. We found that a one per­cent increase in ozone con­cen­tra­tions was asso­ci­at­ed with approx­i­mate­ly a one per­cent decrease in park vis­i­ta­tion on aver­age. This response was most pro­nounced dur­ing sum­mer and fall, when both vis­i­ta­tion and aver­age ozone lev­els are highest.
Why do vis­its decrease when ozone is high? We see two pos­si­bil­i­ties. First, vis­i­tors may wor­ry about adverse impacts on their health. Sec­ond, vis­i­bil­i­ty is typ­i­cal­ly poor when ozone lev­els are high because ozone par­tic­i­pates in chem­i­cal reac­tions in the air that can form haze.
We found stronger evi­dence that health con­cerns keep vis­i­tors away. Park vis­i­ta­tion has a robust neg­a­tive cor­re­la­tion with the inci­dence of unhealthy ozone days, per­haps because of air qual­i­ty warn­ings that accom­pa­ny these high levels.
The val­ue of fur­ther ozone reductions
Across the Unit­ed States, ozone lev­els declined by 31 per­cent between 1980 and 2016. But city res­i­dents and tourists in nation­al parks still expe­ri­ence unhealthy ozone lev­els for two to three weeks per year. Expo­sure to high ozone lev­els may be par­tic­u­lar­ly harm­ful in nation­al parks, since health effects from ozone are greater dur­ing exer­cise, such as hik­ing, back­pack­ing or rock climbing.
Although we found that some peo­ple decrease their vis­its dur­ing unhealthy days, we still observed that since 1990, near­ly 80 mil­lion vis­i­tor days have occurred dur­ing high ozone peri­ods. This sug­gests that improv­ing air qual­i­ty in U.S. nation­al parks could pro­duce sig­nif­i­cant human health ben­e­fits. We hope that state and fed­er­al pol­i­cy mak­ers will weigh these ben­e­fits of improved air qual­i­ty along with their costs as dis­cus­sions move for­ward on air pol­lu­tion regulations.
(​"Ozone Pol­lu­tion in US Nation­al Parks is Near­ly the Same as in Large Cities" was orig­i­nal­ly pub­lished on The Con­ver­sa­tion and is repost­ed on Rur­al Amer­i­ca In These Times thanks to a Cre­ative Com­mons License.)