AFL-CIO Head Meets Palermo's Pizza CEO But Strike and Boycott Continue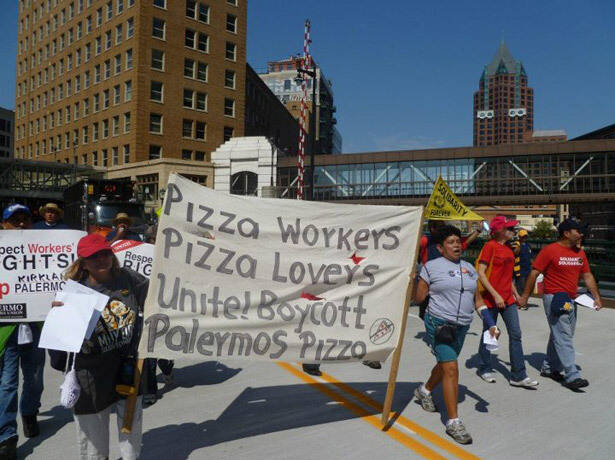 Three months into a bit­ter strike and four weeks into a nation­al boy­cott, the CEO of Palermo's Piz­za met Fri­day with AFL-CIO Pres­i­dent Richard Trum­ka in Wash­ing­ton, DC. The Nation­al Labor Rela­tions Board (NLRB) is inves­ti­gat­ing alle­ga­tions that the Mil­wau­kee piz­za com­pa­ny used immi­gra­tion sta­tus as a pre­text for the mass fir­ing of strik­ing work­ers. While the legal process has been repeat­ed­ly delayed, Friday's meet­ing – which was request­ed by Palermo's – sug­gests that the con­sumer cam­paign is tak­ing a toll on the com­pa­ny. Both sides said they appre­ci­at­ed the chance to meet, but the esca­lat­ing dis­pute remains unresolved.
Boy­cott Get­ting Traction
As I've report­ed, work­ers first struck Palermo's Pizza's fac­to­ry in Mil­wau­kee on May 29, after the com­pa­ny refused to rec­og­nize their union despite sig­na­tures from three-quar­ters of the factory's per­ma­nent work­ers. The same day, Palermo's told many work­ers that they had 28 days to prove that their immi­gra­tion sta­tus autho­rized them to work in the Unit­ed States. Over the next two days, Palermo's announced the dead­line had been short­ened to 10 days, more work­ers went on strike, and the union filed with the NLRB both a peti­tion for a union elec­tion and charges alleg­ing Unfair Labor Prac­tices by the com­pa­ny. On June 7, Immi­gra­tion and Cus­toms Enforce­ment (ICE) announced that it was sus­pend­ing enforce­ment at Palermo's. The next day, the com­pa­ny ter­mi­nat­ed 75 workers.
Reached over e‑mail, AFL-CIO spokesper­son Josh Gold­stein said that Trum­ka ​"appre­ci­at­ed the oppor­tu­ni­ty" to ​"dis­cuss the issues fac­ing the work­ers" with CEO Gia­co­mo Fal­luc­ca. ​"The work­ers at Paler­mo," said Gold­stein, ​"are eager to be part of a solu­tion that cre­ates a healthy busi­ness, address­es the work­place prob­lems and ensures that their voic­es will be heard and respect­ed." He added that the boy­cott ​"con­tin­ues until there is a res­o­lu­tion," but the labor fed­er­a­tion hopes ​"that the open dia­logue today helps pave the way for Mr. Fal­luc­ca to con­tin­ue it with his employ­ees when he returns."
​"It was char­ac­ter­ized to me as being a very good meet­ing," says Palermo's Mar­ket­ing Direc­tor Chris Dres­sel­huys. ​"We're just thank­ful [Trum­ka] could make the time to see us." Dres­sel­huys says the com­pa­ny sought the meet­ing because it ​"thought it was in everyone's best inter­est that Mr. Trum­ka under­stand the cir­cum­stances sur­round­ing our sit­u­a­tion." Asked whether he believed that had been accom­plished, he answered, ​"I couldn't tell you. I wasn't there."
The work­ers have been orga­niz­ing for years, work­ing close­ly with the Mil­wau­kee-based immi­grant rights group and low-wage work­ers' cen­ter Voces de la Fron­tera. In April, they met with rep­re­sen­ta­tives of the Unit­ed Steel­work­ers (USW) and the AFL-CIO, of which the USW is an affil­i­ate. The work­ers filed for union recog­ni­tion as the Palermo's Work­ers Union (PWU), and in July work­ers vot­ed to pur­sue affil­i­a­tion with the USW inter­na­tion­al union should they win union recog­ni­tion. (Full Dis­clo­sure: the USW is an In These Times spon­sor.) The Unit­ed Food and Com­mer­cial Work­ers filed with the NLRB in June to appear on the bal­lot as an alter­na­tive to the PWU.
Voces de la Fron­tera cred­it­ed Friday's meet­ing to the pres­sure from the ongo­ing strike and a con­sumer boy­cott of Palermo's prod­ucts. Palermo's work­ers launched the boy­cott on July 29 at a ral­ly with the Unit­ed States Stu­dents Asso­ci­a­tion held out­side a local Cost­co. The super­mar­ket chain sells the major­i­ty of Palermo's prod­ucts, and so has been the pri­ma­ry tar­get of the boy­cott. Inter­viewed in Span­ish soon after the boy­cott launch, fired strik­er Cae­sar Her­nan­dez said, ​"We want peo­ple to know all the prob­lems that we've had with the com­pa­ny, and all the abus­es and mis­treat­ment that work­ers have suffered."
The nation­al AFL-CIO for­mal­ly endorsed the boy­cott on August 9. In a state­ment that day, Trum­ka said that the work­ers' ​"courage and strength are a mod­el for work­ing peo­ple around the coun­try whose rights are being vio­lat­ed and voic­es silenced."
Two days lat­er, union mem­bers and allies held demon­stra­tions out­side Cost­co loca­tions in 11 cities, dis­trib­ut­ing fly­ers to cus­tomers or send­ing del­e­ga­tions inside to seek meet­ings with local man­age­ment. With­in a week, Fal­luc­ca wrote to Trum­ka to request a meet­ing. Accord­ing to the AFL-CIO, Fallucca's let­ter sug­gest­ed that Cost­co had con­tact­ed Palermo's about the issue.
Asked about the boy­cott, Palermo's Dres­sel­huys said, ​"Our sales and our rela­tion­ship with our cus­tomers remain strong." He said the union's NLRB charges ​"cen­ter around Palermo's com­ply­ing with immi­gra­tion law."
Cost­co main­tains a sup­pli­er Code of Con­duct which states that it ​"expects its sup­pli­ers to com­ply, at a min­i­mum, with the applic­a­ble labor and envi­ron­men­tal laws and reg­u­la­tions," and pledges to ​"seek to uti­lize" com­pa­nies that also ​"demon­strate a con­tin­u­ing com­mit­ment to the pro­tec­tion and improve­ment of employ­ees' rights, safe­ty and the environment."
​"Basi­cal­ly," says Neu­mann-Ortiz, "[Cost­co is] say­ing that any prod­uct that they sell is not vio­lat­ing work­ers' rights. We think obvi­ous­ly that the poli­cies, the kinds of prac­tices that Palermo's has ini­ti­at­ed are very, very egre­gious, and cer­tain­ly anti-work­er." Cost­co did not respond to a request for comment.
The PWU last week held a week of action which includ­ed mobi­liza­tions at Cost­cos in more than 20 cities. That includ­ed Cost­co head­quar­ters in Wash­ing­ton state, where Unit­ed Stu­dents Against Sweat­shops mem­bers attempt­ed to deliv­er a let­ter to Costco's CEO.
Neu­mann-Ortiz describes Palermo's CEO's meet­ing with Trum­ka as a sign that the pres­sure is work­ing. ​"The next step," she says, is for man­age­ment ​"to talk to the work­ers, which they have refused to do over many years, in terms of just sit­ting at the table with them." Asked whether Palermo's would take that step, Dres­sel­huys replied, ​"There are two unions cur­rent­ly sched­uled in this elec­tion, and the only legal rem­e­dy is for the work­ers to vote and make their choice."
New Union-Bust­ing Allegations
Giv­en the grav­i­ty of the alle­ga­tions against Palermo's and the size of the pro-union major­i­ty that signed the spring NLRB peti­tion, Neu­mann-Ortiz says that Palermo's should vol­un­tar­i­ly rec­og­nize the union, rein­state the fired work­ers, and pro­ceed to nego­ti­a­tions, rather than insist­ing on an NLRB elec­tion taint­ed by ter­mi­na­tions. ​"When you fire half of the pro­duc­tion plant," she adds, ​"you can­not say you're being neu­tral or fair in an election."
Voces and the USW are ask­ing that the NLRB issue a bar­gain­ing order, com­pelling Palermo's to rec­og­nize and nego­ti­ate with the union. Such orders are rare (an NLRB spokesper­son says tthe agency does not main­tain a count of how many have been issued), and have often been over­turned by courts.
​"It is our posi­tion that Voces de la Fron­tera is inten­tion­al­ly block­ing the vote," says Dres­sel­huys, ​"and we believe it's time that the work­ers' voic­es be heard, and be giv­en a chance to speak for them­selves and deter­mine what they want."
Asked why Palermo's fired 75 work­ers the day after ICE made its announce­ment, Dres­sel­huys said, ​"The let­ter did not state that they were with­draw­ing their Notice of Sus­pect Doc­u­ments… Palermo's had no choice but to fol­low the law." The June 7 let­ter reads: ​"At this time, ICE will stay fur­ther action regard­ing its Notice of Sus­pect Documents."
In Decem­ber 2011, the U.S. Depart­ment of Labor and ICE signed a Mem­o­ran­dum of Under­stand­ing under which (with excep­tions) ICE would ​"refrain from engag­ing in civ­il work­site enforce­ment activ­i­ties at a work­site that is the sub­ject of an exist­ing DOL inves­ti­ga­tion of a labor dis­pute" dur­ing a ​"DOL inves­ti­ga­tion and any relat­ed proceeding."
Neu­mann-Ortiz calls Dres­sel­huys' claim ​"a ridicu­lous argu­ment," not­ing that the let­ter was issued in response to a request regard­ing ​"the exist­ing labor con­flict at Paler­mo, not a future labor con­flict." She also charged that at the same time Palermo's was ​"stand­ing up on their high horse, say­ing ​'we're sim­ply com­ply­ing with the law,' " the com­pa­ny has ​"been telling peo­ple, ​'If you don't sup­port the strike, if you don't sup­port the union, bring me new papers,'" and keep your job.
No NLRB rul­ing is expect­ed for sev­er­al weeks. The legal time­line has repeat­ed­ly been extend­ed: in June, by the UFCW fil­ing to appear on the elec­tion bal­lot; in July, by the Paler­mo Worker's Union fil­ing addi­tion­al charges against Palermo's; and most recent­ly, on August 16, by an addi­tion­al round of charges by the PWU against both Palermo's and the temp agency it employed. Under U.S. labor law, the NLRB gen­er­al­ly holds off on con­duct­ing a union elec­tion until it deems legit­i­mate charges of ille­gal anti-union activ­i­ty to have been resolved or reme­died (unless the union bring­ing the charges files a motion for the elec­tion to pro­ceed anyway).
Voces and the USW told Work­ing In These Times in July that the delay cre­at­ed by the UFCW's fil­ing meant that few­er strik­ers, and more replace­ment work­ers, would be eli­gi­ble to vote in an elec­tion. Last week, NLRB Region­al Direc­tor Irv Gottschalk told the Mil­wau­kee Busi­ness Jour­nal that the ques­tion of which cur­rent or fired work­ers would be eli­gi­ble to vote in a poten­tial elec­tion would depend in part on the results of the agen­cy's investigation.
Reached over e‑mail, UFCW Local 1473 Pres­i­dent John Eiden said, ​"The work­ers should be pro­vid­ed the oppor­tu­ni­ty to par­take in democ­ra­cy in the work­place through an NLRB elec­tion. The UFCW is com­mit­ted to the process and the effec­tive rep­re­sen­ta­tion of all food work­ers, includ­ing those at Palermo's."
The USW is an AFL-CIO affil­i­ate; the UFCW is one of four unions in the Change to Win fed­er­a­tion. The UFCW rep­re­sents some Cost­co employ­ees, as does anoth­er Change to Win affil­i­ate, the Inter­na­tion­al Broth­er­hood of Team­sters. A spokesper­son for the Team­sters declined to com­ment on the Palermo's cam­paign or the boycott.
In a sworn affi­davit pre­pared as part of his NLRB tes­ti­mo­ny, strik­er Daniel Caa­mano said (in Span­ish) that the com­pa­ny took a less puni­tive approach to immi­gra­tion issues with some who had cho­sen not to go on strike. He said that two work­ers told him that ​"the com­pa­ny told them that they could con­tin­ue work­ing at the com­pa­ny, but they would need to change their papers, and that they could main­tain their senior­i­ty and their wages, but they would have to work with dif­fer­ent names." In her own affi­davit, Rosa Mer­ca­do said (in Span­ish) that she was told by some­one from the staffing agency, regard­ing her ter­mi­na­tion, that ​"if it wasn't because of my social secu­ri­ty num­ber, it was because I was out pick­et­ing on Friday."
​"We have giv­en that com­pa­ny every­thing we have to give," says Her­nan­dez, ​"to let this com­pa­ny grow as big as it has. I believe that we deserve respect from them. And we're not ask­ing for any­thing more than justice."
Josh Eidel­son
is a free­lance writer and a con­trib­u­tor at In These Times, The Amer­i­can Prospect, Dis­sent, and Alter­net. After receiv­ing his MA in Polit­i­cal Sci­ence, he worked as a union orga­niz­er for five years. His web­site is http://​www​.joshei​del​son​.com.Twit­ter: @josheidelsonE‑mail: ​
"
jei­del­son" at ​
"
gmail" dot com.