Parents Sue To Halt Chicago School Closings, Alleging Discrimination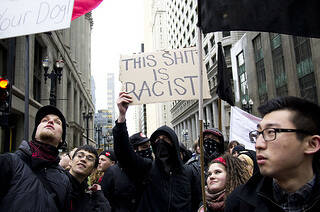 Renowned Chica­go labor attor­ney Thomas Geoghe­gan paused for the third time and, with a slight sigh, asked fed­er­al dis­trict judge John Lee, ​"Your Hon­or, could you instruct the wit­ness to answer the ques­tion ​'Yes' or ​'No'?"
After days of often high­ly tech­ni­cal tes­ti­mo­ny, patience seemed to be wear­ing thin on Thurs­day, July 18, the third and next-to-last day of hear­ings on an injunc­tion brought by Chica­go Pub­lic Schools (CPS) par­ents of stu­dents with spe­cial needs to pre­vent CPS from clos­ing 50 schools.
The par­ents, who are suing to halt the school clos­ings on the grounds that they vio­late the Illi­nois Civ­il Rights Act and the Amer­i­cans with Dis­abil­i­ties Act, have filed for a pre­lim­i­nary injunc­tion, say­ing that stu­dents will suf­fer irrepara­ble harm if the schools are closed before the full case goes to trial.
The recal­ci­trant wit­ness Geoghe­gan faced was Markay Win­ston, chief offi­cer of the Chica­go Pub­lic Schools' Office of Spe­cial Edu­ca­tion and Sup­ports (OSES). She had been called as Chica­go Pub­lic Schools' expert on the impact of school clo­sures on stu­dents with dis­abil­i­ties. In cross-exam­i­na­tion, Geoghe­gan grilled Win­ston on whether CPS had done its home­work before decid­ing to close the schools.
​"Can you point us to any peer-reviewed lit­er­a­ture regard­ing the effect of school clo­sures on spe­cial edu­ca­tion stu­dents?" he asked. Win­ston was unable to do so, say­ing that the mat­ter has not been stud­ied directly.
​"Have you read the RAND study?" No, she had not.
​"Have you read the Con­sor­tium study?" No; she had looked at ​"parts" of it. This rev­e­la­tion elicit­ed some guf­faws from the gallery; the study by the Chica­go Con­sor­tium on School Research at the Uni­ver­si­ty of Chica­go has been wide­ly read in the Chica­go edu­ca­tion community.
​"Are you aware of the Cat­a­lyst sto­ry?" (The arti­cle, from the Spring 2013 issue of Cat­a­lyst Chica­go, found that after one series of school clo­sures, the dis­trict ​"lost track" of 11 per­cent of the stu­dents affected.)
Win­ston said she was not aware of the sto­ry, nor did she know whether any­one on her staff had seen it.
The thrust of Geoghegan's cross-exam­i­na­tion, and the tenor of the hear­ings gen­er­al­ly, was to estab­lish the care­less­ness with which CPS under­took the largest round of pub­lic school clos­ings in Amer­i­can history.
In May, the Chica­go Board of Edu­ca­tion, the may­oral­ly appoint­ed body respon­si­ble for the Chica­go Pub­lic Schools, vot­ed along the rec­om­men­da­tions of CPS CEO Bar­bara Byrd-Ben­nett to close 50 schools and send the stu­dents to ​"wel­com­ing schools." CPS's cri­te­ria for school clo­sures focused almost exclu­sive­ly on deter­min­ing whether schools were ​"under­uti­lized" — whether enroll­ment had fall­en below what the num­ber of rooms in the school build­ing should be able to sup­port. The announce­ment, which came despite anti-clo­sure protests through­out the win­ter and spring, was met with out­rage by many Chica­go com­mu­ni­ties and by the Chica­go Teach­ers Union.
The stud­ies Geoghe­gan cit­ed sug­gest that a sud­den change in school envi­ron­ment is trau­mat­ic for stu­dents, although it's unclear whether the effects are last­ing. The RAND/​Vanderbilt study found that unless the wel­com­ing schools are ​"sub­stan­tial­ly high­er-per­form­ing" than the clos­ing schools, there is no ben­e­fit for stu­dents and pos­si­bly some harm. Research by the Chica­go edu­ca­tion news and research mag­a­zine Cat­a­lyst sug­gests the receiv­ing schools are not sig­nif­i­cant­ly bet­ter, at least as mea­sured by their test scores.
But par­ents of chil­dren with spe­cial edu­ca­tion needs are par­tic­u­lar­ly con­cerned. They argue that a trau­mat­ic, sud­den relo­ca­tion to a new school will per­ma­nent­ly dam­age their children's edu­ca­tion, which is gov­erned by legal­ly man­dat­ed ​"indi­vid­u­al­ized edu­ca­tion pro­grams," or IEPs, devel­oped with spe­cial edu­ca­tion teach­ers, the stu­dents, par­ents and admin­is­tra­tors. By mov­ing to new schools, the IEP process may have to be reboot­ed or retooled. In fact, Win­ston sug­gest­ed in her tes­ti­mo­ny that the dis­trict would alter the instruc­tion­al min­utes dic­tat­ed by a child's IEP based on the resources of the receiv­ing school, which caused audi­ble gasps in the gallery from the plain­tiff parents.
In their suit, the par­ents are argu­ing that the city did not take the par­tic­u­lar­ized needs of chil­dren with spe­cial edu­ca­tion needs into account when order­ing the clos­ings. Under the Amer­i­cans with Dis­abil­i­ties Act, a gov­ern­ment dis­crim­i­nates when it uses deci­sion-mak­ing cri­te­ria that are dis­crim­i­na­to­ry in their effect, with­out suf­fi­cient jus­ti­fi­ca­tion. If Win­ston and CPS didn't look for less dis­crim­i­na­to­ry alter­na­tives when mak­ing the clo­sure deci­sions, it will be hard for them to defend those deci­sions in the sub­se­quent tri­al, which may be grounds enough for a pre­lim­i­nary injunc­tion. The plain­tiffs have ham­mered on the fact that CPS's clo­sure cri­te­ria con­sid­ered almost exclu­sive­ly the ​"uti­liza­tion" — the ration of enroll­ment to build­ing size — of schools. In response, Win­ston stressed that the dis­trict will use ​"tran­si­tion sup­ports" for spe­cial ed stu­dents chang­ing schools, such as tutor­ing, men­tor­ing and one-on-one counseling.
The par­ents also argued that when deter­min­ing whether a school was ​"under­uti­lized," CPS ignored the need for ded­i­cat­ed class­rooms for small-sized spe­cial-edu­ca­tion ​"clus­ters." To rebut this argu­ment, CPS called its sec­ond wit­ness of the day, Adam Ander­son, the chief offi­cer of ​"Port­fo­lio and Plan­ning" for CPS and one of the devel­op­ers of the clo­sure cri­te­ria. Ander­son tes­ti­fied that spe­cial-ed class­rooms were account­ed for in the uti­liza­tion for­mu­la by an allowance for up to 20 per­cent of class­room space. Despite this dis­count, how­ev­er, research by Jeanne Olson, a CPS par­ent and researcher at North­west­ern University's School of Edu­ca­tion and Social Pol­i­cy, sug­gests the for­mu­la cur­rent­ly in use is still insuf­fi­cient to account for spe­cial-ed use of classrooms.
On cross exam­i­na­tion, Ander­son tes­ti­fied that Byrd-Ben­nett nev­er asked his office to con­sid­er the impact of school clo­sures on spe­cial edu­ca­tion stu­dents, specifically.
If the court issues the injunc­tion, CPS would be required to pre­vent imple­men­ta­tion of the school clo­sure plan for at least a year. The par­ties' briefs on the injunc­tion are due in ear­ly August, with a deci­sion expect­ed lat­er that month.