Which Toni Preckwinkle Is Running for Chicago Mayor?
Preckwinkle is an early favorite and is poised to run as a progressive. But her record is more complicated.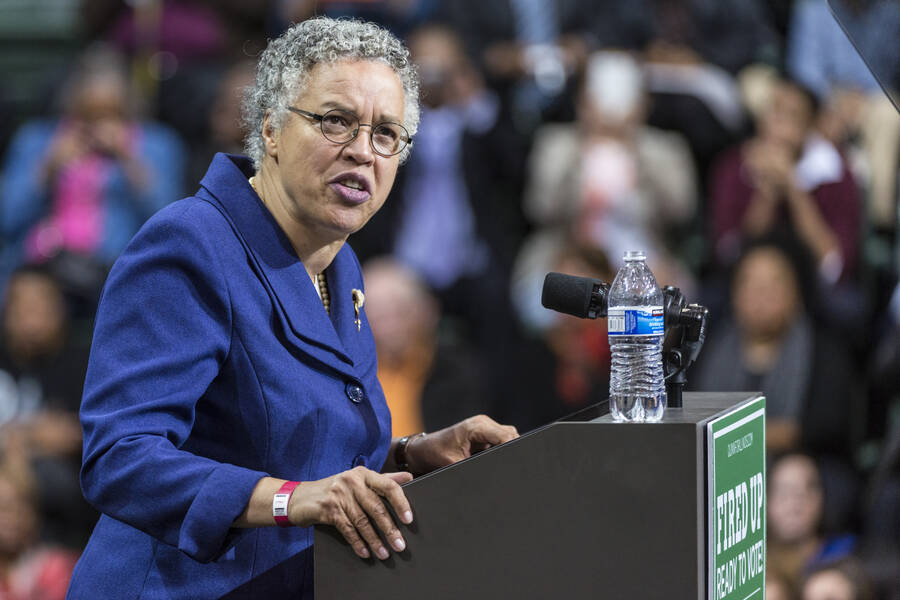 Cook Coun­ty Board Pres­i­dent Toni Preck­win­kle, who announced her can­di­da­cy to replace Rahm Emanuel as May­or of Chica­go on Thurs­day, has a rep­u­ta­tion as a smart politi­cian who only goes for sure things. That could be a result of lessons learned: She ran for her first elect­ed posi­tion — alder­man of 4th Ward on the city's South Side — three times, in 1983, 1987 and 1991 when she final­ly won. Even after win­ning in 1991, her vic­to­ry was the sub­ject of a court bat­tle that last­ed near­ly until her reelec­tion in 1995.
The challenge facing organizers in Chicago will be to push her to reject the same policies of austerity and embrace real progressive revenue solutions.
In her first term on the City Coun­cil, Preck­win­kle earned a rep­u­ta­tion as an ​"inde­pen­dent," which in the Chica­go polit­i­cal par­lance of the time typ­i­cal­ly meant some­one who at times opposed May­or Richard M. Daley and sup­port­ed process-ori­ent­ed ​"good gov­ern­ment" reforms.
Preck­win­kle, a Min­neso­ta native and for­mer high school teacher, soon became involved with the Inde­pen­dent Vot­ers of Illi­nois-Inde­pen­dent Precinct Orga­ni­za­tion (IVI-IPO), a most­ly non-ide­o­log­i­cal net­work of ward orga­ni­za­tions that was borne of oppo­si­tion to the Demo­c­ra­t­ic Par­ty machine. The IVI-IPO served dif­fer­ent inter­ests in dif­fer­ent wards, but gen­er­al­ly rep­re­sent­ed inde­pen­dence from City Hall, ​"good gov­ern­ment," and local­ly focused, ​"process-ori­ent­ed" reform.
The 4th Ward, encom­pass­ing the pro­fes­sion­al lib­er­al enclave of Hyde Park, anchored by the pow­er­ful Uni­ver­si­ty of Chica­go (UofC), was a per­fect base for a politi­cian of Preckwinkle's ilk. The pro­fes­sion­al class lib­er­als occu­py­ing the neigh­bor­hood respond­ed to social­ly-lib­er­al poli­cies cou­pled with the type of good-gov­ern­ment pos­ture that sig­nals auton­o­my from machine pol­i­tics. Hyde Park is also the neigh­bor­hood that ele­vat­ed Barack Oba­ma, of whom Preck­win­kle was an impor­tant ear­ly backer when he ran for state Sen­ate in 1996.
Res­i­dents of Hyde Park also have tend­ed to sup­port devel­op­er-friend­ly can­di­dates. Racial­ly diverse but dom­i­nat­ed by the UofC and upper-income pro­fes­sion­als, the politi­cians who emerged from the neigh­bor­hood over the past 25 years — includ­ing Oba­ma and Preckwinkle's suc­ces­sor Will Burns, who would go on to work for AirBnB — were less polar­iz­ing, par­tic­u­lar­ly around issues of class and race, than alder­men from the pre­dom­i­nant­ly Black South Side wards that sur­round it.
For twen­ty years, Preck­win­kle was con­sid­ered inde­pen­dent of May­or Richard M. Daley, occa­sion­al­ly vot­ing against his bud­gets and his appointees. She had the dis­tinc­tion of being part of a group that received the first of Daley's soon-to-be-leg­endary City Coun­cil floor tem­per tantrums in 1993 when she vot­ed against James Joyce's appoint­ment as Fire Depart­ment com­mis­sion­er due in part to Joyce's long tenure in the Depart­ment at a time when it was noto­ri­ous­ly bereft of non-white fire­fight­ers. At the same time, dur­ing her term in that office, she over­saw sig­nif­i­cant gen­tri­fi­ca­tion of the ward and the expan­sion of UofC hous­ing and com­mer­cial devel­op­ments into work­ing-class Black neigh­bor­hoods sur­round­ing Hyde Park.
Preck­win­kle can come off as a tra­di­tion­al tech­no­crat­ic Chica­go politi­cian: Deter­mined to work with­in the sys­tem with­out pro­vok­ing the most pow­er­ful vest­ed inter­ests that per­vade urban pol­i­tics — big devel­op­ers, big finance, well-endowed pri­vate uni­ver­si­ties, trade asso­ci­a­tions and the sta­tus quo that keeps those forces dom­i­nant in the city.
Preck­win­kle has accept­ed sig­nif­i­cant mon­ey from real estate devel­op­ers over the course of her polit­i­cal career, and has ties to the UofC and the con­stel­la­tion of prop­er­ty own­ers and devel­op­ers around it. Dur­ing her time as alder­man, Preckwinkle's view of devel­op­ment had been to been to sta­bi­lize neigh­bor­hoods by entic­ing the type of com­mer­cial and res­i­den­tial devel­op­ment that would lure in high­er-income peo­ple. How­ev­er, this devel­op­ment has also been known to lead to dis­place­ment for work­ing-class fam­i­lies of col­or at the periph­eries of Hyde Park.
In 2010 when she chal­lenged incum­bent Cook Coun­ty Board Pres­i­dent Todd Stroger, Preck­win­kle was sub­ject­ed to some vicious attacks char­ac­ter­iz­ing her as an ​"Aunt Jemamie," in thrall to ​"Mas­sa Daley," imply­ing she was lit­tle more than a ​"palat­able" Black politi­cian spon­sored by white mid­dle-class vot­ers and finan­cial inter­ests. This line of attack has not been uncom­mon in her career, but Preck­win­kle won that pri­ma­ry handily.
At the time, Preck­win­kle said she decid­ed to chal­lenge Stroger because of his inat­ten­tion to juve­nile deten­tion reform — an issue she had been appoint­ed to review and reform. That cam­paign — a big leap from her pre­vi­ous posi­tion of alder­man to man­ag­ing a $3 bil­lion bud­get — was hatched in some report­ed­ly sus­pi­cious cir­cum­stances, with ques­tions being raised that Preck­win­kle may have cut a deal with then-May­or Daley to sup­port (or not oppose) her bid for the pres­i­den­cy in exchange for her sup­port for (or non-oppo­si­tion to) Daley's plan to host the 2016 Olympics. At the time Preckwinkle's close rela­tion­ship to devel­op­ers, includ­ing accused slum­lord Rev. Dr. Leon Finney, came under close scrutiny.
The crit­i­cism of Preck­win­kle as a pure­ly tech­no­crat­ic politi­cian, how­ev­er, is com­pli­cat­ed by the fact that her ​"work from the inside" strat­e­gy has also borne occa­sion­al fruit in achiev­ing pro­gres­sive pri­or­i­ties. Upon assum­ing the pres­i­den­cy of the Cook Coun­ty Board, Preck­win­kle took action to reform the Coun­ty jail sys­tem, giv­ing her office author­i­ty to release low-risk defen­dants await­ing tri­al. Jails sit ​"at the inter­sec­tion of race and pover­ty," Preck­win­kle com­ment­ed at the time.
Preck­win­kle took on crim­i­nal jus­tice reform in her cam­paign pol­i­cy doc­u­ment, the ​"Com­pact for Change," express­ing sup­port for decrim­i­nal­iz­ing mar­i­jua­na to reduce the jail pop­u­la­tion. She went on to sup­port the insur­gent cam­paign of Kim Foxx, who took on and defeat­ed incum­bent State's Attor­ney Ani­ta Alvarez. Alvarez had become a high-pro­file tar­get of local activists after footage of the killing of teenag­er Laquan McDon­ald by Chica­go Police offi­cer Jason Van Dyke became pub­lic. Foxx has imple­ment­ed a num­ber of reforms includ­ing around the issues of cash bond and reduc­ing incarceration.
Over the course of her tenure, Preck­win­kle has had a mea­sur­able impact on crim­i­nal jus­tice reform: The Cook Coun­ty jail pop­u­la­tion has declined by 15 per­cent since she took office.
On health­care, Preck­win­kle used the expan­sion of Med­ic­aid pro­vi­sions under the Afford­able Care Act to cre­ate Coun­ty­Care, which enrolled some 400,000 peo­ple. In addi­tion to reduc­ing the num­ber of unin­sured res­i­dents using Coun­ty health ser­vices, that expan­sion allowed the Coun­ty to save on local health­care spend­ing. The hos­pi­tal sys­tem, like the court sys­tem, has been a fre­quent area of pro­posed cut­backs by Preck­win­kle, bring­ing her into con­flict with pub­lic sec­tor unions which reg­u­lar­ly have had to push back.
Preck­win­kle also pub­licly chal­lenged May­or Rahm Emanuel's 2013 deci­sion to close more than 50 Chica­go pub­lic schools, sug­gest­ing that it may have been a delib­er­ate effort to weak­en the pub­lic school sys­tem and con­trast­ing the clo­sure of schools with the explo­sion of the jail pop­u­la­tion. Preck­win­kle spot­light­ed that the school clos­ings were going to hap­pen almost entire­ly in Black neigh­bor­hoods, call­ing that ​"prob­lem­at­ic" and ask­ing if the clo­sures weren't just a delib­er­ate attack on pub­lic schools.
Preckwinkle's inde­pen­dence is more a mind­set than a sub­stan­tive polit­i­cal ide­ol­o­gy. In 2010 she also ran on a promise to repeal a sales tax increase passed by her pre­de­ces­sor — a promise she was forced to renege on when a plan she sup­port­ed to cut pub­lic work­ers pen­sions failed in Spring­field — a sign of her inde­pen­dence from labor unions who were among her top cam­paign donors.
To close a bud­get gap and avoid lay­offs, in 2017 she helped push through a tax on soda (or ​"pop" if you're local). When trade asso­ci­a­tions and retail­ers insti­gat­ed a back­lash, the tax was repealed, and Cook Coun­ty end­ed up lay­ing off hun­dreds of coun­ty employ­ees, includ­ing pub­lic defend­ers — lay­offs she called ​"heart­break­ing."
Preck­win­kle also declined to endorse Jesus ​"Chuy" Gar­cia — her Coun­ty Board ally and floor leader — in his near-miss pro­gres­sive chal­lenge to May­or Rahm Emanuel in 2015. If Preck­win­kle had come out in sup­port of Gar­cia, it could have poten­tial­ly had an impact on the elec­tion, help­ing him win over ​"good gov­ern­ment" lib­er­als and coun­ter­ing Emanuel's char­ac­ter­i­za­tion of Gar­cia as unschooled and undis­ci­plined in mat­ters of bud­get man­age­ment. Instead, Emanuel went on to win in a runoff.
Preck­win­kle likes a sure thing, and she wouldn't be run­ning for may­or if she didn't have rea­son to believe she could win. Her entire career has been char­ac­ter­ized by inde­pen­dence — but inde­pen­dence from whom? As the most pow­er­ful politi­cian in the Coun­ty, Preckwinkle's inde­pen­dence could just as eas­i­ly be seen as an abil­i­ty to resist pres­sure, whether from above or below.
Her sen­si­ble approach to gov­er­nance is more lim­it­ed by polit­i­cal imag­i­na­tion than by ide­ol­o­gy. In her run for may­or, her will­ing­ness to address issues such as racist crim­i­nal jus­tice prac­tices and ser­vice dis­par­i­ties between the rich and the poor will like­ly con­tin­ue to be bound by her under­stand­ing of what is both pos­si­ble and rea­son­able giv­en the pow­er­ful forces around her.
Many com­men­ta­tors have pre­dict­ed that Preck­win­kle may quick­ly become one of the fron­trun­ners in a may­oral race that already fea­tures over a dozen can­di­dates. If she does, the chal­lenge fac­ing orga­niz­ers in Chica­go will be to push her to reject the same poli­cies of aus­ter­i­ty and embrace real pro­gres­sive rev­enue solu­tions: finan­cial trans­ac­tion and cor­po­rate head tax­es, infra­struc­tur­al improve­ments and invest­ments in pub­lic ser­vices that can keep work­ing-class fam­i­lies in the city.
It also means being pre­pared to exert pres­sure and demon­strate pow­er around issues rang­ing from polic­ing to edu­ca­tion to hous­ing that stand in oppo­si­tion to the pow­ers that have dom­i­nat­ed City Hall for decades.