While Democrats Call for Gun Control at Home, They Push Deadly Arms Deals Abroad
To seriously address the scourge of gun violence, we must oppose U.S. militarism around the globe. Many leading Democrats haven't gotten the message.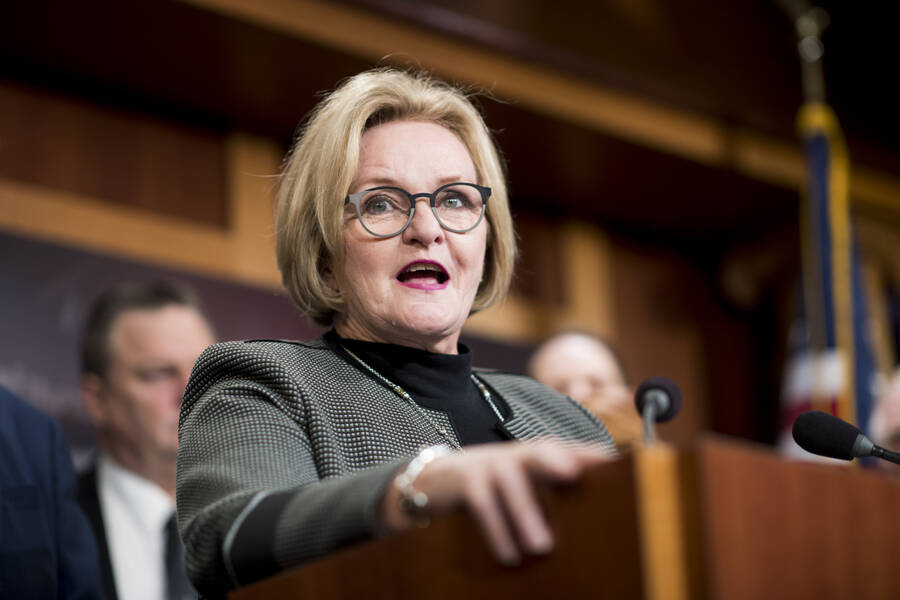 In the after­math of the shoot­ing in Park­land, Fla., that left 17 dead, many Democ­rats in Con­gress are once again call­ing for gun con­trol, as they have for decades. But all too often, this con­cern for the unchecked spread of weapons ends at America's shores.
A more holistic approach to dealing with the scourge of weapons and violence would not only make moral sense, it could contribute to a more robust—and effective—argument for instituting gun control measures.
Last week, top Demo­c­ra­t­ic sen­a­tors, such as Claire McCaskill (D‑Mo.) and Bill Nel­son (D‑Fla.), expressed out­rage over the lack of action by Con­gress to stop gun vio­lence in Amer­i­ca. How­ev­er these same sen­a­tors vot­ed against an effort in 2017 to end the U.S. arm­ing of the Sau­di Ara­bi­an gov­ern­ment — a fla­grant human rights abuser that has killed more than 10,000 civil­ians in its three-year siege of Yemen. Vir­tu­al­ly all Demo­c­ra­t­ic sen­a­tors also sup­port arm­ing Israel every year, a coun­try that rou­tine­ly bombs and sub­ju­gates the 4.5 mil­lion Pales­tini­ans under its charge — 46 per­cent of whom are chil­dren. The Unit­ed States con­sis­tent­ly ranks as the num­ber one arms deal­er in the world, with sup­port from Repub­li­cans and Democ­rats alike.
It's not just Con­gress. Fol­low­ing the Park­land shoot­ing, for­mer CIA direc­tor John Bren­nan insist­ed on Twit­ter that ​"Con­gress needs to act now to pre­vent access to semi­au­to­mat­ic weapons that kill inno­cents." Dur­ing his tenure in the Oba­ma admin­is­tra­tion, how­ev­er, Bren­nan con­sis­tent­ly lob­bied to step up the ship­ment of arms into Syria.
For­mer Pres­i­dent Barack Oba­ma him­self held vio­lence abroad to a dif­fer­ent stan­dard than vio­lence at home. While he pub­licly teared up after the trag­ic shoot­ing at Sandy Hook ele­men­tary in New­town, Conn., he also over­saw the killing of between 384 and 807 civil­ians in drone strikes dur­ing his pres­i­den­cy, includ­ing a 16-year-old Amer­i­can citizen.
Some may insist that, when it comes to firearms, there are dif­fer­ent moral met­rics for civil­ian and mil­i­tary use. How­ev­er, the same argu­ment that gun con­trol advo­cates in the U.S. fre­quent­ly make — that flood­ing soci­ety with guns nec­es­sar­i­ly makes soci­ety more vio­lent — remains true on a glob­al scale. As we have seen time and time and time again, U.S. arms ship­ments to Libya and Syr­ia have ​"fall­en into the hands" of jihadists groups. Even set­ting aside the bil­lions of dol­lars in bombs and fight­er jets the Unit­ed States sells to human-rights abus­ing coun­tries, the flood­ing of arms into war­zones, regard­less of how noble the inten­tions may be, fre­quent­ly ends up fuel­ing groups the U.S. State Depart­ment itself deems ​"ter­ror­ists."
Vio­lence at home and abroad is inex­tri­ca­bly linked. Niko­las Cruz, the Park­land shoot­er, was trained by the Army Junior Reserve Offi­cer Train­ing Corps (JROTC), a pseu­do-para­mil­i­tary orga­ni­za­tion for youth that serves as an onboard for the U.S. mil­i­tary. He also was a mem­ber of his school's rifle team, which receives fund­ing from the Nation­al Rifle Asso­ci­a­tion and is spon­sored by the JROTC. Two sep­a­rate analy­ses—one by George Wash­ing­ton anthro­pol­o­gist Hugh Guster­son, the oth­er by jour­nal­ist Emi­ly Bell — found that rough­ly 34 per­cent of U.S. mass shoot­ers are mil­i­tary vet­er­ans, as com­pared with 14 per­cent of the gen­er­al pop­u­la­tion, and that mil­i­tary ser­vice is an ​"impor­tant risk fac­tor" in future like­li­hood of com­mit­ting mass vio­lence. These stud­ies reveal a clear cor­re­la­tion between the role of the mil­i­tary in our soci­ety and mass shootings.
The Unit­ed States dropped 40,000 bombs in 2017 and 31,000 in 2016, killing thou­sands of peo­ple across the globe. Do we not have the resources and moral cap­i­tal to explore in tan­dem both vio­lence with­in our bor­ders and the vio­lence we export?
A more holis­tic approach to deal­ing with the scourge of weapons and vio­lence would not only make moral sense, it could con­tribute to a more robust — and effec­tive — argu­ment for insti­tut­ing gun con­trol mea­sures. Call­ing for restric­tions on gun access in Amer­i­ca would be more con­vinc­ing when paired with calls to stop the flow of U.S. arms to for­eign despots and sec­tar­i­an groups which use them to ter­ror­ize people.
Some in the media and Con­gress not only ignore this con­nec­tion but per­verse­ly imply that Amer­i­cans should chan­nel the vio­lence they would oth­er­wise engage in at home to for­eign war­zones. In the wake of the mas­sacre at the Pulse night­club in Orlan­do, Fla., Rep. Seth Moul­ton (D‑Mass.) tweet­ed out a pic­ture of him­self in Iraq car­ry­ing an assault rifle with the cap­tion, ​"I know assault rifles. I car­ried one in Iraq. They have no place on Amer­i­ca's streets." In the wake of the Park­land shoot­ing, Salon pub­lished an arti­cle with the head­line, ​"How about you join the Army if you want to shoot guns." The impli­ca­tion being that shoot­ing peo­ple on behalf of the U.S. gov­ern­ment in far-away coun­tries is prefer­able to doing so here.
A third option of reduc­ing the fre­quen­cy of both domes­tic and for­eign vio­lence is rarely dis­cussed, much less enter­tained. For some lib­er­als, vio­lence com­mit­ted by the mil­i­tary over­seas is seen as inevitable — some­thing we sim­ply can­not stop, some­thing fac­tored in, and there­fore not a pri­or­i­ty. If this sounds famil­iar, it's the same excuse the Right gives for why we should­n't ban guns here at home. Lib­er­als should con­nect the vio­lence we export with that which we see in our com­mu­ni­ties — and make a con­sis­tent, com­pelling case to end both.
Adam H. John­son is a media ana­lyst for Fair­ness and Accu­ra­cy in Report­ing and co-host of the Cita­tions Need­ed podcast.