Meet the Rough-and-Tumble Ironworker Ready to Unseat Paul Ryan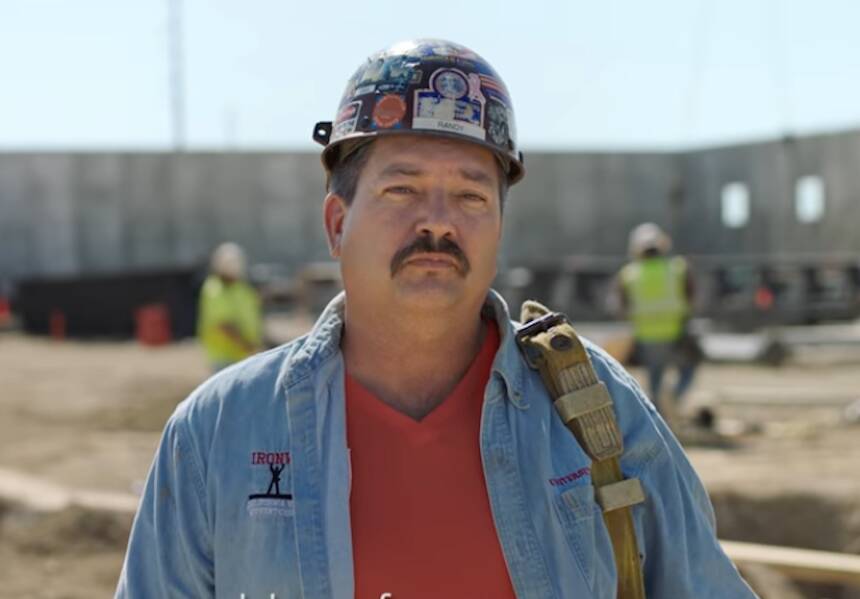 Wel­come to Inter­views for Resis­tance. Since elec­tion night 2016, the streets of the Unit­ed States have rung with resis­tance. Peo­ple all over the coun­try have wok­en up with the con­vic­tion that they must do some­thing to fight inequal­i­ty in all its forms. But many are won­der­ing what it is they can do. In this series, we'll be talk­ing with expe­ri­enced orga­niz­ers, trou­ble­mak­ers, and thinkers who have been doing the hard work of fight­ing for a long time. They'll be shar­ing their insights on what works, what does­n't, and what has changed, and what is still the same.
Randy Bryce: My name is Randy Bryce. I have been an iron­work­er for the past twen­ty years. I am a U.S. Army vet­er­an, a dad, and a can­cer sur­vivor — and I am cur­rent­ly run­ning to take Paul Ryan's seat in the 1st Con­gres­sion­al district.
Sarah Jaffe: Your first ad, announc­ing your can­di­da­cy, got a lot of atten­tion across the Inter­net, specif­i­cal­ly talk­ing about health­care. Tell us about what kind of health­care pol­i­cy you want to see and your per­son­al expe­ri­ences that shaped that.
Randy: I am very opposed to phar­ma­ceu­ti­cal com­pa­nies mak­ing huge mon­ey off of us. Every­body is cor­ralled into pay­ing high prices for not just drugs, but med­ical care over­all. This stems from my own per­son­al expe­ri­ence. Short­ly after I got out of the Army, I was diag­nosed with tes­tic­u­lar can­cer. The doc­tor told me I prob­a­bly wouldn't be able to have chil­dren as a result of the surgery. Peo­ple had asked, ​"Didn't you get any­thing through the [U.S. Depart­ment of Vet­er­ans Affairs (V.A.)]?" The thing is, the cul­ture that we live in today — I should speak for myself, but it is also the guys I work with — it is only when it gets real­ly bad that we take time off work to go to the doctor.
So I went and then they did some tests, and I had the ini­tial meet­ing with the doc­tor. He just tossed me a pam­phlet on how to deal with tes­tic­u­lar can­cer. He said, ​"We would like to oper­ate with­in a cou­ple of weeks." I was like, ​"Okay…" Then we start­ed talk­ing about the process.
When it came time for insur­ance cov­er­age, I was work­ing two jobs full-time and had no health­care cov­er­age. I had to tell him, ​"Well, I don't have any insur­ance. What can we do? Can I make arrange­ments to pay or some­thing?" He was good. He said, ​"Well, I would be will­ing to work with my fee so we can get it done. We will work some­thing out. Don't wor­ry about that, but I can't guar­an­tee any­thing for the anaes­the­si­ol­o­gist and every­body else that was going to be in the room." He was like, ​"I know a doc­tor that works for the Med­ical Col­lege of Wis­con­sin at a near­by hos­pi­tal, Froedtert." I end­ed up dri­ving there that same evening. After I met with the doc­tor at the oth­er place, he looked at the results and said, ​"We have got to do this right away. When is the last time you ate?" I said, ​"Well, I stopped and had some­thing on the way here." He said, ​"Okay, we can't do it right now" which is what he want­ed to do.
He said, ​"We will do it tomor­row." I got admit­ted to the hos­pi­tal right then and there. In a way it was good, because I didn't have time to freak out. It didn't have time to reg­is­ter it hap­pened so quick­ly. But, at that same time, that is why I couldn't go to the V.A. to ask ​"How do I get cov­ered? I am a veteran."
That is some­thing that, if it hap­pened to me, I am sure there are oth­er peo­ple in sim­i­lar sit­u­a­tions. If every­body was cov­ered, that wouldn't be an issue.
Then again, after being told that I wasn't going to be able to have a son, I end­ed up hav­ing a son who is my lit­tle mir­a­cle guy. As a par­ent, I am con­cerned for him. As an iron­work­er, we are self-insured, and we have decent insur­ance. Oba­macare could be improved. Because the iron­work­ers pro­vide good health­care, we get penal­ized with the Cadil­lac tax. So, I know it is not per­fect, but there are some pro­tec­tions in there that I think we need to keep in place, like for pre-exist­ing conditions.
Going back to my son, we are self-insured, so it is based on hours worked. Dur­ing the win­ter months when there is not a lot of work, our cov­er­age starts going down every day we don't work. It gets clos­er and clos­er to being tak­en to a low­er tier or just not hav­ing it. If I know I am get­ting close to that, I look at my son. He says, ​"Dad, I want to go out and play." I don't think a par­ent should have to wor­ry about a kid going out to play and being a kid because they are not cov­ered by health insur­ance. There have been a cou­ple of times when I know I am not real­ly close to not hav­ing insur­ance. And if you are unem­ployed, you can't pay for the COBRA costs. That is like $800 a month, which you can't afford. Kids should be able to be kids. They should be able to go out and play on a jun­gle gym. If they do break a bone, which is some­thing that is not uncom­mon, it shouldn't bank­rupt the par­ent as a result.
Look­ing at the video, too, it has my mom in it. My mom has been diag­nosed with mul­ti­ple scle­ro­sis. That hap­pened in the mid-1980s when I was in the Army. But also, my father has Alzheimer's, and he is in assist­ed liv­ing. Luck­i­ly, [my mom] has insur­ance because my dad is a retired police offi­cer. But if she didn't have insur­ance to get her med­ica­tion, it is unbe­liev­able how much hers would cost. She wouldn't be able to afford it. [The med­ica­tion] gives her her inde­pen­dence. She can go vis­it my dad every day. It's an easy rea­son why health­care was the first sub­ject, because it is inter­gen­er­a­tional, it affects every­body regard­less of your eth­nic back­ground. The most wealthy peo­ple are the only ones that don't have to wor­ry about it. It is an impor­tant issue.
Sarah: Paul Ryan is lead­ing the charge to dis­man­tle the Afford­able Care Act. Was that the thing that made you decide to run against him?
Randy: There are a lot of things. That is the biggest issue pol­i­cy-wise. But, I think an even big­ger issue is, as an iron­work­er, first of all, I have to show up at the job­site to do the job, and if I don't do my job, then I am going to get replaced with some­body who can. Paul Ryan should be rep­re­sent­ing peo­ple. He hasn't had any pub­lic town halls in the dis­trict for over 600 days. But, he has had over 50 big dol­lar fundrais­ers where you pay $10,000 to get your pic­ture tak­en with him. He is not doing his job. That is the big­ger issue. And based on him doing things like tak­ing away health­care, he has rea­son not to want to face the peo­ple in this dis­trict. I don't blame him being afraid to show his face, because a lot of peo­ple are upset and angry. But that is the num­ber one thing. How can you rep­re­sent peo­ple you don't want to see?
Sarah: What has it been like in your dis­trict since last elec­tion? I know peo­ple have put up bill­boards and things crit­i­ciz­ing Ryan on health­care. I have talked to folks in Mil­wau­kee who were part of the Day With­out An Immi­grant march and strikes. Has there been a lot of protest activ­i­ty in your district?
Randy: There has been. There are groups like For­ward Racine, For­ward Kenosha, groups that have sprung up since this past elec­tion that are get­ting involved. Every Sun­day, there is a group that meets out­side Ryan's Kenosha office. I par­tic­i­pat­ed in an event where we just read the Con­sti­tu­tion. The Work­ing Fam­i­lies Par­ty has been get­ting very involved in the dis­trict as far as call­ing him out and try­ing to make him account­able. There were a cou­ple of events, again, put forth by a For­ward Kenosha group, that invit­ed neigh­bor­ing Rep­re­sen­ta­tive, Mark Pocan from the sec­ond con­gres­sion­al dis­trict. So, if we want to find out what is going on in Wash­ing­ton, D.C., like with this — it is not even real­ly a health­care bill, it is a tax cut — we have to ask a neigh­bor­ing Con­gress­man to come talk to us.
Sarah: Tell us a lit­tle bit more about the dis­trict. Paul Ryan was pret­ty eas­i­ly re-elect­ed last time, but you already have some endorse­ments and sup­port lined up. Tell us why this time is different.
Randy: It took a lot of peo­ple that were start­ing to ask me to con­sid­er get­ting into it. I said, ​"Thanks, I am flat­tered that you are ask­ing." Then, some oth­er groups and local elect­eds said, ​"Randy, you should real­ly think about this. You are exact­ly the kind of guy that we need. You are every­thing that he is not."
I know just talk­ing to neigh­bors that they are being affect­ed, too. This whole divide-and-con­quer thing real­ly has peo­ple upset. Talk­ing about mak­ing Amer­i­ca great again — that doesn't hap­pen by divid­ing us. It has nev­er helped make us great. What makes us great is bring­ing up the ​"unit­ed" part of the Unit­ed States. Peo­ple are hav­ing a lot of buyer's remorse. Don­ald Trump had a mes­sage that res­onat­ed with some work­ing peo­ple, but I said, ​"Just wait and see. He is not going to do any of it. It sounds good, but he is not going to do any of it because he is not one of us."
Paul Ryan is total­ly com­plic­it. He is choos­ing the par­ty over the peo­ple. He thanked the entire Wis­con­sin Repub­li­cans at their con­ven­tion, thanked every­body for elect­ing Don­ald Trump. He owns Don­ald Trump. There was a chance at one time, when he was hes­i­tant to back him, but they are hand­cuffed togeth­er right now. They are in the same boat and that boat has a leak.
Sarah: There has been a lot of talk about the work­ing class, specif­i­cal­ly the white work­ing class, after Trump's elec­tion. But nei­ther par­ty runs very many union work­ers, for office. Tell us what it is impor­tant to not just pay lip ser­vice to work­ers or wear a base­ball cap and pre­tend that you are work­ing class, but actu­al­ly elect work­ing peo­ple to office.
Randy: Who bet­ter to speak up for work­ing peo­ple than oth­er work­ing peo­ple? I think we need to get all this big mon­ey out of pol­i­tics so that peo­ple real­ly do have a say. It is an elec­tion, not an auction.
When I vote for some­body, I look at sim­i­lar­i­ties like, ​"How is that per­son like me? What do we have in com­mon? Where does that per­son stay? What have they done for a liv­ing?" You have some­body like Paul Ryan, he has made his liv­ing as a con­gress­man. He sees his job as tak­ing things away from peo­ple. He is the one who had the speech about mak­ers and tak­ers, which at this date, makes it com­plete­ly iron­ic that he is still in office when he is tak­ing every­thing away and we are work­ing twice as hard and get­ting so much less. That is just not right.
Sarah: What are some of the oth­er issues that you want to focus on in this campaign?
Randy: Good-pay­ing jobs. There were great-pay­ing autowork­er jobs in Kenosha, in Janesville, and right now in the state of Wis­con­sin, Racine and Janesville, which are both with­in the 1st con­gres­sion­al dis­trict. They com­pete every year for who has the high­est unem­ploy­ment rate. They are num­ber one and num­ber two every year. Now, too, some of the best pay­ing jobs in Wauke­sha, the whole fac­to­ry is mov­ing up to Cana­da. Con­gress could have done some­thing to keep those jobs here. Don­ald Trump was brag­ging about how he is going to keep all these great-pay­ing jobs in the Unit­ed States. It is all talk and peo­ple are tired of hear­ing talk. Promis­es don't feed families.
Sarah: There is a big debate going on right now about what the Demo­c­ra­t­ic Par­ty should do in order to not just chal­lenge Trump­ism, but real­ly turn around the state that it has been in for a while. What you would like to see the par­ty doing?
Randy: I want to see more peo­ple like me, more work­ing peo­ple run for office. Bernie Sanders showed that he can get a lot of peo­ple with small con­tri­bu­tions, which is exact­ly what is hap­pen­ing with our cam­paign. We raised over $100,000 in the first day. Look­ing back at the con­tri­bu­tions, under $30 is the aver­age contribution.
And [the par­ty should be] work­ing towards get­ting all this big mon­ey out. Work­ing against Cit­i­zens Unit­ed. I can't imag­ine ever sell­ing out my broth­ers and sis­ters, peo­ple I worked with on a job who look out for me on a dai­ly basis. I can't pos­si­bly imag­ine sell­ing them out. But mon­ey is a big issue in pol­i­tics. I think the biggest thing, though, that needs to be done is work­ing peo­ple need a voice, and we need to be lis­tened to. If you are not going to elect us, make sure there is some­body that knows what our issues are.
Sarah: We also often get told that in parts of the coun­try you have to be ​"social­ly con­ser­v­a­tive" to win. You are a sup­port­er of gay rights and abor­tion rights. Do you think that will be a challenge?
Randy: I don't think that is a chal­lenge. My val­ues include look­ing out for each oth­er, help­ing each oth­er, and hold­ing the lad­der for peo­ple to get up to the top and not kick­ing it off once you get to the top your­self. I am not con­cerned about my val­ues being out of whack. The peo­ple I work with every day, we take care of each oth­er. That is what this coun­try is about. That is why I enlist­ed, and that is not what is going on in Wash­ing­ton, D.C. right now. We are being ignored, and I see us as being attacked. Work­ing people's val­ues are being attacked.
Sarah: Speak­ing of work­ing people's val­ues, a bunch of peo­ple who I know, when your ad went up said, ​"Oh, I know him from the protest in 2011!" We can't talk about Wis­con­sin with­out talk­ing about the protests and Scott Walker's attacks on labor. You are in the state that has been ground zero for attacks on union work­ers. Tell us a lit­tle bit about that, back to 2011, the right-to-work law, all of those things.
Randy: Talk­ing about the occu­pa­tion, peo­ple were stay­ing overnight in order to tes­ti­fy, because that was hold­ing the bill up from get­ting passed. As long as peo­ple were will­ing to line up — it was a twen­ty-four hour a day thing — they couldn't pass the bill. Peo­ple were will­ing to wait all night to testify.
The Wis­con­sin Repub­li­cans have since turned to a method known as ambush leg­is­la­tion, which is where they will announce some­thing at the last minute. By law, they have to give 24-hour notice to the pub­lic to be able to speak, but they have the sys­tem down now. They announce a bill. They have every­thing planned out to ram it through as quick­ly as pos­si­ble. They set lim­its on the time allowed for the pub­lic to be able to tes­ti­fy. That just goes back to the mes­sage now of peo­ple want­i­ng to be heard. They don't want to hear us. They know what they are going to do anyways.
Take the right-to- work leg­is­la­tion, for instance. Nine­ty per­cent of the peo­ple, of the con­stituents that con­tact­ed their leg­is­la­tors, were opposed to ​'right to work.' Yet, the leg­is­la­tors still vot­ed to pass it. It has got­ten to the point where they don't care about us any­more, and it is all about pass­ing this anti-work­er extrem­ist agen­da. Now, with Don­ald Trump in the White House and Paul Ryan as Speak­er, what has hap­pened in Wis­con­sin has been export­ed to the nation­al level.
Sarah: It absolute­ly sounds very famil­iar since the Repub­li­cans just put out their health­care bill.
Hav­ing tak­en part in those protests and the actions that are going on in your dis­trict now, what do you think the role is for social move­ments and protests in con­nec­tion to elec­toral politics?
Randy: The peo­ple who first got involved with Act 10 have stayed engaged the whole time. As more and more is tak­en away, I am see­ing more and more peo­ple become active: out-in- the-streets and in-front- of-build­ings active. With all these Indi­vis­i­ble groups, there is a For­ward Kenosha, For­ward Racine group, the Work­ing Fam­i­lies Par­ty. They are like, ​"We have had enough." Every­body that has been involved since Act 10 under­stood this is not going to end until every­body is squashed. So get up now while you still have a voice. Peo­ple are start­ing to under­stand that if we don't turn things around quick­ly, we are not going to have much left.
The things that we have done that have been suc­cess­ful include putting pres­sure on leg­is­la­tors and on com­pa­nies. We were able to keep Don­ald Trump from vis­it­ing Harley David­son as a result of coor­di­nat­ed action, which in the scheme of world issues, doesn't make a big dif­fer­ence. But it is a huge vic­to­ry if we can keep a pres­i­dent from vis­it­ing a local com­pa­ny due to pres­sure that we put on them. That was a huge victory.
It is just see­ing what we can do togeth­er. Peo­ple are under­stand­ing that you line up all the pawns on one side of a chess­board, and you have a queen on the oth­er side, and there is only one result, but you need all the pawns to stay togeth­er. Peo­ple are wak­ing up and it is great to see.
Sarah: Last thing, peo­ple real­ly love your Twit­ter han­dle, @IronStache. I have been asked to ask you the sto­ry behind the Twit­ter han­dle. Then, oth­er than fol­low­ing you on Twit­ter, how else can peo­ple keep in touch with you?
Randy: I do have a Face­book page, Randy Bryce. There is a pub­lic one. My per­son­al one has been filled up, but I keep a lot of things post­ed pub­li­cal­ly. I try to stay in touch. My Twit­ter feed is most­ly made up by me, too. If it is cam­paign staff, they will put their ini­tials after it.
I was at a Nation­al Build­ing Trades con­ven­tion and the guy that does the social media for them, he said, ​"You real­ly need to get involved in Twit­ter." Face­book had been our way of com­mu­ni­cat­ing dur­ing the Act 10 times. I said, ​"Okay. What the heck? I will try it." I was just think­ing up a name, and peo­ple have always made some com­ments about my mus­tache, jok­ing­ly. It just kind of popped into my head. ​"How about Iron­Stache?" He was like, ​"That is bril­liant! Use it! Go with it! That will work."
I kept it. There was talk about, ​"Should we get a cam­paign Twit­ter feed going?" and every­body pret­ty much decid­ed, ​"Randy, just be you. What we need is you. We don't need any­thing oth­er than you." That is what you get. [Laughs] It is real­ly enter­tain­ing to see the results. It is like, ​"How can this guy lose with that Twit­ter han­dle?" It is funny.
Sarah: What is the offi­cial cam­paign website?
Randy: www​.Randy​Bryce​For​Congress​.com
Inter­views for Resis­tance is a project of Sarah Jaffe, with assis­tance from Lau­ra Feuille­bois and sup­port from the Nation Insti­tute. It is also avail­able as a pod­cast on iTunes. Not to be reprint­ed with­out permission.
Sarah Jaffe
is a for­mer staff writer at
In These Times
and author of
Nec­es­sary Trou­ble: Amer­i­cans in Revolt
, which Robin D.G. Kel­ley called ​
"
The most com­pelling social and polit­i­cal por­trait of our age." You can fol­low her on Twit­ter
@sarahljaffe
.