Paul Wellstone's Legacy
10 years after the Minnesota senator's death, he still sets the bar for a politics of conviction.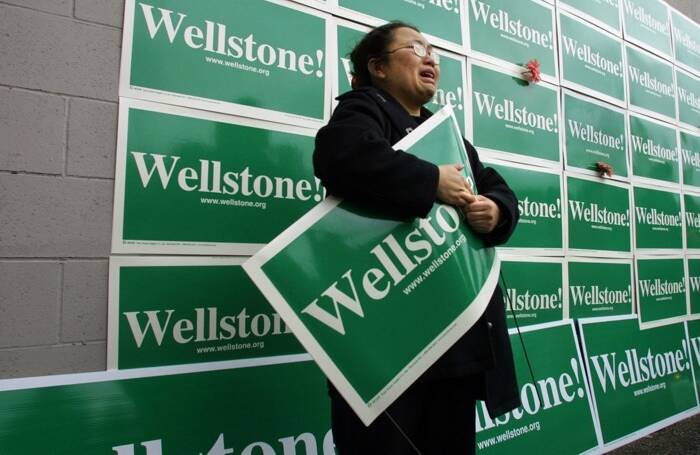 Short­ly before he died in a plane crash on Octo­ber 25, 2002, Paul Well­stone explained why he was in the Sen­ate: ​"I don't rep­re­sent the big oil com­pa­nies, the big phar­ma­ceu­ti­cals, or the big insur­ance indus­try. They already have great rep­re­sen­ta­tion in Wash­ing­ton. It's the rest of the peo­ple that need representation."
He cast his last vote against a resolution authorizing President George W. Bush to use force against Iraq. Soon after he died, cars in Minnesota and elsewhere began sporting green bumper stickers that read, "W.W.W.D. What would Wellstone do?"
A col­lege pro­fes­sor turned politi­cian, the Min­neso­ta senator's fiery speech­es and dogged cam­paign­ing for pro­gres­sive reform earned him the title ​"the con­science of the Sen­ate." The first Sen­ate vote he cast, in 1991, was to oppose U.S. mil­i­tary action in the Per­sian Gulf. Eleven years lat­er, he cast his last vote against a res­o­lu­tion autho­riz­ing Pres­i­dent George W. Bush to use force against Iraq.
Soon after he died, cars in Min­neso­ta and else­where began sport­ing green bumper stick­ers that read, ​"W.W.W.D. What would Well­stone do?" He had set the stan­dard for what Jeff Blod­gett, Wellstone's cam­paign man­ag­er in his three Sen­ate races, calls ​"con­vic­tion politics."
​"Paul based his polit­i­cal lead­er­ship and career on the idea [that] you say that you believe, you believe what you say, you put that out there for vot­ers," explained Blod­gett. ​"When Paul first got into pol­i­tics, lots of pro­gres­sives weren't enthu­si­as­tic about elec­toral pol­i­tics. Paul believed that it was impor­tant to inte­grate com­mu­ni­ty orga­niz­ing and elec­toral pol­i­tics. Orga­niz­ing with­out elec­toral pol­i­tics could mar­gin­al­ize social move­ments. Now most folks under­stand that. That's one of Paul's impor­tant legacies."
Born to Ukrain­ian Jew­ish immi­grants, Well­stone grew up in Arling­ton, Vir­ginia. His moth­er was a cafe­te­ria work­er and his father was a writer and fed­er­al employ­ee. He had dif­fi­cul­ty in school because of what he lat­er found out was a learn­ing dis­abil­i­ty, and he did poor­ly on his Col­lege Board tests (as a sen­a­tor, he opposed edu­ca­tion­al mea­sures that empha­sized stan­dard­ized test scores). Wellstone's pos­i­tive out­let was ath­let­ics; only five-foot-five, he was a cham­pi­on wrestler, unde­feat­ed in high school. At the Uni­ver­si­ty of North Car­oli­na, he won the Atlantic Coast Con­fer­ence cham­pi­onship in his 126-pound weight class.
Well­stone earned his under­grad­u­ate degree in 1965 and stayed at the Uni­ver­si­ty of North Car­oli­na to earn a Ph.D. in polit­i­cal sci­ence in 1969 with a dis­ser­ta­tion about black militants.
From 1969 to 1989, Well­stone taught polit­i­cal sci­ence at Car­leton Col­lege in Min­neso­ta, where he got involved in local orga­niz­ing cam­paigns and encour­aged his stu­dents to do the same. Blod­gett, a polit­i­cal sci­ence major, was one of those students.
​"Paul encour­aged stu­dents to try out jobs in social change," Blod­gett recalled. ​"He helped me get my first job as a com­mu­ni­ty orga­niz­er work­ing with fam­i­ly farm­ers in rur­al Minnesota."
While teach­ing at Car­leton, Well­stone was arrest­ed twice — once at a Viet­nam War protest at the fed­er­al build­ing in Min­neapo­lis and a sec­ond time at a local bank, where he was protest­ing farm fore­clo­sures. He chal­lenged the college's invest­ments in com­pa­nies doing busi­ness in South Africa, pick­et­ed with strik­ers at a meat­pack­ing plant, and taught his class­es off cam­pus rather than cross a pick­et line dur­ing a strike by Carleton's custodians.
Angered by Wellstone's activism, col­lege admin­is­tra­tors tried to fire him, but stu­dents waged an aggres­sive protest cam­paign to keep Well­stone on the fac­ul­ty. Instead of being dis­missed, Well­stone was grant­ed tenure a year early.
Wellstone's first two books, How The Rur­al Poor Got Pow­er: Nar­ra­tive Of A Grass-Roots Orga­niz­er and Pow­er­line: The First Bat­tle of Amer­i­ca's Ener­gy War, pub­lished in 1978 and 1981, respec­tive­ly, drew on his orga­niz­ing expe­ri­ences among Min­neso­ta farm­ers and rur­al res­i­dents and the activist group he found­ed, the Orga­ni­za­tion for a Bet­ter Rice County.
In the ear­ly 1980s,Wellstone became active with Minnesota's Demo­c­ra­t­ic Farmer Labor Par­ty, run­ning unsuc­cess­ful­ly for state audi­tor in 1982. Well­stone went on to co-chair Jesse Jackson's 1988 pres­i­den­tial cam­paign in Min­neso­ta, and then worked for the Michael Dukakis cam­paign after Dukakis won the Demo­c­ra­t­ic nomination.
In 1990, Well­stone ran a grass­roots cam­paign against U.S. Sen­a­tor Rudy Boschwitz, a well-financed two-term Repub­li­can who out­spent Well­stone near­ly 7 to 1. He made his lack of financ­ing an issue by run­ning a humor­ous low-bud­get tele­vi­sion com­mer­cial, ​"Fast Paul," in which he rapid­ly intro­duced him­self to vot­ers, explain­ing he had to talk fast because he could not afford much air­time. Anoth­er quirky cam­paign ad, ​"Look­ing for Rudy," was based on Michael Moore's 1989 doc­u­men­tary, Roger & Me. Both low-bud­get com­mer­cials became imme­di­ate hits, help­ing Well­stone gain visibility.
A fix­ture of Wellstone's cam­paign was a beat-up old school bus paint­ed green and white with a speaker's plat­form rigged onto the rear exit. Despite some last-minute smears by his oppo­nent attack­ing Wellstone's patri­o­tism and reli­gious integri­ty (sup­port­ers of the Jew­ish Boschwitz claimed that Well­stone was not a prac­tic­ing Jew), Well­stone won 50.4 per­cent of the vote. He was the only chal­lenger to defeat an incum­bent sen­a­tor that year.
When he met Pres­i­dent George H. W. Bush at a White House recep­tion for new­ly elect­ed mem­bers of Con­gress, Well­stone, ignor­ing pro­to­col, spoke out, urg­ing the pres­i­dent to spend more time on issues like edu­ca­tion and cau­tion­ing him against invad­ing Iraq. Irked, Bush asked an aide, ​"Who is this chickenshit?"
While serv­ing in the Sen­ate, Well­stone remained an orga­niz­er.. He was fre­quent­ly on pick­et lines and at ral­lies spon­sored by labor, com­mu­ni­ty, envi­ron­men­tal, and oth­er pro­gres­sive groups. His speech­es, often appear­ing to be deliv­ered com­plete­ly off-the-cuff, would crescen­do wild­ly into loud, short jere­mi­ads express­ing indig­na­tion at what­ev­er wrongs the ral­ly was addressing.
Dur­ing most of Wellstone's Sen­ate career, the Democ­rats were the minor­i­ty par­ty. In his 2002 book The Con­science of a Lib­er­al: Reclaim­ing the Com­pas­sion­ate Agen­da, he acknowl­edged that he spent near­ly 85 per­cent of his time on defense, bat­tling Repub­li­can attacks on work­ing fam­i­lies and pre­vent­ing bad things — like oil drilling in Alaska's Arc­tic Nation­al Wildlife Refuge — from hap­pen­ing. When the Democ­rats were in the major­i­ty in 1993 – 1994, Well­stone pushed for a Cana­di­an-style sin­gle-pay­er health­care sys­tem, in con­trast to Pres­i­dent Bill Clinton's more mod­est reform proposal.
Well­stone opposed the North Amer­i­can Free Trade Agree­ment in 1993. He fought for cam­paign finance and lob­by­ing reforms. He was one of three sen­a­tors to oppose the Bush administration's attempt to relaunch the Star Wars nation­al mis­sile defense pro­gram. He crit­i­cized Pres­i­dent Clin­ton for send­ing troops to Haiti with­out the con­sent of Con­gress. He was the only Sen­ate Demo­c­rat to oppose his party's ver­sion of low­er­ing the inher­i­tance tax. He vir­tu­al­ly sin­gle-hand­ed­ly stalled pro­posed bank­rupt­cy leg­is­la­tion that would have imposed oner­ous new bur­dens on the poor while ben­e­fit­ting banks, cred­it card and car finance com­pa­nies, and retailers.
Paul's wife, Sheila, whom he mar­ried in col­lege, played a key role in mobi­liz­ing sup­port­ers to pass the land­mark Vio­lence Against Women Act in 1994, which Well­stone co-spon­sored with then-Sen. Joe Biden. The law fun­da­men­tal­ly changed the way our soci­ety responds to domes­tic vio­lence, dat­ing vio­lence, sex­u­al assault and stalk­ing. It pro­vides fund­ing to cre­ate a com­pre­hen­sive sup­port sys­tem for sur­vivors and their families.
In 1995, Well­stone and Sen­a­tor Pete Domeni­ci, a New Mex­i­co Repub­li­can, cospon­sored a bill that would require insur­ance com­pa­nies to pro­vide men­tal health patients with the same lev­el of care as those suf­fer­ing from phys­i­cal ill­ness­es. (Wellstone's old­er broth­er suf­fered from crip­pling depres­sion.) In 2008, six years after Wellstone's death, Sen. Ted Kennedy and Rep. Patrick Kennedy final­ly pushed the Well­stone and Domeni­ci Men­tal Health Par­i­ty Act through Congress.
In 1996, Well­stone was the only sen­a­tor up for re-elec­tion to vote against an over­haul of the nation's wel­fare sys­tem, which Clin­ton signed that year. In a speech on the Sen­ate floor, Well­stone pre­dict­ed that the law would hurt low-income chil­dren. ​"They don't have the lob­by­ists, they don't have the PACs," Well­stone said.
As Well­stone pre­dict­ed, his oppo­nent — Rudy Boschwitz, in a rematch — used that and oth­er votes against him, call­ing him ​"Sen­a­tor Wel­fare" and label­ing him an ​"embar­rass­ing lib­er­al and decades out of touch." But Well­stone, who raised rough­ly $3 mil­lion more than Boschwitz, ran a feisty cam­paign and won a land­slide victory.
Though Well­stone con­sis­tent­ly had the most pro­gres­sive vot­ing record of any sen­a­tor, he angered his lib­er­al sup­port­ers in 1996 by vot­ing for the Defense of Mar­riage Act, which allowed states to with­hold legal recog­ni­tion of same-sex unions from oth­er states. Lat­er, Well­stone wrote that he regret­ted that vote. ​"Paul learned a lot from his friends in LGBT com­mu­ni­ty," recalls Blod­gett, who is now run­ning the Oba­ma cam­paign in Min­neso­ta. ​"He did a lot of soul-search­ing and apologizing."
Even sen­a­to­r­i­al col­leagues who dis­agreed with Wellstone's views acknowl­edged his extra­or­di­nary human decen­cy. He was one of the few sen­a­tors who spent time with and remem­bered the names of wait­ers, ele­va­tor oper­a­tors, police offi­cers and oth­er Capi­tol Hill workers.
Wellstone's joy dis­tin­guished him from most oth­er politi­cians, includ­ing oth­er lib­er­als and pro­gres­sives, Blod­gett recalled.
​"Paul was a hap­py war­rior," he said. He used to say, ​'You have to do this job with a twin­kle in your eye.'He often made fun of him­self. He used humor quite effec­tive­ly. He built majori­ties because of those qual­i­ties that went beyond his polit­i­cal positions.
​"There was always a set of vot­ers— maybe 6 or 7 per­cent of the elec­torate— who did­n't always agree with Paul, but they respect­ed the fact that they knew where he stood and he was hon­est and true to his beliefs," said Blod­gett. ​"It's a les­son for polit­i­cal lead­ers. You don't always have to be care­ful and cau­tious and weigh every­thing based on what the polls say."
In May of 1997, Well­stone began lay­ing the ground­work for a 2000 pres­i­den­tial cam­paign, embark­ing on a cross-coun­try ​"children's tour" to Mis­sis­sip­pi, Appalachia and poor neigh­bor­hoods in Chica­go, Los Ange­les, Min­neapo­lis and Bal­ti­more, retrac­ing the route tak­en by Sen­a­tor Robert Kennedy in a sim­i­lar tour in 1966. He sought to remind his Sen­ate col­leagues, the press and the pub­lic that pover­ty remained a seri­ous prob­lem in the Unit­ed States, despite the eco­nom­ic boom and low unem­ploy­ment of the peri­od. Through his cam­paign, Well­stone said, he would rep­re­sent the ​"Demo­c­ra­t­ic wing of the Demo­c­ra­t­ic Party."
He aban­doned his pres­i­den­tial ambi­tions in Jan­u­ary 1999, explain­ing that an old wrestling injury made it impos­si­ble for him to endure the phys­i­cal chal­lenges of a nation­al campaign.
In 2002, Well­stone, reneg­ing on a promise to lim­it him­self to two terms, ran for reelec­tion. That year he also announced that he had been diag­nosed with mul­ti­ple scle­ro­sis, jok­ing with jour­nal­ists that it was fit­ting that he should be diag­nosed with a degen­er­a­tive ​"pro­gres­sive" illness.
The Repub­li­can Par­ty and cor­po­rate lob­by­ing groups tar­get­ed Well­stone as the Senate's most vul­ner­a­ble incum­bent and raised a huge cam­paign war chest to help for­mer St. Paul may­or Norm Cole­man beat the pro­gres­sive Demo­c­rat. Pres­i­dent George W. Bush vis­it­ed Min­neso­ta twice to cam­paign and raise mon­ey for Cole­man, and Bush's father fol­lowed suit. Karl Rove over­saw the anti-Well­stone effort, steer­ing mon­ey from the ener­gy indus­try — upset by Wellstone's per­sis­tent oppo­si­tion to oil drilling in the Arc­tic Nation­al Wildlife Refuge — to sup­port Coleman's cam­paign. ​"There are peo­ple in the White House who wake up in the morn­ing think­ing about how they will defeat Paul Well­stone," observed a senior Repub­li­can aide con­fid­ed at the time. ​"This one is polit­i­cal and per­son­al for them."
Wellstone's first tele­vi­sion ads crit­i­cized Bush's tax cuts for the wealth­i­est 1 per­cent of Amer­i­cans. When Con­gress vot­ed over­whelm­ing­ly to autho­rize mil­i­tary force against Iraq, Well­stone was the only sen­a­tor fac­ing a tough reelec­tion chal­lenge to vote no, oppos­ing Bush's ​"pre­emp­tive, go-it-alone strategy."
Polls showed that a few weeks before elec­tion day, Well­stone had pulled slight­ly ahead of Cole­man. Then, just eleven days before the elec­tion, on his way to a funer­al and a cam­paign event in rur­al Min­neso­ta, Wellstone's plane crashed near the Eveleth air­port, killing the 58-year-old sen­a­tor, his wife, Sheila, his daugh­ter Mar­cia, three cam­paign staffers and two pilots.
A memo­r­i­al ser­vice for the Well­stones and oth­er vic­tims of the crash filled a 20,000-seat are­na at the Uni­ver­si­ty of Min­neso­ta. The Democ­rats picked for­mer sen­a­tor and vice pres­i­dent Wal­ter Mon­dale to replace Well­stone in the cam­paign, but it was too late to wage an effec­tive cam­paign. Min­neso­ta vot­ers elect­ed Coleman.
Most obit­u­ar­ies described Well­stone as a quixot­ic rad­i­cal, out of step with the times — a pro­gres­sive in a con­ser­v­a­tive era. But Well­stone under­stood the impor­tance of push­ing the debate to the left while also fight­ing for con­crete gains in leg­is­la­tion. He was some­times a lone dis­senter, but at oth­er times he used his posi­tion to res­cue pro­gres­sive amend­ments from oblivion.
​"He was always the last guy stand­ing with the last amend­ment," Sen­a­tor Byron L. Dor­gan, a Demo­c­rat from North Dako­ta, told the Los Ange­les Times. ​"It was always about chil­dren, or the poor."
Six years lat­er, come­di­an Al Franken, a Min­neso­ta native and one of Wellstone's clos­est friends, beat Cole­man to take back the seat for the Democrats.
Wellstone's lega­cy is memo­ri­al­ized in many ways, from the the schools and afford­able hous­ing projects named after him to the numer­ous fel­low­ships and awards estab­lished to hon­or the Well­stones' ded­i­ca­tion to social justice.
In 2003, Blod­gett and Wellstone's two sur­viv­ing chil­dren, Mark and David, found­ed Well­stone Action, a Min­neso­ta-based train­ing cen­ter for com­mu­ni­ty orga­niz­ers, stu­dent activists, cam­paign staff, pro­gres­sive can­di­dates and elect­ed offi­cials. ​"We need to help our cham­pi­ons win office so they can be our allies with­in the halls of pow­er," said Blod­gett, who served as the organization's direc­tor until last year.
Well­stone Action has trained more than 55,000 com­mu­ni­ty orga­niz­ers, cam­paign man­agers, and can­di­dates. Sev­er­al dozen of its alums are now elect­ed offi­cials, includ­ing school board and city coun­cil mem­bers, may­ors, state leg­is­la­tors, and sev­er­al mem­bers of Congress.
Mark Ritchie, Minnesota's Sec­re­tary of State, is a Well­stone Action alum. As an orga­niz­er with the Min­neapo­lis-based Insti­tute for Agri­cul­ture and Trade Pol­i­cy and as founder of the League of Rur­al Vot­ers, Ritchie worked with Well­stone to improve con­di­tions for farm­ers and oth­er rur­al Americans.
​"Paul was one of the first peo­ple that I knew who moved from issue activism and direct action orga­niz­ing to elec­toral pol­i­tics," Ritchie recalled. ​"He had incred­i­ble integri­ty. He was an inspi­ra­tion. Not just the leg­is­la­tion he worked on. But also the way he con­nect­ed with peo­ple. After Paul died, I was one of a num­ber of peo­ple— activists who had worked with Paul — who decid­ed that we ought to run for pub­lic office and help keep Paul's lega­cy alive." He called Well­stone Action's three-day ​"boot camp" for can­di­dates ​"the per­fect train­ing for com­ing to terms with what it actu­al­ly meant to run for office."
Ten years ago, Ritchie was a con­fer­ence on fam­i­ly farm issues in Berea, Ken­tucky when the desk clerk at the hotel told him that Wellstone's plane had crashed. She was in tears.
​"It turns out that a few years ear­li­er Sheila and Paul had come to east­ern Ken­tucky, where Sheila was born and raised, to hold a hear­ing on mine safe­ty," said Ritchie. ​"She said that her father and broth­er worked in the coal mines and that she knew they were now safer because of this hear­ing. She thanked me for being from a state that sent some­one like Paul to Wash­ing­ton — some­one who cared about the lives and well-being of work­ers and their fam­i­lies. She was touched by Paul because he lis­tened and learned."
Peter Dreier
is a pro­fes­sor of pol­i­tics at Occi­den­tal Col­lege. His most recent book is
The

100

Great­est Amer­i­cans of the

20

th Cen­tu­ry: A Social Jus­tice Hall of Fame
(Nation Books)."