The #MeToo Movement's Roots in Women Workers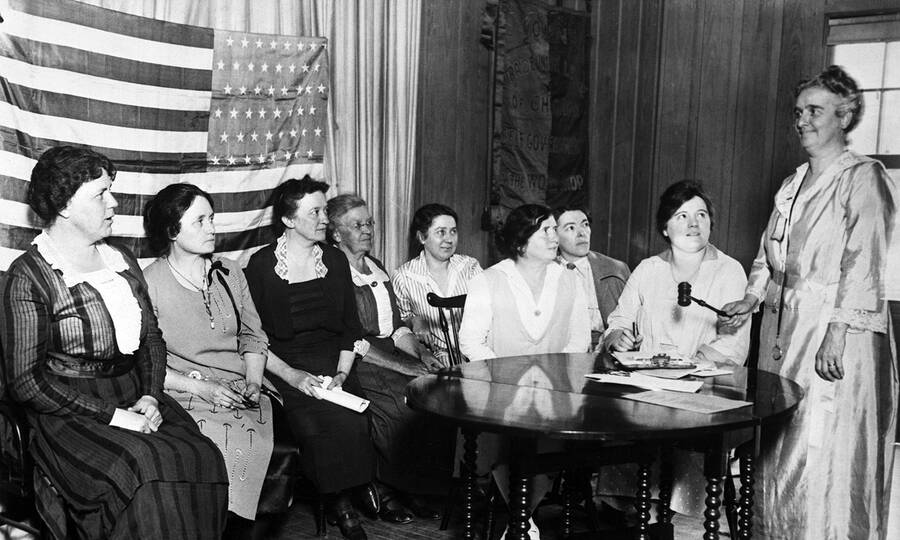 An unsung shero of the ear­ly 20th cen­tu­ry, Rose Schnei­der­man orga­nized women to fight for laws to pro­tect them from sex­u­al harass­ment and assault in the workplace.
When­ev­er new protest move­ments emerge, peo­ple look to his­to­ry for lessons from activists and thinkers who came before. We all stand on the shoul­ders of those who strug­gled, sac­ri­ficed, and orga­nized to push for a more humane society.
#MeToo is one such move­ment. It has not only raised aware­ness about the per­va­sive­ness of sex­u­al harass­ment and assault — par­tic­u­lar­ly of women — but is also an exam­ple of what hap­pens when those who are rel­e­gat­ed to a sec­ond-class cit­i­zen­ship sta­tus come togeth­er to speak out.
His­to­ry is filled with coura­geous and hero­ic women who launched cru­sades for women's lib­er­a­tion and work­ers rights, and cam­paigns against rape and oth­er forms of sex­u­al assault. These women were writ­ers and thinkers such as Sojourn­er Truth, Susan B. Antho­ny, Char­lotte Perkins Gilman, Ella Bak­er, Bet­ty Friedan, Dolores Huer­ta, and many more.
Anoth­er is Rose Schnei­der­man, an unsung fore­run­ner of the #MeToo move­ment, who orga­nized women to fight for laws to pro­tect them from, among oth­er exploita­tion, sex­u­al harass­ment and assault by high­er-rank­ing men in their work spaces.
Women Work­ers Activism
On March 25, 1911, a fire at the Tri­an­gle Shirt­waist fac­to­ry in New York City killed 146 work­ers, most­ly female immi­grants and teenagers. One week lat­er, activists held a meet­ing at the Met­ro­pol­i­tan Opera House to memo­ri­al­ize the victims.
Then 29-year-old Schnei­der­man — a Jew­ish immi­grant, sweat­shop work­er, union orga­niz­er, fem­i­nist and Social­ist — rose to speak. Hav­ing seen the police, the courts, and politi­cians side with gar­ment man­u­fac­tur­ers against the work­ers, she ques­tioned whether bet­ter laws would make a dif­fer­ence if they were not enforced.
"I would be a trai­tor to these poor burned bod­ies if I came here to talk good fel­low­ship. We have tried you good peo­ple of the pub­lic, and we have found you want­i­ng," Schnei­der­man told 3,500 lis­ten­ers.
"This is not the first time girls have been burned alive in the city. Every week, I must learn of the untime­ly death of one of my sis­ter work­ers. Every year, thou­sands of us are maimed," Schnei­der­man said to a mixed audi­ence of work­ers and the city's wealthy and mid­dle-class reform­ers. ​"There are so many of us for one job, it mat­ters lit­tle if 146 of us are burned to death."
Only 4 feet, 9 inch­es tall, with flam­ing red hair, Schnei­der­man was a mes­mer­iz­ing ora­tor. Her speech fired up the gar­ment work­ers in the bal­cony and the wealthy women in the front rows.
Her Ear­ly Years
Born in Poland, Schnei­der­man came to New York City with her Ortho­dox Jew­ish fam­i­ly in 1890. She was 8 years old. Two years lat­er, her father died of menin­gi­tis. To make ends meet, her moth­er took in board­ers, sewed for neigh­bors, and worked as a handy­woman. But the fam­i­ly was still forced to rely on char­i­ty to pay the rent and gro­cery bills.
At 13, Schnei­der­man dropped out of school to help sup­port her fam­i­ly. She found a job as a depart­ment store sales clerk, which was con­sid­ered more respectable than work­ing in a gar­ment sweat­shop, in part because retail work­ers faced less sex­u­al harass­ment. But three years lat­er, she took a bet­ter pay­ing but more dan­ger­ous job as a cap mak­er in a gar­ment factory.
Of the more than 350,000 women in the city's work­force, about a third worked in man­u­fac­tur­ing jobs, mak­ing and pack­ing cig­ars, assem­bling paper box­es, mak­ing can­dles, and cre­at­ing arti­fi­cial flow­ers, but the heav­i­est con­cen­tra­tion of women work­ers — about 65,000 of them — toiled in the cloth­ing industry.
Schnei­der­man believed in build­ing a move­ment of men and women work­ers to change soci­ety, but she also rec­og­nized that women work­ers faced extra exploita­tion (includ­ing sex­u­al harass­ment) from employ­ers and union lead­ers. So, she put par­tic­u­lar empha­sis on orga­niz­ing women and fight­ing for laws to pro­tect them.
Schnei­der­man joined the strug­gle for women's suf­frage, a cause that many male union lead­ers — and even some female union­ists — thought was sec­ondary to the bat­tle for work­ers rights. And she worked to forge alliances with mid­dle-class reform­ers and upper-class fem­i­nists, such as Frances Perkins and Eleanor Roo­sevelt.
By 1903, at age 21, Schnei­der­man had orga­nized her first union shop, the Jew­ish Social­ist Unit­ed Cloth Hat and Cap Mak­ers' Union, and had led a suc­cess­ful strike. By 1906, she was vice pres­i­dent of the New York chap­ter of the Women's Trade Union League (WTUL), an orga­ni­za­tion found­ed to help work­ing women union­ize. In 1908, Irene Lewisohn, a Ger­man Jew­ish phil­an­thropist, offered Schnei­der­man mon­ey to com­plete her edu­ca­tion. Schnei­der­man refused the schol­ar­ship, explain­ing that she could not accept a priv­i­lege that was not avail­able to most work­ing women. She did, how­ev­er, accept Lewisohn's offer to pay her a salary to become the New York WTUL's chief organizer.
Orga­niz­ing and Politics
Schneiderman's orga­niz­ing efforts among immi­grants paved the way for a strike of 20,000 gar­ment work­ers in 1909 and 1910, the largest by Amer­i­can women work­ers up to that time. The strike, most­ly among Jew­ish women, helped build the Inter­na­tion­al Ladies' Gar­ment Work­ers Union (ILGWU) into a for­mi­da­ble force. The WTUL's upper-class women — whom Schnei­der­man called the ​"mink brigade" — raised mon­ey for the work­ers strike fund, lawyers, and bail mon­ey, and they even joined the union mem­bers on pick­et lines. Schnei­der­man was a key fig­ure in mobi­liz­ing this diverse coali­tion on behalf of the land­mark labor laws passed by the New York leg­is­la­ture after the Tri­an­gle fire.
In 1911, she helped found the Wage Earner's League for Woman Suf­frage. ​"I hold that the human­iz­ing of indus­try is woman's busi­ness," she said at a suf­frage ral­ly. ​"She must wield the bal­lot for this pur­pose." So, she mobi­lized work­ing women to fight for the right to vote.
Although she often found it dif­fi­cult to deal with the con­de­scen­sion, anti-Semi­tism, and anti-social­ism of some of the wealthy suf­frag­ists, she per­sist­ed and in 1917 women won the right to vote in New York State.
When the Repub­li­can-dom­i­nat­ed state leg­is­la­ture tried to repeal some of the post-Tri­an­gle labor laws, Schnei­der­man, the WTUL, and the Nation­al Con­sumers League suc­cess­ful­ly orga­nized the new­ly enfran­chised women to oppose the attempt and then to defeat anti-labor leg­is­la­tors in the 1918 election.
In 1920, Schnei­der­man ran for the U.S. Sen­ate on the Labor Par­ty tick­et. Her plat­form called for the con­struc­tion of non­prof­it hous­ing for work­ers, improved neigh­bor­hood schools, pub­licly owned pow­er util­i­ties and sta­ple food mar­kets, and state-fund­ed health and unem­ploy­ment insur­ance for all Amer­i­cans. Her unsuc­cess­ful cam­paign increased her vis­i­bil­i­ty and influ­ence in both the labor and fem­i­nist movements.
Lat­er elect­ed pres­i­dent of the nation­al WTUL, she turned her focus to min­i­mum wage and eight-hour work­day leg­is­la­tion. In 1927, the New York leg­is­la­ture passed a his­toric bill lim­it­ing women's work­week to 48 hours. And in 1933, the leg­is­la­ture passed a min­i­mum wage law.
Allies in High Places
One of Schneiderman's clos­est allies was Eleanor Roo­sevelt, who joined the WTUL in 1922, com­ing into con­tact with work­ing-class women and rad­i­cal activists for the first time. She taught class­es, raised mon­ey, and par­tic­i­pat­ed in the WTUL's pol­i­cy debates and leg­isla­tive actions. As first lady, Roo­sevelt donat­ed the pro­ceeds from her 1932 – 1933 radio broad­casts to the WTUL and pro­mot­ed the WTUL in her news­pa­per columns and speeches.
Schnei­der­man was reg­u­lar­ly invit­ed to Hyde Park to spend time with Roo­sevelt and her hus­band, Franklin D. Roo­sevelt. Schneiderman's con­ver­sa­tions with FDR sen­si­tized the future gov­er­nor and pres­i­dent to the prob­lems fac­ing work­ers and their families.
In 1933, after his inau­gu­ra­tion as pres­i­dent, FDR appoint­ed Schnei­der­man to the Nation­al Recov­ery Administration's Labor Advi­so­ry Board, the only woman to serve in that post. She wrote the Nation­al Recov­ery Admin­is­tra­tion codes for every indus­try with a pre­dom­i­nant­ly female work­force and, along with Frances Perkins, played an impor­tant role in shap­ing the Nation­al Labor Rela­tions (Wag­n­er) Act, the Social Secu­ri­ty Act, and the Fair Labor Stan­dards Act, which estab­lished the min­i­mum wage and the eight-hour day.
As New York state's sec­re­tary of labor from 1937 to 1943, appoint­ed by Gov­er­nor Her­bert Lehman, Schnei­der­man cam­paigned for the exten­sion of Social Secu­ri­ty to domes­tic work­ers, for equal pay for women work­ers, and for com­pa­ra­ble worth (giv­ing women and men equal pay for dif­fer­ent jobs that have com­pa­ra­ble val­ue). She lent sup­port to union cam­paigns among the state's increas­ing num­ber of ser­vice work­ers: hotel maids, restau­rant work­ers, and beau­ty par­lor workers.
Schnei­der­man retired as WTUL pres­i­dent in 1950 and died in 1972, just as the sec­ond wave of fem­i­nism was emerg­ing as a pow­er­ful polit­i­cal move­ment. It, too, had to deal with class and racial divi­sions among women, but its ranks soon includ­ed a vocal com­po­nent of work­ing women.
When women today assert ​"me too," they should include Rose Schnei­der­man in their shoutouts.
This stoy was orig­i­nal­ly pub­lished on YES! Mag­a­zine.
Peter Dreier
is a pro­fes­sor of pol­i­tics at Occi­den­tal Col­lege. His most recent book is
The

100

Great­est Amer­i­cans of the

20

th Cen­tu­ry: A Social Jus­tice Hall of Fame
(Nation Books)."