Pennsylvania Republicans Introduce Bill to Steal 2016 Election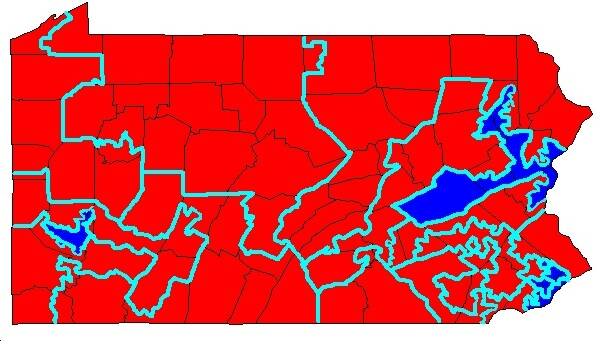 The cover story of In These Times'
&
nbsp;latest issue warns
&
nbsp;of plans in seven Republican-controlled swing states to
&
nbsp;radically alter how electoral-college votes are awarded, virtually guaranteeing a Republican victory in the
2016
&
nbsp;presidential election.This Monday, as if on cue, seven Pennsylvania Republican state representatives introduced just such a bill. Under the bill, only two of the state's
20
electoral votes would be awarded to the winner of Pennsylvania as a whole, with the remaining votes allocated according to returns in each of the state's
18
congressional districts.
&
nbsp;Because
13
of those districts are solidly red, the majority of Pennsylvania's population, clustered in only five Democratic-majority
&
nbsp;districts, would see a major devaluation in their vote.
Ian Millhiser at
&
nbsp;Think Progress details the harrowing consequences of such a move: Pennsylvania is a blue state that voted for the Democratic presidential candidate in every single presidential race for the last two decades, so implementing the GOP election-rigging plan in Pennsylvania would make it much harder for a Democrat to be elected to the White House. Moreover, because of gerrymandering, it is overwhelmingly likely that the Republican candidate will win a majority of Pennsylvania's electoral votes even if the Democrat wins the state by a very comfortable margin. Despite the fact that President Obama won Pennsylvania by more than
5
points last November, Democrats carried only
5
of the state's
18
congressional seats. Accordingly, Obama would have likely won only
7
of the state's
20
electoral votes if the GOP vote rigging plan had been in effect last year.
Anthony Mangini
is an editorial intern at
In These Times
. He holds a master's degree from the University of Minnesota and a bachelor's degree from New York University. He currently resides in Chicago.