"People Power Works": What's Next for Standing Rock's Water Protectors
The fight over the Dakota Access Pipeline is far from over. But the victories against it offer lessons for resisting Trump.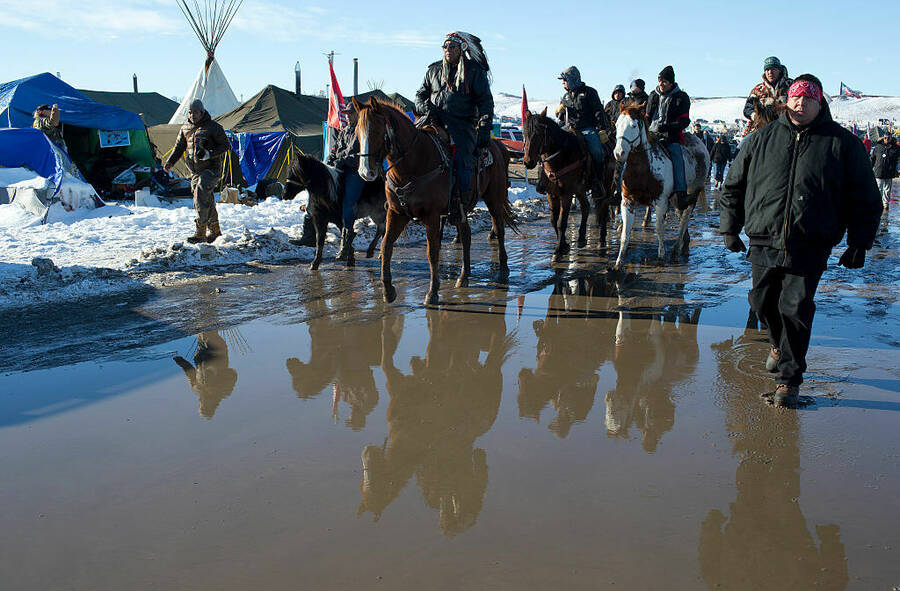 There are a few familiar images that get attached to articles about climate change — smokestacks and miles of parched earth, on the one extreme; solar panels and wind turbines on the other. In Standing Rock, it's hard to shake the feeling those old favorites should be taken out of rotation.
'The stronger the Indian country organizing is, the better it is for all the movements.'
There, new pictures of the climate fight have emerged, showing communal kitchens, fields of tents and armed guards, hired by the fossil fuel industry, facing off with praying grandmothers.
For now, those images — from more than eight months of resistance against the Dakota Access Pipeline — will live on as memories as many water protectors head home after the U.S. Army denied a permit needed to complete the pipeline's final leg last week.
Jade Begay has been stationed in Standing Rock for the last month with the Indigenous Environmental Network (IEN). Days after the Army's decision, we spoke at the Sioux-owned Prairie Knights Casino and Resort, where many retreated to — or were stranded at — when a blizzard hit last week. High winds had sent smoke down the flume of the stove heating her yurt the night before, resulting in a lengthy troubleshooting period and more than a few lost hours of sleep.
"This step forward, this sign of progress, shows us is that people power works," Begay, who is Diné and Tesuque Pueblo, told me. ​"And we need to keep doing that. And we can't move on or … let go of this momentum that we've created."
Because, despite the recent win, the $3.8 billion Black Snake — as the pipeline is sometimes called — is far from dead. Resistance against it will continue.
And because, as anyone at Standing Rock can tell you, the fight against the pipeline has always been about much more than one piece of infrastructure. At its core has been a centuries-long battle for indigenous sovereignty and an effort to preserve the earth for generations to come. What's more, the fight offers a path forward for resisting Donald Trump — placing clear leadership and an unflinching moral high ground at its center, while winning fights that reach well beyond the confines of a single demand.
Fight beyond Standing Rock
A week ago Sunday, the U.S. Army denied a permit necessary for Energy Transfer Partners (ETP) to complete a crucial part of the pipeline. The next morning a harsh blizzard set in, and Standing Rock Sioux Chairman Dave Archambault asked those camped out along the banks of the Cannonball River to return home.
Following his lead, a coalition of groups that have been working to stop the pipeline — the Camp of the Sacred Stones, IEN, the International Indigenous Youth Council and Honor the Earth — issued a statement urging water protectors to continue battling the pipeline elsewhere.
"We support the tribe's request for a transition," a joint statement says. ​"We ask anyone that is considering traveling to join the encampments at Standing Rock to stay home for now and instead take bold action in your local communities to force investors to divest from the project."
As ETP seeks a speedy green light from the courts, one possible path forward for the pipeline is a reroute, diverting the remaining route away from sacred Sioux sites. Well before the Army's decision, ETP CEO Kelcy Warren said he wouldn't consider rerouting the pipeline, and a statement from the company hours after the announcement affirmed that view. For very different reasons, many water protectors aren't happy about a reroute either.
"That's not what we want," Begay says. ​"We want to see renewable energy, and investment in solar and wind. We have that ability. We need to stop making ourselves dependent on fossil fuels and sacrificing indigenous and black and brown communities for it."
Reroute or not, economic pressures could put the final nail in the pipeline's coffin. North Dakota residents know all too well that energy markets look quite a bit different than they did when the project was first proposed in 2014, at the height of the Bakken shale boom. As a recent report on the pipeline's finances suggests, continued low oil prices — and slumps in Bakken production — could render the Dakota Access Pipeline a stranded asset.
Begay notes that contracts between oil producers and ETP stipulate a January 1 deadline to put the pipeline to use, explaining Warren's rush to finish its final stretch. If the companies are unable to use the pipeline, they could opt to drop their investments in it altogether.
To speed up the Black Snake's death, Begay says, ​"we need to target the banks … to divest and target the oil companies and really hit them where it hurts, which is their pocketbooks."
Several demonstrations have been held at banks around the country that invested in the pipeline, including giants like Wells Fargo and TD Bank. Under pressure, Norway's largest bank, DNB, recently announced that it would pull its 10 percent financing stake in the project.
Long history of struggle
While the campaign against the Dakota Access Pipeline continues, there are other long-standing concerns facing the Sioux and indigenous communities around the country. The so-called sacrifice zones pipelines tend to get constructed over are as economic as they are environmental, and delinking the two can be virtually impossible.
As of 2014, 43 percent of Standing Rock Sioux reservation residents lived below the poverty line, joining one in four Native Americans throughout the United States. An estimated 32 percent of homes in the Navajo Nation lack electricity; thirty-eight percent lack basic water services. Incarceration rates are similarly unequal; Native men are incarcerated at four times the rate of their white counterparts. Native Americans are also more likely to be killed be police than any other racial group.
Despite being a frequent target of regressive policies, Native voices can be hard to find in left organizing spaces.
"One of the special features of the way systemic racism plays out," Judith LeBlanc says, ​"is that [Native Americans] are often systematically excluded from the larger tables of progressive movements and discussions, around unemployment and — up until the last few years — environmental justice."
LeBlanc, a member of the Caddo Nation, is a longtime organizer and the director of Native Organizers Alliance (NOA). NOA was founded to build capacity among indigenous organizers, and foster a model of organizing ​"not based on what some white guys did in Chicago, but based on our spiritual, cultural origin stories — rooted in our culture," LeBlanc says.
Over and over again, the water protectors I met cited struggles their own tribes had waged as an inspiration to come and support the fight against the Black Snake — from the standoff on the Pine Ridge Reservation in the 1970s to the Paiute tribe's long-running battle over the Los Angeles Aqueduct. According to LeBlanc, many of the elders at the Standing Rock encampments were active in these and other struggles, with several having been members of the American Indian Movement (AIM). (LeBlanc herself lived at Pine Ridge for two months following the 1973 standoff at Wounded Knee.)
In other words, many of the leading water protectors in the fight against the Dakota Access Pipeline are seasoned organizers, some holding three and four decades of experience in social movements.
"

Taking on the foundation of what's wrong"

That experience shows at Standing Rock. Well-oiled direct action trainings were happening daily when I visited in early December, as did meetings on decolonization and orientations for new arrivals at the Oceti Sakowin encampment, the largest of those at Standing Rock and the closest to the frontline of ETP's forces. That it is a prayerful resistance camp was reinforced daily, along with the insistence that its residents are water protectors—not protesters.

LeBlanc says that there has been a ​"Burning Man" atmosphere in the mix at Standing Rock, with visitors — many of them white — coming as tourists. Still, most of the people who kept the camp running (and the stoves heated and actions planned) hardly fit tropes about ​"activists" in the 21st century, rabble-rousing outsiders holding signs and shaking their fists at the halls of power.

Indeed, what seems to have made efforts against the Dakota Access Pipeline so successful is how much of a departure it represents from the ​"activist"-heavy progressive and left culture of the last several years. There's no high-level analysis or critical theory needed to understand that ​"water is life," as its protectors repeat again and again. Neither it is an abstract or radical point to say that a pipeline that spills oil into the Missouri River is a severe danger not just to the Sioux but to the many thousands of people downstream, like climate change itself.

In contrast to uprisings like Occupy Wall Street, the Standing Rock encampment brings a kind of moral resonance that could get lost in Zuccotti Park's costumes and sparkle fingers. And like its leadership structures, the politics behind it are even more finely tuned.

"We've been wanting our movements to be more intersectional for a long time," Begay tells me, ​"to say this is not just a pipeline and indigenous, but it's also about climate change and human rights, rights to clean water. It's racial justice. It's indigenous sovereignty. It's all of that. I think this movement … is really taking on the foundation of what's wrong with this country."
Movements under Trump, Tillerson
Heading into 2017, there's a lot to worry about with this country. Trump recently named ExxonMobil CEO Rex Tillerson as his top pick to become Secretary of State. If confirmed, Tillerson could hold the final call over border-crossing pipelines like the Keystone XL.
That Trump will back the Dakota Access Pipeline has already been established, making its future brighter than the Army's decision would seem to imply. What's more, the day after the decision was announced, Trump's team declared its intention to privatize treaty lands and the resources beneath them, holding potentially disastrous impacts for indigenous sovereignty and the planet.
The President-elect has also named Rick Perry, the former governor of Texas, as his choice to head the Department of Energy.
"These repugnant selections only demonstrate that President-elect Trump is more concerned with securing the unsustainable future of a fossil fuel economy than protecting the future generations of Mother Earth and humanity. Trump will place our land, water, and communities on the chopping block for the false benefit of capitalism, with its regime of the privatization of Life," IEN wrote in a statement, vowing to ​"defend the sacred."
"The stronger the Indian country organizing is, the better it is for all the movements," LeBlanc said when asked about the challenge posed by Trump's election and a newly-empowered right wing.
"Standing Rock didn't come out of thin air. It came out of the [Keystone] XL pipeline fight and stopping the drilling in the Arctic. But those fights didn't come out of thin air, either. They came out of a militancy around the Fight for 15, Black Lives Matter, Occupy Wall Street. These social movements … have shaped the nature of our alliances, but also have shaped the idea that movements can be built."
Facing Trump and Tillerson, those movements will need to be stronger than ever. And as the encampments at Standing Rock start to clear out, progressives need to remember much more than the pictures that came out of them: Namely, that uncompromising movements — taking leadership from those on its frontlines, letting ordinary people join the fray — can win.
For a limited time: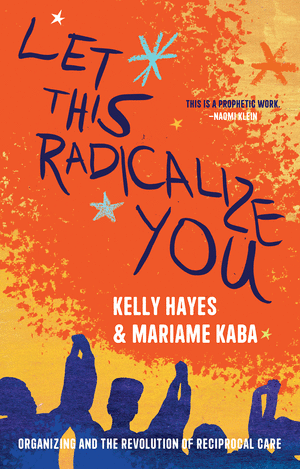 Donate $20 or more to support In These Times and we'll send you a copy of Mariame Kaba's new book, Let This Radicalize You.
Longtime organizers and movement educators Mariame Kaba and Kelly Hayes examine the political lessons of the Covid-19 pandemic, and the convergence of mass protest and mass formations of mutual aid. Featuring insights from a spectrum of experienced organizers, including Sharon Lungo, Carlos Saavedra, Ejeris Dixon, Barbara Ransby, and Ruth Wilson Gilmore and more.
"Kelly Hayes and Mariame Kaba have created a visionary and urgently needed guide to cultivating hope and action in treacherous times." —L.A. Kauffman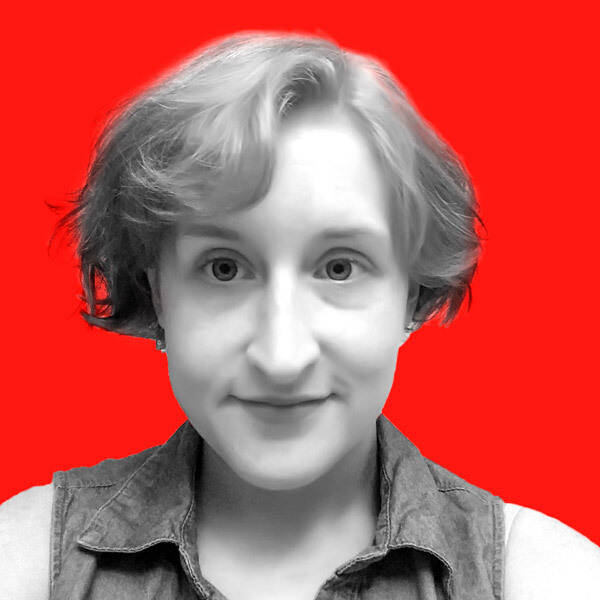 Kate Aronoff is a staff writer at The New Republic and author of Overheated: How Capitalism Broke the Planet — And How We Fight Back. She is co-author of A Planet To Win: Why We Need a Green New Deal and co-editor of We Own the Future: Democratic Socialism—American Style. Follow her on Twitter @katearonoff.