Defending Undocumented Nannies, House Cleaners and Caregivers in Trump's America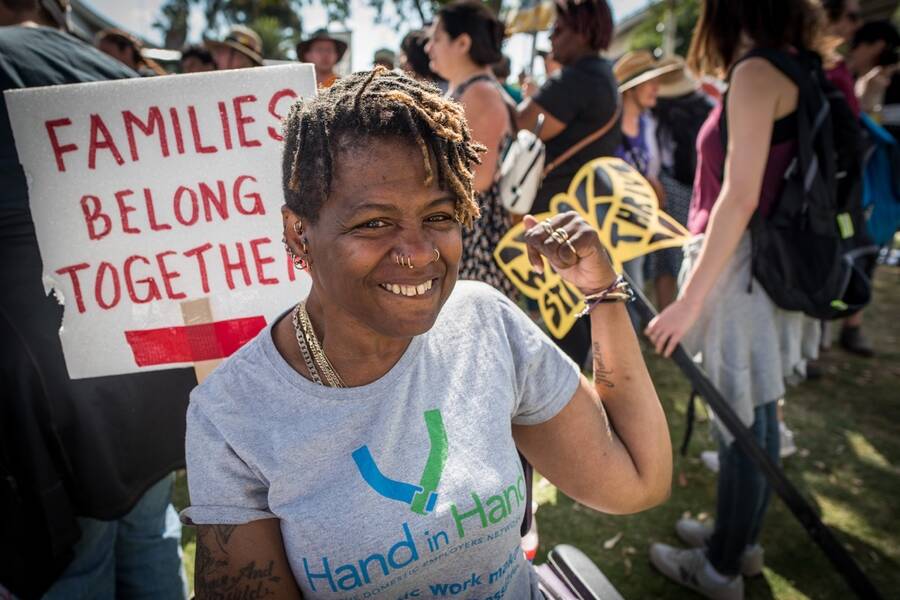 "If you haven't used the bath­room yet, now is a real­ly good time to go," shouts Sta­cy Kono as 50 peo­ple board an ear­ly morn­ing bus to San Diego on Sun­day, July 1st at a West Oak­land (Cal­i­for­nia) park­ing lot. ​"It's a long drive."
The bus low­ers an acces­si­ble ramp, allow­ing sev­er­al pas­sen­gers who use wheel­chairs to board ear­ly. Near­by a group of Chi­nese youth snap a group pho­to. Sev­er­al moms work on cor­ralling ener­getic tod­dlers and pack­ing up strollers while anoth­er breast­feeds. Peo­ple fin­ish stash­ing back­packs, bot­tled water, and pick­et signs adorned with bright yel­low but­ter­flies into the bag­gage com­part­ment under the bus and find a seat. While orga­niz­ers make sure every­one has signed a waiv­er, the rid­ers set­tle in, chat­ting in a mix of Eng­lish and Spanish.
Kono is the Net­work Direc­tor for Hand in Hand — a nation­al net­work of employ­ers of nan­nies, house clean­ers and per­son­al atten­dants that has been mobi­liz­ing its mem­bers to fight Trump's pol­i­cy of fam­i­ly sep­a­ra­tion. She was one of sev­er­al orga­niz­ers of a car­a­van from the San Fran­cis­co Bay Area to the bor­der to par­tic­i­pate in the July 2 #FreeOur­Future action called by the imi­grant jus­tice group Mijente.
As part of the actions, thou­sands of peo­ple from across the coun­try con­verged on San Diego, briefly shut­ting down the Fed­er­al Build­ing and Fed­er­al Cour­t­house to call for not just an end to fam­i­ly sep­a­ra­tion, but to end deten­tions and abol­ish ICE itself.
Under his ​"zero-tol­er­ance" pol­i­cy, Trump has sep­a­rat­ed near­ly 3,000 migrant chil­dren from their par­ents, spark­ing wide­spread out­rage. Among those join­ing the protests have been immi­grant rights activists, youth, faith lead­ers and civ­il rights advo­cates. By engag­ing and turn­ing out mem­bers, Hand in Hand is now bring­ing an addi­tion­al con­stituen­cy to the fight in impres­sive num­bers: the employ­ers of immi­grant workers.
"As employ­ers of domes­tic work­ers, every day we uplift the val­ue of care work. It makes sense why our mem­bers would mobi­lize against a pol­i­cy that stands between par­ents and their abil­i­ty to care for their chil­dren," explains Kono.
One of those mem­bers is Monique Har­ris. Togeth­er with her son Bran­don and her per­son­al atten­dant Jules, Har­ris braved the 16-hour round trip and blaz­ing San Diego sun to be at the march. As some­one with Cere­bral Pal­sy, she has employed domes­tic work­ers to sup­port her with her dai­ly needs since she was 15 years old. Wear­ing her Hand in Hand t‑shirt and with a hand-writ­ten ​"Fam­i­lies Belong Togeth­er" sign affixed to her wheel­chair, Har­ris explained why felt com­pelled to stand in sol­i­dar­i­ty with immi­grant workers.
"These work­ers work hard and deserve to be here. My son is with me here today and I can't imag­ine some­one tak­ing him away from me," said Har­ris. ​"Let the chil­dren go back to their families."
As an orga­ni­za­tion with many mem­bers who have dis­abil­i­ties, Hand in Hand is mak­ing impor­tant con­nec­tions between immi­grant lib­er­a­tion and dis­abil­i­ty justice.
"Like many peo­ple my age who were dis­abled in child­hood or at birth, I expe­ri­enced real­ly trau­mat­ic sep­a­ra­tions from my fam­i­ly through insti­tu­tion­al­iza­tion. At least I got to see my mom for an hour a day and she knew where I was. But six decades lat­er, I am still deal­ing with the trau­ma of that sep­a­ra­tion," explained Anne Fin­ger, an employ­er of a domes­tic work­er from Oak­land, Cal­i­for­nia. ​"I know it must be much worse when you don't know where your kid is or when you'll ever see them again. That's the biggest thing that brought me here today."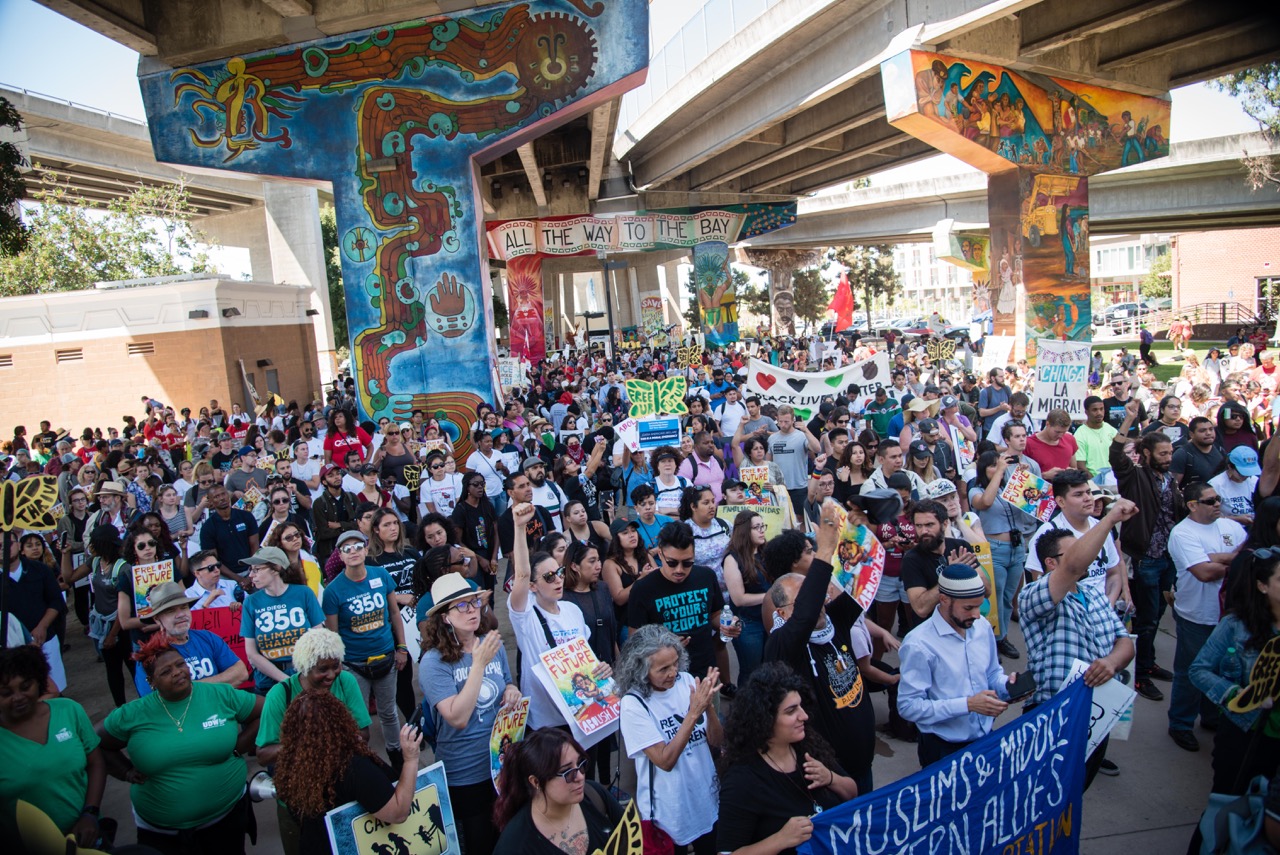 Thou­sands gath­er in Chi­cano Park in San Diego on July 2nd for the #FreeOur­Future ral­ly and march orga­nized by Mijente, The Major­i­ty, and others.
Anoth­er Hand in Hand mem­ber, Jes­si­ca James, trav­elled all the way from Maple­wood, New Jer­sey to be there."Being a young moth­er, we all have help. Domes­tic work makes all oth­er work pos­si­ble. You're only as good as your child care. There's noth­ing on earth more soul-crush­ing than to think that I couldn't get to my own child," said James. "'Ille­gal' ver­sus ​'legal' are words meant to divide. Immi­grants are hold­ing this coun­try togeth­er with hard, thank­less work that goes unrecognized."
Hand in Hand's car­a­van to the bor­der was nei­ther the begin­ning nor end of their its action to reunite fam­i­lies – and to end mass crim­i­nal­iza­tion of immi­grant com­mu­ni­ties altogether.
After Trump was elect­ed, Hand in Hand launched a ​"Sanc­tu­ary Homes" cam­paign. Already accus­tomed to encour­ag­ing and equip­ping employ­ers to talk with their work­ers about wages and work­ing con­di­tions, Hand in Hand asked mem­bers to have one-on-one con­ver­sa­tions with their work­ers about how best to sup­port them in the face of esca­lat­ing attacks on immi­grant com­mu­ni­ties. Gain­ing con­fi­dence, they then asked mem­bers to con­sid­er open­ing their homes to refugees.
As the Sanc­tu­ary Homes cam­paign says, ​"The home can be a pow­er­ful cen­ter of moral action." But Hand in Hand has also been tak­ing it to the streets.
Moth­ers and babies occu­pied a New York City ICE office in late June. Breast­feed­ing moms orga­nized a ​"nurse-in" out­side a New Jer­sey ICE office a few days lat­er. Sim­i­lar actions took place in Chica­go and Detroit. Soon, activists from these actions start­ed get­ting togeth­er on week­ly phone calls to debrief actions and coor­di­nate strategy.
Fol­low­ing these suc­cess­ful actions across the coun­try, the net­work pro­duced a handy toolk­it for first time or new­er activists to orga­nize their own fam­i­ly-friend­ly action — with tips on every­thing from how to locate the near­est ICE office and turn peo­ple out to how to get media atten­tion and what to do if and when police arrive.
Based on that tem­plate, at a recent ​"Play­date protest" orga­nized by Hand in Hand in Oak­land, approx­i­mate­ly 100 young chil­dren and their par­ents met up at the local children's library and marched across the street to the Alame­da Coun­ty Sheriff's office to demand the offi­cial stop col­lab­o­rat­ing with ICE.
As uni­formed offi­cers blocked the ele­va­tors to the build­ing, chil­dren rang­ing from 4 months to 10 years old drew but­ter­flies, a sym­bol of the right to migrate. They sang songs and spoke about every child's right to be free.
While most protests have focused on Trump's pol­i­cy at the nation­al lev­el, local actions that inte­grate local demands are prov­ing sur­pris­ing­ly effec­tive. Just this week, the Sheriff's Office in Con­tra Cos­ta Coun­ty, Cal­i­for­nia announced that it will can­cel its mul­ti-mil­lion dol­lar con­tract with the fed­er­al gov­ern­ment to detain undoc­u­ment­ed immi­grants, cit­ing among oth­er things the costs and mount­ing pub­lic pres­sure of protests. Sacra­men­to and Mon­terey Coun­ties in Cal­i­for­nia also recent­ly ter­mi­nat­ed their con­tracts with ICE.
How­ev­er, activists say those mea­sures are not enough. Rev. Deb­o­rah Lee of the Inter­faith Move­ment for Human Integri­ty, who has led protests out­side the Rich­mond Deten­tion Cen­ter for years now, told In These Times, ​"The fam­i­lies are ask­ing for reuni­fi­ca­tion — that their loved ones be returned imme­di­ate­ly through the alter­na­tives to deten­tion pro­gram, and that there be no trans­fers to oth­er facilities."
For local immi­grant fam­i­lies tar­get­ed by Trump, the trau­ma is real and long-last­ing, as is the crit­i­cal impor­tance of build­ing broad, inter­sec­tion­al move­ments that include employ­ers of immi­grant workers.
"My hus­band Fer­nan­do was detained last Sep­tem­ber on his way to drop off our four-year-old daugh­ter at day­care," recount­ed Lour­des Bar­raza, shar­ing her sto­ry at the Oak­land Play­date Protest. ​"She was trau­ma­tized and lat­er begged me not to take her to day­care, say­ing ​'If dad­dy hadn't tak­en me, he'd be here with us."
"These fam­i­ly sep­a­ra­tions need to stop. It's not just hap­pen­ing at the bor­der, it's hap­pen­ing in our own com­mu­ni­ties. It's good to see employ­ers, like Hand in Hand, here sup­port­ing immi­grant fam­i­lies," said Barraza.
Many are doubt­ful that the Trump admin­is­tra­tion will make the rapid­ly approach­ing July 26th court-imposed dead­line to reunite more than 2,000 chil­dren and their fam­i­lies, but to activists work­ing around the clock to free immi­grant fam­i­lies, one thing is clear: ​"We need to keep the pres­sure on," says Kono.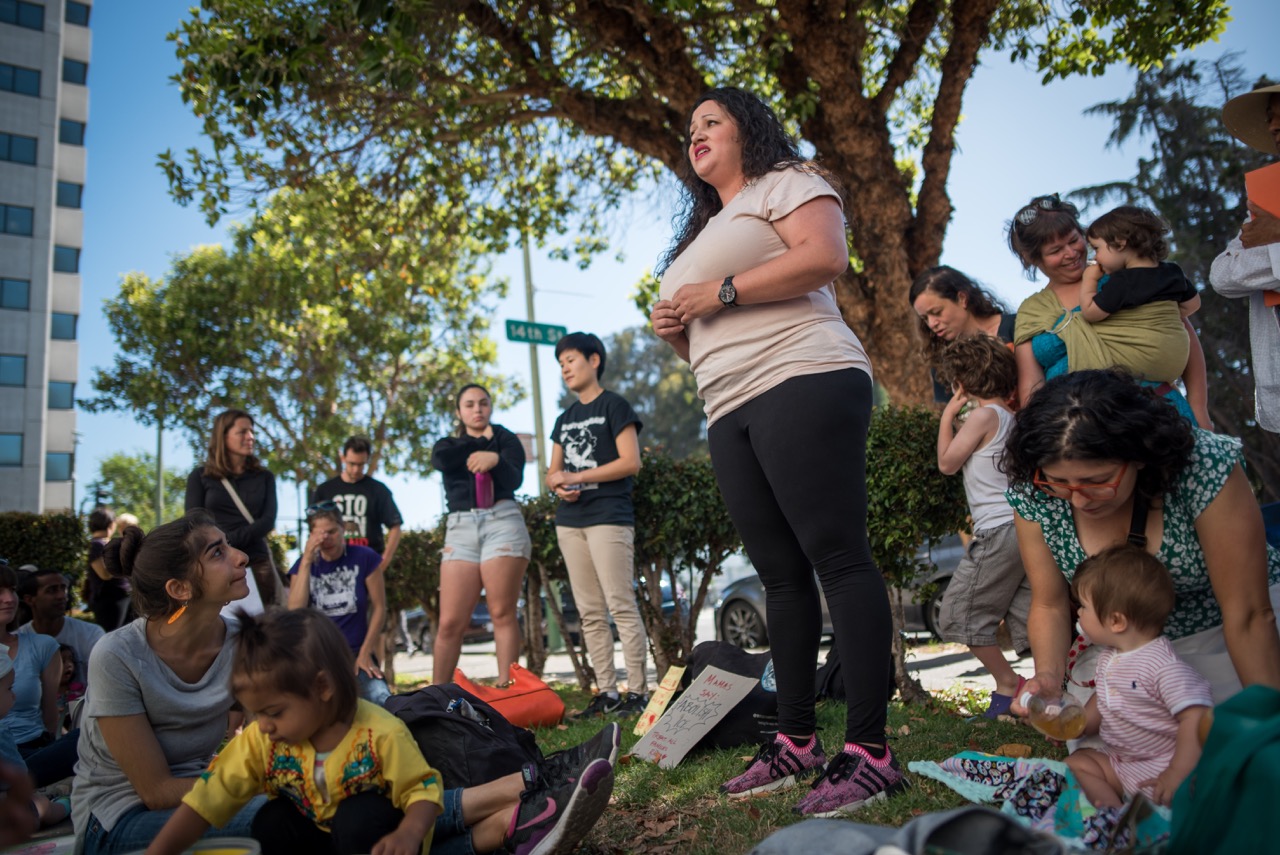 Lour­des Bar­raza, whose hus­band Fer­nan­do was detained by ICE last year, speaks out at a ​"Play­date Protest" orga­nized by Hand In Hand and oth­er orga­ni­za­tions in Oak­land, Cal­i­for­nia on July 10.
Brooke Ander­son is an Oak­land, Cal­i­for­nia-based orga­niz­er and pho­to­jour­nal­ist. She has spent 20 years build­ing move­ments for social, eco­nom­ic, racial and eco­log­i­cal jus­tice. She is a proud union mem­ber of the Pacif­ic Media Work­ers Guild, CWA 39521, AFL-CIO.