'We Get There First or White Supremacists Do': How These Rural Canvassers Disrupt Racist Narratives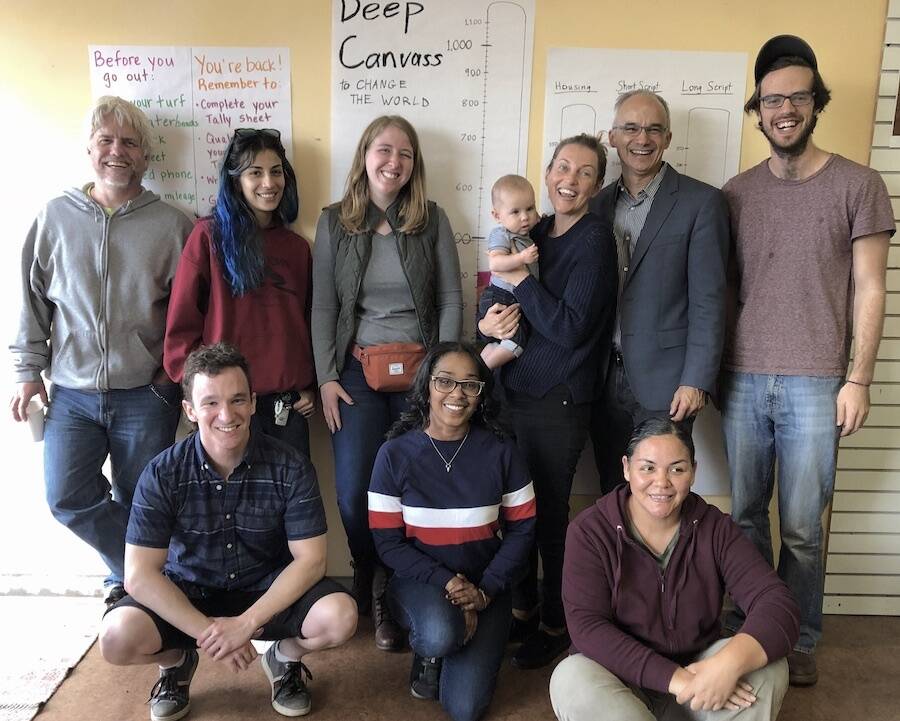 Ala­mance Coun­ty, a rur­al indus­tri­al coun­ty in cen­tral North Car­oli­na, has become a flash­point in recent years for bat­tles over immi­grant rights and Con­fed­er­ate monuments.
The coun­ty is more than 70% white, and Don­ald Trump car­ried it eas­i­ly in 2016, win­ning 54.6% of the vote. Sher­iff Ter­ry John­son — whose office was sued by the U.S. Jus­tice Depart­ment in 2012 for racial pro­fil­ing — ran unop­posed in 2018 to win his fifth term. Un-chas­tened by years of crit­i­cism, John­son told coun­ty com­mis­sion­ers dur­ing a Jan­u­ary 2019 meet­ing that crim­i­nal immi­grants were ​"rap­ing our cit­i­zens in many, many ways," while ask­ing them to allo­cate $2.8 mil­lion in fed­er­al funds to house inmates for ICE and the U.S. Mar­shals Service.
In short, Ala­mance Coun­ty might seem like an unlike­ly place to try to build a pro­gres­sive move­ment for mul­tira­cial sol­i­dar­i­ty and eco­nom­ic jus­tice. But the stew of puni­tive poli­cies and racial dem­a­goguery was pre­cise­ly why pro­gres­sive orga­niz­ers deemed Ala­mance Coun­ty a cru­cial bat­tle­ground in the wake of the 2016 election.
While the inter­twined immi­gra­tion and mon­u­ment bat­tles were play­ing out in Ala­mance, can­vassers from Down Home North Car­oli­na fanned out across the coun­ty, knock­ing on doors and hold­ing con­ver­sa­tions with res­i­dents about immi­gra­tion and health­care. (When Covid-19 hit the U.S. in mid-March, can­vassers shift­ed from door knocks to phone calls.)
The can­vassers were part of a research exper­i­ment launched in the spring of 2019 in North Car­oli­na, Penn­syl­va­nia and Michi­gan to test whether a tool known as ​"deep can­vass­ing" could dis­rupt anti-immi­grant nar­ra­tives in rur­al com­mu­ni­ties and shift vot­ers to atti­tudes of sol­i­dar­i­ty with immi­grants. Led by Assis­tant Pro­fes­sor Joshua Kalla at Yale Uni­ver­si­ty and Asso­ciate Pro­fes­sor David Broock­man at UC Berke­ley, the cam­paign was coor­di­nat­ed by the nation­al advo­ca­cy orga­ni­za­tion People's Action and con­duct­ed on the ground by the group's mem­ber orga­ni­za­tions — Down Home North Car­oli­na in the Pied­mont region west of Raleigh and Durham, Michi­gan Unit­ed in Macomb Coun­ty, north of Detroit, and Penn­syl­va­nia Stand Up in the low­er Susque­han­na Riv­er val­ley, west of Philadel­phia. Adam Kruggel, the direc­tor of strate­gic ini­tia­tives at People's Action, said the states were cho­sen because all have seen an uptick in anti-immi­grant sen­ti­ment and white nation­al­ist orga­niz­ing and because they will be cru­cial bat­tle­ground states in the 2020 election.
The results of the can­vass­ing exper­i­ment were star­tling: Kalla and Broockman's research found that the can­vass­es shift­ed about eight out of 100 respon­dents toward sup­port­ing a gov­ern­ment pro­gram of expand­ed health­care that would include undoc­u­ment­ed immi­grants, and that the results per­sist­ed for at least four and a half months. Those who shift­ed their opin­ions includ­ed both sup­port­ers and oppo­nents of Pres­i­dent Trump; reg­is­tered Democ­rats, Repub­li­cans and inde­pen­dents; men and women. What's more, a new report from People's Action indi­cates that approval for Trump dropped by 1.2 points among respon­dents polled sev­en weeks after the can­vass, even though the ini­tial can­vass did not include any ques­tions about Trump.
Build­ing on those promis­ing results, People's Action is launch­ing what Kruggel calls a ​"mas­sive" paid and vol­un­teer cam­paign across six bat­tle­ground states, expand­ing from the three pilot states of Michi­gan, Penn­syl­va­nia and North Car­oli­na to include Min­neso­ta, Wis­con­sin and New Hamp­shire. The goal, Kruggel said, is to field at least 100 full-time, paid can­vassers and 1,000 vol­un­teers to com­plete 120,000 con­ver­sa­tions across the six states before Elec­tion Day. People's Action will also inte­grate deep can­vass­ing into its cam­paigns in all of the 30 states where the group operates.
When the teams from North Car­oli­na, Michi­gan and Penn­syl­va­nia gath­ered to debrief in Burling­ton, N.C. in Decem­ber 2019, they talked about what suc­cess would look like the morn­ing after Elec­tion Day. Elect­ing Bernie Sanders or Eliz­a­beth War­ren as pres­i­dent was at the top of the list. While it's clear that nei­ther Sanders nor War­ren will be at the top of the bal­lot this year, what the orga­niz­ers couldn't have pre­dict­ed sev­en months ago is that Covid-19 and a glob­al upris­ing against sys­temic racism would push Joe Biden to the left. And the oth­er items on their wish list — the Democ­rats retak­ing the U.S. Sen­ate and elect­ing pro­gres­sive can­di­dates up and down the bal­lot — are look­ing ever more realistic.
The cam­paign merges deep can­vass­ing, a tech­nique devel­oped about 10 years ago by Ella Bar­rett and Steve Deline of the New Con­ver­sa­tion Ini­tia­tive, with ​"the ​"Race-Class Nar­ra­tive," a blue­print for elec­toral orga­niz­ing devel­oped by law pro­fes­sor Ian Haney-López and com­mu­ni­ca­tions strate­gist Anat Shenker-Osorio.
Deep can­vass­ing empha­sizes non-judg­men­tal­ly solic­it­ing respon­dents' views and ask­ing them to reflect on their per­son­al expe­ri­ences, while the can­vass­er also shares their own expe­ri­ences. The Race-Class Nar­ra­tive, as its name implies, insists on address­ing both race and class.
"We need to specif­i­cal­ly talk about race and class," said Dan­ny Tim­pona, an orga­niz­er with Down Home North Car­oli­na. ​"The Demo­c­ra­t­ic Par­ty might talk about class or they might talk about race, but they're not talk­ing about both of these things and how they pull at each oth­er. We're specif­i­cal­ly point­ing it out. We're nam­ing that this is a weapon that is eco­nom­i­cal­ly harm­ing us, and that the alter­na­tive, the anti­dote, is mul­tira­cial solidarity."
In con­trast to con­ven­tion­al vot­er mobi­liza­tion pro­grams, which often rely on reduc­tive mes­sag­ing, deep can­vass­ing allows more room for nuance and ambiguity.
"What we find with the major­i­ty of vot­ers is they're con­flict­ed," Kruggel said. ​"Peo­ple car­ry all these con­tra­dic­to­ry beliefs. Often times, it's more a mat­ter of what is ris­ing to the sur­face than a con­flict in shared val­ues. Deep can­vass­ing helps slow peo­ple down. When you com­mu­ni­cate, you cre­ate non­judg­men­tal space and lead with lis­ten­ing. You com­mu­ni­cate through sto­ries. It's an effec­tive way to de-polar­ize, to a cer­tain extent."
Rur­al areas have steadi­ly trend­ed more con­ser­v­a­tive and Repub­li­can over the past two decades. But since 2018 People's Action has marked a promis­ing shift in rur­al areas, with sin­gle white women and young white vot­ers in par­tic­u­lar mov­ing towards the Demo­c­ra­t­ic Par­ty. And regard­less of whether or not the deep can­vass­ing cam­paign in the six bat­tle­ground states helps defeat Trump in Novem­ber, orga­niz­ers argue that pro­gres­sives need to make a long-term invest­ment in rur­al America.
Try­ing to change the minds of con­ser­v­a­tive rur­al vot­ers might sound like an uphill bat­tle, but, as Down Home North Car­oli­na cam­paign­ers are quick to point out, the alter­na­tive is far worse.
On the ground
In ear­ly Decem­ber 2019, Sug­ele­ma Lynch, a for­mer teacher, and Lau­ra Marie Davis, anoth­er can­vass­er with Down Home North Car­oli­na, set out for the Birch Bridge area, north of Burlington.
Knock­ing on the first door, she found an EMT with Ala­mance Coun­ty Emer­gency Med­ical Ser­vices at home on lunch break. Mild­ly friend­ly and per­haps a lit­tle curi­ous, he agreed to take the sur­vey. Lynch first asked the man, who was white, to rate him­self on a scale of 0 to 10 on his sup­port for uni­ver­sal health­care. He rat­ed him­self a 0.
"I don't think we need any more gov­ern­ment hand­outs," the man said.
"Thank you for shar­ing that," Lynch respond­ed. ​"No, a lot of peo­ple feel the way you do. I'm a lit­tle more favor­able to it."
Unsur­pris­ing­ly, the man also rat­ed him­self a 0 on uni­ver­sal health­care that would include undoc­u­ment­ed immigrants.
"I'm all for build the wall," he said, quick­ly vol­un­teer­ing that he sup­ports Pres­i­dent Trump.
Lynch asked him to talk about his per­son­al expe­ri­ences with undoc­u­ment­ed immi­grants. The man said he used to own a land­scap­ing busi­ness, and that his undoc­u­ment­ed employ­ees ​"would come on strong" but after pay­day they wouldn't want to come to work because they were hung over. He also said he believes undoc­u­ment­ed immi­grants want to take advan­tage of gov­ern­ment pro­grams. But when Lynch asked for an exam­ple, he back­tracked and said it wasn't just undoc­u­ment­ed peo­ple. He said he had worked since he was 18 years old, and peo­ple should work for what they have instead of ask­ing for handouts.
Lynch took the oppor­tu­ni­ty to tell her own family's sto­ry. Her par­ents came to the Unit­ed States from Mex­i­co as undoc­u­ment­ed immi­grants in the 1970s. She said her par­ents didn't have a lot of edu­ca­tion and most of their work expe­ri­ence was in agri­cul­ture. They land­ed in the Pacif­ic North­west. Since they moved every three months to fol­low har­vests, Lynch said, her par­ents didn't sign up for gov­ern­ment assis­tance programs.
At the con­clu­sion, Lynch asked the man if any­thing in the con­ver­sa­tion had changed his views on either uni­ver­sal health­care or uni­ver­sal health­care that includ­ed undoc­u­ment­ed immi­grants. Not at all, he said.
As she walked along the grav­el shoul­der of the road toward the next house, Lynch reflect­ed on the conversation.
"Shar­ing the human­i­ty, maybe he'll start think­ing about undoc­u­ment­ed immi­grants dif­fer­ent­ly," she said. ​"I'm hop­ing I can make a last­ing impres­sion through telling my family's story."
Oth­er respon­dents were already in sync with Down Home's agen­da, or proved to be persuadable.
An elder­ly white woman who was walk­ing her dog to the mail­box read­i­ly agreed that uni­ver­sal health­care should be extend­ed to undoc­u­ment­ed immigrants.
"I feel like you ought to help all that can't help them­selves," she said.
Anoth­er neigh­bor, an elder­ly white man, told Davis that he sup­port­ed uni­ver­sal health­care and that he thought the gov­ern­ment ought to make it eas­i­er for peo­ple to come to the Unit­ed States legal­ly, but said he wasn't in favor of includ­ing undoc­u­ment­ed immi­grants in uni­ver­sal health­care because, in his view, they don't pay into the system.
Davis told the man that, in fact, undoc­u­ment­ed peo­ple do pay tax­es, even though they don't receive Social Security.
The man re-eval­u­at­ed his position.
"If they're pay­ing tax­es, they ought to ben­e­fit," he said.
A for­mer school-bus dri­ver, he and his wife had faced per­son­al bank­rupt­cy, he said. They had to sell their house, buy a sin­gle-wide trail­er and then rent land to put the trail­er on. He expressed sym­pa­thy for peo­ple who face med­ical-relat­ed finan­cial challenges.
"I'm dia­bet­ic, so I'm walk­ing on eggshells myself," he said. ​"Every­thing is going up except my pay."
'

Either we get there first or the white suprema­cists do'
Ala­mance Coun­ty is a place where racial antag­o­nism, his­tor­i­cal and con­tem­po­rary, is plain­ly vis­i­ble. A month after Dylann Roof mas­sa­cred nine African-Amer­i­can parish­ioners at Emanuel AME Church in Charleston, S.C., about 4,000 peo­ple ral­lied to defend the Con­fed­er­ate mon­u­ment in front of the Old Ala­mance Coun­ty Courthouse.
In Octo­ber 2019, only five blocks away from that cour­t­house, I observed Jes­si­ca Reav­is, a Vir­ginia-based orga­niz­er with the League of the South — a group that advo­cates the cre­ation of a white eth­no-state in the states of the for­mer Con­fed­er­a­cy — stoke the griev­ances of a group of con­ser­v­a­tive, white bystanders jeer­ing a march for immi­grant rights. As recent­ly as last week­end, Reav­is and two oth­er League of the South mem­bers from Vir­ginia joined counter-pro­test­ers to respond to a Black Lives Mat­ter protest that called for the removal of the Con­fed­er­ate monument.
"They can have pride in who they are, but when we are proud to be white, we're racists and Nazis," Reav­is com­plained dur­ing the Octo­ber 2019 stand­off. ​"We're try­ing to pro­tect our peo­ple. We have a right to pre­serve our people."
Near­by, local res­i­dent Sharon Moon echoed Reav­is' sen­ti­ments in an inter­view with an alt-right YouTube personality.
"The prob­lem is that you've got these white folks over here that believe in white priv­i­lege, that they're being like, white priv­i­lege! We have white priv­i­lege!" Moon said, refer­ring to the immi­grant-rights pro­test­ers. ​"But the truth is that Mex­i­cans and ille­gal immi­grants have privilege.
"Look at this," she con­tin­ued, ges­tur­ing toward a strand of yel­low police tape. ​"We're stuck behind here; they're over there speak­ing and block­ing off the streets and not being arrest­ed. That's privilege."
After the protest wound down, I caught up with Moon, away from Reav­is and the oth­er heck­lers, and she shared with me that a friend and co-work­er had joined the immi­grant-rights pro­test­ers on the oth­er side of the police line. Sharon and her hus­band, David, who works in con­struc­tion, also acknowl­edged that they had half-seri­ous­ly dis­cussed whether they should har­bor the co-worker's par­ents in their attic to help them evade ICE.
When I men­tioned my encounter with Moon to Down Home North Car­oli­na orga­niz­er Dan­ny Tim­pona a week lat­er, he said it was an exam­ple of both the flu­id­i­ty of people's posi­tions on immi­gra­tion and the high stakes if pro­gres­sives fail to engage with rur­al voters.
"We believe that orga­niz­ing in rur­al spaces with pro­gres­sive, mul­tira­cial sol­i­dar­i­ty mes­sag­ing is the future," he said. ​"Either we get there first or white suprema­cists get there first.
Jor­dan Green
is the senior edi­tor at Tri­ad City Beat, an alt-week­ly in Greens­boro, N.C. His report­ing has appeared in The Nation and The Guardian.