This Sheriff Was Booted by DHS for Racism. Now Trump Wants To Enlist Him in Deportations.
A North Carolina sheriff's office had a "pattern of racial profiling," but that hasn't stopped Trump's ICE from inviting it into the 287(g) program.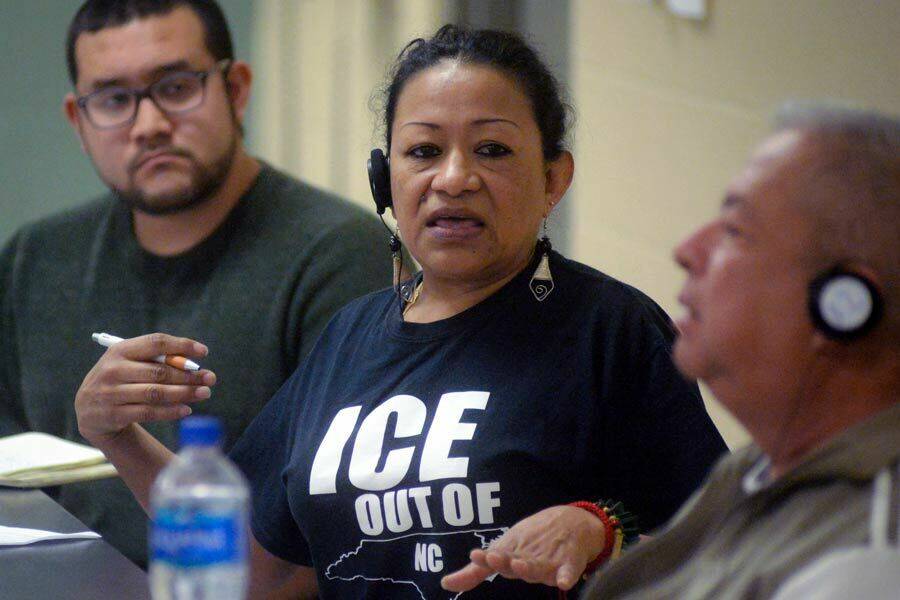 ALAMANCE COUNTY, N.C. — Yazmin Garcia was on her way to Guilford College in Greensboro in 2011, her car packed with belongings to start her final semester, when she was pulled over on Interstate 40.
Between 2007 and 2012, Latinos were four to 10 times more likely to be cited in Alamance County traffic stops than non Latinos.
Garcia was scared. She had come to North Carolina as an undocumented child in 2002, and she knew the local sheriff's office was aggressively deporting people.
The officer let her go — because, she surmised, she looked like a ​"good" college student. Other students in her graduating class at Williams High School in Burlington, N.C., were not so lucky. Between 2007 and 2012, several were deported following traffic stops.
Local law enforcement does not normally coordinate with U.S. Immigration and Customs Enforcement (ICE) because most immigration violations are not crimes. But in 2007 Alamance County joined a Clinton era program, 287(g), that allows such coordination. The number of ICE detentions in the county exploded from two in 2007 to 357 in 2008.
Under 287(g), deputies who are assigned to local jails are given access to an ICE database and trained to interview incarcerated people to determine immigration status. Deputies can initiate deportation proceedings, allowing them to keep people incarcerated after criminal charges have been resolved. Advocates say this unfairly jeopardizes immigrants who are locked up for minor offenses.
The Alamance County Sheriff's Department was dropped from 287(g) in 2012 after a Justice Department investigation found a pattern of racial profiling. Now, the Trump administration wants the county back in.
One of Trump's first acts upon taking office was to sign an executive order to expand 287(g). ICE announced in a July 2017 press conference with 18 Texas sheriffs that the number of state and local partners had doubled since 2016. A new round of signings in the first three months of 2018 added 17 additional sheriff's offices, mostly in red, suburban counties along major interstates outside of large cities like Atlanta, Milwaukee, Tampa and Austin, Texas.
Terry Johnson, who is running unopposed for his fifth term as sheriff of Alamance County, confirmed to In These Times that his office received a visit from ICE in early 2017 and an invitation to reapply for 287(g). The sheriff has submitted a letter of interest, but an agreement has not been finalized.
Daniel Stageman, a research director at John Jay College of Criminal Justice in New York City, wrote in a blog post that, even in the context of aggressive immigration enforcement under Trump, the readmittance of Alamance County into 287(g) indicates a tacit acceptance of ​"racial profiling and other forms of biased enforcement … for local jurisdictions acting in support of the administration's stated detention and deportation goals."
Between 2007 and 2012, Latinos were four to 10 times more likely to be cited in Alamance County traffic stops than non-Latinos. Both sheriff's deputies and ICE officers in the Alamance County Jail reportedly used slurs like ​"wetback," ​"beaner," ​"taco" and ​"Mexicant." In 2010, a supervising detention officer at the jail sent subordinates a video game in which players shoot at people crossing a river who are labeled ​"Mexican nationalists," ​"drug smugglers," and, in the case of women, ​"breeders."
U.S. District Court Judge Thomas Schroeder ultimately dismissed the government's case against Johnson, while cautioning that the decision shouldn't be read ​"to approve or condone all the conduct presented as evidence at trial." The judge characterized the ethnic slurs used at the jail as ​"reprehensible." He also said that other evidence suggested the sheriff's office lacked a system for monitoring selection of checkpoint locations and an effective review process for traffic-stop outcomes.
Although most of the conduct fell outside the scope of the county's 287(g) program, Obama's Department of Homeland Security (DHS) terminated its agreement with the county on the grounds that ​"discrimination undermines law enforcement and erodes the public trust."
Trump's DHS appears to have no such compunctions.
Apprehension over the potential return of 287(g) to Alamance County prompted several organizations, including Down Home North Carolina, Latinos Unidos Promoviendo la Esperanza (LUPE), Down Home NC, the ACLU of North Carolina and the local NAACP chapter, to call a community meeting on March 7. A multiracial group of about 70 people crowded in. Latino residents, including Yazmin Garcia, came forward to recount living under 287(g).
Gloria Simmons recalled the day in November 2008 that tore her family apart. She was at work when immigration agents showed up at her house and deported her husband and 18-year-old son.
Simmons said ICE agents at the Alamance County Jail ordered her to report monthly to U.S. Customs and Immigration Services in Charlotte. An immigration judge ultimately granted Simmons and her husband a U visa, explained Simmons, which allows victims of crime who have suffered mental or physical abuse to stay in the United States if they assist the government in investigating and prosecuting criminal activity. Simmons said by then she had lost her job at a hotel. Her husband was able to return to the United States after about three years.
"We've got legal status and we're permanent residents, but my marriage was destroyed," Simmons said. ​"I couldn't find a job in my field. So I was living off my savings because I couldn't find work. I drained 100 percent of it. I had put my house on the market. The day before closing was the day I got approved for the U visa. This was after months and months of crying."
Martha Hernandez, a local immigrant-rights advocate, had harsh words for Trump.
"With presidential administrations that promote hate, we are the people who have to confront the painful consequences.
"We watch the children crying because their mother or father never returned home after work … because they didn't have a license to drive. This, for some, is a crime."
Jordan Green
is the senior editor at Triad City Beat, an alt-weekly in Greensboro, N.C. His reporting has appeared in The Nation and The Guardian.