This Sheriff Was Booted by DHS for Racism. Now Trump Wants To Enlist Him in Deportations.
A North Carolina sheriff's office had a "pattern of racial profiling," but that hasn't stopped Trump's ICE from inviting it into the 287(g) program.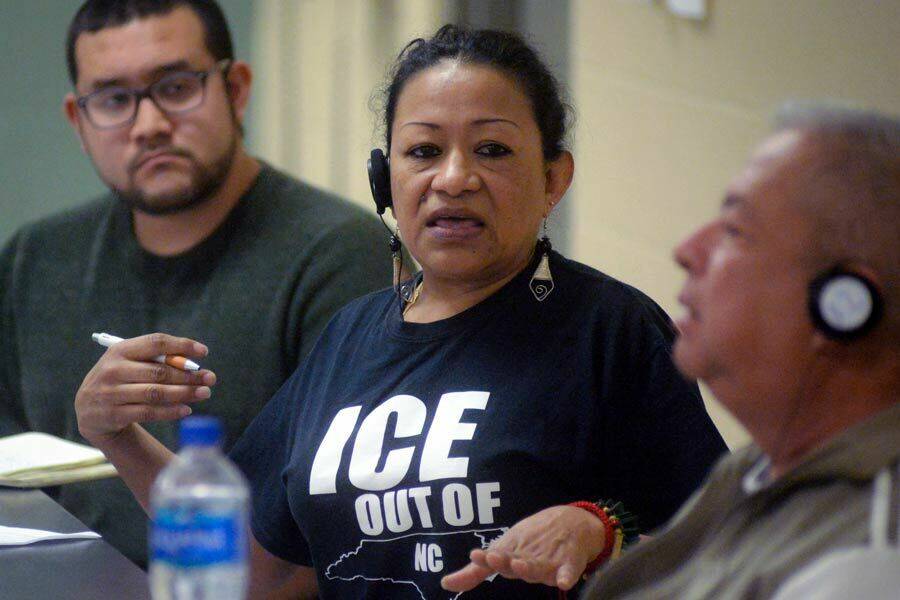 ALA­MANCE COUN­TY, N.C. — Yazmin Gar­cia was on her way to Guil­ford Col­lege in Greens­boro in 2011, her car packed with belong­ings to start her final semes­ter, when she was pulled over on Inter­state 40.
Between 2007 and 2012, Latinos were four to 10 times more likely to be cited in Alamance County traffic stops than non Latinos.
Gar­cia was scared. She had come to North Car­oli­na as an undoc­u­ment­ed child in 2002, and she knew the local sheriff's office was aggres­sive­ly deport­ing people.
The offi­cer let her go — because, she sur­mised, she looked like a ​"good" col­lege stu­dent. Oth­er stu­dents in her grad­u­at­ing class at Williams High School in Burling­ton, N.C., were not so lucky. Between 2007 and 2012, sev­er­al were deport­ed fol­low­ing traf­fic stops.
Local law enforce­ment does not nor­mal­ly coor­di­nate with U.S. Immi­gra­tion and Cus­toms Enforce­ment (ICE) because most immi­gra­tion vio­la­tions are not crimes. But in 2007 Ala­mance Coun­ty joined a Clin­ton era pro­gram, 287(g), that allows such coor­di­na­tion. The num­ber of ICE deten­tions in the coun­ty explod­ed from two in 2007 to 357 in 2008.
Under 287(g), deputies who are assigned to local jails are giv­en access to an ICE data­base and trained to inter­view incar­cer­at­ed peo­ple to deter­mine immi­gra­tion sta­tus. Deputies can ini­ti­ate depor­ta­tion pro­ceed­ings, allow­ing them to keep peo­ple incar­cer­at­ed after crim­i­nal charges have been resolved. Advo­cates say this unfair­ly jeop­ar­dizes immi­grants who are locked up for minor offenses.
The Ala­mance Coun­ty Sheriff's Depart­ment was dropped from 287(g) in 2012 after a Jus­tice Depart­ment inves­ti­ga­tion found a pat­tern of racial pro­fil­ing. Now, the Trump admin­is­tra­tion wants the coun­ty back in.
One of Trump's first acts upon tak­ing office was to sign an exec­u­tive order to expand 287(g). ICE announced in a July 2017 press con­fer­ence with 18 Texas sher­iffs that the num­ber of state and local part­ners had dou­bled since 2016. A new round of sign­ings in the first three months of 2018 added 17 addi­tion­al sheriff's offices, most­ly in red, sub­ur­ban coun­ties along major inter­states out­side of large cities like Atlanta, Mil­wau­kee, Tam­pa and Austin, Texas.
Ter­ry John­son, who is run­ning unop­posed for his fifth term as sher­iff of Ala­mance Coun­ty, con­firmed to In These Times that his office received a vis­it from ICE in ear­ly 2017 and an invi­ta­tion to reap­ply for 287(g). The sher­iff has sub­mit­ted a let­ter of inter­est, but an agree­ment has not been finalized.
Daniel Stage­man, a research direc­tor at John Jay Col­lege of Crim­i­nal Jus­tice in New York City, wrote in a blog post that, even in the con­text of aggres­sive immi­gra­tion enforce­ment under Trump, the read­mit­tance of Ala­mance Coun­ty into 287(g) indi­cates a tac­it accep­tance of ​"racial pro­fil­ing and oth­er forms of biased enforce­ment … for local juris­dic­tions act­ing in sup­port of the administration's stat­ed deten­tion and depor­ta­tion goals."
Between 2007 and 2012, Lati­nos were four to 10 times more like­ly to be cit­ed in Ala­mance Coun­ty traf­fic stops than non-Lati­nos. Both sheriff's deputies and ICE offi­cers in the Ala­mance Coun­ty Jail report­ed­ly used slurs like ​"wet­back," ​"bean­er," ​"taco" and ​"Mex­i­cant." In 2010, a super­vis­ing deten­tion offi­cer at the jail sent sub­or­di­nates a video game in which play­ers shoot at peo­ple cross­ing a riv­er who are labeled ​"Mex­i­can nation­al­ists," ​"drug smug­glers," and, in the case of women, ​"breed­ers."
U.S. Dis­trict Court Judge Thomas Schroed­er ulti­mate­ly dis­missed the government's case against John­son, while cau­tion­ing that the deci­sion shouldn't be read ​"to approve or con­done all the con­duct pre­sent­ed as evi­dence at tri­al." The judge char­ac­ter­ized the eth­nic slurs used at the jail as ​"rep­re­hen­si­ble." He also said that oth­er evi­dence sug­gest­ed the sheriff's office lacked a sys­tem for mon­i­tor­ing selec­tion of check­point loca­tions and an effec­tive review process for traf­fic-stop outcomes.
Although most of the con­duct fell out­side the scope of the county's 287(g) pro­gram, Obama's Depart­ment of Home­land Secu­ri­ty (DHS) ter­mi­nat­ed its agree­ment with the coun­ty on the grounds that ​"dis­crim­i­na­tion under­mines law enforce­ment and erodes the pub­lic trust."
Trump's DHS appears to have no such compunctions.
Appre­hen­sion over the poten­tial return of 287(g) to Ala­mance Coun­ty prompt­ed sev­er­al orga­ni­za­tions, includ­ing Down Home North Car­oli­na, Lati­nos Unidos Pro­movien­do la Esper­an­za (LUPE), Down Home NC, the ACLU of North Car­oli­na and the local NAACP chap­ter, to call a com­mu­ni­ty meet­ing on March 7. A mul­tira­cial group of about 70 peo­ple crowd­ed in. Lati­no res­i­dents, includ­ing Yazmin Gar­cia, came for­ward to recount liv­ing under 287(g).
Glo­ria Sim­mons recalled the day in Novem­ber 2008 that tore her fam­i­ly apart. She was at work when immi­gra­tion agents showed up at her house and deport­ed her hus­band and 18-year-old son.
Sim­mons said ICE agents at the Ala­mance Coun­ty Jail ordered her to report month­ly to U.S. Cus­toms and Immi­gra­tion Ser­vices in Char­lotte. An immi­gra­tion judge ulti­mate­ly grant­ed Sim­mons and her hus­band a U visa, explained Sim­mons, which allows vic­tims of crime who have suf­fered men­tal or phys­i­cal abuse to stay in the Unit­ed States if they assist the gov­ern­ment in inves­ti­gat­ing and pros­e­cut­ing crim­i­nal activ­i­ty. Sim­mons said by then she had lost her job at a hotel. Her hus­band was able to return to the Unit­ed States after about three years.
"We've got legal sta­tus and we're per­ma­nent res­i­dents, but my mar­riage was destroyed," Sim­mons said. ​"I couldn't find a job in my field. So I was liv­ing off my sav­ings because I couldn't find work. I drained 100 per­cent of it. I had put my house on the mar­ket. The day before clos­ing was the day I got approved for the U visa. This was after months and months of crying."
Martha Her­nan­dez, a local immi­grant-rights advo­cate, had harsh words for Trump.
"With pres­i­den­tial admin­is­tra­tions that pro­mote hate, we are the peo­ple who have to con­front the painful consequences.
"We watch the chil­dren cry­ing because their moth­er or father nev­er returned home after work … because they didn't have a license to dri­ve. This, for some, is a crime."
Jor­dan Green
is the senior edi­tor at Tri­ad City Beat, an alt-week­ly in Greens­boro, N.C. His report­ing has appeared in The Nation and The Guardian.