'Lives lived behind bars are too often invisible': Pete Brook's 'Prison Photography' on display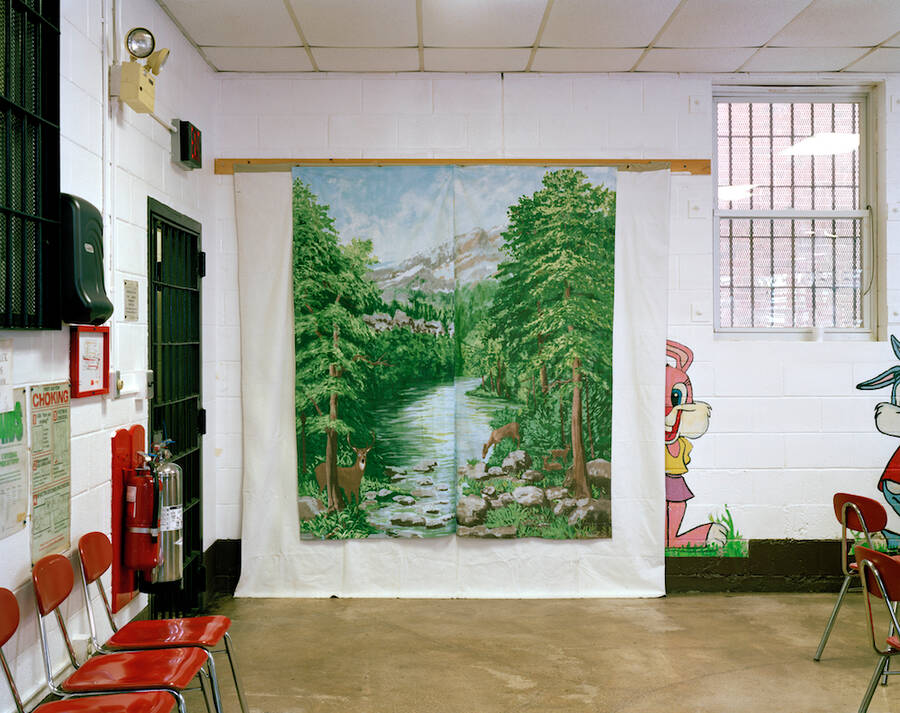 Pete Brook is a British, Port­land, Ore.-based writer and cura­tor of the excel­lent blog Prison Pho­tog­ra­phy. In his words, that blog is built, first, on the premise that ​"the Unit­ed States needs to pur­sue large-scale prison and sen­tenc­ing reform," and sec­ond, on the idea that cam­eras in pris­ons pro­vide an excel­lent view­point from which to con­sid­er how such sen­tenc­ing reform might hap­pen. Again, his words:
​"Cam­eras and their oper­a­tors func­tion in record­ing, and to some degree, inter­pret­ing the sto­ries of (and with­in) prison sys­tems. How var­ied is the imagery? If a cam­era is with­in prison walls we should always be ask­ing: How did it get there? What are/​were the motives? What are the respons­es? What social and polit­i­cal pow­ers are at play in a photograph's man­u­fac­ture? And, how is knowl­edge, relat­ed to those pow­ers, con­struct­ed? Prison Pho­tog­ra­phy also con­cerns itself with civ­il lib­er­ties, ethics and social jus­tice as they relate to pho­tog­ra­phy and photojournalism."
In the spir­it of answer­ing those ques­tions, acknowl­eg­ing those con­cerns, and putting prison pho­tog­ra­phy on dis­play in a gallery for all to see, Brook has curat­ed Prison Obscu­ra, an exhib­it run­ning at Haver­ford College's Can­tor Fitzger­ald Gallery through March 7.
Even if you can't get to Haver­ford Col­lege (it's about a half-hour dri­ve west of Cen­ter City Philadel­phia), the gallery itself and the essay accom­pa­ny­ing it are required view­ing for any­one who cares about how pris­ons oper­ate and how the sys­tem that sur­rounds them might reform.
View the gallery here.
Read the essay here.
Matt Stroud
is a for­mer Inno­cence Net­work inves­ti­ga­tor who now cov­ers the U.S. legal sys­tem, in all its glo­ry and ugli­ness, as a free­lance jour­nal­ist. Fol­low him on Twit­ter @ssttrroouudd. Email him at stroudjournalism
&
lt;at
&
gt;gmail.com.