Pigeons Under Late Capitalism
An existentialist Swedish movie occupies a completely original universe.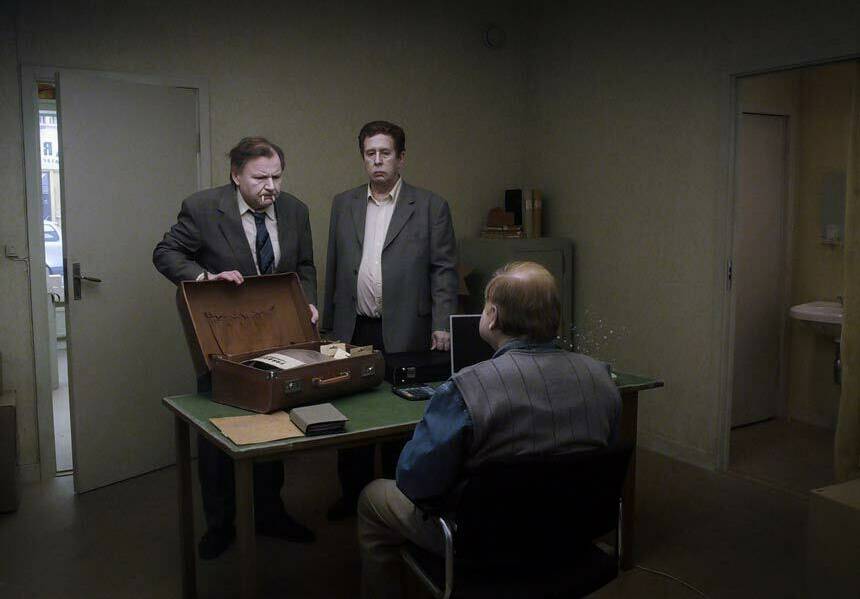 A top prize-win­ner at the Venice Film Fes­ti­val last year, Roy Andersson's A Pigeon Sat on a Branch Reflect­ing on Exis­tence can restore your faith in the het­ero­gene­ity of glob­al cin­e­ma. Just when most import­ed films began seem­ing as famil­iar and for­mu­la­ic in their own way as Hol­ly­wood gen­res— revi­sion­ist peri­od dra­mas, WWII ordeals, frothy rom-coms — this per­verse freak shows up, an exis­ten­tial­ist Swedish movie that occu­pies a com­plete­ly orig­i­nal universe.
There's something timeless and unsettling about the imagery; it can suggest a kind of universalized bad dream born of industrial imperialism and modern anomie.
The sub­ject is ​"being human" — in ways that are so sad and down­trod­den they're hilar­i­ous. Ander­s­son has been cul­ti­vat­ing a stun­ning­ly unique voice for many years, in dead­pan TV com­mer­cials he shot in the 1980s and 1990s, and then in his fea­tures Songs from the Sec­ond Floor (2000) and You, the Liv­ing (2007). Using only long, patient shots, this pecu­liar approach out-dead­pans Buster Keaton, until Andersson's actors resem­ble the bare­ly ani­mat­ed liv­ing dead, and the world is a fad­ing, absur­dist stage for their despair. The three films play like dio­ra­mas of extrav­a­gant lone­some­ness, views into ter­rar­i­ums of wast­ed human exis­tence. As a tableau-mak­er, the oth­er Ander­son — Wes — is a toy­chest ama­teur by comparison.
The new film, like the oth­ers, is large­ly a weave of nar­ra­tive threads with some char­ac­ters recur­ring and oth­ers not: The cen­tral sto­ry fol­lows the hope­less efforts of two aging, sleep­walk­ing nov­el­ty sales­men (Hol­ger Ander­s­son and Nils West­blom) as they attempt to ped­dle vam­pire teeth and laugh­ing bags across a fringe Swe­den seen as a series of moldy rooms and bar­ren road­ways. Their vexed mis­sion is a mod­el for all late-cap­i­tal­ist tragedy — use­less, hope­less and out­mod­ed — but often they serve as mere wit­ness­es to oth­er may­hem. In one spec­tac­u­lar uncut shot, an edge-of-town bar they show up in is sud­den­ly occu­pied by the horse­back troops of Charles XII of Swe­den, cir­ca 1709, on the way to fight the Rus­sians at Polta­va. As the effem­i­nate king woos a young bar­tender, and Andersson's cam­era remains steady and unblink­ing, hun­dreds of sol­diers in full dress march past the win­dows out­side. Nobody bats an eye, of course. When the troops return, march­ing home, beat­en and blood­ied, the con­tem­po­rary women in the bar slow­ly burst into tears.
The filmmaker's pre­cise and over­whelm­ing orches­tra­tion of space, silli­ness, agony, sepul­chral light­ing and real time is his film's real sub­ject; the char­ac­ters are just stand-ins, fig­ures in a philo­soph­i­cal­ly deter­mined land­scape. An old-school Mod­ernist, Andersson's dis­tinc­tive tool kit employs a Beck­et­t­ian dole­ful­ness and the wacky mat­ter-of-fact­ness of Sur­re­al­ist painter René Magritte. But there's also room in this world for a dance num­ber (a stilt­ed but elec­tri­fy­ing fla­men­co class is stymied by the chub­by instructor's paw­ing lust for a male dancer). A dire base­ment bar and its old­est patron is brought to life in a flash­back to 1943, when the vampy, limp­ing pro­pri­etress com­pels all the beer drinkers to sing her glo­ries as they line up to give her pas­sion­ate wartime kisses.
Phras­es are repeat­ed through­out in a Godot-ish fash­ion: Scores of char­ac­ters, talk­ing on phones, repeat the line, ​"I'm hap­py to hear you're doing fine," while oth­er seg­ments stand alone as apoc­a­lyp­tic skits. As the film rolls on, the one-offs grow ter­ri­fy­ing. At one point we are look­ing at a mon­key cru­ci­fied in a lab with elec­trodes lodged in its brain (cour­tesy of CGI, don't wor­ry); at anoth­er, 19th-cen­tu­ry colo­nial sol­diers are herd­ing Africans into a huge, brass cen­trifuge of Andersson's warped devis­ing. As a fire rages in the pit beneath, it begins to spin, cook­ing the natives.
Andersson's aes­thet­ic can leave a haunt­ing crease in your mem­o­ry, and not mere­ly because in 2015 his films look vivid­ly out of fash­ion, as if they emanat­ed from anoth­er age and cul­ture alto­geth­er. There's some­thing time­less and unset­tling about the imagery; it can sug­gest a kind of uni­ver­sal­ized bad dream born of indus­tri­al impe­ri­al­ism and mod­ern anomie. Some­times approach­ing glib­ness, A Pigeon Sat on a Branch Reflect­ing on Exis­tence may be the least breath­tak­ing work out of Andersson's three films (which could be run end to end and feel like one long film). But each is a mir­a­cle of inven­tion, and vision.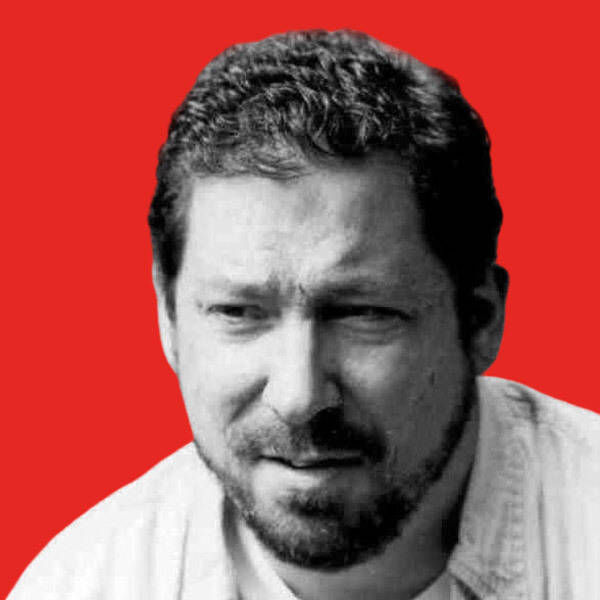 Michael Atkin­son
is a film review­er for
In These Times.
He has writ­ten or edit­ed many books, includ­ing
Exile Cin­e­ma: Film­mak­ers at Work Beyond Hol­ly­wood
(
2008
) and the mys­tery nov­els
Hem­ing­way Dead­lights
(
2009
) and
Hem­ing­way Cut­throat
(
2010
). He blogs at
Zero For Con­duct
.