Pigeons Under Late Capitalism
An existentialist Swedish movie occupies a completely original universe.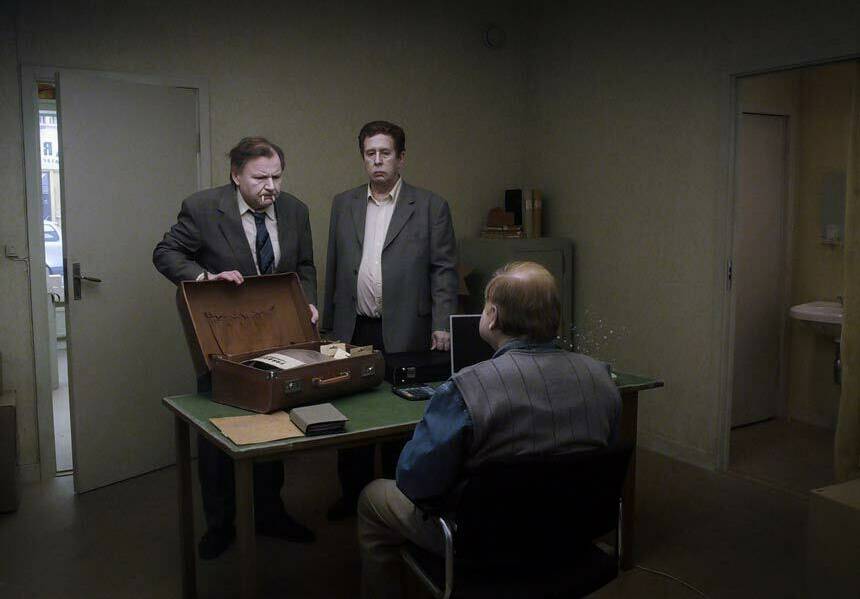 A top prize-winner at the Venice Film Festival last year, Roy Andersson's A Pigeon Sat on a Branch Reflecting on Existence can restore your faith in the heterogeneity of global cinema. Just when most imported films began seeming as familiar and formulaic in their own way as Hollywood genres— revisionist period dramas, WWII ordeals, frothy rom-coms — this perverse freak shows up, an existentialist Swedish movie that occupies a completely original universe.
There's something timeless and unsettling about the imagery; it can suggest a kind of universalized bad dream born of industrial imperialism and modern anomie.
The subject is ​"being human" — in ways that are so sad and downtrodden they're hilarious. Andersson has been cultivating a stunningly unique voice for many years, in deadpan TV commercials he shot in the 1980s and 1990s, and then in his features Songs from the Second Floor (2000) and You, the Living (2007). Using only long, patient shots, this peculiar approach out-deadpans Buster Keaton, until Andersson's actors resemble the barely animated living dead, and the world is a fading, absurdist stage for their despair. The three films play like dioramas of extravagant lonesomeness, views into terrariums of wasted human existence. As a tableau-maker, the other Anderson — Wes — is a toychest amateur by comparison.
The new film, like the others, is largely a weave of narrative threads with some characters recurring and others not: The central story follows the hopeless efforts of two aging, sleepwalking novelty salesmen (Holger Andersson and Nils Westblom) as they attempt to peddle vampire teeth and laughing bags across a fringe Sweden seen as a series of moldy rooms and barren roadways. Their vexed mission is a model for all late-capitalist tragedy — useless, hopeless and outmoded — but often they serve as mere witnesses to other mayhem. In one spectacular uncut shot, an edge-of-town bar they show up in is suddenly occupied by the horseback troops of Charles XII of Sweden, circa 1709, on the way to fight the Russians at Poltava. As the effeminate king woos a young bartender, and Andersson's camera remains steady and unblinking, hundreds of soldiers in full dress march past the windows outside. Nobody bats an eye, of course. When the troops return, marching home, beaten and bloodied, the contemporary women in the bar slowly burst into tears.
The filmmaker's precise and overwhelming orchestration of space, silliness, agony, sepulchral lighting and real time is his film's real subject; the characters are just stand-ins, figures in a philosophically determined landscape. An old-school Modernist, Andersson's distinctive tool kit employs a Beckettian dolefulness and the wacky matter-of-factness of Surrealist painter René Magritte. But there's also room in this world for a dance number (a stilted but electrifying flamenco class is stymied by the chubby instructor's pawing lust for a male dancer). A dire basement bar and its oldest patron is brought to life in a flashback to 1943, when the vampy, limping proprietress compels all the beer drinkers to sing her glories as they line up to give her passionate wartime kisses.
Phrases are repeated throughout in a Godot-ish fashion: Scores of characters, talking on phones, repeat the line, ​"I'm happy to hear you're doing fine," while other segments stand alone as apocalyptic skits. As the film rolls on, the one-offs grow terrifying. At one point we are looking at a monkey crucified in a lab with electrodes lodged in its brain (courtesy of CGI, don't worry); at another, 19th-century colonial soldiers are herding Africans into a huge, brass centrifuge of Andersson's warped devising. As a fire rages in the pit beneath, it begins to spin, cooking the natives.
Andersson's aesthetic can leave a haunting crease in your memory, and not merely because in 2015 his films look vividly out of fashion, as if they emanated from another age and culture altogether. There's something timeless and unsettling about the imagery; it can suggest a kind of universalized bad dream born of industrial imperialism and modern anomie. Sometimes approaching glibness, A Pigeon Sat on a Branch Reflecting on Existence may be the least breathtaking work out of Andersson's three films (which could be run end to end and feel like one long film). But each is a miracle of invention, and vision.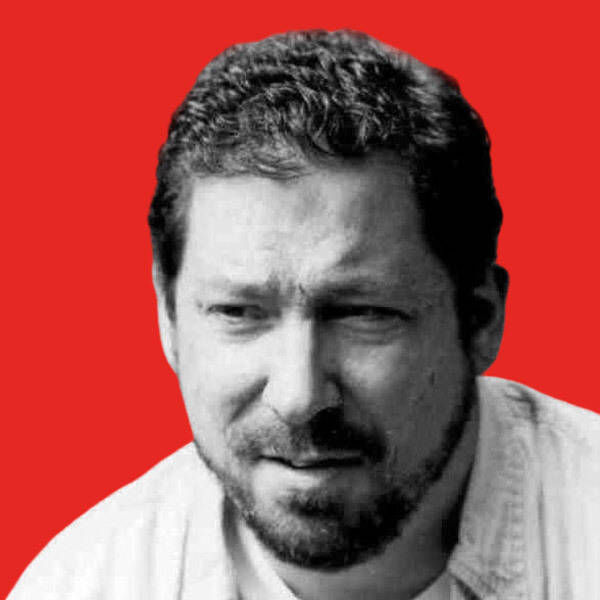 Michael Atkinson
is a film reviewer for
In These Times.
He has written or edited many books, including
Exile Cinema: Filmmakers at Work Beyond Hollywood
(
2008
) and the mystery novels
Hemingway Deadlights
(
2009
) and
Hemingway Cutthroat
(
2010
). He blogs at
Zero For Conduct
.