The Stealthy Corporate Scheme to Privatize Pittsburgh's Water System
When private companies take over public water systems, service often deteriorates. Pittsburgh could be next.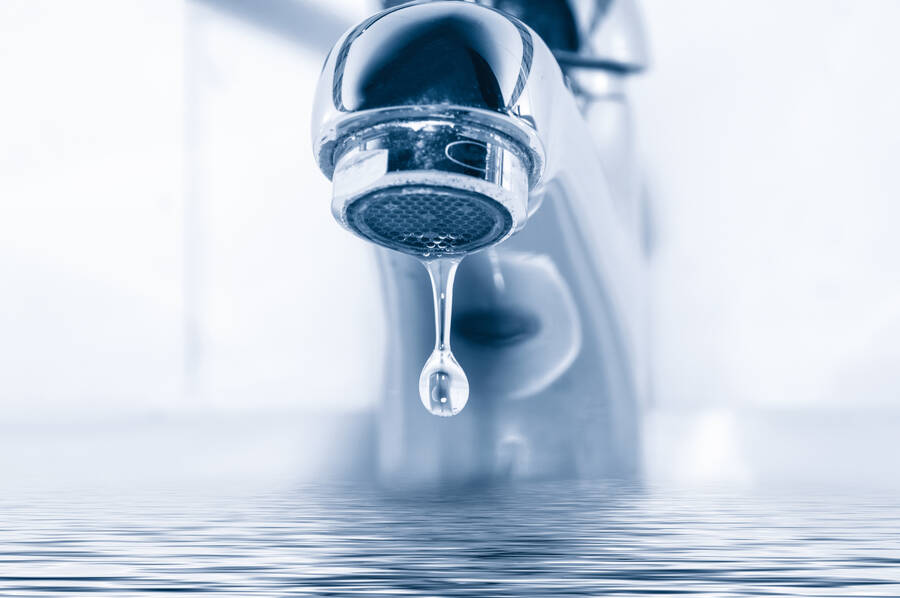 It's no secret that cor­po­ra­tions have their sights set on the Pitts­burgh Water and Sew­er Author­i­ty (PWSA). The pub­licly-owned sys­tem has been in the news for safe­ty vio­la­tions and a lead prob­lem linked to a dis­as­trous pri­va­ti­za­tion scheme just a few years ago.
Pittsburgh knows the perils of privatization.
But bad head­lines don't cause the pri­va­tiz­ers to give up. If any­thing, they're get­ting craftier.
The most recent news on this front came with the sur­prise announce­ment in Octo­ber that pri­vate water pow­er­house Aqua Amer­i­ca was buy­ing Peo­ples Gas, which is the local gas com­pa­ny. Why would a water com­pa­ny swoop in to buy a gas com­pa­ny? Food and Water Watch, the advo­ca­cy orga­ni­za­tion I work for, has bat­tled water pri­va­ti­za­tion around the world for over a decade, and that expe­ri­ence leads us to sus­pect this isn't about tak­ing over a gas com­pa­ny. It's a round­about plan to pri­va­tize Pittsburgh's water sys­tem by buy­ing up the gas util­i­ty that has also been tar­get­ing the water system.
For months, Peo­ples Gas had been sell­ing the city on what it was call­ing a strate­gic pub­lic-pri­vate part­ner­ship. The com­pa­ny would replace aging lines and build a mas­sive new treat­ment facil­i­ty to boot — some­how with­out rais­ing rates. As you might expect, the details were scarce.
City offi­cials, includ­ing May­or Bill Pedu­to, have been care­ful­ly and con­spic­u­ous­ly pledg­ing to keep PWSA in pub­lic hands, while appear­ing very open to the company's pitch. But even if a pri­vate com­pa­ny does not buy the sys­tem out­right, giv­ing a prof­it-seek­ing cor­po­ra­tion pow­er to make key deci­sions or deter­mine user rates is not a ​"part­ner­ship." It's a form of pri­va­ti­za­tion, and one that would leave Pitts­burgh res­i­dents pay­ing more while hav­ing less con­trol over their future.
There's been a flur­ry of cor­po­rate water pri­va­ti­za­tion in Penn­syl­va­nia, thanks to a recent law that fur­ther encour­ages con­sol­i­da­tion and pri­va­ti­za­tion. Aqua Amer­i­ca is one of the key play­ers, and it's quite pos­si­ble that the com­pa­ny sim­ply deter­mined that buy­ing the local gas com­pa­ny gives it the inside track on the water company.
There's no doubt that Pittsburgh's water sys­tem needs seri­ous atten­tion. The scope of the prob­lem might lead some to think that pri­vate water com­pa­nies are the only ones that know how to turn things around. But pri­vate com­pa­nies are not char­i­ties. When a for-prof­it cor­po­ra­tion promis­es to erase debt and replace aging water pipes, we should ask, ​"What's the catch?"
With bil­lions of dol­lars need­ed to over­haul pub­lic works projects like water or sew­er sys­tems, the privatizer's pitch can be entic­ing: We'll make the invest­ments to deliv­er 21st cen­tu­ry ser­vice, and we'll relieve you of the bur­den of ongo­ing main­te­nance. But the record shows that when pri­vate com­pa­nies take over pub­lic water sys­tems, ser­vice can actu­al­ly dete­ri­o­rate, and those cost­ly upgrades that were promised wind up hit­ting your pock­et­book for many years into the future.
Pitts­burgh knows the per­ils of pri­va­ti­za­tion. After PWSA decid­ed to turn to the Paris-based Veo­lia cor­po­ra­tion to pro­vide man­age­ment ser­vices — under a con­tract that actu­al­ly gave them extra mon­ey for find­ing ​"cost sav­ings" — the results were disastrous.
Thank­ful­ly, oth­er cities are learn­ing from these mis­takes, and are fight­ing back. A com­mu­ni­ty effort in Atlantic City, NJ pro­tect­ed the pub­lic water sys­tem from pri­va­ti­za­tion. And in Bal­ti­more, res­i­dents took a his­toric step this year by vot­ing to ban any sale or lease of their sys­tem, becom­ing the first major city in the coun­try to take such a bold step to pro­tect pub­lic water.
Say­ing no to any form of pri­va­ti­za­tion is the right start. But cities still need to come up with cred­i­ble plans to pro­vide clean, afford­able drink­ing water. Pitts­burgh May­or Pedu­to has been say­ing it could cost $2 bil­lion to replace the city's crum­bling infra­struc­ture. PWSA recent­ly unveiled its own blue­print that pegged the cost at half that much in just 5 years.
That's real mon­ey, of course — but the point of throw­ing around num­bers like that can often be to make folks think that the we're bet­ter off let­ting a pri­vate com­pa­ny fig­ure it out. But the bill to pay for clean water for Pitts­burgh, or any­where else, will come due no mat­ter what. A pri­vate com­pa­ny might promise to do it for less, but rest assured that they have a long-term plan that will cost even more.
Ide­al­ly, the fed­er­al gov­ern­ment would ded­i­cate the resources to improve our nation's infra­struc­ture. Leg­is­la­tion like the Water Afford­abil­i­ty, Trans­paren­cy, Equi­ty and Reli­a­bil­i­ty (WATER) Act pro­vides a roadmap for tack­ling the clean water cri­sis nation­al­ly. But in the mean­time, Pitts­burgh can pur­sue oth­er ways to find the resources nec­es­sary to get this job done. The city could use munic­i­pal bonds to finance repairs, which is an afford­able and account­able alter­na­tive to cor­po­rate financ­ing. The recent announce­ment that PWSA secured $50 mil­lion from the state to replace dan­ger­ous lead pipes shows anoth­er way the city can get the job done in a cost-effec­tive manner.
Pitts­burgh has made the pri­va­ti­za­tion mis­take already. PWSA belongs to the peo­ple, not Aqua Amer­i­ca or Peo­ples Gas.
Doug Shields
is a for­mer Pitts­burgh City Coun­cil mem­ber and the West­ern Penn­syl­va­nia Out­reach Liai­son for Food
&
amp; Water Watch.