Plant Workers Fight Bain On Job Outsourcing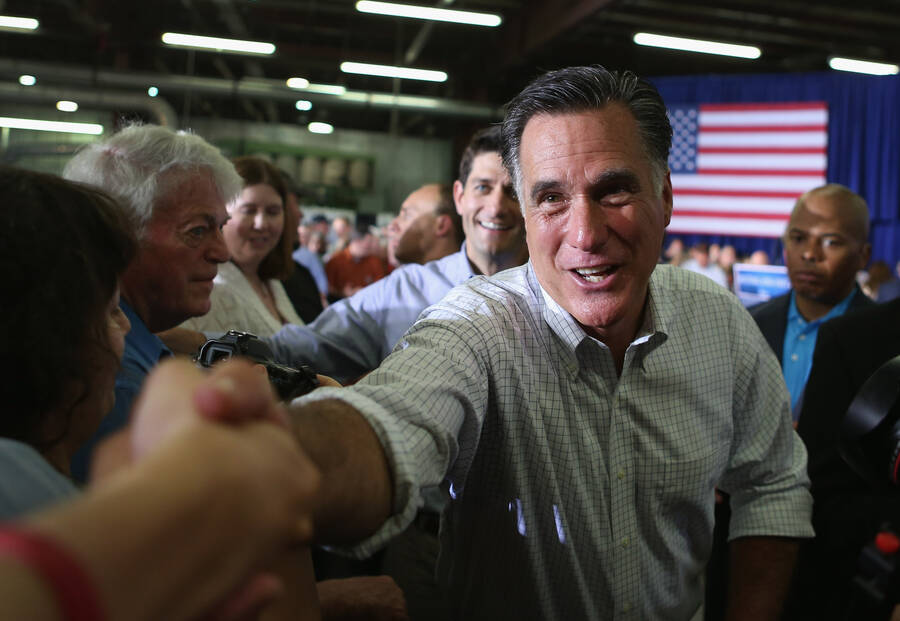 A man­u­fac­tur­ing and devel­op­ing plant in Freeport, Ill., which is owned by Bain Cap­i­tal, the pri­vate equi­ty firm Repub­li­can pres­i­den­tial nom­i­nee Mitt Rom­ney co-found­ed and was CEO of until 1999, is plan­ning on out­sourc­ing 150 full-time posi­tions to China.
Many work­ers at the Sen­sa­ta Tech­nolo­gies plant — along with com­mu­ni­ty orga­niz­ers, reli­gious lead­ers and labor lead­ers from around the state — have began speak­ing out, urg­ing the com­pa­ny to reconsider.
​"This area is hurt­ing already," George Ben­son, pres­i­dent of the Freeport chap­ter of the NAACP, said. ​"The unem­ploy­ment rate is already above the state aver­age. This is just a move by some rich folks to make more mon­ey, to become rich­er. They are send­ing these expe­ri­enced work­ers' jobs over­seas just for mon­ey. They just keep lin­ing their pock­ets. This just isn't in Freeport, this is all over. We have to stand against it. It's a big fight. But it's an impor­tant fight worth being in."
The employ­ees — who man­u­fac­ture sen­sors that are sold to auto man­u­fac­tures — were told in ear­ly 2011 that the plant would be clos­ing in Decem­ber 2012. They are cur­rent­ly train­ing their Chi­nese replace­ments, who have been flown in by Bain to the Illi­nois plant. ​"This just adds insult to injury," said Cheryl Ran­deck­er, a Sen­sa­ta employ­ee. ​"They're going to be here three months and they're not going to leave know­ing every­thing they need to know."
Last week, work­ers from the Sen­sa­ta plant staged a protest out­side of the plant against the out­sourc­ing. Many of the work­ers also staged a protest on June 18 where they urged Rom­ney, who was in near­by Wis­con­sin, to come to Freeport and learn how the out­sourc­ing would adverse­ly affect the com­mu­ni­ty. Work­ers from the plant are cur­rent­ly writ­ing Rom­ney a let­ter in which they ask him to inter­vene and stop the out­sourc­ing of their jobs. The work­ers are plan­ning an action for July 8 that will take place at the plant. No fur­ther men­tion of what the action would entail was men­tioned, but the work­ers have request­ed that mul­ti­ple labor and com­mu­ni­ty coali­tions from around the state come in solidarity.
Though Rom­mey hasn't worked for Bain in more than a decade, the work­ers and their sup­port­ers say that he still is mak­ing mon­ey from the pri­vate equi­ty firm that is out­sourc­ing the Sen­sa­ta jobs.
​"We've seen how destruc­tive out­sourc­ing is to com­mu­ni­ties," Carl Rosen, pres­i­dent of the west­ern region of the Unit­ed Elec­tric union, said in a con­fer­ence call. ​"When cor­po­ra­tions pick up and leave they leave areas like Freeport hurt­ing. When the jobs end up in Chi­na, often times the work­ers there are exploit­ed very bad­ly. It (out­sourc­ing) is a race to the bot­tom. Rom­ney says he wants to save small town Amer­i­ca, but yet a com­pa­ny he helped found is destroy­ing a small town in Amer­i­ca and he's going to make mon­ey off of it. These work­ers and their fam­i­lies are being dropped on the street so Bain Cap­i­tal and Rom­ney can make a few more dollars."
Ran­deck­er, an employ­ee of Sen­sa­ta for 33 years and one of the key orga­niz­ers against the out­sourc­ing, said her life has been turned upside down.
​"Every­thing has changed," Ran­deck­er said. ​"I'm five months away from unem­ploy­ment. I'm a sin­gle par­ent with a daugh­ter. I don't wor­ry about myself as much as I do her now. I was able to send her to a good four-year uni­ver­si­ty because I had a good job. After I found out I was going to lose my job, I had to tell her I couldn't afford to pay for her school any­more. She had to move back home and enroll in a com­mu­ni­ty col­lege in Freeport because I wasn't going to be able to afford her school with­out my job."
Accord­ing to the employ­ees and com­mu­ni­ty orga­niz­ers speak­ing dur­ing the con­fer­ence call, Sen­sa­ta report­ed $2 bil­lion net rev­enue last year. ​"How can they make so much mon­ey, and still want to cut costs by out­sourc­ing jobs like the ones in Freeport?" Rosen asks.