How Monsanto Captured the EPA—And Twisted Science—To Keep Glyphosate on the Market
Since 1973, Monsanto has cited dubious science, like tests on the uteri of male mice, and the EPA has let much of it slide.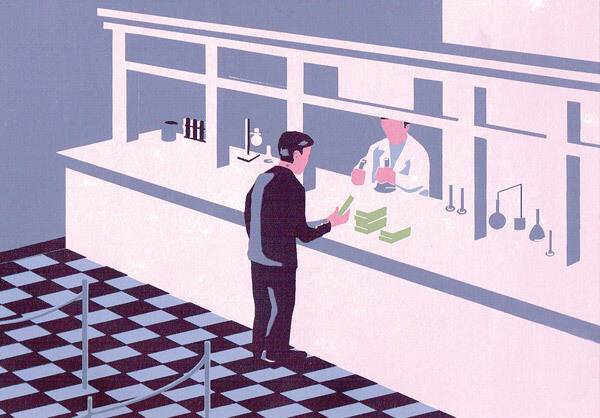 In April 2014, a small grass­roots group called Moms Across Amer­i­ca announced that it had test­ed 10 breast milk sam­ples for glyphosate, and found the chem­i­cal in three of them. Glyphosate is the world's most wide­ly used her­bi­cide and the pri­ma­ry ingre­di­ent of Roundup. Although the lev­els of glyphosate found by Moms Across Amer­i­ca were below the safe­ty lim­its the U.S. Envi­ron­men­tal Pro­tec­tion Agency (EPA) has set for drink­ing water and the U.S. Depart­ment of Agri­cul­ture (USDA) has set for food, the results caused a stir on social media.
The EPA's Locke also pointed out that it is 'difficult not to doubt the scientific integrity of a study when the [lab] stated that it took specimens from the uteri (of male rabbits).' (A male rabbit does not have a uterus.)
The Moms Across Amer­i­ca test­ing was not part of any for­mal sci­en­tif­ic study, but Mon­san­to — the own­er of the Roundup trade­mark and the pre­mier glyphosate man­u­fac­tur­er — jumped to defend its most prof­itable pes­ti­cide based on a new study that found no glyphosate in breast milk. But this research, pur­port­ed to be ​"inde­pen­dent," was actu­al­ly backed by the cor­po­ra­tion itself.
"Any­body who finds out about this is not going to trust a chem­i­cal com­pa­ny over a mom, even if [that mom] is a stranger," says Moms Across Amer­i­ca founder Zen Hon­ey­cutt. ​"A mother's only spe­cial inter­est is the well-being of her fam­i­ly and her com­mu­ni­ty." Hon­ey­cutt says she has been sharply crit­i­cized for the breast milk project because it was not a for­mal sci­en­tif­ic study. But she says her inten­tion was ​"to find out whether or not glyphosate was get­ting in our breast milk, and if it was, to have fur­ther sci­en­tif­ic stud­ies con­duct­ed and there­fore to pro­voke a move­ment so that poli­cies would be changed."
Every­one is exposed to glyphosate: Residues of the her­bi­cide are found in both fresh and processed foods, and in drink­ing water nation­wide. More and more research sug­gests that glyphosate expo­sure can lead to numer­ous health issues, rang­ing from non-Hodgkin lym­phoma and kid­ney dam­age to dis­rup­tion of gut bac­te­ria and improp­er hor­mone functioning.
The Moms Across Amer­i­ca episode fits a pat­tern that has emerged since 1974, when the EPA first reg­is­tered glyphosate for use: When ques­tions have been raised about the chemical's safe­ty, Mon­san­to has ensured that the answers serve its finan­cial inter­ests, rather than sci­en­tif­ic accu­ra­cy and trans­paren­cy. Our two-year inves­ti­ga­tion found incon­tro­vert­ible evi­dence that Mon­san­to has exert­ed deep influ­ence over EPA deci­sions since glyphosate first came on the mar­ket — via Roundup — more than 40 years ago.
We have close­ly exam­ined the pub­licly avail­able archive of EPA doc­u­ments from the ear­li­est days of the agency's con­sid­er­a­tion of glyphosate. Sig­nif­i­cant por­tions of the rel­e­vant doc­u­ments have either been par­tial­ly redact­ed or omit­ted entire­ly. But this archived mate­r­i­al reveals that EPA staff sci­en­tists, who found much of the data sub­mit­ted by Mon­san­to unac­cept­able, did place great weight upon a 1983 mouse study that showed glyphosate was carcinogenic.
Yet their inter­pre­ta­tion was sub­se­quent­ly reversed by EPA upper man­age­ment and advi­so­ry boards, appar­ent­ly under pres­sure from Mon­san­to. In years to come, that piv­otal 1983 mouse study would be buried under lay­ers of mis­lead­ing analy­sis to obscure its mean­ing. Today, the EPA and Mon­san­to con­tin­ue to cite that study as evi­dence that glyphosate pos­es no pub­lic health risk, even though the study's actu­al evi­dence indi­cates otherwise.
Mean­while, the EPA has over­looked a grow­ing body of research sug­gest­ing glyphosate is dan­ger­ous. In March 2015, the Inter­na­tion­al Agency for Research on Can­cer (IARC) deter­mined that glyphosate is ​"prob­a­bly car­cino­genic to humans" based on mul­ti­ple peer-reviewed stud­ies pub­lished since 2001. But the EPA has not changed its clas­si­fi­ca­tion. Instead, the agency issued a rebut­tal in Sep­tem­ber 2016 that said its sci­en­tists ​"did not agree with IARC" — and cit­ed that 1983 mouse study as evi­dence of non-carcinogenicity.
Con­tro­ver­sy con­tin­ues to swirl around EPA management's cozy rela­tion­ship with Mon­san­to. The agency's Office of Inspec­tor Gen­er­al, an inde­pen­dent over­sight body, is cur­rent­ly inves­ti­gat­ing whether a for­mer deputy direc­tor in the EPA's Office of Pes­ti­cide Pro­grams, Jess Row­land, col­lud­ed with Mon­san­to to ​"kill" a Depart­ment of Health and Human Ser­vices inves­ti­ga­tion into glyphosate prompt­ed by the release of the IARC report. On April 28, 2015, Dan Jenk­ins, a Mon­san­to reg­u­la­to­ry affairs man­ag­er, emailed his col­leagues that Row­land had told him, ​"If I can kill this, I should get a medal."
In the mean­time, peo­ple across the coun­try are suing Mon­san­to, alleg­ing that their health prob­lems and the deaths of their loved ones are con­nect­ed to glyphosate. At least 1,100 such cas­es are wend­ing their way through state courts, and an addi­tion­al 240 through fed­er­al courts.
To under­stand how we got to this point, we must exam­ine how this four-decade-old dam of selec­tive inter­pre­ta­tion and indus­try inter­fer­ence — that is now leak­ing bad­ly — was method­i­cal­ly assembled.
GLYPHOSATE USE EXPLODES
In 1974, 1.4 mil­lion pounds of glyphosate were sprayed across U.S. farm and ranch­land. By 2014, 276 mil­lion pounds were applied. Glyphosate use began to mush­room in the 1990s when the USDA approved Monsanto's request to mar­ket corn, soy and cot­ton seeds that had been genet­i­cal­ly engi­neered to resist Roundup.
In the Unit­ed States, the EPA has reg­is­tered glyphosate for use on more than 100 crops, includ­ing wheat, rice, oats, bar­ley and alfal­fa. In Cal­i­for­nia alone in 2015, more than 11 mil­lion pounds of glyphosate were used on crops, includ­ing almonds, avo­ca­dos, can­taloupes, oranges, grapes and pis­ta­chios. In the wake of the IARC clas­si­fi­ca­tion, this past March, Cal­i­for­nia labeled glyphosate a car­cino­gen under the state's Propo­si­tion 65 pro­gram, which requires busi­ness­es to noti­fy con­sumers of car­cino­genic chem­i­cals in their prod­ucts. Mon­san­to has fought this in court but so far has not prevailed.
Glyphosate is used world­wide, in more than 160 coun­tries. In 2015, Monsanto's sales of pes­ti­cides report­ed­ly brought in $4.76 bil­lion — much of it fueled by the sales of glyphosate used on fields plant­ed with the company's glyphosate-resis­tant GMO seeds like Roundup Ready Soybeans.
While the Cen­ters for Dis­ease Con­trol and Pre­ven­tion (CDC) reg­u­lar­ly mea­sures Amer­i­cans' blood and urine for more than 200 indus­tri­al chem­i­cals (includ­ing pes­ti­cides), glyphosate is not among those tracked. The USDA has declined to test for glyphosate in food prod­ucts, but the FDA recent­ly restart­ed its pro­gram mon­i­tor­ing glyphosate in food, although its data is not yet available.
In the absence of good gov­ern­ment data, var­i­ous non­govern­men­tal orga­ni­za­tions have com­mis­sioned test­ing of food for the herbicide's residues. The most recent such test­ing, by Food Democ­ra­cy Now, found glyphosate in Hon­ey Nut Chee­rios, Ritz crack­ers, Ore­os, Dori­tos and Lay's pota­to chips. Pre­vi­ous Euro­pean tests have found residues in bread and beer.
MON­SAN­TO WRITES THE REGULATIONS
In the
1970
s, the pes­ti­cide land­scape was far dif­fer­ent from today's. Many more very tox­ic com­pounds were on the mar­ket, includ­ing toxaphene (banned in
1990
), endrin (banned in
1986
) and chlor­dane (banned in
1988
). In con­trast, glyphosate appeared to be non­tox­ic. Reg­u­la­tors assumed that because glyphosate worked on a meta­bol­ic path­way found only in plants, it would be harm­less to humans.
The EPA was only four years old when glyphosate entered the mar­ket in
1974
, and the agency was faced with a large col­lec­tion of chem­i­cals to review. At the time, pro­to­cols for tox­i­col­o­gy test­ing were rel­a­tive­ly flu­id, and it took the EPA until
1986
to final­ize its guide­lines. Yet the EPA's analy­sis of glyphosate still relies heav­i­ly on the ini­tial data.
The ear­li­est exam­ple we have found of Mon­san­to attempt­ing to reduce the per­cep­tion of glyphosate tox­i­c­i­ty is from May 1973, the year before glyphosate was reg­is­tered. That was when biol­o­gist Robert D. Cober­ly at the EPA's Tox­i­col­o­gy Branch (TB) Reg­is­tra­tion Divi­sion rec­om­mend­ed that, due to the herbicide's ten­den­cy to cause eye irri­ta­tion, the word ​"Dan­ger" should appear on the label of a Roundup for­mu­la­tion Mon­san­to was seek­ing to register.
In Novem­ber 1973, Mon­san­to senior staffer L.H. Han­nah wrote a let­ter to the EPA that — as TB staff described in a memo to the Reg­is­tra­tion Divi­sion — ​"protest­ed our rec­om­men­da­tion" that ​"Dan­ger" appear on the prod­uct label. The TB staff wrote that Mon­san­to sug­gest­ed the eye irri­ta­tion observed in the test­ing was caused by ​"a sec­ondary infec­tion in pre­vi­ous­ly irri­tat­ed eyes," rather than the her­bi­cide. EPA staff were reluc­tant to back down, but Mon­san­to per­sist­ed. The entire cor­re­spon­dence is not avail­able, but in Jan­u­ary 1976 Mon­san­to asked to have the ​"sig­nal" word on the label changed from ​"Dan­ger" to ​"Cau­tion." In June 1976, the EPA agreed to Monsanto's request.
GARBAGE IN, GARBAGE OUT
Through­out the 1970s, EPA staff repeat­ed­ly raised red flags about the inad­e­qua­cy of test­ing data that Mon­san­to was sub­mit­ting in sup­port of glyphosate's orig­i­nal reg­is­tra­tion. For exam­ple, in an August 1978 memo, TB sci­en­tist Krysty­na Locke raised con­cerns about a Mon­san­to study in which the sci­en­tists from the con­tract lab had failed to record what hap­pened in the exper­i­ment. Locke quot­ed Mon­san­to sci­en­tist Robert Roud­abush, who defend­ed the study this way: ​"The sci­en­tif­ic integri­ty of a study should not be doubt­ed because of the inabil­i­ty to observe all pri­ma­ry record­ing of data." In oth­er words, the EPA should not be con­cerned by the absence of data. It should sim­ply trust the study's conclusions.
The EPA's Locke also point­ed out that it is ​"dif­fi­cult not to doubt the sci­en­tif­ic integri­ty of a study when the [lab] stat­ed that it took spec­i­mens from the uteri (of male rab­bits)." (A male rab­bit does not have a uterus.)
This is only the most egre­gious exam­ple of the unre­li­able data made avail­able to the EPA dur­ing its orig­i­nal reg­u­la­to­ry review in the 1970s. Many oth­er EPA mem­os we exam­ined detail incom­plete or oth­er­wise unac­cept­able tox­i­col­o­gy screen­ing tests.
Con­verse­ly, one appar­ent­ly valid study has been the tar­get of major attempts to dis­cred­it it by both EPA man­age­ment and Big Ag. In 1983, the EPA was con­tin­u­ing to exam­ine glyphosate tox­i­c­i­ty data sup­plied by Mon­san­to in antic­i­pa­tion of the reg­is­tra­tion review that the Fed­er­al Insec­ti­cide, Fungi­cide and Roden­ti­cide Act (FIFRA) requires for each pes­ti­cide at least every 15 years. As part of that process, Mon­san­to sub­mit­ted to the EPA a two-year mouse feed­ing study — a study that has since become a thorn in Monsanto's side and a drag on the EPA's push to find glyphosate benign. Its his­to­ry mer­its close scrutiny.
The mouse study was con­duct­ed for Mon­san­to by a com­mer­cial lab called Bio/​Dynamics, but the results of the research were nei­ther peer-reviewed nor made pub­licly avail­able. Bio/​Dynamics stud­ied 200 mice: 50 unex­posed con­trol mice and three groups of 50 mice exposed to three dif­fer­ent dos­es of glyphosate. Four of the exposed mice — one at the mid­dle dose and three at the high­est dose — devel­oped kid­ney tumors called ade­no­mas, which tend to be ini­tial­ly benign but can trans­form into cancers.
Staff tox­i­col­o­gists, pathol­o­gists and sta­tis­ti­cians in the TB pro­vid­ed the first inter­pre­ta­tion of these results. On March 4, 1985, an ad hoc com­mit­tee of these sci­en­tists report­ed that based on this mouse study, glyphosate was car­cino­genic, or a ​"Class C" sub­stance. They did not ques­tion the 1983 study's struc­ture or report­ed data. EPA staff tox­i­col­o­gist William Dyk­stra, in an April 3, 1985, memo, stat­ed unequiv­o­cal­ly, ​"Glyphosate was onco­genic in male mice caus­ing renal tubule ade­no­mas, a rare tumor, in a dose-relat­ed manner."
OUT­SIDE EXPERTS
The TB sci­en­tists rec­om­mend­ed fur­ther expert analy­sis, so in the fall of 1985 Mon­san­to recruit­ed four out­side pathol­o­gists to review the orig­i­nal tis­sue slides from the 1983 study and — even­tu­al­ly — fresh slides tak­en from the same ani­mals used in that orig­i­nal study. In a March 11, 1986, memo, Dyk­stra report­ed on the results of this review: One of the out­side pathol­o­gists, Mar­vin Kuschn­er, saw a tumor in the con­trol group of mice like those found in the exposed groups. Based on this find­ing, the EPA decid­ed to dis­count the entire study on the grounds that if an unex­posed con­trol mouse had a tumor, the tumors in the exposed mice were ​"not com­pound-relat­ed." Sub­se­quent eval­u­a­tion of the same evi­dence by oth­er pathol­o­gists found no evi­dence of a tumor in the con­trol mouse, but the seeds of doubt had already been sown. As late as 2016 the EPA still men­tioned the tumor in the con­trol mouse, although it was not there.
Dis­sat­is­fied with the first out­side experts' ver­dict, the EPA asked anoth­er five out­side pathol­o­gists to look at the mouse tis­sue slides from that study. Accord­ing to a March 1, 1986, memo from EPA Haz­ard Eval­u­a­tion Divi­sion tox­i­col­o­gist D. Stephen Saun­ders, these experts decid­ed that ​"the inci­dences of renal tubu­lar-cell neo­plasms in this study are not com­pound-relat­ed" — in oth­er words, that the kid­ney tumors were not relat­ed to glyphosate exposure.
Through­out this process, the EPA was rid­dled with inter­nal dis­sent. In Feb­ru­ary 1985, TB sta­tis­ti­cian Her­bert Lacayo wrote an impas­sioned memo regard­ing the 1983 mouse study. He con­clud­ed that with­out glyphosate expo­sure, the odds of see­ing the kid­ney tumors not­ed in the study were about 156 to 1.
"Under such cir­cum­stances a pru­dent per­son would reject the Mon­san­to assump­tion that glyphosate dos­ing has no effect on kid­ney tumor pro­duc­tion," wrote Lacayo. ​"Our view­point is one of pro­tect­ing the pub­lic health when we see sus­pi­cious data. It is not our job to pro­tect reg­is­trants from false positives."
PASSÉ TOX­I­COL­O­GY
Monsanto's inter­ests were pro­tect­ed by a tox­i­co­log­i­cal tenet that held sway at the time: the lin­ear dose-response. This assumes that the greater the dose of a tox­ic sub­stance, the greater the effects, and vice ver­sa, often phrased as ​"the dose makes the poi­son." Under this assump­tion, a car­cino­genic­i­ty test would be expect­ed to show tumor size or tumor num­bers increas­ing in lin­ear rela­tion to increased expo­sure to the car­cino­gen. In the mouse study, tumor num­bers fol­lowed this pat­tern, which the TB not­ed was an indi­ca­tion that the tumors were glyphosate-relat­ed. But the largest tumor was found in one of the mid­dle-dose mice. Pathol­o­gist Robert A. Squire, a mem­ber of the first out­side group con­sult­ed, wrote in a Sep­tem­ber 1985 let­ter to Mon­san­to, ​"This would be high­ly unlike­ly if the tumors were com­pound-relat­ed." Thus, even though the tumor num­bers fol­lowed a lin­ear dose-response, the tumor size of the mid­dle-dose mouse pre­sent­ed an oppor­tu­ni­ty to dis­count glyphosate's effects as non-lin­ear and there­fore nonexistent.
In some cir­cum­stances, the lin­ear dose-response rea­son­ing makes sense, but the sci­ence of chem­i­cal health effects has advanced con­sid­er­ably since the 1980s. It is now gen­er­al­ly accept­ed among aca­d­e­m­ic researchers that non-lin­ear dose-respons­es — respons­es in which low lev­els of expo­sure may pro­duce more sig­nif­i­cant effects than high lev­els and respons­es in which effects at high dos­es some­times plateau or tail off — often occur.
None of the reg­u­la­to­ry stud­ies of glyphosate con­sid­ers the pos­si­bil­i­ty of non-lin­ear dose-respons­es. The reg­is­tra­tion doc­u­ments sub­mit­ted by Mon­san­to show that when glyphosate test­ing data did not con­form to the lin­ear dose-response mod­el, the company's hired sci­en­tists and the EPA's con­sul­tants con­clud­ed that adverse effects found in exposed ani­mals were not caused by glyphosate. But this out­dat­ed approach under­lines why glyphosate's tox­i­c­i­ty should be revis­it­ed using mod­ern con­cepts and methods.
After a decade of EPA staff sci­en­tists repeat­ed­ly flag­ging incon­sis­ten­cies, mis­takes and ques­tion­able sci­en­tif­ic inter­pre­ta­tions in Monsanto's data, one might expect the EPA to require rig­or­ous new stud­ies. Instead, the agency con­tin­ued to invite out­side experts to review the data, as though it was deter­mined to ask the same ques­tion until it got the answer it was look­ing for.
DON'T LIKE THE ANSWER? ASK AGAIN.
In ear­ly 1986, the EPA called in yet more out­side experts — name­ly, the agency's FIFRA Sci­en­tif­ic Advi­so­ry Pan­el. The sev­en-mem­ber pan­el includ­ed the head of bio­chem­i­cal tox­i­col­o­gy and patho­bi­ol­o­gy at the Chem­i­cal Indus­try Insti­tute of Tox­i­col­o­gy (CIIT). This insti­tute was found­ed by chem­i­cal man­u­fac­tur­ers and fund­ed by orga­ni­za­tions and com­pa­nies that includ­ed the Amer­i­can Chem­istry Coun­cil (an indus­try group that boasts Mon­san­to as a mem­ber), and pes­ti­cide man­u­fac­tur­ers BASF, Bay­er and Dow Chem­i­cal. The pan­el also includ­ed a con­sul­tant who had worked for the ChemA­gro Cor­po­ra­tion (lat­er part of Bayer's agri­cul­tur­al divi­sion) before found­ing her own consultancy.
The FIFRA pan­el felt that call­ing glyphosate car­cino­genic was going too far and sug­gest­ed down­grad­ing its clas­si­fi­ca­tion to D, ​"not classified."
Bio­sta­tis­ti­cian Christo­pher Porti­er, for­mer­ly a direc­tor of the Agency for Tox­ic Sub­stances and Dis­ease Reg­istry (part of the Depart­ment of Health and Human Ser­vices) says the agency should have stuck with the TB ad hoc committee's orig­i­nal inter­pre­ta­tion. Of the FIFRA pan­el, he says, ​"I have no clue how they got there."
At the same time, accord­ing to a Feb­ru­ary 1985 sum­ma­ry memo by Stephen L. Saun­ders, based on the panel's advice, ​"The Agency has deter­mined that the exist­ing mouse study does not pro­vide suf­fi­cient evi­dence for a res­o­lu­tion of this issue. There­fore, a repeat mouse study is required."
Despite the EPA's requests for a clar­i­fy­ing exper­i­ment, Mon­san­to appar­ent­ly refused. Monsanto's reg­is­tra­tion direc­tor George B. Fuller protest­ed vig­or­ous­ly in an Oct. 5, 1988, let­ter to the direc­tor of the EPA's Office of Pes­ti­cide Pro­grams, Edwin F. Tinsworth. "[There is] no rel­e­vant sci­en­tif­ic or reg­u­la­to­ry jus­ti­fi­ca­tion for repeat­ing the glyphosate mouse onco­genic­i­ty study," Fuller wrote. ​"We feel that to do so would not be an appro­pri­ate use of either the Agency's or Monsanto's resources." In a 1988 meet­ing, the com­pa­ny again pressed the EPA to give up on the repeat mouse study require­ment. The EPA backed down.
To our knowl­edge, the orig­i­nal 1983 mouse­feed­ing car­cino­genic­i­ty study was nev­er repeated.
What is clear from avail­able EPA inter­nal records is that when test results sug­gest tox­i­c­i­ty, EPA man­age­ment — as opposed to EPA staff sci­en­tists — con­sis­tent­ly gives Mon­san­to and its test­ing lab­o­ra­to­ries the ben­e­fit of the doubt. They defer to Monsanto's pre­ferred con­clu­sions instead of requir­ing the devel­op­ment of addi­tion­al evi­dence that would clar­i­fy the ques­tions regard­ing glyphosate's car­cino­genic­i­ty. The doc­u­ments we have exam­ined indi­cate that the EPA may have asked for — or intend­ed to enforce a require­ment for — bet­ter data, but we have seen noth­ing to show that the agency ever did so. The EPA did not respond to our request for comment.
Despite these omis­sions and ques­tions, in June 1991, the EPA announced that it was down­grad­ing glyphosate from a ​"Class D" — ​"not clas­si­fi­able" sub­stance — to a ​"Class E" sub­stance — ​"one that shows evi­dence of non-car­cino­genic­i­ty for humans — based on the lack of con­vinc­ing evi­dence in ade­quate stud­ies." (Note that this implies ade­quate stud­ies might still pro­vide con­vinc­ing evidence.)
IARC AWAK­ENS REGULATORS
After the EPA rereg­is­tered glyphosate in
1993
, the agency's inves­ti­ga­tion of glyphosate's poten­tial health effects became more or less dor­mant until con­tro­ver­sy erupt­ed when the World Health Organization's IARC con­clud­ed in
2015
that glyphosate was ​
"
prob­a­bly car­cino­genic to humans." That in turn prompt­ed the EPA to devel­op its Fall
2016
​
"
Glyphosate Issue Paper." This doc­u­ment ref­er­ences the
1983
mouse study as a linch­pin in its con­clu­sion that glyphosate is not a human car­cino­gen. Refer­ring to the
1983
study, the EPA wrote, ​
"
The addi­tion­al patho­log­i­cal and sta­tis­ti­cal eval­u­a­tions con­clud­ed that the renal tumors in male mice were not compound-related."
For its part, Mon­san­to called the IARC review ​
"
flawed" and accused the IARC com­mit­tee of cher­ry-pick­ing and over­look­ing data. Mon­san­to demand­ed the report's retraction.
In a Sep­tem­ber
27
email to In These Times, Mon­san­to spokesper­son Char­la Lord stressed that IARC is not a reg­u­la­to­ry agency and that ​
"
no reg­u­la­to­ry agency in the world has con­clud­ed glyphosate is a car­cino­gen." As not­ed above, how­ev­er, the Cal­i­for­nia Envi­ron­men­tal Pro­tec­tion Agency's Office of Health Haz­ard Assess­ment has done so.
The IARC con­tro­ver­sy and the EPA's sec­ond re-reg­is­tra­tion process for glyphosate, which began in
2009
, have trig­gered a sal­vo of sci­en­tif­ic jour­nal arti­cles and com­ments from the agri­cul­tur­al indus­try. This includes an entire tox­i­col­o­gy jour­nal issue devot­ed to arti­cles (all financed by Mon­san­to) assert­ing glyphosate safe­ty and cast­ing doubt on con­trary results. The appar­ent goal of these com­ments and arti­cles is to dis­cred­it the IARC deci­sion and to influ­ence the EPA's re-reg­is­tra­tion process.
Judg­ing by the stance of the EPA's ​
"
Glyphosate Issue Paper," the cam­paign has suc­ceed­ed. The EPA has not com­mis­sioned or con­duct­ed any of its own stud­ies to exam­ine glyphosate's poten­tial health effects; rather, the EPA doc­u­ment relies on non-pub­lic indus­try research and indus­try-financed reviews. It ignores the sig­nif­i­cant body of peer-reviewed lit­er­a­ture not only on the chemical's car­cino­genic effects, but also on glyphosate's harm­ful effects on fetal devel­op­ment, hor­mon­al bal­ance, gut bac­te­ria and eco­log­i­cal balance.
Indeed, the indus­try reviews are not sim­ply con­ve­nient col­la­tions of rel­e­vant lit­er­a­ture for the EPA — the agency appears to rely on the inter­pre­ta­tions and con­clu­sions of the indus­try-financed sci­en­tists as well, in some cas­es with­out see­ing the orig­i­nal stud­ies. In com­ments sub­mit­ted to the FIFRA Sci­en­tif­ic Advi­so­ry Pan­el on Nov.
3
,
2016
, Nat­ur­al Resources Defense Coun­cil senior sci­en­tist Jen­nifer Sass stated:
NRDC strong­ly dis­agrees with EPA's dis­missal or reduced weight­ing of many of the pos­i­tive stud­ies, and its high­er weight­ing of guide­line stud­ies which are most often the indus­try-spon­sored stud­ies gen­er­at­ed to sup­port reg­u­la­to­ry approval. NRDC is espe­cial­ly con­cerned that EPA relied on a review arti­cle — par­tic­u­lar­ly one spon­sored by the indus­tries whose prod­ucts are the tar­get of this risk assess­ment — instead of the orig­i­nal studies.
John DeSes­so, a prin­ci­pal with the chem­i­cal con­sul­tan­cy Expo­nent, insists the stud­ies and reviews the EPA relied on are sol­id. ​"Cer­tain­ly they relied on those stud­ies, but they hap­pen to be the bet­ter stud­ies that are out there," DeSes­so says. ​"I under­stand peo­ple say­ing of course it came out a cer­tain way because Mon­san­to paid for it." He adds, ​"If it went to the EPA, they don't have the peo­ple to do it or the time to do it them­selves. So they're look­ing for peo­ple stay­ing in the mid­dle of the road and let the data tell the story."
Yet two facts remain: First, the EPA failed to con­sid­er the large body of peer-reviewed sci­ence on glyphosate cur­rent­ly avail­able. Sec­ond, nei­ther the pub­lic nor the sci­en­tif­ic com­mu­ni­ty has access to the orig­i­nal study data from Mon­san­to upon which the EPA bases its claims of glyphosate's safety.
SAFE AS MOTHER'S MILK
In July 2015, five months after IARC con­clud­ed that glyphosate was car­cino­genic, Mon­san­to react­ed pub­licly to Moms Across America's 2014 breast milk sur­vey. The company's response to this small non­prof­it orga­ni­za­tion par­al­lels its lob­by­ing of a fed­er­al agency over the last 40 years, demon­strat­ing that it will seek to dis­cred­it all oppo­si­tion no mat­ter how small. It aggres­sive­ly and pub­licly sowed doubt as it manip­u­lat­ed the sci­ence behind the scenes.
The first pub­lic sal­vo against Moms Across Amer­i­ca came in a July 2015 press release from Wash­ing­ton State Uni­ver­si­ty (WSU). WSU biol­o­gy pro­fes­sor Michelle McGuire was quot­ed as say­ing, ​"The Moms Across Amer­i­ca study flat out got it wrong." The release, which is no longer avail­able at the WSU web site, explained that yet-to-be-pub­lished research by McGuire and her col­leagues showed that glyphosate ​"does not accu­mu­late in mother's milk." The WSU release described McGuire's results as ​"inde­pen­dent­ly ver­i­fied by an accred­it­ed out­side organization."
These asser­tions turned out to be false.
When asked about the study at the time, McGuire, WSU and Mon­san­to all said the study was con­duct­ed inde­pen­dent­ly. Yet the press release not­ed that the study's milk sam­ples were test­ed at Monsanto's lab­o­ra­to­ries in St. Louis, as well as by Cov­ance, Inc. (The com­pa­ny was for­mer­ly named Hazle­ton, which was doing tox­i­col­o­gy test­ing for Mon­san­to as ear­ly as 1979.) When we queried about this in July 2015, McGuire and Mon­san­to explained that Mon­san­to had devel­oped the test method used to mea­sure glyphosate in human milk.
Asked why the com­pa­ny had devel­oped the test method, Mon­san­to explained via email that McGuire's study had, in fact, been con­duct­ed in response to Moms Across America's test results. The Mon­san­to spokesman wrote: ​"After the Moms Across Amer­i­ca results were post­ed, Mon­san­to con­sult­ed with the researchers about the data. We all deter­mined that the most appro­pri­ate way to address the issues was to con­duct anoth­er analy­sis using an ana­lyt­i­cal method­ol­o­gy that was val­i­dat­ed to be pre­cise and spe­cif­ic for the detec­tion of glyphosate in human milk."
In a Sep­tem­ber 25 Biol­o­gy For­ti­fied, Inc. YouTube video, McGuire said the study had ​"a con­flict of inter­est that need­ed to be man­aged real­ly, real­ly care­ful­ly." As the most spe­cif­ic exam­ple of such care­ful man­age­ment, she said that in order to ​"make sure we had an inde­pen­dent or third­par­ty lab ana­lyze the sam­ples," the sam­ples were shipped ​"direct­ly to Cov­ance so it was not like we were going through Monsanto."
Giv­en the close ties between Cov­ance and Mon­san­to, and Monsanto's role in devis­ing the study and devel­op­ing the ana­lyt­i­cal method, McGuire's descrip­tion of the analy­sis as ​"inde­pen­dent" is some­thing of a stretch.
In March 2016, the WSU study was pub­lished by the Amer­i­can Jour­nal of Clin­i­cal Nutri­tion. The study's acknowl­edge­ments detail exten­sive sup­port from Monsanto:
» Three of the study's nine authors are list­ed as Mon­san­to employees.
» Research ​"gifts" of $10,000 are dis­closed from Mon­san­to to McGuire and her co-author (and hus­band) Mark McGuire, in addi­tion to the study costs for which Mon­san­to reim­bursed the McGuires.
» The study's bio­log­i­cal sam­ple test­ing (milk and urine) was paid for by Mon­san­to, and the com­pa­ny was involved in oth­er aspects of the study design and assay development.
Curi­ous­ly, even though the authors includ­ed Michelle and Mark McGuire, the study foot­notes also say that ​"the authors report­ed no fund­ing received for this study" and that authors not employed by Mon­san­to report­ed no con­flicts of inter­est relat­ed to the study.
Fur­ther under­min­ing claims of the study's inde­pen­dence is the fact that the jour­nal that pub­lished McGuire's study is copy­right­ed to the Amer­i­can Soci­ety of Nutri­tion, of which Mon­san­to — along with numer­ous oth­er agri­cul­tur­al and food man­u­fac­tur­ing cor­po­ra­tions — is a ​"sus­tain­ing part­ner." Michelle McGuire is list­ed in her uni­ver­si­ty bio as an Amer­i­can Soci­ety of Nutri­tion spokesperson.
Phil Weller, a WSU spokesper­son, says uni­ver­si­ty sci­en­tists like McGuire ​"are encour­aged to col­lab­o­rate with researchers work­ing in indus­try" and ​"to design their stud­ies in such a way that any sort of bias that might be involved does not influ­ence their results."
BACK TO THE FUTURE
When glyphosate was first reg­is­tered, it no doubt appeared benign com­pared to very tox­ic com­pounds that had been used as pes­ti­cides for decades. But glyphosate usage has bal­looned beyond all expec­ta­tions and, more than four decades lat­er, we have no clear under­stand­ing of the con­se­quences of this increased expo­sure on humans and the environment.
The EPA's reg­u­la­to­ry record on glyphosate is com­pro­mised by miss­ing, incom­plete, hid­den, redact­ed, lost and oth­er­wise faulty infor­ma­tion. The EPA relies on data, most of which is unpub­lished, that is sup­plied by the man­u­fac­tur­er, inter­pret­ed by the indus­try and not pub­licly avail­able. Con­se­quent­ly, a deci­sive and trans­par­ent assess­ment of glyphosate's tox­i­c­i­ty is impos­si­ble. The EPA has nev­er wavered from its deci­sion to dis­miss and min­i­mize the 1983 mouse study, which appears to be valid. The agency has nev­er attempt­ed to repli­cate the study in order to clar­i­fy its results — per­haps because it feared that such evi­dence would demon­strate that glyphosate was indeed a car­cino­gen. Fur­ther­more, it's a pat­tern the agency con­tin­ues to fol­low, dis­count­ing lat­er stud­ies using sim­i­lar argu­ments and research sup­plied by indus­try that have not under­gone inde­pen­dent analysis.
"I gave [the EPA] the ben­e­fit of the doubt in 1986," says Porti­er. ​"I don't give them the ben­e­fit of the doubt in 2017."
Glyphosate is a clear case of ​"reg­u­la­to­ry cap­ture" by a cor­po­ra­tion act­ing in its own finan­cial inter­est while seri­ous ques­tions about pub­lic health remain in limbo.
The record sug­gests that in 44 years — through eight pres­i­den­tial admin­is­tra­tions — EPA man­age­ment has nev­er attempt­ed to cor­rect the prob­lem. Indeed, the pes­ti­cide indus­try touts its for­ward-look­ing, mod­ern tech­nolo­gies as it strives to keep its own research in the clos­et, and relies on ques­tion­able assump­tions and out­dat­ed meth­ods in reg­u­la­to­ry toxicology.
The only way to estab­lish a sci­en­tif­ic basis for eval­u­at­ing glyphosate's safe­ty, as a group of 14 sci­en­tists sug­gest­ed in 2016, would be to make pro­pri­etary indus­tri­al stud­ies pub­lic, put them up against the peer-reviewed lit­er­a­ture and con­duct new stud­ies by researchers inde­pen­dent of cor­po­rate inter­ests — in oth­er words, force some day­light between reg­u­la­tors and the regulated.
Valerie Brown is a jour­nal­ist spe­cial­iz­ing in envi­ron­men­tal health, cli­mate change and micro­bi­ol­o­gy. In
2009
she was hon­ored by the Soci­ety of Envi­ron­men­tal Jour­nal­ists for her writ­ing on epi­ge­net­ics.Eliz­a­beth Gross­man is an award-win­ning jour­nal­ist spe­cial­iz­ing in sci­ence and envi­ron­men­tal issues. She is the author of ​
"
Chas­ing Mol­e­cules," ​
"
High Tech Trash" and oth­er books.