Polar Vortex Shows How Incarcerated Workers Are Bearing the Brunt of Extreme Weather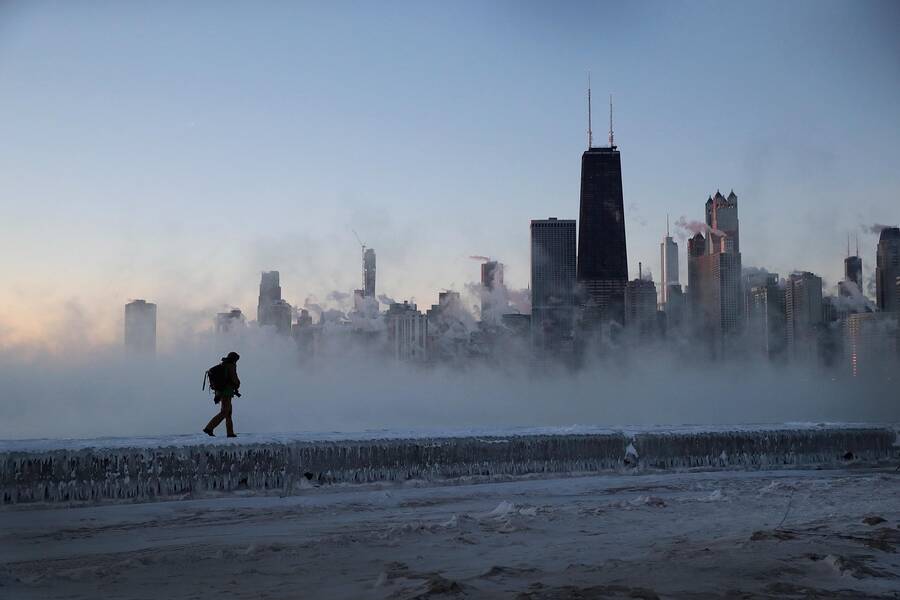 On Jan­u­ary 28, an image of Cook Coun­ty Jail pris­on­ers shov­el­ing snow went viral after it was post­ed on the La Vil­li­ta com­mu­ni­ty Face­book page and then shared by the Chica­go Com­mu­ni­ty Bond Fund. The city of Chica­go was prepar­ing for an arc­tic blast and the pris­on­ers were seen work­ing in cold tem­per­a­tures wear­ing orange jump­suits. Thou­sands of peo­ple shared the image and expressed con­cern about the well-being of the pris­on­ers. This sce­nario is yet anoth­er exam­ple of how incar­cer­at­ed work­ers — toil­ing for lit­tle or no pay — are on the front­lines of extreme weather.
Pre­dictably, the office of Cook Coun­ty Sher­iff Tom Dart sought to exon­er­ate itself in the press. ​"The sit­u­a­tion was entire­ly and inten­tion­al­ly mis­rep­re­sent­ed," said Cara Smith, chief spokesper­son for Dart's office. Smith claimed the pris­on­ers were actu­al­ly wear­ing insu­lat­ed jump­suits, that there was a warm­ing van near­by, and that pris­on­ers were not allowed to work if the tem­per­a­ture dropped under 20 degrees. Numer­ous news out­lets report­ed Smith's quotes with­out dig­ging into their verac­i­ty, even though she pre­sent­ed no evidence.
Smith admit­ted that pris­on­ers were only paid $2 for the work assign­ment, in a jail where at rough­ly 2,700 peo­ple are incar­cer­at­ed sim­ply because they can't afford to pay their bond. Smith sought to jus­ti­fy the noth­ing wage by claim­ing the pris­on­ers were doing work as part of a voca­tion­al job train­ing pro­gram called RENEW. Yet, as Shar­lyn Grace, co-exec­u­tive direc­tor of the Chica­go Com­mu­ni­ty Bond Fund, put it to The Chica­go Tri­bune, ​"I don't think that any­one is seri­ous­ly sug­gest­ing that shov­el­ing snow is a skilled form of labor that's going to lead to job oppor­tu­ni­ties upon release." Pris­on­ers have lit­tle-to-no access to the press, and reporters often make no effort to con­tact them, so it's no sur­prise that none have been quot­ed on the subject.
The lat­est exam­ple at Cook Coun­ty Jail cer­tain­ly isn't the first time that prison labor has been used to respond to or pre­pare for extreme weath­er, nor is it the first time that such a con­tro­ver­sy has made nation­al head­lines. In 2015, Think Progress report­ed that the Mass­a­chu­setts Bay Trans­porta­tion Author­i­ty had used vol­un­teer prison labor to shov­el snow in Boston when the wind­chill was neg­a­tive 25 degrees. The pris­on­ers were paid $3 to $4 a day for their efforts, while non-pris­on­ers doing the same work were paid $30 an hour.
After dead­ly wild­fires hit Cal­i­for­nia this past fall, more than 2,000 pris­on­ers were used to help fight them. While the pris­on­ers fight fires through a voca­tion­al pro­gram offered by the state, they're incen­tivized by earn­ing time off of their sen­tences and they're only paid $2 a day and an addi­tion­al $1 an hour if there is an active fire to fight. While the pris­on­ers could use the work to reduce their sen­tence, once released, they often aren't allowed work as fire­fight­ers due to their record of incar­cer­a­tion. In Cal­i­for­nia, the job can legal­ly be denied to almost any­one with a crim­i­nal record.
Glob­al warm­ing is mak­ing wild­fires, like the ones in Cal­i­for­nia, more extreme. ​"You warm the plan­et, you're going to get more fre­quent and intense heat waves. You warm the soils, you dry them out, you get worse drought," Michael Mann, an atmos­pher­ic sci­ence pro­fes­sor, told PBS last August. ​"You bring all that togeth­er and those are all the ingre­di­ents for unprece­dent­ed wildfires."
Addi­tion­al­ly, many sci­en­tists are now also con­nect­ing intense cold waves to the warm­ing of the Arc­tic, which means that pris­on­ers work­ing in the cold could also tech­ni­cal­ly be on the front­lines of the cli­mate cri­sis. Pris­on­ers have very lit­tle pro­tec­tions, are at great risk of exploita­tion, and details about their con­di­tions are often scarce.
Pana­gi­oti Tsolkas, the coor­di­na­tor for the Cam­paign to Fight Tox­ic Pris­ons, tells In These Times that he also sees the inter­sec­tion of cli­mate change and mass incar­cer­a­tion in the wake of envi­ron­men­tal dis­as­ters. ​"After hur­ri­canes here in Flori­da, pris­on­ers got called out to help with relief efforts," he says.
While pris­on­ers are being used to mit­i­gate cli­mate dis­as­ters, they're among the most vul­ner­a­ble to their impacts. Incar­cer­at­ed peo­ple are often housed in pris­ons that expe­ri­ence extreme heat with­out air con­di­tion­ing. A 2017 report from The Mar­shall Project found that four out of five peo­ple held in Texas pris­ons lack air con­di­tion­ing. In 2014, state pris­on­ers at Wal­lace Pack Unit in Grimes Coun­ty sued their prison after a num­ber of incar­cer­at­ed peo­ple died as a result of the extreme heat. Four years lat­er, a set­tle­ment was reached, and the prison was required to pro­vide air-conditioning.
In 2018, the Texas Inmate Fam­i­lies Asso­ci­a­tion com­piled reports from pris­on­ers' rel­a­tives and found that at least 30 Texas pris­ons had inad­e­quate heat­ing after freez­ing tem­per­a­tures hit the state dur­ing the win­ter. Last year, the Cam­paign to Fight Tox­ic Pris­ons helped orga­nize a pris­on­er strike in the state of Flori­da. The pris­on­ers said one of their inten­tions was to ​"expose the envi­ron­men­tal con­di­tions we face, like extreme temperatures."
Last sum­mer, pris­on­ers orga­nized a nation­wide strike across 17 pris­ons to high­light poor con­di­tions and labor prac­tices. Among their demands was an ​"imme­di­ate end to prison slav­ery. All per­sons impris­oned in any place of deten­tion under Unit­ed States juris­dic­tion must be paid the pre­vail­ing wage in their state or ter­ri­to­ry for their labor." The 13th Amend­ment abol­ished slav­ery but con­tains an exemp­tion that allows invol­un­tary servi­tude as part of a crim­i­nal pun­ish­ment. Chicago's min­i­mum wage is set to increase to $13 an hour this sum­mer, and the pris­on­ers who shov­eled snow this week lag far behind.
"
Michael Arria
is the U.S. cor­re­spon­dent for Mon­doweiss. Fol­low him on Twit­ter: @michaelarria.