The Police Were Created to Control Working Class and Poor People, Not 'Serve and Protect'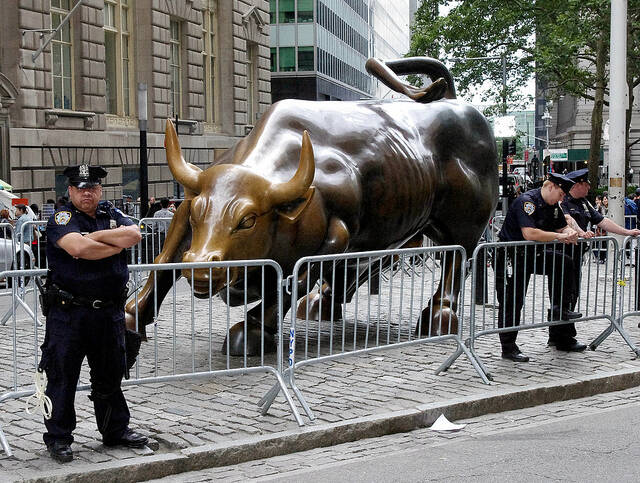 In most of the lib­er­al dis­cus­sions of the recent police killings of unarmed black men, there is an under­ly­ing assump­tion that the police are sup­posed to pro­tect and serve the pop­u­la­tion. That is, after all, what they were cre­at­ed to do.
If only the nor­mal, decent rela­tions between the police and the com­mu­ni­ty could be re-estab­lished, this prob­lem could be resolved. Poor peo­ple in gen­er­al are more like­ly to be the vic­tims of crime than any­one else, this rea­son­ing goes, and in that way, they are in more need than any­one else of police pro­tec­tion. Maybe there are a few bad apples, but if only the police weren't so racist, or didn't car­ry out poli­cies like stop-and-frisk, or weren't so afraid of black peo­ple, or shot few­er unarmed men, they could func­tion as a use­ful ser­vice that we all need.
This lib­er­al way of view­ing the prob­lem rests on a mis­un­der­stand­ing of the ori­gins of the police and what they were cre­at­ed to do.
The police were not cre­at­ed to pro­tect and serve the pop­u­la­tion. They were not cre­at­ed to stop crime, at least not as most peo­ple under­stand it. And they were cer­tain­ly not cre­at­ed to pro­mote jus­tice. They were cre­at­ed to pro­tect the new form of wage-labor cap­i­tal­ism that emerged in the mid- to late-19th cen­tu­ry from the threat posed by that system's off­spring, the work­ing class.
This is a blunt way of stat­ing a nuanced truth, but some­times nuance just serves to obfuscate.
Before the 19th cen­tu­ry, there were no police forces that we would rec­og­nize as such any­where in the world. In the North­ern Unit­ed States, there was a sys­tem of elect­ed con­sta­bles and sher­iffs, much more respon­si­ble to the pop­u­la­tion in a very direct way than the police are today. In the South, the clos­est thing to a police force was the slave patrols.
Then, as North­ern cities grew and filled with most­ly immi­grant wage work­ers who were phys­i­cal­ly and social­ly sep­a­rat­ed from the rul­ing class, the wealthy elite who ran the var­i­ous munic­i­pal gov­ern­ments hired hun­dreds and then thou­sands of armed men to impose order on the new work­ing class neighborhoods.
Class con­flict roiled late-19th cen­tu­ry Amer­i­can cities like Chica­go, which expe­ri­enced major strikes and riots in 1867, 1877, 1886, and 1894. In each of these upheavals, the police attacked strik­ers with extreme vio­lence, even if in 1877 and 1894 the U.S. Army played a big­ger role in ulti­mate­ly repress­ing the work­ing class. In the after­math of these move­ments, the police increas­ing­ly pre­sent­ed them­selves as a thin blue line pro­tect­ing civ­i­liza­tion (by which they meant bour­geois civ­i­liza­tion) from the dis­or­der of the work­ing class. This ide­ol­o­gy of order that devel­oped in the late 19th cen­tu­ry echoes down to today — except that today, poor black and Lati­no peo­ple are the main threat, rather than immi­grant workers.
Of course, the rul­ing class did not get every­thing it want­ed, and had to yield on many points to the immi­grant work­ers it sought to con­trol. This is why, for instance, munic­i­pal gov­ern­ments backed away from try­ing to stop Sun­day drink­ing, and why they hired so many immi­grant police offi­cers, espe­cial­ly the Irish. But despite these con­ces­sions, busi­ness­men orga­nized them­selves to make sure the police were increas­ing­ly iso­lat­ed from demo­c­ra­t­ic con­trol, and estab­lished their own hier­ar­chies, sys­tems of gov­er­nance, and rules of behavior.
The police increas­ing­ly set them­selves off from the pop­u­la­tion by don­ning uni­forms; estab­lish­ing their own rules for hir­ing, pro­mo­tion and fir­ing; work­ing to build a unique esprit des corps and iden­ti­fy­ing them­selves with order. And despite com­plaints about cor­rup­tion and inef­fi­cien­cy, they gained more and more sup­port from the rul­ing class, to the extent that in Chica­go, for instance, busi­ness­men donat­ed mon­ey to buy the police rifles, artillery, Gatling guns, build­ings, and mon­ey to estab­lish a police pen­sion out of their own pockets.
There was a nev­er a time when the big city police neu­tral­ly enforced ​"the law," or came any­where close to that ide­al. (For that mat­ter, the law itself has nev­er been neu­tral.) In the North, they most­ly arrest­ed peo­ple for the vague­ly defined ​"crimes" of dis­or­der­ly con­duct and vagrancy through­out the nine­teenth cen­tu­ry. This meant that the police could arrest any­one they saw as a threat to ​"order." In the post-bel­lum South, they enforced white suprema­cy and large­ly arrest­ed black peo­ple on trumped-up charges in order to feed them into con­vict labor systems.
The vio­lence the police car­ried out and their moral sep­a­ra­tion from those they patrolled were not the con­se­quences of the bru­tal­i­ty of indi­vid­ual offi­cers, but were the con­se­quences of care­ful poli­cies designed to mold the police into a force that could use vio­lence to deal with the social prob­lems that accom­pa­nied the devel­op­ment of a wage-labor economy.
For instance, in the short, sharp depres­sion of the mid-1880s, Chica­go was filled with pros­ti­tutes who worked the streets. Many police­men rec­og­nized that these pros­ti­tutes were gen­er­al­ly impov­er­ished women seek­ing a way to sur­vive, and ini­tial­ly tol­er­at­ed their behav­ior. But the police hier­ar­chy insist­ed that the patrol­men do their duty what­ev­er their feel­ings, and arrest these women, impose fines, and dri­ve them off the streets and into broth­els, where they could be ignored by some mem­bers of the elite and con­trolled by others.
Sim­i­lar­ly, in 1885, when Chica­go began to expe­ri­ence a wave of strikes, some police­men sym­pa­thized with strik­ers. But once the police hier­ar­chy and the may­or decid­ed to break the strikes, police­men who refused to com­ply were fired. In these and a thou­sand sim­i­lar ways, the police were mold­ed into a force that would impose order on work­ing class and poor peo­ple, what­ev­er the indi­vid­ual feel­ings of the offi­cers involved.
Though some patrol­men tried to be kind and oth­ers were open­ly bru­tal, police vio­lence in the 1880s was not a case of a few bad apples — and nei­ther is it today.
Much has changed since the cre­ation of the police — most impor­tant­ly the influx of black peo­ple into the North­ern cities, the mid-twen­ti­eth cen­tu­ry black move­ment, and the cre­ation of the cur­rent sys­tem of mass incar­cer­a­tion in part as a response to that move­ment. But these changes did not lead to a fun­da­men­tal shift in polic­ing. They led to new poli­cies designed to pre­serve fun­da­men­tal con­ti­nu­ities. The police were cre­at­ed to use vio­lence to rec­on­cile elec­toral democ­ra­cy with indus­tri­al cap­i­tal­ism. Today, they are just one part of the ​"crim­i­nal jus­tice" sys­tem which con­tin­ues to play the same role. Their basic job is to enforce order among those with the most rea­son to resent the sys­tem — who in our soci­ety today are dis­pro­por­tion­ate­ly poor black people.
A demo­c­ra­t­ic police sys­tem is imag­in­able — one in which police are elect­ed by and account­able to the peo­ple they patrol. But that is not what we have. And it's not what the cur­rent sys­tem of polic­ing was cre­at­ed to be.
If there is one pos­i­tive les­son from the his­to­ry of policing's ori­gins, it is that when work­ers orga­nized, refused to sub­mit or coop­er­ate and caused prob­lems for the city gov­ern­ments, they could back the police off from the most galling of their activities.
Mur­der­ing indi­vid­ual police offi­cers, as hap­pened in in Chica­go on May 3, 1886 and more recent­ly in New York on Decem­ber 20, 2014, only rein­forced those call­ing for harsh repres­sion — a reac­tion we are begin­ning to see already. But resis­tance on a mass scale could force the police to hes­i­tate. This hap­pened in Chica­go dur­ing the ear­ly 1880s, when the police pulled back from break­ing strikes, hired immi­grant offi­cers, and tried to re-estab­lish some cred­i­bil­i­ty among the work­ing class after their role in bru­tal­ly crush­ing the 1877 upheaval.
The police might be backed off again if the reac­tion against the killings of Eric Gar­ner, Michael Brown, Tamir Rice and count­less oth­ers con­tin­ues. If they are, it will be a vic­to­ry for those mobi­liz­ing today, and will save lives — though as long as this sys­tem that requires police vio­lence to con­trol a big share of its pop­u­la­tion sur­vives, any change in police pol­i­cy will be aimed at keep­ing the poor in line more effectively.
We shouldn't expect the police to be some­thing they're not. We ought to know that ori­gins mat­ter, and the police were cre­at­ed by the rul­ing class to con­trol work­ing class and poor peo­ple, not help them. They've con­tin­ued to play that role ever since.
This post first appeared at the Labor and Work­ing Class His­to­ry Asso­ca­tion blog.