'Police Chose the Klan Over Our People': On Resisting Racism in Charlottesville
When the KKK came to this city, communities mobilized for collective self-defense. Police were not on their side.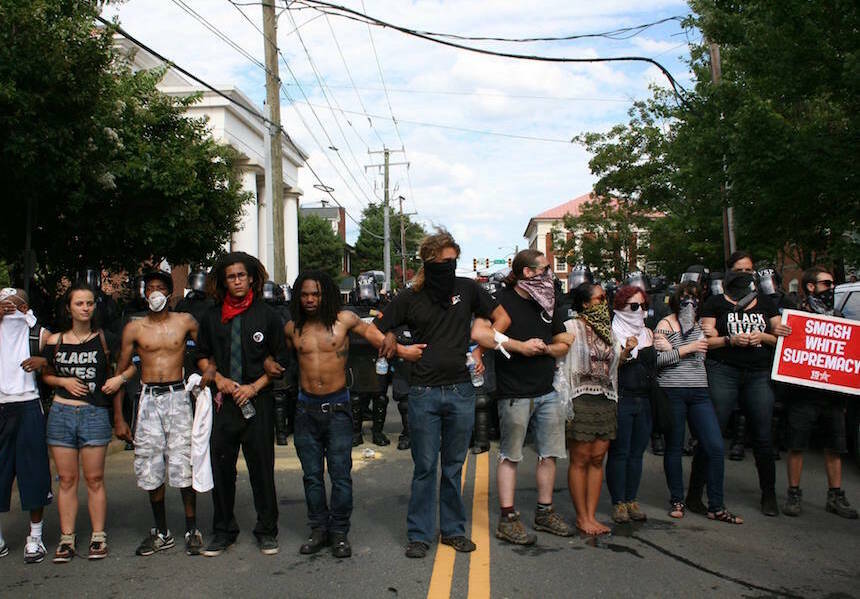 Wel­come to Inter­views for Resis­tance. Since elec­tion night 2016, the streets of the Unit­ed States have rung with resis­tance. Peo­ple all over the coun­try have wok­en up with the con­vic­tion that they must do some­thing to fight inequal­i­ty in all its forms. But many are won­der­ing what it is they can do. In this series, we'll be talk­ing with expe­ri­enced orga­niz­ers, trou­ble­mak­ers, and thinkers who have been doing the hard work of fight­ing for a long time. They'll share their insights on what works, what does­n't, what has changed and what is still the same.
"We are here to protect each other despite the fact that it is very clear that the city and the police are not there to protect us."
Lau­ra Gold­blatt: I am Lau­ra Gold­blatt. I live in Char­lottesville, Vir­ginia and I am post-doc­tor­al fel­low at Uni­ver­si­ty of Virginia.
Mimi Arbeit: Hi, my name is Mimi Arbeit. I am an orga­niz­er with Show­ing Up for Racial Jus­tice, Char­lottesville work­ing to end white suprema­cy and [win] repa­ra­tions in the City of Charlottesville.
Sarah Jaffe: We are talk­ing on Sat­ur­day, after the con­clu­sion of a ral­ly by the Ku Klux Klan and the counter ral­ly that you helped orga­nize. Tell us about how the ral­ly went.
Lau­ra: Today, peo­ple in Char­lottesville showed up in an act of com­mu­ni­ty of self-defense when the city showed that they would not defend us, nor would the police. In that sense, we cel­e­brat­ed our strength as a com­mu­ni­ty and our abil­i­ty to stand with each oth­er and pro­vide some mea­sure of safe space in the midst of a real­ly hos­tile moment.
Peo­ple showed up at the park ear­ly in the day. Peo­ple start­ed with prayers, and more and more peo­ple gath­ered. There was music. There were peo­ple with signs. There was this beau­ti­ful instal­la­tion of a thou­sand cranes, because cranes are a Japan­ese sign of sol­i­dar­i­ty. It is believed that if you fold a thou­sand cranes, you will be grant­ed a wish. So, peo­ple embed­ded in the cranes their wish­es to end white supremacy.
There were thou­sands of peo­ple there. It was a real­ly mov­ing show of the com­mu­ni­ty com­ing out despite the fact that the city had offi­cial­ly dis­cour­aged peo­ple for com­ing and, instead, orga­nized a vari­ety of alter­na­tive events. Then, the police pro­vid­ed safe pas­sage for the Klan to enter the park. They vio­lent­ly removed pro­tes­tors who were stand­ing at the entrance that the Klan had intend­ed to use in order to pre­vent them from enter­ing and from endan­ger­ing our com­mu­ni­ty. Police bru­tal­ly removed those pro­tes­tors. Nonethe­less, activists remained chant­i­ng at the Klan and lin­gered long after fol­low­ing the police as the police, again, pro­vid­ed safe pas­sage to the Klan back to their cars.
Then, fol­low­ing that, the police set off sev­er­al chem­i­cal agents, includ­ing sev­er­al in the vicin­i­ty of activists who they had injured in push­ing them away or push­ing them down. Those activists were in the direct line of those chem­i­cal agents and could not move because they were wounded.
We delayed the Klan. They showed up. Their per­mit was from 3 p.m. to 4 p.m., and they didn't even get into the park until like 3:55 p.m. We could not com­plete­ly pre­vent them from enter­ing — that would have been a big­ger vic­to­ry. But, yes, we delayed them. There were like eight of them and thou­sands of us. We are stronger than them, there are more of us than them. The state and the threat of racist ter­ror­ism can't keep us away.
Mimi: Char­lottesville mobi­lized yes­ter­day. The peo­ple of Char­lottesville came out in high num­bers with strong spir­it and real­ly showed the vibran­cy of our col­lec­tive ener­gy to resist intim­i­da­tion and ini­ti­ate change. What we did see was that the police were there to pro­tect white suprema­cy. The police chose the Klan over our peo­ple. That is excruciating.
Sarah: Let's go back a lit­tle bit. Tell us about the his­to­ry of the Klan in this area. Why did they decide to have this ral­ly here now?
Lau­ra: Part of the rea­son that the Klan is com­ing back is because of the city coun­cil vote to remove the Stonewall Jack­son and Robert E. Lee stat­ues from two pub­lic parks in the area. The Klan has a real­ly long and inti­mate his­to­ry with those stat­ues. The Klan was formed [in Char­lottesville] in 1921 at Thomas Jefferson's grave at Mon­ti­cel­lo. So, they are very close­ly tied with a long his­to­ry that goes all the way back to the found­ing of the Unit­ed States as a sov­er­eign nation in terms of the his­to­ry of white supremacy.
Then, the Klan and var­i­ous sup­port­ers put up these stat­ues. They were actu­al­ly put up over­look­ing what, at the time, were two promi­nent Black com­mu­ni­ties as a way to intim­i­date peo­ple of col­or, Jews and immi­grants in the area. They served as a kind of warn­ing. In a lot of ways, the Klan com­ing back today to this par­tic­u­lar park to ral­ly around this stat­ue was a kind of home­com­ing for them and shows us the ties between his­tor­i­cal white suprema­cy and its per­sis­tence in the city to this day.
Mimi: To talk about his­to­ry, let's start with the per­son who is cred­it­ed with the found­ing of Char­lottesville: Thomas Jef­fer­son, who also found­ed the Uni­ver­si­ty of Vir­ginia (UVA). Thomas Jef­fer­son pop­u­lar­ized white suprema­cist ide­ol­o­gy in this coun­try. The his­to­ry of enslave­ment, the his­to­ry of Thomas Jef­fer­son rap­ing Sal­ly Hem­ings, is con­nect­ed to the his­to­ry of the Lee and Jack­son stat­ues that uphold the vio­lence of the con­fed­er­a­cy and the oppres­sion of slav­ery. The Klan is part of that his­to­ry, too.
What we need to do in Char­lottesville is to con­front the lega­cy of Thomas Jef­fer­son. Thomas Jef­fer­son is still cel­e­brat­ed. There is a fes­ti­val week­end ded­i­cat­ed to cel­e­brat­ing him. The pres­i­dent of UVA, Tere­sa Sul­li­van, ref­er­ences Thomas Jef­fer­son time and again. There are so many things named after Thomas Jef­fer­son. The peo­ple of Char­lottesville need to con­front and be able to betray the racist, rapist lega­cy of Thomas Jef­fer­son in order to tru­ly be ready to do the work of racial justice.
Sarah: You men­tioned briefly the response of the city gov­ern­ment to the Klan decid­ing to have this ral­ly and the police pro­tect­ing them. Talk a lit­tle bit about the dif­fer­ent attempts that were made to stop this from happening.
Lau­ra: Peo­ple had been to city coun­cil meet­ings and had demand­ed that this per­mit be revoked as a mat­ter of pub­lic safe­ty. We reit­er­at­ed that demand for August 12, which will be an even larg­er white suprema­cist real­ly in new­ly named Eman­ci­pa­tion Park, for­mer­ly called Lee Park. We are going to see even more groups, groups that have a real com­mit­ment to vio­lence and have been vio­lent at oth­er sim­i­lar events across the nation. So, activists attend­ed city coun­cil meet­ings and demand­ed that these per­mits be revoked as a mat­ter of pub­lic safety.
Peo­ple wrote let­ters, sent emails, wrote edi­to­ri­als, and the city had said that this is con­sti­tu­tion­al­ly pro­tect­ed free speech and that they can­not revoke the per­mit and these groups are allowed to come despite the threat that they pose to pub­lic safe­ty. Instead, the city has said, ​"You should just ignore them. We will pro­vide oth­er events for you to go to." But, of course, ignor­ing white suprema­cy his­tor­i­cal­ly has not been a win­ning strategy.
Sarah: Tell us about the orga­niz­ing that has been done on that front since the city refused to revoke the per­mit. Talk about how the counter ral­ly came togeth­er today and the ties in the com­mu­ni­ty that are grow­ing out of this organizing.
Lau­ra: There were a bunch of groups that came togeth­er to orga­nize. It was a larg­er coali­tion than we had seen so far in terms of dif­fer­ent groups. One group that was orga­niz­ing was SURJ: Stand­ing Up for Racial Jus­tice. There was a Black Lives Mat­ter chap­ter that was orga­nized. There was a recent­ly formed group called Con­gre­gate C‑Ville, which is a group of faith lead­ers who are real­ly con­cerned about white suprema­cy and racial jus­tice and have come togeth­er in an act of sol­i­dar­i­ty with these oth­er groups.
We saw that there are these oth­er groups, includ­ing EPIC: Equi­ty and Progress in Char­lottesville, which plugs a lot of the events and some peo­ple had cross-pol­li­nat­ed between the two groups. And even some peo­ple from the Indi­vis­i­ble chap­ters of Char­lottesville had come to orga­niz­ing meet­ings. There are also some oth­er local activists who lent their hands.
It was a real­ly, real­ly large ral­ly. It took a lot of orga­niz­ing. All these dif­fer­ent groups were meet­ing to orga­nize action plans, secu­ri­ty, medics, jail sup­port and legal response. MA
Sarah: What are some lessons that you took away from how this ral­ly went that you are plan­ning to put into the plan­ning for the next one?
Lau­ra: One les­son is that our com­mu­ni­ty is strong, and we are look­ing out for each oth­er. We are here to pro­tect each oth­er despite the fact that it is very clear that the city and the police are not there to pro­tect us. That is an old activist les­son, but one that I think was reit­er­at­ed across today. The police are here to pro­tect cap­i­tal­ism. They are here to pro­tect white suprema­cy, and we shouldn't be sur­prised that we see these racist poli­cies in our crim­i­nal jus­tice sys­tem with things like bail bond and the fact that peo­ple can be held because they are too poor to get them­selves out of jail or the ways that peo­ple pros­e­cut­ed for drug crimes in the area.
The oth­er les­son we learned is that these mon­u­ments are sym­bols of white suprema­cy in Char­lottesville, and it is not enough to call for their removal. We have to push for these mate­r­i­al demands. We have to say ​"You can­not get rid of one with­out get­ting rid of the oth­er" and that these two things are linked. We are using this as a way to cat­alyze com­mu­ni­ties in Charlottesville.
Mimi: Ignor­ing the Klan in the 1920s, allowed them to ter­ror­ize and mur­der Black peo­ple. Ignor­ing new white suprema­cist groups today, these ones that are com­ing in August in Char­lottesville, led to their gain in polit­i­cal pow­er, led to their gain of the pres­i­den­cy and has led to harass­ment and vio­lence nation­wide. We must con­front and dis­avow this march on Char­lottesville that is sched­uled of August 12. The local com­mu­ni­ty is ask­ing May­or Sign­er and The City of Char­lottesville to revoke the per­mit for the August 12th ral­ly. This is essen­tial for racial jus­tice and for com­mu­ni­ty safety.
I want peo­ple to see that if Char­lottesville can be a tar­get of racist vio­lence and intim­i­da­tion, com­mu­ni­ties across the coun­try can also be a tar­get of racist vio­lence and intim­i­da­tion. If Char­lottesville can mobi­lize in resis­tance, com­mu­ni­ties across the coun­try can also mobi­lize in resistance.
Inter­views for Resis­tance is a project of Sarah Jaffe, with assis­tance from Lau­ra Feuille­bois and sup­port from the Nation Insti­tute. It is also avail­able as a pod­cast on iTunes. Not to be reprint­ed with­out per­mis­sion.
Sarah Jaffe
is a for­mer staff writer at
In These Times
and author of
Nec­es­sary Trou­ble: Amer­i­cans in Revolt
, which Robin D.G. Kel­ley called ​
"
The most com­pelling social and polit­i­cal por­trait of our age." You can fol­low her on Twit­ter
@sarahljaffe
.