Blood On Their Hands: The Racist History of Modern Police Unions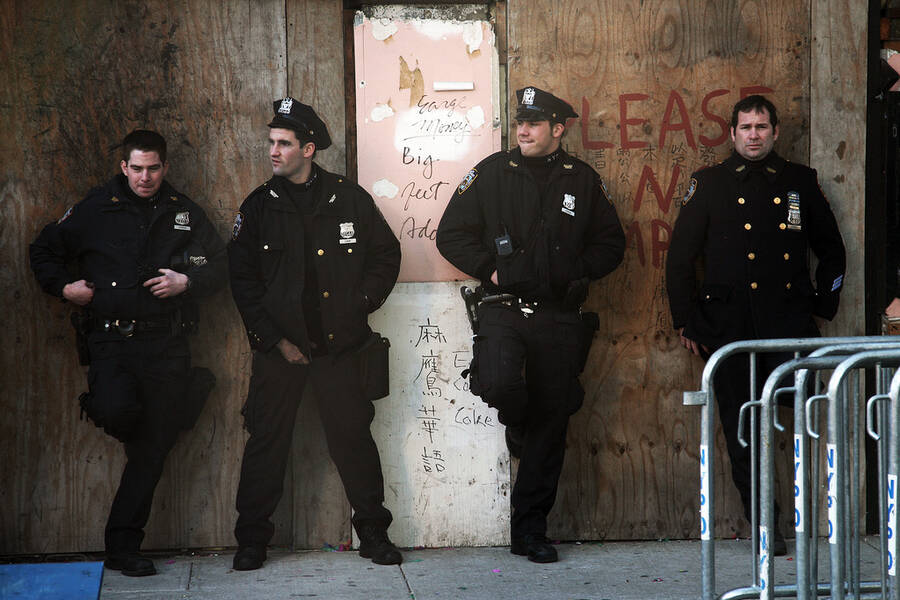 Out­raged by New York City May­or Bill de Blasio's state­ments con­cern­ing the killing of Eric Gar­ner, Patrick Lynch, the long­time leader of the New York City Patrolmen's Benev­o­lent Asso­ci­a­tion (PBA), the NYPD's offi­cers union, recent­ly made the out­ra­geous asser­tion that the May­or had ​"blood on his hands" for the mur­der of the two NYPD offi­cers.
In Mil­wau­kee this past fall, the Police Asso­ci­a­tion called for, and obtained, a vote of no con­fi­dence in MPD Chief Ed Fly­nn after he fired the offi­cer who shot and killed Don­tre Hamil­ton, an unarmed African Amer­i­can; sub­se­quent­ly, the union's leader, Mike Criv­el­lo, praised the Dis­trict Attor­ney when he announced that he would not bring charges against the officer.
In Chica­go, the Fra­ter­nal Order of Police (FOP), a long­time sup­port­er of racist police tor­tur­er Jon Burge, is now seek­ing to cir­cum­vent court orders that pre­serve and make pub­lic the police mis­con­duct files of repeater cops such as Burge, by seek­ing to enforce a police con­tract pro­vi­sion that calls for the destruc­tion of the files after sev­en years. And in a show of sol­i­dar­i­ty with the killer of Michael Brown, Chicago's FOP is solic­it­ing con­tri­bu­tions to the Dar­ren Wil­son defense fund on its website.
Such reac­tionary actions by police unions are not new, but are a fun­da­men­tal com­po­nent of their his­to­ry, par­tic­u­lar­ly since they came to promi­nence in the wake of the civ­il rights move­ment. These orga­ni­za­tions have played a pow­er­ful role in defend­ing the police, no mat­ter how out­ra­geous and racist their actions, and in resist­ing all man­ner of police reforms.
New York
In June 1966, New York City May­or John Lind­say, respond­ing to wide­spread com­plaints of police bru­tal­i­ty, called for a civil­ian review board. Five thou­sand off duty NYPD cops ral­lied at City Hall in oppo­si­tion, and the head of the PBA, lead­ing the cam­paign against civil­ian review, intoned that ​"I am sick and tired of giv­ing in to minor­i­ty groups, with their whims and their gripes and shout­ing. Any review board with civil­ians on it is detri­men­tal to the oper­a­tions of the police depart­ment." Invok­ing the specter of increased crime, the PBA mount­ed a mas­sive pub­lic rela­tions cam­paign against the mea­sure, and it was defeat­ed in a ref­er­en­dum that year.
In 1975, in response to pro­posed bud­get cuts that includ­ed police lay­offs, the PBA ordered a ram­page through the city's black and Puer­to Rican com­mu­ni­ties, with thou­sands of off duty cops wav­ing their guns, bang­ing on trash cans, and blow­ing whis­tles for sev­er­al nights until May­or Abe Beame obtained a restrain­ing order.
Ten years lat­er, after May­or Ed Koch revived the issue of civil­ian review in the wake of a white cop killing Eleanor Bumpurs, an elder­ly and men­tal­ly ill black woman, the PBA again con­demned the idea, staged a work slow­down in response to the attempt­ed pros­e­cu­tion of the offi­cer, Stephen Sul­li­van, and pres­sured Koch into rein­stat­ing Sul­li­van even though he had been crim­i­nal­ly charged with the killing.
In 1992, when David Dink­ins, the first (and only) African-Amer­i­can May­or of New York City sought to imple­ment a civil­ian review agency to inves­ti­gate alle­ga­tions of police mis­con­duct, the PBA orga­nized anoth­er City Hall ral­ly in protest. This time, the crowd of offi­cers num­bered 10,000, with PBA mem­bers hurtling bar­ri­cades, jump­ing on cars, block­ing the Brook­lyn Bridge and kick­ing a reporter. Some of the rally's par­tic­i­pants car­ried signs show­ing Dink­ins with a bushy Afro hair­cut and swollen lips, with racist slo­gans, includ­ing ones that ridiculed him as a ​"wash­room attendant."
In the mid-1990s, the inde­pen­dent Mollen Com­mis­sion, appoint­ed by May­or Dink­ins to inves­ti­gate police cor­rup­tion, doc­u­ment­ed wide­spread police per­jury, bru­tal­i­ty, drug deal­ing and theft in the NYPD, and found that ​"by advis­ing its mem­bers against coop­er­at­ing with law-enforce­ment author­i­ties, the P.B.A. often acts as a shel­ter for and pro­tec­tor of the cor­rupt cop." These find­ings were sec­ond­ed by senior NYPD offi­cials and pros­e­cu­tors who were quot­ed by the New York Times as say­ing that they would con­tin­ue to ​"have trou­ble root­ing out sub­stan­tial num­bers of cor­rupt offi­cers as long as the P.B.A. resists them."
The Times fur­ther quot­ed these offi­cials as com­plain­ing that the PBA, ​"for­ti­fied with mil­lions of dol­lars in annu­al dues col­lec­tions … is one of the most pow­er­ful unions in the city. As an active lob­by­ist in Albany and as a con­trib­u­tor to polit­i­cal cam­paigns, the P.B.A. has enor­mous influ­ence over the depart­ment and is typ­i­cal­ly brought in for con­sul­ta­tions before impor­tant man­age­ment deci­sions are made."
In the Abn­er Louima case, the PBA's role extend­ed beyond reac­tionary advo­ca­cy and agi­ta­tion to active par­tic­i­pa­tion in a con­spir­a­cy to cov­er-up the bru­tal crimes of its mem­bers. In 1997, an NYPD offi­cer sex­u­al­ly assault­ed Louima in a Precinct Sta­tion bath­room by vio­lent­ly shov­ing a bro­ken broom­stick into his rec­tum. His attack­er and three of his police accom­plices were charged with crim­i­nal civ­il rights offenses.
Evi­dence in the crim­i­nal pro­ceed­ings revealed that a PBA offi­cial had chaired an ear­ly meet­ing with the impli­cat­ed offi­cers, one of whom was a PBA del­e­gate, at which they fab­ri­cat­ed a false sto­ry designed to exon­er­ate one of the con­spir­a­tors. Even after the offi­cers were con­vict­ed, the PBA con­tin­ued to defend the offi­cers, both pub­licly and with finan­cial sup­port, and to advo­cate for them with their fab­ri­cat­ed ver­sion of events — with none oth­er than Patrick Lynch claim­ing that ​"peo­ple with a polit­i­cal agen­da have fanned the flames of this inci­dent," lead­ing to an ​"inno­cent man … being pun­ished beyond belief."
More recent­ly, Lynch and the PBA, togeth­er with the NYPD sergeants and cap­tains asso­ci­a­tions, after con­demn­ing Fed­er­al Judge Shi­ra Scheindlin's order that sharply lim­it­ed the NYPD's dis­crim­i­na­to­ry stop and frisk poli­cies, unsuc­cess­ful­ly sought to appeal her order after May­or de Bla­sio made good on his cam­paign promise not to appeal.
And this past year, con­front­ed with anoth­er inde­fen­si­ble case of NYPD vio­lence, PBA Pres­i­dent Lynch again went on the offen­sive. In August, after the med­ical exam­in­er deter­mined that Eric Garner's death at the hands of offi­cer Daniel Pan­ta­leo was a homi­cide by means of a choke­hold, Lynch declared that the exam­in­er was ​"mis­tak­en" in find­ing that the death was a homi­cide, and that he had ​"nev­er seen a doc­u­ment that was more polit­i­cal than that press release by the [med­ical examiner]."
In a clas­sic case of dou­bletalk, he fur­ther assert­ed that it was ​"not a choke­hold. It was bring­ing a per­son to the ground the way we're trained to do to place him under arrest." He chas­tised May­or de Bla­sio for not ​"support[ing] New York City police offi­cers unequivocally."
In Decem­ber, Lynch praised the Stat­en Island Grand Jury's deci­sion not to charge Pan­teleo, while accus­ing Gar­ner of resist­ing arrest, brush­ing off two police mis­con­duct law­suits — one for sex­u­al assault dur­ing a search— brought against Pan­teleo and idol­iz­ing him as ​"lit­er­al­ly an Eagle Scout," a ​"mod­el" cop, and ​"mature, mature" officer.
And once again, the PBA unleashed a work slow­down in fur­ther protest of May­or de Bla­sio that last­ed sev­er­al weeks.
Chica­go
In Chica­go, the Fra­ter­nal Order of Police, which rep­re­sents CPD patrol offi­cers, has a sim­i­lar­ly noto­ri­ous history.
Hand­maid­en to the riot­ing cops who indis­crim­i­nate­ly and bru­tal­ly beat demon­stra­tors at the 1968 Demo­c­ra­t­ic Con­ven­tion, the FOP held a reunion of their 1968 troops in 2009 at the FOP Lodge. They proud­ly dis­played pic­tures of some of the wan­ton police bru­tal­i­ty on their web­site and, in an attempt to rewrite his­to­ry (and the Walk­er Report​'s find­ings of a ​"police riot"), trum­pet­ed that ​"the time has come that the Chica­go Police be hon­ored and rec­og­nized for their con­tri­bu­tions to main­tain­ing law and order — and for tak­ing a stand against Anar­chy. … The Demo­c­ra­t­ic Nation­al Con­ven­tion was about to start and the only thing that stood between Marx­ist street thugs and pub­lic order was a thin blue line of ded­i­cat­ed, tough Chica­go police officers."
In the 1970s and 1980s, the FOP, demon­strat­ing its reac­tionary and racist essence with­in its own ranks, aligned itself against the forces that were fight­ing to bring affir­ma­tive action to the CPD. The Afro Amer­i­can Patrolman's League led the bat­tle and was con­front­ed in their legal strug­gle at every turn by dis­grun­tled white offi­cers and the FOP.
In 1990, the Chica­go City Coun­cil passed a res­o­lu­tion that declared Decem­ber 4 ​"Fred Hamp­ton Day." On Decem­ber 4, 1969, Hamp­ton, a dynam­ic young Black Pan­ther Par­ty leader, was slain in his bed by Chica­go police in what, by 1990, had been doc­u­ment­ed and wide­ly accept­ed in the African-Amer­i­can com­mu­ni­ty as a polit­i­cal­ly moti­vat­ed mur­der. Sur­pris­ing­ly, May­or Richard M. Daley did not oppose the res­o­lu­tion. But the FOP most cer­tain­ly did.
FOP Pres­i­dent John Dineen launched a lob­by­ing cam­paign to repeal the res­o­lu­tion, pub­licly belit­tled the BPP's ser­vice pro­grams and slan­dered Hamp­ton, who was con­sid­ered to be a mar­tyr by many African Amer­i­cans and activists, as a per­son who ​"ded­i­cat­ed his life to killing the pigs." His­to­ry repeat­ed itself in 2006 when, after the City Coun­cil unan­i­mous­ly vot­ed to rename the block where Hamp­ton was mur­dered ​"Chair­man Fred Hamp­ton Way," FOP Pres­i­dent Mark Don­ahue orga­nized the fam­i­lies of slain CPD offi­cers to lob­by for its rescis­sion, while pub­licly voic­ing his cop membership's ​"out­rage" and ​"dis­be­lief" at the decision.
In the ear­ly 1990s, the FOP began its cam­paign— which it con­tin­ues to pur­sue to this day — of defend­ing Jon Burge and his fel­low police tor­tur­ers. In Novem­ber 1991, the emerg­ing evi­dence of a pat­tern of police tor­ture by Burge and his cadre of all-too-will­ing enforcers com­pelled the City of Chica­go to ini­ti­ate admin­is­tra­tive pro­ceed­ings before the Chica­go Police Board in order to fire Burge and two of his co-con­spir­a­tors for the bru­tal elec­tric shock tor­ture of Andrew Wil­son. Since the city was no longer financ­ing the tor­tur­ers' defense, as it had in the civ­il rights dam­ages case brought by Wil­son, the FOP stepped up and glad­ly assumed responsibility.
The FOP and its spin-off orga­ni­za­tion, the Burge‑O'Hara-Yucaitis Fam­i­ly Fund Com­mit­tee (BOY), then set out on a cam­paign that sought not only to raise mon­ey for the defense, but also to vicious­ly attack Burge's vic­tims and the lawyers from the People's Law Office, (includ­ing myself) who had brought much of the damn­ing evi­dence to light. They false­ly accused us of fab­ri­cat­ing the evi­dence of sys­temic tor­ture and of mak­ing mil­lions from expos­ing the scan­dal. They also orga­nized a rau­cous fundrais­er at a local union hall where Burge was lion­ized by thou­sands of cops and prosecutors.
After a six-week evi­den­tiary hear­ing, the Police Board fired Burge and sus­pend­ed one of the oth­er charged offi­cers. Dineen called the deci­sion a ​"trav­es­ty of jus­tice," and only weeks lat­er the FOP announced that it intend­ed to enter a float hon­or­ing Burge and his com­pa­tri­ots in the annu­al South Side Irish Parade — a parade in which Chica­go May­ors and numer­ous oth­er politi­cians reg­u­lar­ly marched. The pub­lic out­rage and cries of racism that fol­lowed the FOP's announce­ment were swift and strong, and the FOP was forced to with­draw the float.
A few years lat­er a fed­er­al judge, quot­ing Mar­tin Luther King's ​"Let­ter from a Birm­ing­ham Jail," ordered that a num­ber of police files that doc­u­ment­ed the sys­temic nature of the tor­ture ​"with all its pus flow­ing ugli­ness" be released ​"to the nat­ur­al med­i­cines of air and light." The FOP inter­vened in the suit, seek­ing to over­turn the order, and con­tin­ued to pur­sue its bat­tle to sup­press the files with an unsuc­cess­ful appeal.
In 2008, the FOP again became active­ly involved in defend­ing Burge after he was indict­ed for per­jury and obstruc­tion of jus­tice for lying under oath about whether he tor­tured African-Amer­i­can sus­pects. The FOP Board, with­out putting it to a vote of its mem­ber­ship, pushed through a res­o­lu­tion to pay for Burge's lawyers in the crim­i­nal case.
Defend­ing its deci­sion, FOP Pres­i­dent Mark Don­ahue assert­ed that Burge, despite the more than 100 doc­u­ment­ed cas­es of tor­ture that had been amassed against him over the years, had been unfair­ly tar­nished by alle­ga­tions from crim­i­nals, and that politi­cians and lawyers for Burge's vic­tims had fueled a media hys­te­ria which ​"caused Jon Burge to be the ​'poster child' of alleged police tor­ture in this city for an entire gen­er­a­tion." Invok­ing what can be described as the FOP's unre­pen­tant mot­to, Don­ahue vowed that it ​"will stand with the police offi­cer every time." A group of African-Amer­i­can offi­cers unsuc­cess­ful­ly chal­lenged the deci­sion in Court, stat­ing, ​"We do not sup­port tor­ture. We do not con­done tor­ture. We do not embrace tor­ture. We will nev­er sup­port that type of behav­ior on the department."
In 2011, Burge, despite his high-priced FOP-financed defense, was con­vict­ed of three felonies and sen­tenced to four-and-a-half years in fed­er­al prison. Nonethe­less, the Police Pen­sion Board, which was com­prised of four for­mer or present CPD offi­cers and four civil­ians, vot­ed 4 – 4 on the ques­tion of whether Burge should be stripped of his pen­sion, which he had been receiv­ing since 1997. By law, the tie was resolved in pen­sion­er Burge's favor.
Illi­nois Attor­ney Gen­er­al Lisa Madi­gan filed suit, seek­ing to reverse the deci­sion, and the FOP defend­ed the rul­ing, with an FOP-financed pri­vate lawyer argu­ing on behalf of Burge. The case was appealed all the way to the Illi­nois Supreme Court, which, in a 4 – 3 deci­sion this past sum­mer, ruled in favor of Burge and the Pen­sion Board.
This appalling his­to­ry is not lim­it­ed to New York, Chica­go or Mil­wau­kee by any means. Oth­er notable exam­ples include Detroit in the mid-1970s, where the Detroit Police Offi­cers Asso­ci­a­tion chal­lenged police reforms and affir­ma­tive action ini­tia­tives which sought to stem ram­pant police bru­tal­i­ty against African Amer­i­cans with a law­suit; after it lost its case, it orches­trat­ed a police riot.
In Los Ange­les in the ear­ly 1990s, African-Amer­i­can May­or Tom Bradley con­demned the state court jury ver­dict which absolved LAPD offi­cers of crim­i­nal charges for bru­tal­ly beat­ing Rod­ney King, by stat­ing that the ver­dict ​"will nev­er blind us to what we saw on that video­tape," and fur­ther stat­ed that ​"the men who beat Rod­ney King do not deserve to wear the uni­form of the LAPD." In response, the L.A. Police Pro­tec­tive League react­ed with a vengeance that, accord­ing to Police Chief Richard Rior­dan, last­ed for years.
And more recent­ly, in Seat­tle, the Police Offi­cers' Guild mount­ed a ver­bal attack on then-May­or Michael McGinn after he stat­ed, in response to the shoot­ing of a Native Amer­i­can word-carv­er, that the Seat­tle police force had no place for offi­cers who did not share his com­mit­ment to racial justice.
Whether unions which rep­re­sent police offi­cers, cor­rec­tion­al guards and oth­er law enforce­ment offi­cers are the same kind of work­ers' orga­ni­za­tions as oth­er unions, which can poten­tial­ly be used to fur­ther the inter­ests of the work­ing class as a whole, has been vig­or­ous­ly con­test­ed by many pro­gres­sives and left­ists over the years. But the dis­turb­ing his­to­ry of these pow­er­ful orga­ni­za­tions makes it very clear that they mir­ror and rein­force the most racist, bru­tal and reac­tionary ele­ments with­in the depart­ments they claim to rep­re­sent and active­ly encour­age the code of silence with­in those depart­ments. They are far from demo­c­ra­t­ic, with offi­cers of col­or and women hav­ing lit­tle or no influence.
In truth, police unions fur­ther the-all-too-accu­rate con­cep­tion that the police are an occu­py­ing force in poor com­mu­ni­ties of col­or, and are anti­thet­i­cal in prin­ci­ple and action to the pro­gres­sive prin­ci­ples of the labor movement.
Flint Tay­lor
is a found­ing part­ner of the People's Law Office in Chica­go. He is one of the lawyers for the fam­i­lies of slain Black Pan­ther lead­ers Fred Hamp­ton and Mark Clark, and togeth­er with his law part­ner Jef­frey Haas was tri­al coun­sel in the marathon
1976
civ­il tri­al. He has also rep­re­sent­ed many sur­vivors of Chica­go police tor­ture, was involved in the strug­gle for repa­ra­tions, and has done bat­tle with the Chica­go Police Depart­ment — and the Fra­ter­nal Order of Police — on numer­ous occa­sions over his
45
year career as a people's lawyer