Post-Occupy, #myNYPD Makes New York's Blood Boil
As Occupier Cecily McMillan stands trial, the city's 99% rediscovers its anger toward the NYPD.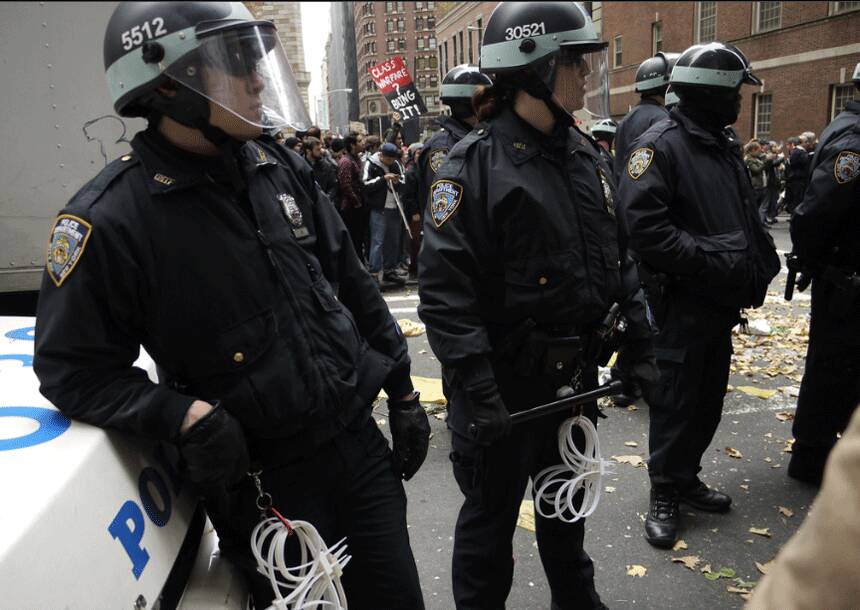 On Tues­day, April 22, the New York City Police Depart­ment had a very bad idea. Some­one at the NYPD decid­ed that the depart­ment could be doing bet­ter with its social media engage­ment and asked peo­ple to tweet pho­tos of them­selves with NYPD offi­cers using the hash­tag #myNYPD.
"At one point, a woman who appeared to be suffering from seizures flopped on the ground in handcuffs as bystanders shouted for the police to remove the cuffs and provide medical attention."
Per­haps pre­dictably, the pho­tos were not what they want­ed. Activists quick­ly flood­ed the hash­tag with pho­tos of vio­lent arrests, many of them from the days of Occu­py Wall Street. The result was that the hash­tag trend­ed, with activists around the world join­ing in, prompt­ing spin­off hash­tags and even gar­ner­ing the notice of the tabloids and the New York Times.
It seems the NYPD does­n't quite under­stand the depth of the city's anger toward the depart­ment, even with a new (well, new-old) com­mis­sion­er under a new may­or who ran a cam­paign against stop-and-frisk. May­or Bill de Bla­sio even went so far as to declare: ​"Now that we've moved away from that bro­ken pol­i­cy, and we've set­tled the law­suits, and we are chang­ing the dynam­ics on the ground between police and com­mu­ni­ty, I think the aver­age offi­cer's hav­ing a much bet­ter experience."
The aver­age offi­cer may be far­ing bet­ter, but a whole lot of New York­ers out there still aren't.
On April 23, the day after #myNYPD hit Twit­ter, I spent the after­noon in a crim­i­nal court­room in Low­er Man­hat­tan lis­ten­ing to some rea­sons why New York­ers don't feel safer with police around. Ceci­ly McMil­lan, a grad­u­ate stu­dent and Occu­py Wall Street orga­niz­er, sat in the defen­dan­t's chair, scrib­bling notes to her attor­neys on hot pink note-paper. McMil­lan was arrest­ed on March 17, 2012 — the six-month anniver­sary of Occu­py — when Zuc­cot­ti Park was cleared of pro­test­ers who had briefly tak­en back the park late in the night. She is accused of hav­ing elbowed NYPD Offi­cer Grant­ley Bovell in the face dur­ing the course of her arrest. McMil­lan faces felony charges of assault on an offi­cer; if con­vict­ed, she could serve sev­en years. The tri­al began April 11, and is expect­ed to last about three weeks.
McMil­lan con­tends that Offi­cer Bovell grabbed her breast from behind and she react­ed instinc­tive­ly, elbow­ing back­wards in reac­tion to what she con­sid­ered an assault.
I nev­er met Ceci­ly McMil­lan at Occu­py Wall Street and I did­n't meet her on Wednes­day. I was unable to speak with McMillan's lawyers, who are under a gag order from the judge and pro­hib­it­ed from talk­ing to reporters. Instead, I sim­ply sat in the audi­ence, one of many there to observe.
And I didn't see McMil­lan's arrest. But like many peo­ple who'd been around Occu­py Wall Street, I stopped by the park that night after drinks with friends in the area. The park was ringed with police, but for the time I was there, the atmos­phere was cel­e­bra­to­ry if tense. Old friends chat­ted; bag­pipers were play­ing. At one point a small hand­ful of police offi­cers charged into the park and pulled down a tarp draped between two trees, but there were no arrests, and after a while, I went home. Look­ing back at my Alter­net report on the event, I note I told friends: ​"I just want to get out … before they stomp on some­one again." The park was evict­ed of Occu­piers while I was some­where under­ground on a 2 train.
What hap­pened after I left was cap­tured on cell phone video and livestreams. A video of McMil­lan appar­ent­ly hav­ing a seizure after her strug­gle with the offi­cer was dis­al­lowed from the court­room the morn­ing of April 23, accord­ing to Wall Street Jour­nal reporter Nick Pin­to, who's been cov­er­ing the tri­al dai­ly. But as the New York Times described the scene back in March 2012:
At one point, a woman who appeared to be suf­fer­ing from seizures flopped on the ground in hand­cuffs as bystanders shout­ed for the police to remove the cuffs and pro­vide med­ical atten­tion. For sev­er­al min­utes the woman lay on the ground as onlook­ers made increas­ing­ly ago­nized demands until an ambu­lance arrived and the woman was placed inside.
Also dis­al­lowed from the tri­al was Offi­cer Bovel­l's record; he has faced pri­or alle­ga­tions of bru­tal­i­ty, and is cur­rent­ly being sued by anoth­er Occu­pi­er, Austin Guest, who says Bovell dragged him down the aisle of a bus while ​"inten­tion­al­ly bang­ing his head on each seat." The NYPD has paid out thou­sands to set­tle claims by Occu­piers. That includes a $55,000 set­tle­ment announced Thurs­day, April 24 [video at the link] to be paid to Josh Boss, who was livestream­ing an Occu­py march when he was thrown to the ground and kneed by Chief Thomas Purtell, who was at the time the com­mand­ing offi­cer of the Man­hat­tan South Patrol Divi­sion. Also among the final tal­ly is $82,500 to Shawn Schrad­er, who goes by Shawn Car­rie, over three sep­a­rate vio­lent arrests. A joint report from NYU's Glob­al Jus­tice Clin­ic and Fordham's Wal­ter Leit­ner Inter­na­tion­al Human Rights Clin­ic [PDF] found that the police's treat­ment of Occu­py includ­ed ​"fre­quent alleged inci­dents of unnec­es­sary and exces­sive police use of force against pro­test­ers, bystanders, jour­nal­ists, and legal observers; con­stant obstruc­tions of media free­doms, includ­ing arrests of jour­nal­ists; unjus­ti­fied and some­times vio­lent clo­sure of pub­lic space, dis­per­sal of peace­ful assem­blies, and cor­ralling and trap­ping pro­test­ers en masse."
Yet Ceci­ly McMil­lan, not Offi­cer Bovell, is on tri­al, and the judge ruled that the offi­cer's record is irrelevant.
When tes­ti­mo­ny began at the tri­al that after­noon, Offi­cer Lin­da War­ing was on the stand. War­ing took cus­tody of McMil­lan after she was sent to the hos­pi­tal, to jail and even­tu­al­ly to Cen­tral Book­ing. McMil­lan's lawyer, Mar­tin Sto­lar, asked War­ing repeat­ed­ly whether she saw injuries to McMil­lan, what her com­plaints were at the hos­pi­tal, how she react­ed to the news that she was being charged with assault­ing an offi­cer. War­ing respond­ed that McMil­lan seemed sur­prised, that she did­n't know why she'd be charged with such a thing. When Sto­lar asked her opin­ion of the Occu­py protests, the judge dis­al­lowed every ques­tion except: ​"Were the pro­test­ers smelly?" and ​"Was it per­son­al for you?""— to which War­ing replied, ​"No, it's business."
What they don't tell you about court, what the court­room dra­mas don't show, is how dead­ly bor­ing it is. At one point dur­ing the tes­ti­mo­ny of the Dis­trict Attor­ney's Office foren­sic video expert, explain­ing a video that alleged­ly depicts McMil­lan's alter­ca­tion with Offi­cer Bovell, at least one juror appeared to actu­al­ly fall asleep. And yet as you sit there, watch­ing, lis­ten­ing to the same ques­tion being asked over and over, you remem­ber that some­one's life is on the line, that the third rep­e­ti­tion of a blur­ry YouTube video from the night of March 17 could make the dif­fer­ence between con­vic­tion and acquit­tal. The video expert — in his three-piece suit and his smiles at the jury box, point­ing at a green blur on a screen— becomes less bor­ing when you remem­ber that. You begin to sift through the hun­dreds of answers, look­ing for some­thing that seems rel­e­vant. The fact that struck me was that the video was, accord­ing to the expert's tes­ti­mo­ny, down­loaded from YouTube on the morn­ing of March 18, 2012, just hours after McMil­lan's arrest. How quick­ly did the pros­e­cu­tion begin prepar­ing its case? But those indi­vid­ual bits of infor­ma­tion don't add up to any­thing on their own. You have to go every day for them to make a sto­ry, and even then you have to decide which bits fit into the sto­ry you believe is true.
Ceci­ly McMil­lan's sto­ry fits into a big­ger sto­ry about the NYPD and the city that I've been fol­low­ing for a while. Like many white women in New York, my first expe­ri­ence get­ting pushed around by the NYPD was at Occu­py Wall Street. As a reporter, I would attempt to ask ques­tions of offi­cers and be rebuffed, some­times phys­i­cal­ly; in a crowd, I looked like oth­er pro­test­er and was shoved around accord­ing­ly. I wit­nessed plen­ty of vio­lent arrests, includ­ing those of friends and fel­low reporters. I tweet­ed a few pho­tos of those inci­dents on the #myNYPD hashtag.
These days, protest arrests are scarce and atten­tion has fad­ed from the NYPD's repres­sive tac­tics; some seem to con­sid­er the mat­ter of police abus­es closed with the reforms passed by City Coun­cil and imposed by a court of law. Yet protest arrests have large­ly fad­ed because Occu­py no longer holds parks and takes streets — and out in res­i­den­tial neigh­bor­hoods, there are no livestream­ers and few reporters. I rarely go a week with­out see­ing police detain­ing some­one, usu­al­ly a young man of color.
Of course, it is impor­tant to cov­er Ceci­ly McMil­lan's case, and to speak up for the rights of peo­ple every­where to peace­ably assem­ble in protest. It is equal­ly impor­tant not to for­get that there are peo­ple all over New York whose tri­als are not get­ting this kind of atten­tion, or who do not go to tri­al at all because they have no help, no sup­port, no one to stand by them while they refuse a plea bar­gain in an attempt to keep felony charges off their records. There were only two reporters who seemed to have stuck around for all of McMillan's mul­ti-week tri­al. How many reporters cov­er the cour­t­hous­es for every­day arrests?
Ceci­ly McMil­lan's case can't just be about her, about whether she's a nice girl or a paci­fist or not. It has to be — as the #myNYPD hash­tag remind­ed us with its seem­ing­ly end­less stream of vio­lent pho­tographs— about a police force that has got­ten away with too much for too long and has not changed near­ly enough.
Sarah Jaffe
is a for­mer staff writer at
In These Times
and author of
Nec­es­sary Trou­ble: Amer­i­cans in Revolt
, which Robin D.G. Kel­ley called ​
"
The most com­pelling social and polit­i­cal por­trait of our age." You can fol­low her on Twit­ter
@sarahljaffe
.