Poultry Giants Fight Organizers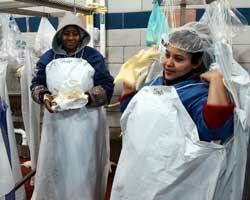 Perry, Georgia
—For 10 years Dorothy McKenzie has worked in poultry processing factories in the South. She knows why unions are crucial in the industry. Two years ago she was working as many as 12 hours a day hanging 40 chickens a minute on the dissasembly line at a plant owned by Cagle's Inc. Workers could go to the bathroom just once outside their two scheduled breaks, and the repetitive work caused constant pain in their hands and arms. When they complained to management, supervisors told them to drink less water and offered to rotate jobs, as long as they still hung chickens. McKenzie protested that such limited rotation provided no relief, and she and seven coworkers were fired for insubordination.
Normally, that would have been the end of the matter. But several months earlier, McKenzie had been one of the first workers at the plant to talk with Linda Cromer, a veteran organizer from the Retail, Wholesale and Department Store Union (RWDSU), a division of the United Food and Commercial Workers. Cromer helped the women fight back; they won reinstatement to their jobs with back pay.
"We saw the union believed in us," said LeLetta Michelle Ezell, who also was fired. "They stuck by us every day. I thank God for them. They pulled off a miracle for us."
Yet neither Cromer nor McKenzie was able to pull off the miracle they both hoped for—winning recognition for a union at Cagle's. Although few workers in the United States need a union more than McKenzie and her roughly 1,500 coworkers, less than 30 percent of poultry workers are in labor unions—too few to dramatically improve wages or conditions. The failure of RWDSU to win in two recent elections at Cagle's, despite a vigorous and well-conceived campaign, demonstrates the difficulty of organizing even the neediest workers.
The poultry industry has grown rapidly in recent decades and has increasingly consolidated under the control of a few big companies; five now control 55 percent of all production. But competition remains fierce, putting pressure on workers who are the worst paid in food processing. Workers typically make around $8 an hour, a rate that has stagnated for the past decade despite rising productivity. The pace of work is literally crippling: Poultry workers have the third highest rate of muscular and skeletal injuries and illness among all industries. And in 2000, U.S. Department of Labor inspectors found overtime pay violations in every one of the 51 plants they visited.
The companies get away with this abuse in part because most plants are in rural areas of the South, where jobs are scarce and the workforce often is semi-skilled. Turnover also is high—during the past year around 40 percent of Cagle's workforce left. Although African-American women still make up the majority of workers, since the late '80s the industry has turned to new immigrants and former farm workers. By union estimates, more than half of Cagle's workers in Perry are Latino, largely from rural areas of Mexico and, increasingly, Guatemala.
For more than two years, Cromer and a small group of organizers—mainly workers from poultry plants aided by Spanish-speaking unionists from other RWDSU locals—built committees of activists within the plant and mobilized church and community support in an area not very sympathetic to unions. When it became obvious that linguistic and cultural barriers existed between the Spanish-speaking Mexican and Guatemalan immigrants, Cromer brought in Guatemalan workers as organizers. Despite that, the union lost its first election in October 2002.
Organizers thought they had a good chance last year, but months before the November election there were big layoffs at two major factories nearby, and the largest unionized employer in the area, a tobacco factory, was sold and scheduled to close. In November, Cagle's also announced a tentative agreement to sell the Perry plant. Managers threatened that the poultry jobs would be in jeopardy if workers voted for a union, supervisors pressured workers to vote against the union and promised improvements, and pro-union workers in the plant were harassed. The margin was smaller than a year earlier—607 against and 449 for the union—and Cromer remains optimistic. "We're not going to abandon them," she said. "You don't put that kind of work into a place like that and just walk."
Although RWDSU has no immediate plans for the plant, which is now owned by Perdue, two organizers will continue to work with union supporters.
McKenzie hasn't given up, even though the company succeeded this time by creating fears among workers that they might lose jobs that many would quit in disgust anyway within a year.
"There were a lot of threats that you're going to lose your job if the union gets in, or the union can't do nothing, or you may not get what you got now," said McKenzie, 44. "My goal is if I can get one poultry plant to unionize, I'll feel good. I know that's what needs to be done. Open your eyes, people; this is not how things are supposed to be. You'll have to come together to get what you want."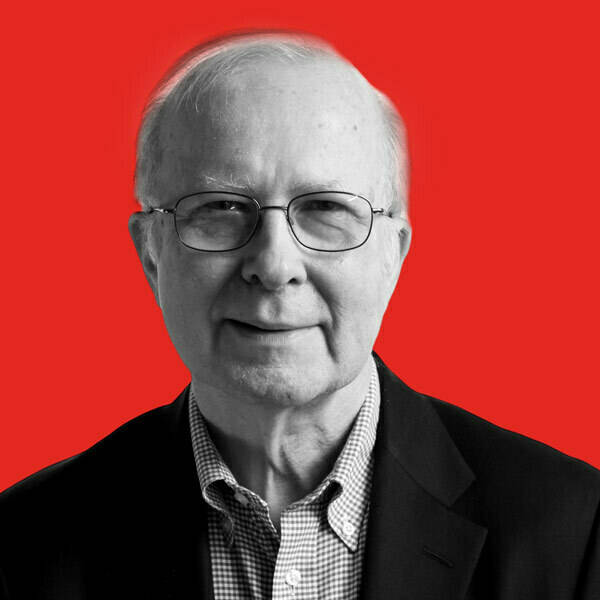 David Moberg, a former senior editor of In These Times, was on staff with the magazine from when it began publishing in 1976 until his passing in July 2022. Before joining In These Times, he completed his work for a Ph.D. in anthropology at the University of Chicago and worked for Newsweek. He received fellowships from the John D. and Catherine T. MacArthur Foundation and the Nation Institute for research on the new global economy.