Powerball Trip
How a proposal for a socially conscious lottery panicked corporations and birthed the 9-figure jackpot.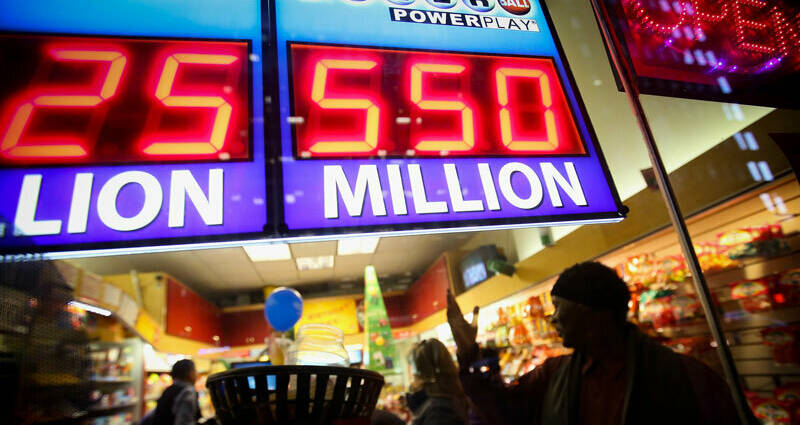 Beyond the feel-good sto­ry of the New Jer­sey bode­ga oper­a­tor who struck it rich with a lucky tick­et, the recent Power­ball jack­pot of $338 mil­lion was actu­al­ly rather unre­mark­able. Indeed, both the Power­ball and the Mega Mil­lions lot­ter­ies have pre­vi­ous­ly seen their jack­pots push past the half bil­lion mark. The trend of sky-high jack­pots can be traced back 25 years, when America's state lot­tery direc­tors band­ed togeth­er to fend off a new fed­er­al pro­pos­al from Rep. Cardiss Collins.
The Illi­nois Con­gress­woman, who died on Feb­ru­ary 3, is fond­ly remem­bered for her time as the lone African-Amer­i­can woman in the House of Rep­re­sen­ta­tives and for her unwa­ver­ing advo­ca­cy on behalf of the poor. Yet the Chica­go-based icon is less known for her pro­pos­al to start a nation­al lot­tery, which ulti­mate­ly — and unin­ten­tion­al­ly — helped lead to our cur­rent fren­zied prac­tices of jack­pot gambling.
In 1985, Collins pro­posed a nation­al lot­tery to sup­ple­ment Social Secu­ri­ty and Medicare via fed­er­al sav­ings bonds. Instead of a tick­et, the bet­tor would pur­chase a bond whose ser­i­al num­ber would serve as the tick­et num­ber. Thus, the mil­lions of lot­tery losers would have been left hold­ing a sav­ings bond rather than a worth­less tick­et or a crum­pled scratch game card. Collins' pro­pos­al was blocked in the House, but not before it set off a wave of fear and pan­ic among state lot­tery direc­tors and their cor­po­rate con­trac­tors, who were quick to take action.
The wor­ry in lot­tery cir­cles was that a nation­al lot­tery, with its mas­sive pool of poten­tial bet­tors, would be able to build far larg­er jack­pots than those offered by the exist­ing state gam­bling oper­a­tions. Accord­ing to the mag­a­zine Gam­ing and Wager­ing Busi­ness, in an effort to ​"beat the fed­er­al gov­ern­ment to the punch," a con­sor­tium of sev­er­al state lot­ter­ies ​"hatched a plan to run a giant mul­ti-state lot­to game that would rival Con­gress' fledg­ling plans." The result was the game Lot­to Amer­i­ca, which went on sale in Feb­ru­ary 1988, ini­tial­ly offered in six states and the Dis­trict of Columbia.
Per­haps the most inter­est­ing aspect of the his­to­ry of lot­tery gam­bling in the Unit­ed States is the appre­hen­sion evinced by ​'80s lot­tery exec­u­tives as they exper­i­ment­ed with new ways to dri­ve up jack­pot amounts. ​"I don't know if we'd feel com­fort­able with $40 mil­lion jack­pots," Pennsylvania's lot­tery direc­tor said in 1986. Delaware's lot­tery direc­tor echoed that sen­ti­ment, explain­ing that ​"the pub­lic might think jack­pots of $50 to $100 mil­lion were obscene for one per­son to win." California's lot­tery direc­tor summed up the prob­lem: ​"I hate to use the term moral­i­ty — but there is an issue involved in exces­sive­ly large jack­pots." With such con­cerns in mind, Lot­to Amer­i­ca ini­tial­ly planned to cap its jack­pots at $80 mil­lion in order to pre­vent ​"grotesque" sums from accumulating.
Yet the evi­dence was already clear that jack­pot size (rather than offer­ing good odds) was the most effec­tive way to attract new bet­tors, and thus jack­pots were left uncapped. Over the next sev­er­al years, Lot­to Amer­i­ca added sev­er­al more states and reduced the odds of win­ning to ensure that jack­pots rolled over week after week, climb­ing high­er and high­er. In 1992, the game was renamed Power­ball. Four years lat­er Power­ball was joined by anoth­er mul­ti-state lot­tery called the Big Game, lat­er renamed Mega Mil­lions. The games even­tu­al­ly agreed to over­lap, and now 44 of the 46 lot­tery juris­dic­tions in the nation fea­ture mul­ti-state jack­pot games. Thus we now have not one, but two de fac­to nation­al lot­ter­ies. The only thing we are lack­ing is any mean­ing­ful nation­al reg­u­la­to­ry frame­work for lot­tery prac­tices, which are becom­ing more preda­to­ry as they explore new mar­ket­ing prac­tices and increas­ing­ly addic­tive games such as Quick Draw and video lot­tery terminals.
A sig­nif­i­cant cul­tur­al shift has tak­en place in the years since Collins offered a social­ly respon­si­ble frame­work for gov­ern­ment lot­ter­ies, and cul­tur­al reser­va­tions about the con­cen­tra­tion of wealth have long since been put aside. In 2012 the Mega Mil­lions jack­pot broke $500 mil­lion, leav­ing behind quaint notions that peo­ple might take offense at such accu­mu­la­tion. The rise of such gam­bling forms has co-evolved with the devel­op­ment of an intense­ly skewed dis­tri­b­u­tion of wealth in this coun­try over the past 30 years. As count­less Amer­i­cans lay down their bets week after week, they are reg­is­ter­ing their con­sent for a pat­tern of wealth dis­tri­b­u­tion that, not long ago, was con­sid­ered ​"obscene" or ​"grotesque." These acts of bet­ting are small, and most peo­ple expe­ri­ence them as incon­se­quen­tial. But like the jack­pots them­selves, these small acts accu­mu­late into some­thing sig­nif­i­cant. The mas­sive civic par­tic­i­pa­tion in gov­ern­ment lot­ter­ies helps pro­vide the cul­tur­al foun­da­tion for our jack­pot way of life
Matthew Vaz
is a lec­tur­er in the His­to­ry Depart­ment at the City Col­lege of New York, City Uni­ver­si­ty of New York.