Powerball Trip
How a proposal for a socially conscious lottery panicked corporations and birthed the 9-figure jackpot.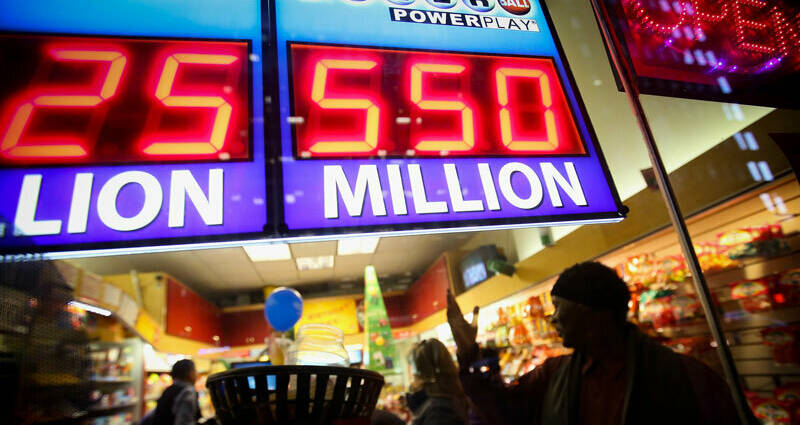 Beyond the feel-good story of the New Jersey bodega operator who struck it rich with a lucky ticket, the recent Powerball jackpot of $338 million was actually rather unremarkable. Indeed, both the Powerball and the Mega Millions lotteries have previously seen their jackpots push past the half billion mark. The trend of sky-high jackpots can be traced back 25 years, when America's state lottery directors banded together to fend off a new federal proposal from Rep. Cardiss Collins.
The Illinois Congresswoman, who died on February 3, is fondly remembered for her time as the lone African-American woman in the House of Representatives and for her unwavering advocacy on behalf of the poor. Yet the Chicago-based icon is less known for her proposal to start a national lottery, which ultimately — and unintentionally — helped lead to our current frenzied practices of jackpot gambling.
In 1985, Collins proposed a national lottery to supplement Social Security and Medicare via federal savings bonds. Instead of a ticket, the bettor would purchase a bond whose serial number would serve as the ticket number. Thus, the millions of lottery losers would have been left holding a savings bond rather than a worthless ticket or a crumpled scratch game card. Collins' proposal was blocked in the House, but not before it set off a wave of fear and panic among state lottery directors and their corporate contractors, who were quick to take action.
The worry in lottery circles was that a national lottery, with its massive pool of potential bettors, would be able to build far larger jackpots than those offered by the existing state gambling operations. According to the magazine Gaming and Wagering Business, in an effort to ​"beat the federal government to the punch," a consortium of several state lotteries ​"hatched a plan to run a giant multi-state lotto game that would rival Congress' fledgling plans." The result was the game Lotto America, which went on sale in February 1988, initially offered in six states and the District of Columbia.
Perhaps the most interesting aspect of the history of lottery gambling in the United States is the apprehension evinced by ​'80s lottery executives as they experimented with new ways to drive up jackpot amounts. ​"I don't know if we'd feel comfortable with $40 million jackpots," Pennsylvania's lottery director said in 1986. Delaware's lottery director echoed that sentiment, explaining that ​"the public might think jackpots of $50 to $100 million were obscene for one person to win." California's lottery director summed up the problem: ​"I hate to use the term morality — but there is an issue involved in excessively large jackpots." With such concerns in mind, Lotto America initially planned to cap its jackpots at $80 million in order to prevent ​"grotesque" sums from accumulating.
Yet the evidence was already clear that jackpot size (rather than offering good odds) was the most effective way to attract new bettors, and thus jackpots were left uncapped. Over the next several years, Lotto America added several more states and reduced the odds of winning to ensure that jackpots rolled over week after week, climbing higher and higher. In 1992, the game was renamed Powerball. Four years later Powerball was joined by another multi-state lottery called the Big Game, later renamed Mega Millions. The games eventually agreed to overlap, and now 44 of the 46 lottery jurisdictions in the nation feature multi-state jackpot games. Thus we now have not one, but two de facto national lotteries. The only thing we are lacking is any meaningful national regulatory framework for lottery practices, which are becoming more predatory as they explore new marketing practices and increasingly addictive games such as Quick Draw and video lottery terminals.
A significant cultural shift has taken place in the years since Collins offered a socially responsible framework for government lotteries, and cultural reservations about the concentration of wealth have long since been put aside. In 2012 the Mega Millions jackpot broke $500 million, leaving behind quaint notions that people might take offense at such accumulation. The rise of such gambling forms has co-evolved with the development of an intensely skewed distribution of wealth in this country over the past 30 years. As countless Americans lay down their bets week after week, they are registering their consent for a pattern of wealth distribution that, not long ago, was considered ​"obscene" or ​"grotesque." These acts of betting are small, and most people experience them as inconsequential. But like the jackpots themselves, these small acts accumulate into something significant. The massive civic participation in government lotteries helps provide the cultural foundation for our jackpot way of life
Matthew Vaz
is a lecturer in the History Department at the City College of New York, City University of New York.