Despite Anti-Shackling Laws Pregnant Prisoners Are Still Being Put In Handcuffs and Chains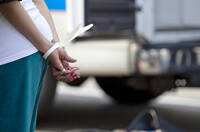 Car­olyn Sufrin still remem­bers the first time she saw some­one give birth in shackles.
In 2003 Sufrin was a res­i­dent in train­ing as an Ob/​Gyn in Pitts­burgh. ​"I deliv­ered a baby of a woman who was shack­led in bed" she told Mak­ing Con­tact​'s Lisa Bart­fai in 2013, ​"and it was an extreme­ly trau­mat­ic expe­ri­ence for me as a doc­tor, and also for the patient."
Accord­ing to Sufrin, shack­ling preg­nant women could make respond­ing to med­ical emer­gen­cies extreme­ly dif­fi­cult. ​"In those moments we don't have time to be nego­ti­at­ing with a guard or a cor­rec­tion­al offi­cer to say, ​'Hey you mind just unlock­ing those hand­cuffs, those restraints?'"
The Amer­i­can Med­ical Asso­ci­a­tion adopt­ed a res­o­lu­tion in 2010 to pro­hib­it the shack­ling of women dur­ing labor and a grow­ing num­ber of states have intro­duced at least some legal lim­i­ta­tions on the use of shack­les on preg­nant prisoners.
Penn­syl­va­nia passed a law pro­hibit­ing the shack­ling of preg­nant inmates after their sec­ond trimester in 2010 but in a report for WHYY in part­ner­ship with The Inves­tiga­tive Fund at the Nation Insti­tute, Audrey Quinn found that enforc­ing the law has been complicated.
Ear­li­er this year the Penn­syl­va­nia ACLU report­ed hos­pi­tal staff across the state still say­ing they see inmates com­ing in to give birth with hand­cuffs on. Penn­syl­va­nia Cor­rec­tions' own records show preg­nant women were shack­led 109 times in the 2012— 2013 fis­cal year. And that's just in jails that report it.

"Now we're just work­ing to get it imple­ment­ed effec­tive­ly," says Penn­syl­va­nia state sen­a­tor Daylin Leach, the pri­ma­ry author of the anti-shack­ling bill.

But does­n't the pas­sage of a law mean that progress will be made?

Leach gives a tired laugh. ​"The fact is, he says, ​"when you do pass new leg­is­la­tion you do have to noti­fy peo­ple as to the require­ments of that leg­is­la­tion. Par­tic­u­lar­ly the peo­ple who are going to be deal­ing with that legislation."

To some peo­ple, not shack­ling preg­nant women seems like a no-brain­er. But to many cor­rec­tions work­ers, this goes against a very basic tenet of prison life: when an inmate gets escort­ed off prison grounds, they get shack­led. Con­tin­ue reading…
Reporter Audrey Quinn sub­mit­ted free­dom of infor­ma­tion requests to Blair Coun­ty Prison, for records of preg­nant inmate shackling.
On each record sheet the war­den gets a space to explain why each preg­nant woman need­ed to be shack­led. There's fif­teen lines of blank space, and the form says the war­den can use the back side of the page if nec­es­sary. I lined up all the record sheets by the dates they got filled out. The rea­sons why each woman was shack­led fol­lowed a pat­tern. For the first cou­ple months of reports, the records said restraints were used for ​"safe­ty rea­sons." The next few months, the excuse is ​"sec­urity rea­sons." After that, offi­cers sim­ply stat­ed ​"secu­ri­ty" as the rea­son for shack­ling. There's bare­ly any ref­er­ence to the wom­en's own behav­ior. Just the phras­ing du jour for why shack­les were needed.

I called up Blair Coun­ty War­den Matt John­ston. I was curi­ous to ask why so much shack­ling was hap­pen­ing dur­ing pregnancies.

"I'm not inter­est­ed in talk­ing about that," he told me. Nei­ther was the Blair Coun­ty Com­mis­sion­er. I got no com­ment from the Office of Coun­ty Inspec­tion and Ser­vices. And the Penn­syl­va­nia Attor­ney Gen­er­al's office told me they could­n't talk to me about shack­ling by the Depart­ment of Cor­rec­tions. The depart­ment is their client. No one would claim respon­si­bil­i­ty for shack­ling over­sight. Con­tin­ue reading…
Penn­syl­va­nia is not alone in con­tin­u­ing to shack­le preg­nant women. Ear­li­er this month, the ACLU of Mon­tana issued a report claim­ing that preg­nant women had been mis­treat­ed inside the state's jails.
The per­cent­age of incar­cer­at­ed women in Mon­tana is twice the nation­al aver­age. In 2011, over 4,000 women were booked into coun­ty jails in Mon­tana. The major­i­ty of Montana's female pris­on­ers are non-vio­lent offend­ers of repro­duc­tive age. Despite an increas­ing num­ber of preg­nant pris­on­ers stay­ing for longer peri­ods of time in coun­ty jails, many jails in Mon­tana pro­vide inad­e­quate med­ical treat­ment to preg­nant pris­on­ers, and con­tin­ue to engage in uni­ver­sal­ly reject­ed prac­tices such as shack­ling female pris­on­ers dur­ing labor and deliv­ery. Con­tin­ue reading…
"Repro­duc­tive Lock­down: An Exam­i­na­tion of Mon­tana Deten­tion Cen­ters and the Treat­ment of Preg­nant Pris­on­ers" describes cas­es in which women were alleged­ly shack­led dur­ing labor or forced to give birth on the floors of cells.
"Mon­tana jails are woe­ful­ly lack­ing in poli­cies that will ensure preg­nant pris­on­ers get the med­ical care they need and are pro­tect­ed from abu­sive prac­tices like shack­ling," ACLU of Mon­tana head Scott Crich­ton said.

The study cites a woman who was forced to deliv­er her daugh­ter on an unsan­i­tary book­ing room floor of the Yel­low­stone Coun­ty Deten­tion Facil­i­ty in Billings in 2012 after sev­er­al requests for med­ical aid were ignored.

Yel­low­stone Coun­ty jail offi­cials did not imme­di­ate­ly respond to a request for com­ment on Thursday.

The report also point­ed to a 2008 case in which coun­ty deten­tion offi­cers from west­ern Mon­tana chained the leg of a hos­pi­tal­ized inmate to her bed dur­ing deliv­ery despite an epidur­al that par­a­lyzed her from the waist down, even after a nurse ques­tioned the need for restraints. Con­tin­ue reading…
All this takes place against a back­drop of increased incar­cer­a­tion of women. Accord­ing to US Bureau of Jus­tice sta­tis­tics com­piled by the Sen­tenc­ing Project, between 1980 and 2010 the num­ber of women in prison increased by 646%.
George Laven­der
is an award-win­ning radio and print jour­nal­ist based in Los Ange­les. Fol­low him on Twit­ter @GeorgeLavender.