Despite Anti-Shackling Laws Pregnant Prisoners Are Still Being Put In Handcuffs and Chains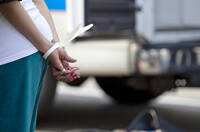 Carolyn Sufrin still remembers the first time she saw someone give birth in shackles.
In 2003 Sufrin was a resident in training as an Ob/​Gyn in Pittsburgh. ​"I delivered a baby of a woman who was shackled in bed" she told Making Contact​'s Lisa Bartfai in 2013, ​"and it was an extremely traumatic experience for me as a doctor, and also for the patient."
According to Sufrin, shackling pregnant women could make responding to medical emergencies extremely difficult. ​"In those moments we don't have time to be negotiating with a guard or a correctional officer to say, ​'Hey you mind just unlocking those handcuffs, those restraints?'"
The American Medical Association adopted a resolution in 2010 to prohibit the shackling of women during labor and a growing number of states have introduced at least some legal limitations on the use of shackles on pregnant prisoners.
Pennsylvania passed a law prohibiting the shackling of pregnant inmates after their second trimester in 2010 but in a report for WHYY in partnership with The Investigative Fund at the Nation Institute, Audrey Quinn found that enforcing the law has been complicated.
Earlier this year the Pennsylvania ACLU reported hospital staff across the state still saying they see inmates coming in to give birth with handcuffs on. Pennsylvania Corrections' own records show pregnant women were shackled 109 times in the 2012— 2013 fiscal year. And that's just in jails that report it.

"Now we're just working to get it implemented effectively," says Pennsylvania state senator Daylin Leach, the primary author of the anti-shackling bill.

But doesn't the passage of a law mean that progress will be made?

Leach gives a tired laugh. ​"The fact is, he says, ​"when you do pass new legislation you do have to notify people as to the requirements of that legislation. Particularly the people who are going to be dealing with that legislation."

To some people, not shackling pregnant women seems like a no-brainer. But to many corrections workers, this goes against a very basic tenet of prison life: when an inmate gets escorted off prison grounds, they get shackled. Continue reading…
Reporter Audrey Quinn submitted freedom of information requests to Blair County Prison, for records of pregnant inmate shackling.
On each record sheet the warden gets a space to explain why each pregnant woman needed to be shackled. There's fifteen lines of blank space, and the form says the warden can use the back side of the page if necessary. I lined up all the record sheets by the dates they got filled out. The reasons why each woman was shackled followed a pattern. For the first couple months of reports, the records said restraints were used for ​"safety reasons." The next few months, the excuse is ​"sec­urity reasons." After that, officers simply stated ​"security" as the reason for shackling. There's barely any reference to the women's own behavior. Just the phrasing du jour for why shackles were needed.

I called up Blair County Warden Matt Johnston. I was curious to ask why so much shackling was happening during pregnancies.

"I'm not interested in talking about that," he told me. Neither was the Blair County Commissioner. I got no comment from the Office of County Inspection and Services. And the Pennsylvania Attorney General's office told me they couldn't talk to me about shackling by the Department of Corrections. The department is their client. No one would claim responsibility for shackling oversight. Continue reading…
Pennsylvania is not alone in continuing to shackle pregnant women. Earlier this month, the ACLU of Montana issued a report claiming that pregnant women had been mistreated inside the state's jails.
The percentage of incarcerated women in Montana is twice the national average. In 2011, over 4,000 women were booked into county jails in Montana. The majority of Montana's female prisoners are non-violent offenders of reproductive age. Despite an increasing number of pregnant prisoners staying for longer periods of time in county jails, many jails in Montana provide inadequate medical treatment to pregnant prisoners, and continue to engage in universally rejected practices such as shackling female prisoners during labor and delivery. Continue reading…
"Reproductive Lockdown: An Examination of Montana Detention Centers and the Treatment of Pregnant Prisoners" describes cases in which women were allegedly shackled during labor or forced to give birth on the floors of cells.
"Montana jails are woefully lacking in policies that will ensure pregnant prisoners get the medical care they need and are protected from abusive practices like shackling," ACLU of Montana head Scott Crichton said.

The study cites a woman who was forced to deliver her daughter on an unsanitary booking room floor of the Yellowstone County Detention Facility in Billings in 2012 after several requests for medical aid were ignored.

Yellowstone County jail officials did not immediately respond to a request for comment on Thursday.

The report also pointed to a 2008 case in which county detention officers from western Montana chained the leg of a hospitalized inmate to her bed during delivery despite an epidural that paralyzed her from the waist down, even after a nurse questioned the need for restraints. Continue reading…
All this takes place against a backdrop of increased incarceration of women. According to US Bureau of Justice statistics compiled by the Sentencing Project, between 1980 and 2010 the number of women in prison increased by 646%.
George Lavender
is an award-winning radio and print journalist based in Los Angeles. Follow him on Twitter @GeorgeLavender.