Biden Must End the War He Helped Start
Yemenis call on the president-elect to stop the onslaught.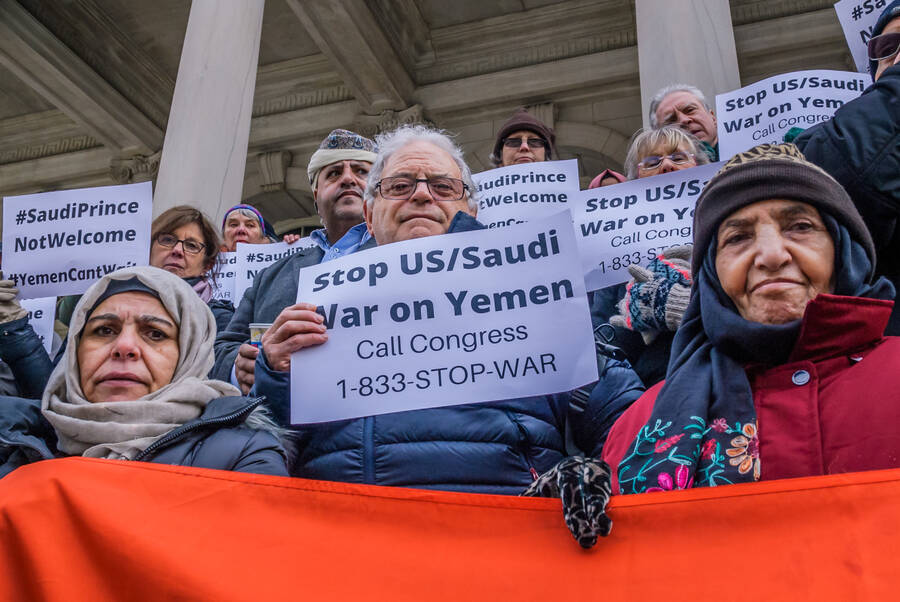 The end of President Donald Trump's tenure may mark the reversal of some brutal domestic U.S. policies. The Muslim ban, for example, could be reversed by an executive order from President-elect Joe Biden. When it comes to foreign policy, however, support for U.S. wars has long been a bipartisan achievement, evidenced by decades of invasions, occupations and coups.
In Yemen, Trump escalated the ​"war" he inherited from the Obama-Biden administration, compounding the extraordinary suffering Yemenis face today. (Though called a war, the situation in Yemen is, more accurately, a unilateral attack by powerful Arab and Western countries.) Since 2015, Yemenis have been victimized by a bombardment, blockade and occupation led by Saudi Arabia and the United Arab Emirates, which rely heavily on U.S. military support.
In late 2014, after the Yemeni rebel group the Houthis took Yemen's capital, Sana'a, Saudi Arabia and the UAE led a bombardment campaign with the stated goal of restoring Yemeni President Abed Rabbo Mansour Hadi. While the Saudi-U.S.-UAE coalition managed to capture regions in former South Yemen (South and North unified in 1990), Houthis remain in control of much of former North Yemen, where approximately 70% of Yemenis live.
With vital logistics, intelligence, arms and other assistance from the United States, the coalition has systematically targeted Yemeni civilians, infrastructure and food supplies. An aerial, naval and land blockade has halted trade (upon which the country relied almost exclusively prior to 2015) and severely restricts food, medicine and fuel. Though almost certainly an underestimate, at least 100,000 people have been killed in the violence. Tens of thousands have perished from starvation and preventable illness. Trump escalated the situation by greenlighting a UAE-led invasion of Hodeida in the summer of 2018, a particularly cruel turn in the war given the importance of the port city as a lifeline to millions.
Biden's election is a paradox for Yemenis: As Obama's vice president, Biden is complicit in the havoc. Yet, after years of organizing by anti-war groups and individuals, Biden said on the campaign trail he is against continuing U.S. support for the war. Because their lives are so tremendously impacted by the U.S. president, Yemenis deserve a voice in the political discourse about the incoming administration. In These Times asked three Yemenis what they think a Biden presidency could mean.
Mohammed Mohsen Bahjooj is a teacher and educational supervisor from Al-Jawf, a northern Yemeni province considered a ​"high-intensity battlefront" on the border with Saudi Arabia. Though Bahjooj notes the war is ​"being waged by the U.S. and in accordance with U.S. policy and interests," he underscores the ​"current humanitarian situation [in Yemen] is completely different compared to the beginning of the war" and notes ​"famine, diseases and the blockade have exhausted Yemenis."
Bahjooj urges Biden to ​"look with humanity toward Yemen" and end the war ​"as soon as possible." As he watched Biden give his victory speech, Bahjooj noted, ​"Biden is now embracing his grandchildren. … We hope that he will remember the poor children of Yemen who are dying every day because of U.S. weapons and the oppressive blockade." Bahjooj believes Biden's policies will contrast with Trump's ​"policy of hatred and racism," evidenced by Biden's pledge to lift the Muslim ban (which includes Yemen). Bahjooj also worries a potential Republican-controlled Senate would present obstacles to ending the war.
Nahla Fuad Tarmoom is from the city of Aden and distinguishes between the former South Yemen (which she calls ​"South Arabia") and North Yemen (which she calls ​"Yemen"). Her distinction reflects the position taken by many in the South who hope to secede. The country united in 1990, though the unity has been tenuous, and tested (most recently) by competing separatist sympathizers, including the Southern Transitional Council, supported by the UAE.
Tarmoom followed the U.S. election with eager anticipation, hoping for a Biden victory. She describes the dire situation in the South after years of war: Resources have been plundered, the infrastructure has been destroyed and the country lacks security.
Tarmoom believes Biden will work toward ​"stopping the Emirati and Saudi oppression that is supported by President Trump," who enabled ​"corruption, war, killing of children and civilians … without any accountability" or deterrence. She characterizes Biden as ​"balanced" and says he operates with the ​"spirit of justice and democracy." These characteristics, Tarmoom hopes, will ensure safety and security not only in the South but in the North and in all Middle Eastern countries undergoing wars and conflict. Tarmoom also hopes Biden will ​"unite the American people and end partisan struggles" in U.S. society.
Unlike Bahjooj's cautious optimism and Tarmoom's eager anticipation, Ibrahim Abdulkareem does not expect change. Abdulkareem introduces himself as the ​"father of the child who was killed by the U.S.-supported Saudi coalition." His 11-month-old daughter, Zainab, was killed by a coalition airstrike at home in her sleep on July 3, 2015. He says ​"all American presidents serve their interests" and sees ​"no difference between Biden and Trump," except that ​"Trump is outspoken" and ​"candidly says anything publicly through social media." Biden, Abdulkareem adds, ​"is one of the architects of the war on Yemen during the time of Obama the Democrat. Therefore, I do not differentiate between Trump and Biden."
Abdulkareem's story gained some public attention after a photo of him holding Zainab's body circulated on social media. He continues to seek justice for children killed by the coalition.
Bahjooj, Tarmoom and Abdulkareem all want to see their country free from destruction. Biden will be positioned to follow through on his stated opposition to U.S. support of the coalition — not just by stopping weapon sales to Saudi Arabia and the UAE but by ending all cooperation, and signing a new War Powers Resolution to end the war, if the new Congress were to pass one. (Trump vetoed the last such effort.)
While the onslaught in Yemen is one of many horrors inflicted on people due to U.S. intervention, and Biden's history of supporting interventions (such as those in Afghanistan and Iraq) is deeply worrying, the conflict in Yemen is one that Biden can — and should — end as soon as he takes office. The suffering of the people of Yemen must be at the forefront of the Biden-Harris administration.
As Bahjooj notes, he hopes Biden will ​"end the war on my country and lift the siege" so that ​"we can live in peace and give our children the simplest necessities of life."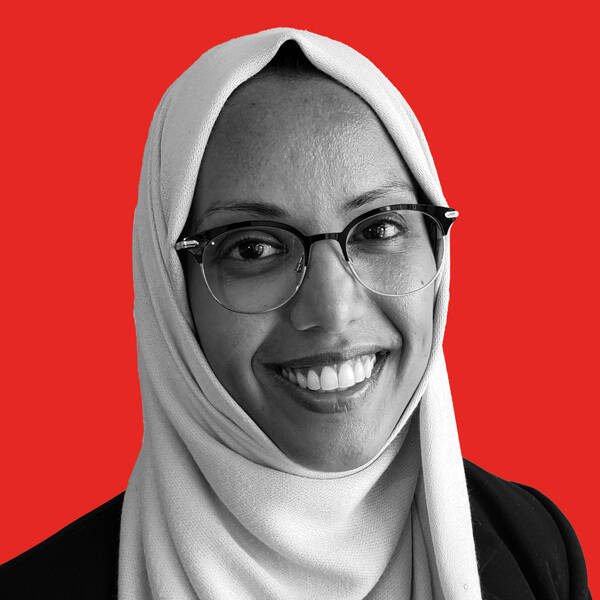 Shireen Al-Adeimi is an assistant professor of education at Michigan State University. Since 2015, she has played an active role in raising awareness about the Saudi-led war on her country of birth, Yemen, and works to encourage political action to end U.S. support. She is a non-resident fellow at Quincy Institute.