President Obama, the Jobs Crisis and Corporate America's Game Plan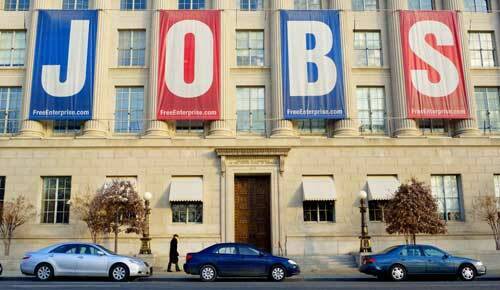 On Feb­ru­ary 4, the Labor Depart­ment released its lat­est jobs report for the month of Jan­u­ary. It showed a deep decline in net jobs cre­at­ed — only 36,000 last month, accord­ing to the Bureau of Labor Sta­tis­tics (BLS).
This was about a third of the aver­age 90,000 jobs cre­at­ed in each of the two pre­ced­ing months, Novem­ber-Decem­ber 2010. For the past three months, Novem­ber through Jan­u­ary, the aver­age num­ber of net jobs cre­at­ed per month has totaled about 70,000. (To put this in per­spec­tive, 150,000 jobs need to be cre­at­ed each month just to absorb new entrants into the work­force.)

This dis­mal job cre­ation of the last three months fol­lowed last summer's even worse jobs per­for­mance, dur­ing which job cre­ation was neg­a­tive for three con­sec­u­tive months, from May through July 2010 — a total of 391,000 jobs lost. Bare­ly half of those jobs were ​'recov­ered' from that sum­mer slump. That ​'recov­ery,' giv­en last month's mere 36,000 jobs, appears to be fal­ter­ing even fur­ther once again.

The over­all jobs pic­ture for the past nine months has thus been one of renewed col­lapse in jobs, fol­lowed by stag­na­tion in job cre­ation. Togeth­er with the cur­rent dou­ble dip decline under­way today in the hous­ing mar­ket and the rapid­ly deep­en­ing fis­cal cri­sis in state and local gov­ern­ments, the fail­ure to gen­er­ate a recov­ery in jobs rep­re­sents the three great eco­nom­ic fail­ures of the so-called cur­rent eco­nom­ic ​'recov­ery' — three great fail­ures that the Oba­ma admin­is­tra­tion still con­tin­ues to inad­e­quate­ly address.
Fol­low­ing pub­li­ca­tion of the dis­mal Jan­u­ary jobs report, in his week­ly radio address Oba­ma asked the nation's busi­ness­es to start cre­at­ing jobs. After all, it had more than ade­quate funds to do so — i.e. more than $2 tril­lion in cash on hand it was hoard­ing.

Two days lat­er, on Feb­ru­ary 7, Oba­ma appeared before the U.S. Cham­ber of Com­merce in its annu­al meet­ing in Wash­ing­ton D.C. and raised the same theme: Busi­ness should start cre­at­ing jobs giv­en its record lev­el of cash. As Oba­ma put it in his speech to the Cham­ber, it was time they ​"get into the game" of invest­ing in the U.S. and cre­at­ing jobs in Amer­i­ca. Busi­ness invest­ing off­shore instead of in the Unit­ed State, Oba­ma added, ​"breaks the social com­pact" and ​"makes peo­ple feel as if the game is fixed."

The response of the atten­dees at the Cham­ber of Com­merce event was not par­tic­u­lar­ly warm. CEOs' remarks in the busi­ness press ranged from say­ing that mere­ly hir­ing more work­ers won't nec­es­sar­i­ly stim­u­late con­sump­tion, which is what was need­ed first. Oth­er CEOs added they want­ed still more dereg­u­la­tion, more tax cuts and reduc­tions in Medicare and oth­er enti­tle­ments to reduce the bud­get deficit before they would invest and cre­ate jobs.
In short, what they want­ed was even more incen­tives and con­ces­sions from the Oba­ma admin­is­tra­tion before they would ​"get in the game," as Oba­ma put it.
The oth­er game plan
What Oba­ma and his advis­ers appar­ent­ly don't under­stand is that the Cham­ber, and Big Busi­ness in Amer­i­ca in gen­er­al, are pur­su­ing a ​'dif­fer­ent game plan' than Obama's. They have no inten­tion of com­mit­ting any large part of their cur­rent $2 tril­lion cash hoard on invest­ing and job cre­ation in the U.S. The lion's share of that $2 tril­lion is already pre-com­mit­ted in cor­po­rate busi­ness plans today to oth­er uses. Those oth­er uses include a mas­sive stock buy­back pro­gram and div­i­dend pay­out increas­es to enrich their major investors and senior man­agers, which is now just begin­ning to roll out.

Obama's team should learn a les­son from recent U.S. eco­nom­ic his­to­ry. Between 2002 and 2006, Cor­po­rate Amer­i­ca embarked upon a sim­i­lar record stock buy­back-div­i­dend pay­out game. Dur­ing those years they dis­bursed $2.6 tril­lion in cor­po­rate retained earn­ings in buy­backs and pay­outs. The buy­backs-pay­outs were most time­ly, giv­en the then-his­toric $3.4 tril­lion in Bush tax cuts intro­duced between 2001 – 2004 that pri­mar­i­ly ben­e­fit­ed investors.
Cap­i­tal gains, div­i­dends, inher­i­tance, and oth­er tax­es were reduced dra­mat­i­cal­ly for investors between 2002 – 2006. The record buy­backs-pay­outs prompt­ly fol­lowed. Their cor­po­rate bene­fac­tors quick­ly ​'passed through' the $2.6 tril­lion to their investors and senior man­agers. After­ward, invest­ment in new plant and equip­ment bare­ly grew in the U.S. And it took 46 months, not until late 2004, for jobs just to recov­ery to lev­els that pre­vailed in Jan­u­ary 2001.

Giv­en the recent exten­sion of the Bush tax cuts for anoth­er two years, the tim­ing is now per­fect once again for a repeat in 2011 of that mul­ti-tril­lion dol­lar hand­out that occurred in 2002 – 2004. The tim­ing is once again per­fect for cor­po­ra­tions to pass through tril­lions of dol­lars more, giv­en its cash hoard of $2 tril­lion on hand, in stock buy­backs, div­i­dend increas­es, and off­shore acqui­si­tions. That is the cor­po­rate ​'game­plan' for 2011 — not Obama's plea to invest in Amer­i­ca and job cre­ate here.
It is Oba­ma who is ​"not in the game" because Cor­po­rate America's game is not the one he wants to play. They will ​'play,' but only on their terms and accord­ing to their rules — not his. And if he doesn't like it, then he can just take his ball and bat and go home. That's the mes­sage of Feb­ru­ary 7. (And, oh yes, some­one should also tell Oba­ma and his team that the so-called ​'social com­pact' he says cor­po­ra­tions are risk­ing by not cre­at­ing jobs was bro­ken at their ini­ti­a­tion decades ago, under Pres­i­dent Ronald Rea­gan or even earlier.)
The new age of ​'con­ces­sion bargaining'
What we are wit­ness­ing today is the exten­sion of ​'con­ces­sion bar­gain­ing' that was intro­duced by Cor­po­rate Amer­i­ca and its man­agers at the indus­tri­al lev­el three decades ago. The result at the indus­tri­al lev­el was stag­nat­ing week­ly real earn­ings, loss of ten mil­lion man­u­fac­tur­ing jobs, and a col­lapse of the union move­ment in the pri­vate sec­tor from more than 20% to less than 7% of the work­force union­ized today. The last remain­ing bas­tion of union­iza­tion, the pub­lic sec­tor work­ers, are now firm­ly in the cor­po­rate-gov­ern­ment crosshairs for a sim­i­lar roll­back in mem­ber­ship, earn­ings, and ben­e­fits.

What we are wit­ness­ing today is the expan­sion of con­ces­sion bar­gain­ing from the indus­tri­al to a social-wide scale. We are enter­ing a peri­od of social pro­grams and social ben­e­fits ​'con­ces­sion bar­gain­ing' on a grand scale. And Oba­ma and gov­er­nors or states are the ​'nego­tia­tors' in charge of deliv­er­ing the ​'sweet­heart' con­tracts that will low­er the stan­dard of liv­ing for the country's 100 mil­lion mid­dle and work­ing-class house­holds.

The prob­lem with job cre­ation in the U.S. today is not that busi­ness has not been giv­en suf­fi­cient incen­tives to cre­ate jobs or invest in the U.S. Quite the con­trary, they've been giv­en his­tor­i­cal­ly gen­er­ous incen­tives and cash injec­tions by the Oba­ma admin­is­tra­tion in its first two years, with even more appar­ent­ly planned.
(Just a few exam­ples: the $400 bil­lion in busi­ness tax cuts in Obama's orig­i­nal 2009 stim­u­lus pack­age. Hun­dreds of bil­lions of dol­lars more in addi­tion­al tax cuts, accel­er­at­ed depre­ci­a­tion write-off rules, direct cor­po­rate sub­si­dies, and gov­ern­ment sub­si­dized low cost loans between June 2009 and Decem­ber 2010. Add a fur­ther $400 bil­lion more in the recent exten­sion of the Bush tax cuts last Decem­ber. And let's not for­get the biggest hand­out of all — the $9 tril­lion in zero rate loans extend­ed to vir­tu­al­ly all banks and finan­cial insti­tu­tions by the Fed­er­al Reserve over the 21 months between the col­lapse of the bank­ing sys­tem in late 2008 and last sum­mer.)

With­out this his­toric hand­out and sub­si­diza­tion of Cor­po­rate Amer­i­ca by the fed­er­al gov­ern­ment, big busi­ness could nev­er have accu­mu­lat­ed the $2 tril­lion cash hoard it has on hand today. Obama's orig­i­nal 2009 ​'game­plan' was to bailout banks, busi­ness­es and investors in the expec­ta­tion they would even­tu­al­ly cre­ate jobs, low­er mort­gage rates and adjust terms to save home­own­ers and boost state tax rev­enues again. But that did not occur and there is lit­tle sign, more­over, that it will in 2011.

The president's recent encounter with the U.S. Cham­ber of Com­merce clear­ly reveals that Cor­po­rate Amer­i­ca has already changed the game and left the field in the mid­dle of the fifth inning, leav­ing Oba­ma stand­ing there alone with no one to pitch to.
The rest of us are won­der­ing how we might get our mon­ey back.

Jack Ras­mus is the author of ​'EPIC RECES­SION: PRE­LUDE TO GLOB­AL DEPRES­SION, Plu­to Press and Pal­grave-Macmil­lan, May 2010; and the forth­com­ing book, OBAMA's ECON­O­MY: RECOV­ERY FOR THE FEW, Plu­to Press, 2011.
Jack Ras­mus
, pro­fes­sor of eco­nom­ics and polit­i­cal econ­o­my at San­ta Clara Uni­ver­si­ty and St. Marys Col­lege, is author of
Epic Reces­sion: Pre­lude to Glob­al Depres­sion
, and
The War at Home: The Cor­po­rate Offen­sive From Ronald Rea­gan to George W. Bush
. His forth­com­ing book (
2011
) is
Obama's Econ­o­my: Why Recov­ery Failed. What's Next?
Ras­mus has pub­lished numer­ous arti­cles in
Z
mag­a­zine,
Cri­tique, Amand­la, Against the Cur­rent, the Dis­patch­er
and oth­er periodicals.