Lots of Presidential Candidates Talk a Good Talk. Look at Their Records Instead.
It's the only way to tell who actually means what they say.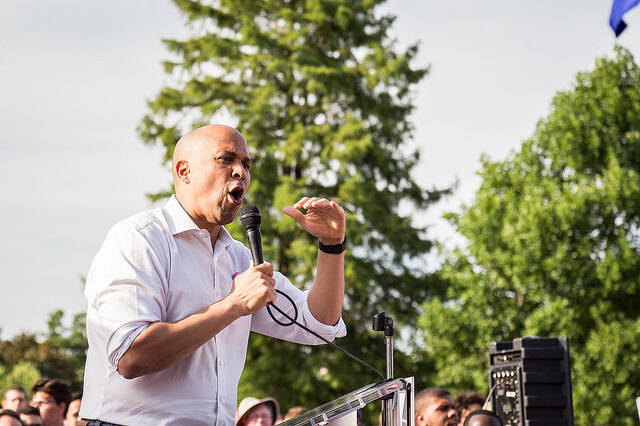 As Demo­c­ra­t­ic Par­ty vot­ers have moved left, so have the prospec­tive 2020 Demo­c­ra­t­ic pres­i­den­tial nom­i­nees. Sen. Cory Book­er (D‑N.J.), who once crit­i­cized Barack Oba­ma for being too harsh on pri­vate equi­ty firms, is now propos­ing mas­sive new tax­es on inher­i­tance and cap­i­tal gains in order to finance a large-scale reduc­tion in wealth inequal­i­ty. Sen. Kirsten Gilli­brand (D‑N.Y.) con­fess­es she is ​"embar­rassed" by her past fear­mon­ger­ing about immi­grants, now align­ing with the move­ment to abol­ish ICE.
Have they spent their lives fighting for the causes they say they believe in? Or do they seem to shift positions depending on which way they perceive the political wind to be blowing?
Vot­ers will face a dif­fi­cult ques­tion: If all or most of the Demo­c­ra­t­ic can­di­dates endorse a pro­gres­sive agen­da, who can actu­al­ly be trust­ed to fight for that agen­da once in office? Every politi­cian makes promis­es. We know, how­ev­er, that many will dis­ap­point. Once in office, a pres­i­dent will have to resist pres­sure com­ing from many pow­er­ful inter­est groups. With­out access to the candidate's inner psy­chol­o­gy, it's tough to know which promis­es they're com­mit­ted to fulfilling.
One obvi­ous clue as to what a per­son would do as pres­i­dent: their record. Have they spent their lives fight­ing for the caus­es they say they believe in? Or do they seem to shift posi­tions depend­ing on which way they per­ceive the polit­i­cal wind to be blowing?
In select­ing can­di­dates for the most pow­er­ful office on Earth, records should be treat­ed as a resume. We can't just look at their ​"job inter­views"— speech­es and plat­forms. We have to exam­ine what they've actu­al­ly spent their life doing, and whether they have exhib­it­ed the val­ues and com­mit­ment that sug­gest they will live up to their promises.
This doesn't mean that a can­di­date must have an unblem­ished his­to­ry. It's per­mis­si­ble to evolve as one gets more infor­ma­tion. But if some­one spent most of their life advanc­ing an agen­da objec­tion­able to pro­gres­sives, and then shifts posi­tion when the elec­torate begins to favor pro­gres­sive poli­cies, that doesn't speak well for their moral com­pass. The only kind of per­son who can be trust­ed to hold up against spe­cial inter­ests is one who has shown repeat­ed­ly that they feel their con­vic­tions to their core.
One could argue that per­son­al qual­i­ties are alto­geth­er overem­pha­sized, that the plat­form mat­ters more than the per­son. Indeed, there is some polit­i­cal sci­ence research sug­gest­ing as much. How­ev­er, plat­forms do not become pol­i­cy unless elect­ed offi­cials fight to imple­ment them, which means vot­ers need to know that they've elect­ed some­one who is as good a fight­er as they are a talker.
For exam­ple, Sen. Eliz­a­beth War­ren (D‑Mass.) is respon­si­ble for build­ing one of the most valu­able of all fed­er­al agen­cies, the Con­sumer Finan­cial Pro­tec­tion Bureau. It fights large banks and returns bil­lions of dol­lars to defraud­ed con­sumers. This record gives us some con­fi­dence that War­ren means what she says when she pro­pos­es a wealth tax or an employ­ee co-deter­mi­na­tion scheme.
Demo­c­ra­t­ic vot­ers may also have had a bet­ter sense of how recent pres­i­dents would gov­ern if they had scru­ti­nized the first years of can­di­dates' polit­i­cal lives. As ear­ly as 1996, polit­i­cal sci­en­tist Adolph Reed warned that Barack Oba­ma, then a state sen­a­tor, had ​"vac­u­ous-to-repres­sive neolib­er­al pol­i­tics," and that his ​"fun­da­men­tal­ly boot­strap line was soft­ened by a pati­na of the rhetoric of authen­tic com­mu­ni­ty, talk about meet­ing in kitchens, small-scale solu­tions to social prob­lems, and the pre­dictable ele­va­tion of process over program."
But at the 2004 Demo­c­ra­t­ic Nation­al Con­ven­tion, the coun­try fell in love with Obama's words, and his long­stand­ing ten­den­cy to favor ​"process over pro­gram" was over­looked. Indeed, the traits Reed iden­ti­fied — using the rhetoric of com­mu­ni­ty to paper over a lack of real action — turned out to be the cen­tral weak­ness of Oba­ma as pres­i­dent. He showed far more of an inter­est in ​"bring­ing peo­ple togeth­er" than in tak­ing on the pow­er­ful, and appoint­ed a ​"Gold­man Sachs" gov­ern­ment fea­tur­ing archi­tects of neolib­er­al eco­nom­ic pol­i­cy such as Lar­ry Sum­mers. If one had tak­en seri­ous­ly Obama's anti-Wall Street rhetoric in 2008, one might have been sur­prised by this. If one had looked at his long career of cau­tion and cen­trism (as Reed did), this was exact­ly what one would have expected.
Vot­ers are going to have to choose care­ful­ly in 2020. Based on cur­rent polling, it seems as if sev­er­al Demo­c­ra­t­ic can­di­dates could beat Trump, includ­ing War­ren, Sen. Bernie Sanders (I‑Vt.) and Joe Biden.
But beat­ing Trump is only the first task. The sec­ond task is to imple­ment a pro­gres­sive agen­da — a must, con­sid­er­ing that the dete­ri­o­ra­tion of U.S. civic and eco­nom­ic life pre­dates Trump. Vot­ers need to demand can­di­dates whose life tra­jec­to­ries and past actions make it clear that they have more to offer than polit­i­cal­ly con­ve­nient sound bites.
For a response to this piece, see ​"Why We Should Believe Cam­paign Promises."
Nathan Robin­son
is the edi­tor of
Cur­rent Affairs
mag­a­zine and the author of
Trump: Anato­my of a Mon­stros­i­ty
.