Congress Should Do Its Job and Restrain the President's Wartime Powers
Congress always seems ready to criticize President Obama—except on issues that matters most.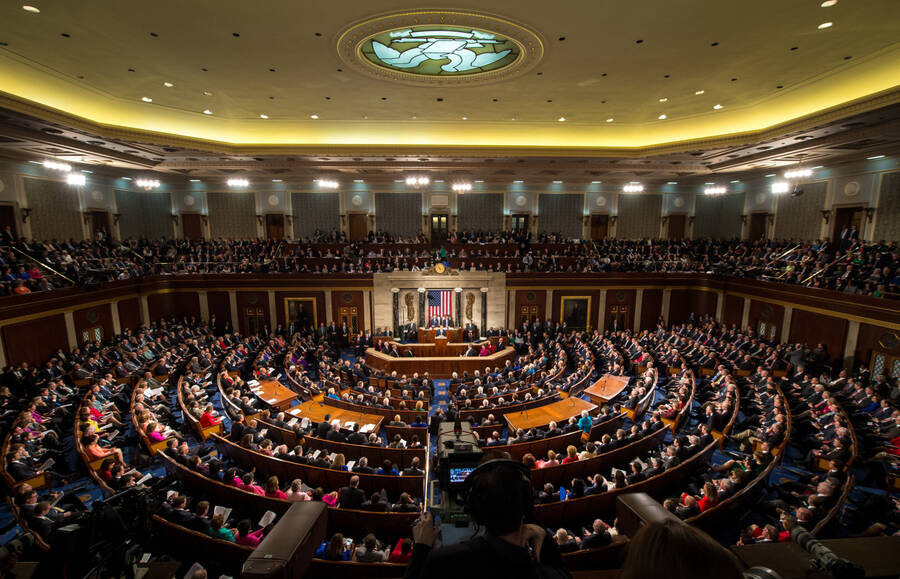 This arti­cle first appeared at TomDis­patch.
On matters where President Obama is clearly acting in accordance with the Constitution, Congress spares no effort to thwart him, concocting bizarre arguments nowhere found in the Constitution to justify their obstructionism. Yet when this same president cites the 2001 AUMF as the basis for initiating hostilities hither and yon, something that is on the face of it not legal but ludicrous, they passively assent.
Let's face it: In times of war, the Con­sti­tu­tion tends to take a beat­ing. With the safe­ty or sur­vival of the nation said to be at risk, the basic law of the land — oth­er­wise con­sid­ered sacro­sanct — becomes non­bind­ing, sub­ject to being waived at the whim of gov­ern­ment author­i­ties who are impa­tient, scared, pan­icky, or just plain pissed off.
The exam­ples are legion. Dur­ing the Civ­il War, Abra­ham Lin­coln arbi­trar­i­ly sus­pend­ed the writ of habeas cor­pus and ignored court orders that took issue with his author­i­ty to do so. After U.S. entry into World War I, the admin­is­tra­tion of Woodrow Wil­son mount­ed a com­pre­hen­sive effort to crush dis­sent, shut­ting down anti-war pub­li­ca­tions in com­plete dis­re­gard of the First Amend­ment. Amid the hys­te­ria trig­gered by Pearl Har­bor, Franklin Roo­sevelt issued an exec­u­tive order con­sign­ing to con­cen­tra­tion camps more than 100,000 Japan­ese-Amer­i­cans, many of them native-born cit­i­zens. Asked in 1944 to review this gross vio­la­tion of due process, the Supreme Court endorsed the government's action by a 6 – 3 vote.
More often than not, the pass­ing of the emer­gency induces sec­ond thoughts and even remorse. The fur­ther into the past a par­tic­u­lar war recedes, the more dubi­ous the wartime argu­ments for vio­lat­ing the Con­sti­tu­tion appear. Amer­i­cans there­by take com­fort in the ​"lessons learned" that will pre­sum­ably pro­hib­it any future recur­rence of such folly.
Even so, the onset of the next war finds the Con­sti­tu­tion once more being ill-treat­ed. We don't repeat past trans­gres­sions, of course. Instead, we devise new ones. So it has been dur­ing the ongo­ing post‑9/​11 peri­od of pro­tract­ed war.
Dur­ing the pres­i­den­cy of George W. Bush, the Unit­ed States embraced tor­ture as an instru­ment of pol­i­cy in clear vio­la­tion of the Eighth Amend­ment pro­hibit­ing cru­el and unusu­al pun­ish­ment. Bush's suc­ces­sor, Barack Oba­ma, ordered the extra­ju­di­cial killing of an Amer­i­can cit­i­zen, a death by drone that was vis­i­bly in dis­re­gard of the Fifth and Four­teenth Amend­ments. Both admin­is­tra­tions — Bush's with gus­to, Obama's with evi­dent regret — impris­oned indi­vid­u­als for years on end with­out charge and with­out any­thing remote­ly approx­i­mat­ing the ​"speedy and pub­lic tri­al, by an impar­tial jury" guar­an­teed by the Sixth Amend­ment. Should the present state of hos­til­i­ties ever end, we can no doubt expect Guan­tá­namo to become yet anoth­er source of ​"lessons learned" for future gen­er­a­tions of rue­ful Americans.
Con­gress on the Sidelines
Yet one par­tic­u­lar check-and-bal­ance con­sti­tu­tion­al pro­vi­so now appears exempt from this recur­ring phe­nom­e­non of dis­re­gard fol­lowed by pro­fes­sions of dis­may, embar­rass­ment, and ​"nev­er again-ism" once the mil­i­tary emer­gency pass­es. I mean, of course, Arti­cle I, sec­tion 8 of the Con­sti­tu­tion, which assigns to Con­gress the author­i­ty ​"to declare war" and still stands as tes­ti­mo­ny to the genius of those who draft­ed it. There can be no ques­tion that the respon­si­bil­i­ty for decid­ing when and whether the Unit­ed States should fight resides with the leg­isla­tive branch, not the exec­u­tive, and that this was man­i­fest­ly the intent of the Framers.
On parch­ment at least, the divi­sion of labor appears straight­for­ward. The president's des­ig­na­tion as com­man­der-in-chief of the armed forces in no way implies a blan­ket autho­riza­tion to employ those forces how­ev­er he sees fit or any­thing faint­ly like it. Quite the con­trary: legit­imiz­ing pres­i­den­tial com­mand requires explic­it con­gres­sion­al sanction.
Actu­al prac­tice has evolved into some­thing alto­geth­er dif­fer­ent. The por­tion of Arti­cle I, Sec­tion 8, cit­ed above has become a dead let­ter, about as oper­a­tive as blue laws still on the books in some Amer­i­can cities and towns that pur­port to reg­u­late Sab­bath day activ­i­ties. Super­sed­ing the writ­ten text is an unwrit­ten coun­ter­part that goes some­thing like this: With leg­is­la­tors large­ly con­signed to the sta­tus of observers, pres­i­dents pret­ty much wage war when­ev­er, wher­ev­er, and how­ev­er they see fit. Whether the result qual­i­fies as usurpa­tion or for­fei­ture is one of those chick­en-and-egg ques­tions that's inter­est­ing but prac­ti­cal­ly speak­ing beside the point.
This is by no means a recent devel­op­ment. It has a his­to­ry. In the sum­mer of 1950, when Pres­i­dent Har­ry Tru­man decid­ed that a U.N. Secu­ri­ty Coun­cil res­o­lu­tion pro­vid­ed suf­fi­cient war­rant for him to order U.S. forces to fight in Korea, con­gres­sion­al war pow­ers took a hit from which they would nev­er recover.
Con­gress soon there­after bought into the notion, fash­ion­able dur­ing the Cold War, that for­mal dec­la­ra­tions of hos­til­i­ties had become passé. Wag­ing the ​"long twi­light strug­gle" osten­si­bly required def­er­ence to the com­man­der-in-chief on all mat­ters relat­ed to nation­al secu­ri­ty. To sus­tain the pre­tense that it still retained some rel­e­vance, Con­gress took to issu­ing what were essen­tial­ly per­mis­sion slips, grant­i­ng pres­i­dents max­i­mum free­dom of action to do what­ev­er they might decide need­ed to be done in response to the lat­est per­ceived crisis.
The Tonkin Gulf Res­o­lu­tion of 1964 offers a notable exam­ple. With near una­nim­i­ty, leg­is­la­tors urged Pres­i­dent Lyn­don John­son ​"to take all nec­es­sary mea­sures to repel any armed attack against the forces of the Unit­ed States and to pre­vent fur­ther aggres­sion" across the length and breadth of South­east Asia. Through the mag­ic of pres­i­den­tial inter­pre­ta­tion, a man­date to pre­vent aggres­sion pro­vid­ed legal cov­er for an aston­ish­ing­ly bru­tal and aggres­sive war in Viet­nam, as well as Cam­bo­dia and Laos. Under the guise of repelling attacks on U.S. forces, John­son and his suc­ces­sor, Richard Nixon, thrust mil­lions of Amer­i­can troops into a war they could not win, even if more than 58,000 died trying.
To leap almost four decades ahead, think of the Autho­riza­tion to Use Mil­i­tary Force (AUMF) that was passed by Con­gress in the imme­di­ate after­math of 9⁄11 as the grand­child of the Tonkin Gulf Res­o­lu­tion. This doc­u­ment required (direct­ed, called upon, request­ed, invit­ed, urged) Pres­i­dent George W. Bush ​"to use all nec­es­sary and appro­pri­ate force against those nations, orga­ni­za­tions, or per­sons he deter­mines planned, autho­rized, com­mit­ted, or aid­ed the ter­ror­ist attacks that occurred on Sep­tem­ber 11, 2001, or har­bored such orga­ni­za­tions or per­sons, in order to pre­vent any future acts of inter­na­tion­al ter­ror­ism against the Unit­ed States by such nations, orga­ni­za­tions, or per­sons." In plain lan­guage: Here's a blank check; feel free to fill it in any way you like.
For­ev­er War
As a prac­ti­cal mat­ter, one spe­cif­ic indi­vid­ual — Osama bin Laden — had hatched the 9⁄11 plot. A sin­gle orga­ni­za­tion — al-Qae­da — had con­spired to pull it off. And just one nation — back­ward, Tal­iban-con­trolled Afghanistan — had pro­vid­ed assis­tance, offer­ing sanc­tu­ary to bin Laden and his hench­men. Yet near­ly 15 years lat­er, the AUMF remains oper­a­tive and has become the basis for mil­i­tary actions against innu­mer­able indi­vid­u­als, orga­ni­za­tions, and nations with no involve­ment what­so­ev­er in the mur­der­ous events of Sep­tem­ber 11, 2001.
Con­sid­er the fol­low­ing less than com­pre­hen­sive list of four devel­op­ments, all of which occurred just with­in the last month and a half:
*In Yemen, a U.S. airstrike killed at least 50 indi­vid­u­als, said to be mem­bers of an Islamist orga­ni­za­tion that did not exist on 9⁄11.
*In Soma­lia, anoth­er U.S. airstrike killed a report­ed 150 mil­i­tants, reput­ed­ly mem­bers of al-Shabab, a very nasty out­fit, even if one with no real agen­da beyond Soma­lia itself.
*In Syr­ia, pur­suant to the cam­paign of assas­si­na­tion that is the lat­est spin-off of the Iraq War, U.S. spe­cial oper­a­tions forces bumped off the reput­ed ​"finance min­is­ter" of the Islam­ic State, anoth­er ter­ror group that didn't even exist in Sep­tem­ber 2001.
*In Libya, accord­ing to press reports, the Pen­ta­gon is again gear­ing up for ​"deci­sive mil­i­tary action" — that is, a new round of air strikes and spe­cial oper­a­tions attacks to quell the dis­or­der result­ing from the U.S.-orchestrated air cam­paign that in 2011 desta­bi­lized that coun­try. An airstrike con­duct­ed in late Feb­ru­ary gave a hint of what is to come: it killed approx­i­mate­ly 50 Islam­ic State mil­i­tants (and pos­si­bly two Ser­bian diplo­mat­ic captives).
Yemen, Soma­lia, Syr­ia and Libya share at least this in com­mon: none of them, nor any of the groups tar­get­ed, had a hand in the 9⁄11 attacks.
Imag­ine if, with­in a mat­ter of weeks, Chi­na were to launch raids into Viet­nam, Thai­land and Tai­wan, with puni­tive action against the Philip­pines in the off­ing. Or if Rus­sia, hav­ing giv­en a swift kick to Ukraine, Geor­gia and Azer­bai­jan, leaked its plans to teach Poland a les­son for mis­man­ag­ing its inter­nal affairs. Were Chi­nese Pres­i­dent Xi Jin­ping or Russ­ian Pres­i­dent Vladimir Putin to order such actions, the halls of Con­gress would ring with fierce denun­ci­a­tions. Mem­bers of both hous­es would jos­tle for places in front of the TV cam­eras to con­demn the per­pe­tra­tors for reck­less­ly vio­lat­ing inter­na­tion­al law and under­min­ing the prospects for world peace. Hav­ing no juris­dic­tion over the actions of oth­er sov­er­eign states, sen­a­tors and rep­re­sen­ta­tives would break down the doors to seize the oppor­tu­ni­ty to get in their two cents worth. No one would be able to stop them. Who does Xi think he is! How dare Putin!
Yet when an Amer­i­can pres­i­dent under­takes anal­o­gous actions over which the leg­isla­tive branch does have juris­dic­tion, mem­bers of Con­gress either yawn or avert their eyes.
In this regard, Repub­li­cans are espe­cial­ly egre­gious offend­ers. On mat­ters where Pres­i­dent Oba­ma is clear­ly act­ing in accor­dance with the Con­sti­tu­tion — for exam­ple, in nom­i­nat­ing some­one to fill a vacan­cy on the Supreme Court — they spare no effort to thwart him, con­coct­ing bizarre argu­ments nowhere found in the Con­sti­tu­tion to jus­ti­fy their obstruc­tion­ism. Yet when this same pres­i­dent cites the 2001 AUMF as the basis for ini­ti­at­ing hos­til­i­ties hith­er and yon, some­thing that is on the face of it not legal but ludi­crous, they pas­sive­ly assent.
Indeed, when Oba­ma in 2015 went so far as to ask Con­gress to pass a new AUMF address­ing the spe­cif­ic threat posed by the Islam­ic State — that is, essen­tial­ly rub­ber­stamp­ing the war he had already launched on his own in Syr­ia and Iraq — the Repub­li­can lead­er­ship took no action. Look­ing for­ward to the day when Oba­ma departs office, Sen­a­tor Mitch McConnell with his trade­mark hypocrisy wor­ried aloud that a new AUMF might con­strain his suc­ces­sor. The next pres­i­dent will ​"have to clean up this mess, cre­at­ed by all of this pas­siv­i­ty over the last eight years," the major­i­ty leader remarked. In that regard, ​"an autho­riza­tion to use mil­i­tary force that ties the pres­i­den­t's hands behind his back is not some­thing I would want to do." The prop­er role of Con­gress was to get out of the way and give this com­man­der-in-chief carte blanche so that the next one would enjoy com­pa­ra­bly unlim­it­ed prerogatives.
Col­lab­o­rat­ing with a pres­i­dent they round­ly despise — implic­it­ly con­cur­ring in Obama's ques­tion­able claim that ​"exist­ing statutes [already] pro­vide me with the author­i­ty I need" to make war on ISIS — the GOP-con­trolled Con­gress there­by trans­formed the post‑9/​11 AUMF into what has now become, in effect, a writ of per­ma­nent and lim­it­less armed con­flict. In Iraq and Syr­ia, for instance, what began as a lim­it­ed but open-end­ed cam­paign of air strikes autho­rized by Pres­i­dent Oba­ma in August 2014 has expand­ed to include an ever-larg­er con­tin­gent of U.S. train­ers and advis­ers for the Iraqi mil­i­tary, spe­cial oper­a­tions forces con­duct­ing raids in both Iraq and Syr­ia, the first new all‑U.S. for­ward fire base in Iraq, and at least 5,000 U.S. mil­i­tary per­son­nel now on the ground, a num­ber that con­tin­ues to grow incrementally.
Remem­ber Barack Oba­ma cam­paign­ing back in 2008 and solemn­ly pledg­ing to end the Iraq War? What he neglect­ed to men­tion at the time was that he was retain­ing the pre­rog­a­tive to plunge the coun­try into anoth­er Iraq War on his own tick­et. So has he now done, with mem­bers of Con­gress pas­sive­ly assent­ing and the coun­try essen­tial­ly a pris­on­er of war.
By now, through its inac­tion, the leg­isla­tive branch has, in fact, sur­ren­dered the final rem­nant of author­i­ty it retained on mat­ters relat­ing to whether, when, against whom and for what pur­pose the Unit­ed States should go to war. Noth­ing now remains but to pay the bills, which Con­gress rou­tine­ly does, cit­ing a solemn oblig­a­tion to ​"sup­port the troops." In this way does the per­for­mance of less­er duties pro­vide an excuse for shirk­ing far greater ones.
In mil­i­tary cir­cles, there is a term to describe this type of behav­ior. It's called cowardice.
Andrew Bace­vich
is the author of America's War for the Greater Mid­dle East: A Mil­i­tary His­to­ry, which has just been pub­lished by Ran­dom House.