Prison Food Company Faces Fresh Criticism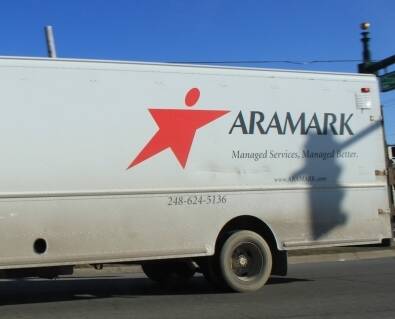 Aramark, the multimillion dollar food service company responsible for feeding thousands of prisoners, is in trouble again. MLive reports that Michigan's Department of Corrections has issued numerous orders banning Aramark employees from its prisons for violating department policies. As Brian Smith reports, Michigan also issued tens of thousands of dollars in fines to the company in March for contract violations, the same month Aramark was included on an Ethicsphere list of the ​"World's Most Ethical Companies."
​"The Michigan Department of Corrections has issued 51 ​"stop orders" banning Aramark workers from the state's correctional facilities for a number of issues, department spokesman Russ Marlan said.

Aramark took over food service operations at the state's prisons late last year after the corrections department privatized feeding inmates in what the department said was a cost-cutting move.

Marlan said that the number of orders issued ejecting Aramark employees from working in Michigan prisons since the contract began is abnormal.

​"I would say 51 is on the high side," Marlan said. ​"To put that in perspective, there were 40 stop orders issued for all other non-Aramark employees during the same time period."

The state fined Aramark almost $100,000 in March for contract violations, including ​"overfamiliarity" with inmates and unauthorized changes to menus." Continue reading…
Aramark took over prison food services in Michigan late last year, in a move officials said would save the state money. Just two months after the start of the three-year, $145 million contract Detroit News reported hundreds of prisoners at Kinross Correctional Facility left their cells in a peaceful ​"food-related," protest. Michigan prison employee unions, who opposed the initial privatization decision, have joined state lawmakers in calling for the contract's cancellation. In a statement to The Prison Complex, Aramark spokesperson Karen Cutler said:
​"Working in partnership with the Michigan Department of Corrections, we continue to make considerable progress in resolving the many challenges associated with a transition of this size and complexity. We remain confident that we will deliver the service that is expected and deserved while achieving substantial savings for Michigan taxpayers."
It's not the first time Aramark has come under fire for its prison food service. The Philadelphia based company has stood accused of providing inadequate or poor quality food in Kentucky, New Jersey, California, and Florida. As reported here on The Prison Complex, in January Indiana prisoners took part in a hunger strike to protest the quality of food Aramark was providing in the state's Westville Correctional Facility.
Support this work
Reader donations, many as small as just $5, are what fund the work of writers like this—and keep our content free and accessible to everyone. If you support this work, will chip in to help fund it?

It only takes a minute to donate. Click here to make a tax-deductible donation.
George Lavender
is an award-winning radio and print journalist based in Los Angeles. Follow him on Twitter @GeorgeLavender.
Help support this work
As a reader-supported, nonprofit publication, all of the journalism In These Times produces is made possible by readers like you. If you support this work, will chip in $5 or more to help fund it?