Prisoners in Texas Dying from Extreme Heat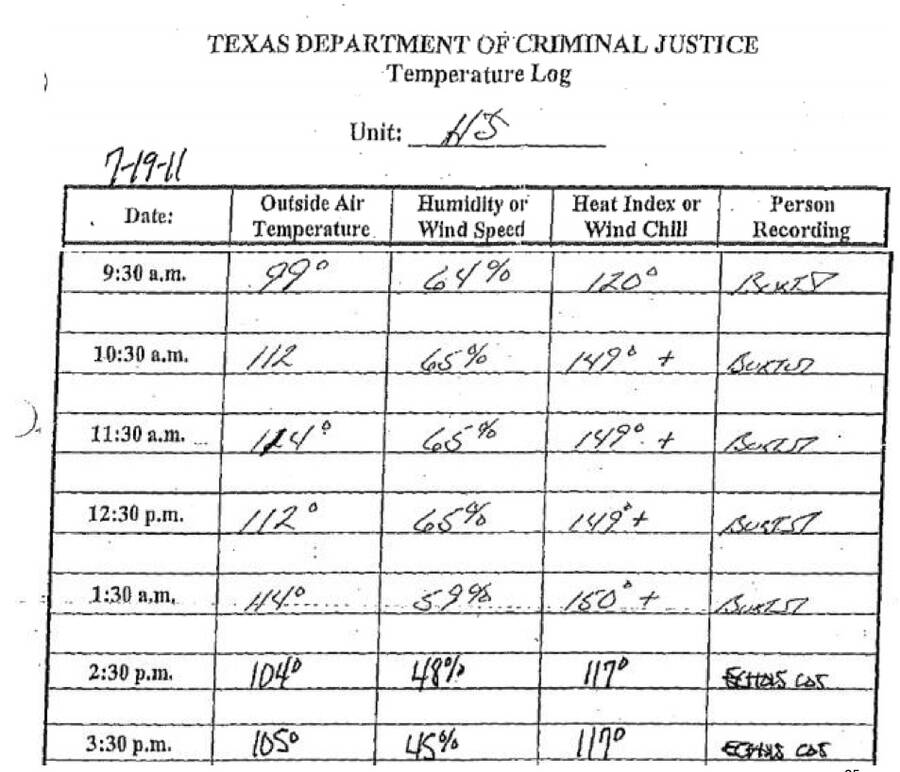 At least 14 pris­on­ers have died from extreme heat in Texas pris­ons since 2007, accord­ing to a report pub­lished today. ​"Dead­ly Heat in Texas Pris­ons" by the Human Rights Clin­ic at the Uni­ver­si­ty of Texas School of Law claims high sum­mer tem­per­a­tures inside Texas Depart­ment of Crim­i­nal Jus­tice facil­i­ties con­sti­tute ​"cru­el and unusu­al pun­ish­ment" and calls the depart­men­t's response ​"woe­ful­ly inadequate."
The Unit­ed States Court of Appeals for the Fifth Cir­cuit has rec­og­nized time and again that extreme heat in pris­ons can con­sti­tute a vio­la­tion of inmates' Eighth Amend­ment rights. In a 2012 case, a 63 year old Texas pris­on­er pre­sent­ed with a pre­ex­ist­ing blood pres­sure con­di­tion, and was tak­ing med­ica­tion that would affect his body's abil­i­ty to reg­u­late tem­per­a­ture. The court decid­ed that a rea­son­able jury could con­clude that a fail­ure to pro­vide air con­di­tion­ing, among oth­er things, to an indi­vid­ual with these con­di­tions was a vio­la­tion of the prisoner's con­sti­tu­tion­al rights.
The Nation­al Weath­er Ser­vice (NWS) calls heat ​"one of the lead­ing weath­er-relat­ed killer[s] in the Unit­ed States, result­ing in hun­dreds of fatal­i­ties each year." The Human Rights Clin­ic report points out that pris­on­ers with med­ical issues are par­tic­u­lar­ly vul­ner­a­ble to extreme heat, and that aver­age sum­mer tem­per­a­tures in Texas fre­quent­ly exceed 90°F.
Texas has one of the high­est impris­on­ment rates and one of the largest inmate pop­u­la­tions in the coun­try. The TDCJ's lat­est pub­lished sta­tis­tics show that there were 152,303 incar­cer­at­ed indi­vid­u­als in TDCJ facil­i­ties as of August 31, 2012, locat­ed in 109 TDCJ units through­out the state. Most of these inmates are exposed to extreme heat. Recent TDCJ tem­per­a­ture logs have record­ed heat indices sur­pass­ing 100 °F by 8:30 in the morn­ing. Even if the cli­mate remained in this state for the entire day, inmates already would be fac­ing heat indices that the NWS has iden­ti­fied as approach­ing with extreme cau­tion due to an increased like­li­hood of heat-relat­ed injury. In some instances, records also show that air tem­per­a­tures out­side some TDCJ facil­i­ties have spiked above 110 °F by 10:30AM, result­ing in a heat index exceeed­ing 149 °F. These tem­per­a­tures can remain at that lev­el for sev­er­al hours; indeed, inves­ti­ga­tions into heat-relat­ed deaths at TDCJ facil­i­ties have found tem­per­a­tures above 90 °F even past mid­night. This heat far exceeds any lev­els of extreme dan­ger iden­ti­fied by the NWS. Con­tin­ue reading…
An offi­cial with the Texas Depart­ment of Crim­i­nal Jus­tice said that the depart­ment would not answer ques­tions because of ​"pend­ing lit­i­ga­tion," but issued the fol­low­ing state­ment to The Prison Complex
The well being of staff and offend­ers is a top pri­or­i­ty for the agency and we remain com­mit­ted to mak­ing sure that both are safe dur­ing the extreme heat.

TDCJ takes pre­cau­tions to help reduce heat – relat­ed ill­ness­es such as pro­vid­ing water and ice to staff and offend­ers in work and hous­ing areas, restrict­ing offend­er activ­i­ty dur­ing the hottest parts of the day, and train­ing staff to iden­ti­fy those with heat relat­ed ill­ness­es and refer them to med­ical staff for treatment.

Although a detailed cost analy­sis has not been done, retro­fitting facil­i­ties with air con­di­tion­ing would be extreme­ly expen­sive. It should be not­ed that med­ical, psy­chi­atric, and geri­atric units are air conditioned.

Below are some sys­tem wide pro­to­cols that units uti­lize dur­ing extreme heat.

*Pro­vide addi­tion­al water; ice is pro­vid­ed if avail­able in the work and hous­ing areas

*Restrict out­side activ­i­ty (work hours) in accor­dance with agency policy

*Ensure all staff and offend­ers work­ing in areas of extreme heat (e.g., field, main­te­nance, yard squad) are pro­vid­ed fre­quent water breaks *Trans­port offend­ers dur­ing the coolest hours of the day

*Screen out­go­ing offend­ers to ensure the select­ed mode of trans­porta­tion is appropriate

*Load and unload trans­fer vehi­cles as quick­ly as possible

*Refill water cool­ers on bus­es at var­i­ous times dur­ing the trip to main­tain water at appro­pri­ate temperature

*When uti­liz­ing fans, air is drawn through the struc­ture and exhaust­ed out­side, tak­ing full advan­tage of the fresh air exchange sys­tem or pre­vail­ing winds to assist in the move­ment of air, as applicable

*Increase air­flow by uti­liz­ing blow­ers, when appro­pri­ate, nor­mal­ly used to move hot air in the win­ter; attach rib­bons to vents to ensure blow­ers are being used appropriately

*Allow addi­tion­al show­ers for offend­ers when feasible

*Allow offend­ers to wear shorts in day­rooms and recre­ation­al areas

*All cus­tody lev­els are allowed fans.

*Train employ­ees and offend­ers so they are aware of the signs and treat­ment for heat-relat­ed illnesses

*TDCJ staff and med­ical providers work close­ly togeth­er to iden­ti­fy offend­ers sus­cep­ti­ble to heat relat­ed issues. A list of iden­ti­fied offend­ers is pro­vid­ed to hous­ing offi­cers who con­duct fre­quent well­ness checks on the offenders.

The agency strives to mit­i­gate the impact of tem­per­a­ture extremes. Again, TDCJ is com­mit­ted to mak­ing sure that offend­ers and staff are safe dur­ing the extreme heat.
In Decem­ber, a fed­er­al judge in Louisiana ruled that tem­per­a­tures at Ango­la pris­on's death row vio­lat­ed pris­on­ers' 8th Amend­ment Rights. Judge Bri­an A Jack­son ordered the state to come up with a plan to keep tem­per­a­tures in the cells below 88°F.
George Laven­der
is an award-win­ning radio and print jour­nal­ist based in Los Ange­les. Fol­low him on Twit­ter @GeorgeLavender.