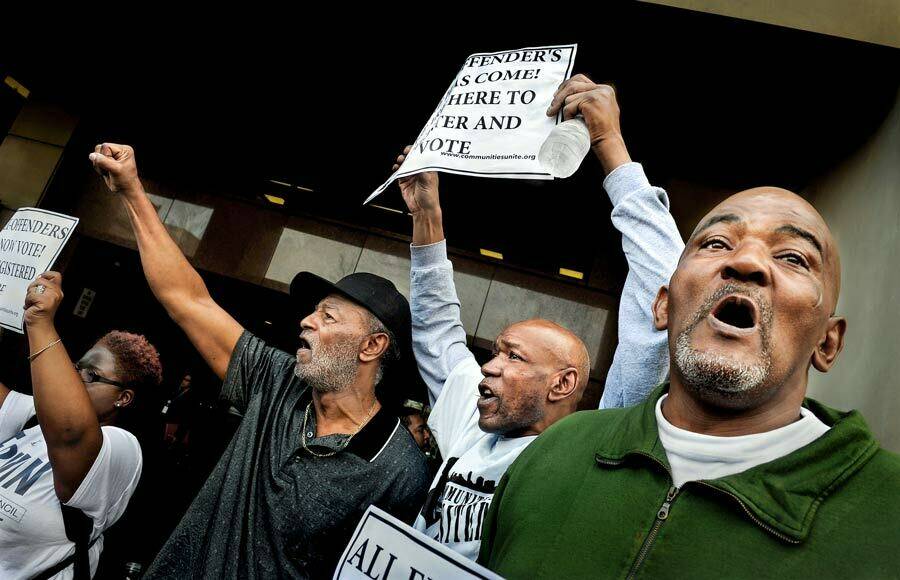 Emmett Sanders was incar­cer­at­ed at age 18 and spent 22 and a half years in prison. When he spoke with In These Times in June, he had only been home for 18 months. After get­ting the lay of the land — learn­ing things like how to write a résumé and use a cell phone, and what the hell a Google was — he threw him­self head­long into the work that now con­sumes so much of his dai­ly life: advo­cat­ing for vot­ing rights for those behind bars. ​"I can't for­get being [in prison] and I can't for­get the peo­ple who are still there, you know?" he says. ​"They fight every day of their lives and the very least I can do is take the oppor­tu­ni­ty to fight with them."
"Going to prison doesn't mean you forfeit your right to care about what happens to your family, your child, your community or even your country."
One of the key­stones of that work is ​"Full Human Beings," a report Sanders authored in May for the People's Pol­i­cy Project, a pro­gres­sive think tank. In it, he argues that a soci­ety that restricts the right to vote is com­mit­ting an assault on a basic moral prin­ci­ple — that every cit­i­zen should have a say in the deci­sions that shape their lives. Mend that error, Sanders insists, and ​"the Unit­ed States might actu­al­ly join the ranks of coun­tries that view incar­cer­at­ed peo­ple as full human beings."
At last count, an esti­mat­ed 6.1 mil­lion Amer­i­cans (1.4 mil­lion of whom are still incar­cer­at­ed) remain barred from vot­ing due to a felony conviction.
Ques­tions about the wis­dom and legit­i­ma­cy of felony dis­en­fran­chise­ment laws have been burst­ing into pop­u­lar debate for years. It wasn't long after the 2000 pres­i­den­tial elec­tion — decid­ed by 500 votes in Flori­da — that it dawned on researchers that open­ing the polls to Florida's hun­dreds of thou­sands of peo­ple with felony con­vic­tions would have swung the elec­tion to Al Gore.
The issue gets to the heart of a con­flict as old as the coun­try itself — one over who gets to shape the deci­sions that affect us all. Sanders is part of a ris­ing cho­rus of grass­roots activists, advo­cates and law­mak­ers work­ing to re-enfran­chise those with felony con­vic­tions. Their argu­ment is twofold: First, that felony dis­en­fran­chise­ment is unde­mo­c­ra­t­ic in the plainest sense, since vot­ing is vital to democ­ra­cy. Sec­ond, that it is racist. Black peo­ple, who make up just 13 per­cent of the pop­u­la­tion, com­prise 38 per­cent of Amer­i­cans barred from vot­ing due to a past con­vic­tion. Put anoth­er way, one in 13 black Amer­i­cans has been stripped of their right to vote, four times the rate of oth­er Amer­i­cans, accord­ing to the research group the Sen­tenc­ing Project.
While some states have had felony dis­en­fran­chise­ment laws on the books since the country's ear­li­est days, most of these codes were nar­row, apply­ing to only a few crimes. The laws expand­ed in the after­math of the Civ­il War, as part of an elab­o­rate, mul­ti­front cam­paign by law­mak­ers across the South to pre­serve white rule over black life. In 1865 and 1866, for­mer slave states adopt­ed a series of Black Codes — laws that made cer­tain aspects of black life crim­i­nal offens­es. Between 1865 and 1880, at least 13 states also passed broad felony dis­en­fran­chise­ment laws. Stroll along the wrong patch of land, speak a whis­per too loud in the pres­ence of white women, fail to prove your employ­ment to white author­i­ties — and be thrown in jail and barred from cast­ing a bal­lot in one fell swoop.
On occa­sion, the authors and inter­preters of these laws would come right out and say what they were up to. The Mis­sis­sip­pi Supreme Court (in a rul­ing upheld by the U.S. Supreme Court in 1898) found that despite being ​"restrained by the fed­er­al con­sti­tu­tion from dis­crim­i­nat­ing against the negro race," the state could still ​"dis­crim­i­nate against its char­ac­ter­is­tics, and the offens­es to which its crim­i­nal mem­bers are prone." The 1901 Alaba­ma Con­sti­tu­tion­al Con­ven­tion met to dis­cuss ​"White Suprema­cy by Law," includ­ing delib­er­ate ​"manip­u­la­tion of the bal­lot" to oppose ​"the men­ace of negro dom­i­na­tion." One new code barred those ​"con­vict­ed of a felony involv­ing moral turpi­tude" from vot­ing. In 2016, that law blocked 1 in 6 black adults in Alaba­ma from vot­ing (com­pared to 1 in 13 Alabami­ans over­all), accord­ing to the Sen­tenc­ing Project.
Felony dis­en­fran­chise­ment laws even­tu­al­ly made it up North, though the direct bow to white suprema­cy was often left behind. All the same, the racial impact lives on.
Today, a num­ber of efforts are under­way to restore those rights. Since 2016, at least five states — Alaba­ma, Louisiana, Mary­land, New York and Vir­ginia — have enact­ed poli­cies that expand vot­ing rights for peo­ple con­vict­ed of felonies who are on pro­ba­tion or parole. Louisiana, for exam­ple, recent­ly restored bal­lot access to those who have been out of prison for at least five years. In Alaba­ma, after enor­mous pres­sure from out­side advo­ca­cy groups and sting­ing exposés from local jour­nal­ists reveal­ing the maze-like nature of the state's vot­ing laws, Gov. Kay Ivey signed the Def­i­n­i­tion of Moral Turpi­tude Act in 2017, clar­i­fy­ing that felonies such as mar­i­jua­na pos­ses­sion do not dis­qual­i­fy peo­ple from vot­ing. With tens of thou­sands of Alabami­ans now eli­gi­ble to have their rights restored, the South­ern Pover­ty Law Cen­ter and the Cam­paign Legal Cen­ter are mobi­liz­ing local lead­ers to help affect­ed vot­ers register.
Accord­ing to the Bren­nan Cen­ter for Jus­tice, 14 states intro­duced felony re-enfran­chise­ment bills in the most recent leg­isla­tive ses­sion, but only Louisiana's made it into law. In Flori­da, for­mer­ly incar­cer­at­ed peo­ple have launched an effort to return vot­ing rights to those who have served their full sen­tence. Amend­ment 4 will appear on the Novem­ber bal­lot, giv­ing Florida's vot­ers a chance to weigh in on whether they approve of the state's first-in-the-nation rate of disenfranchisement.
Most advo­ca­cy efforts have focused on peo­ple who have already exit­ed prison, but Sanders and the People's Pol­i­cy Project point out that the same moral log­ic applies to those inside. People's Pol­i­cy Project Pres­i­dent Matt Bru­enig argues that, instead of ​"a some­what arbi­trary bat­tle over when exact­ly ex-offend­ers should have their vot­ing rights restored," Democ­rats should be advanc­ing the prin­ci­pled posi­tion that ​"those vot­ing rights should nev­er go away in the first place."
It's not a ground­break­ing idea. South Africa, much of Europe and the Euro­pean Court rec­og­nize incar­cer­at­ed people's right to vote. In the Unit­ed States, how­ev­er, only Maine and Ver­mont do — two of the three whitest states.
It isn't hard to imag­ine this as the next fron­tier in vot­ing rights. Mass­a­chu­setts' Eman­ci­pa­tion Ini­tia­tive is work­ing hand in hand with cur­rent and for­mer­ly incar­cer­at­ed peo­ple to end the state's pro­hi­bi­tion on vot­ing behind bars. In the mean­time, they're tak­ing steps to sub­vert it. Through their Bal­lot Over Bars pro­gram, for instance, some­one who's eli­gi­ble to vote on the out­side is matched with some­one who's been dis­en­fran­chised on the inside and com­mits to vot­ing accord­ing to their choic­es, giv­ing the incar­cer­at­ed per­son a proxy voice. The pro­gram is now in its sec­ond year, and near­ly 100 out­side vol­un­teers have signed up, co-founder Elly Kalfus says.
"If peo­ple in prison have the right to vote, then politi­cians will actu­al­ly pay atten­tion to what's going on in pris­ons," Sanders says. Strip­ping pris­ons of fund­ing for job train­ing and edu­ca­tion pro­grams is an easy way for elect­ed offi­cials to bal­ance bud­gets. Sanders also stress­es that ​"laws that have noth­ing to do with prison direct­ly affect incar­cer­at­ed peo­ple as well. Going to prison doesn't mean you for­feit your right to care about what hap­pens to your fam­i­ly, your child, your com­mu­ni­ty or even your country."
Sanders' report, and recent efforts to make vot­ing tru­ly uni­ver­sal for adults, come dur­ing the runup to the 2018 midterms. Democ­rats are espe­cial­ly hope­ful that surg­ing vot­er enthu­si­asm will help them win a con­gres­sion­al major­i­ty. With Repub­li­cans try­ing their damnedest to shrink the pool of eli­gi­ble vot­ers, advo­cates have insist­ed that Democ­rats start look­ing for avenues to expand it in the states where they have the pow­er to do so.
Sanders, how­ev­er, goes beyond argu­ing that the dis­pro­por­tion­ate­ly poor and black peo­ple sit­ting in our jails and pris­ons are a poten­tial reser­voir of votes for one par­ty or the oth­er. Rather, he argues those we've locked away should be allowed to vote as a step toward some­thing much deep­er: rec­og­niz­ing them as full human beings.
It's clear that the sense of pow­er­less­ness that blooms in prison is what dri­ves Sanders' com­mit­ment to ampli­fy­ing the voic­es of the incar­cer­at­ed. ​"I've seen peo­ple not be acknowl­edged as peo­ple. Every day, every moment you're there, there's like this huge con­crete maw just try­ing to devour you, try­ing to just eat your human­i­ty, eat your dig­ni­ty, and you have to fight it every sin­gle day," he says. ​"Any human being should be moved to rec­og­nize the right of oth­er human beings to have their voic­es heard."
ELI DAY was an inves­tiga­tive fel­low with In These Times' Leonard C. Good­man Insti­tute for Inves­tiga­tive Report­ing. He's also a Detroi­ter, where he writes about pol­i­tics, pol­i­cy, racial and eco­nom­ic jus­tice. His work has appeared in Vox, Cur­rent Affairs, Moth­er Jones, and the New Repub­lic, among others.