Progressives Have Won the Battle to Redefine What an "Establishment Candidate" Is
Recent elections show that in 2018, centrists no longer reign supreme.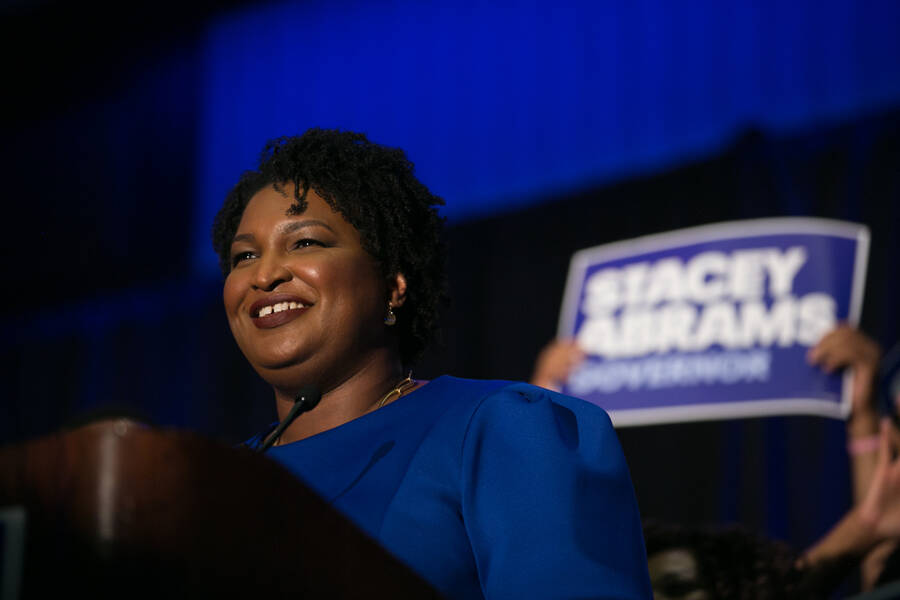 On Tues­day night, four states held pri­ma­ry elec­tions: Arkansas, Geor­gia and Ken­tucky host­ed their first rounds of vot­ing and Texas com­plet­ed its run-off.
In many ways, the Democratic establishment has accepted that supporting positions like Medicare for All, legal marijuana and a $15 minimum wage is where the base is at, and has essentially conceded the point.
The elec­tions across the South saw a broad range of out­comes, from Stacey Abrams' win in Geor­gia to Lau­ra Moser's loss and Gina Oritz Jones and Col­in Allred's vic­to­ries in Texas. Though pun­dits have tried to impose an estab­lish­ment ver­sus insur­gents nar­ra­tive on most of the 2018 Demo­c­ra­t­ic pri­maries, what has large­ly occurred is that pro­gres­sives have won the bat­tle to rede­fine what an ​"estab­lish­ment can­di­date" actu­al­ly is.
Abrams had the sup­port of orga­ni­za­tions that spanned the gam­bit of the ​"estab­lish­ment" while run­ning on a strong pro­gres­sive plat­form and her cam­paign cen­tered mobi­liz­ing black and low-income vot­ers, dis­play­ing a rad­i­cal­ly dif­fer­ent the­o­ry of pol­i­tics than the dom­i­nant view in past elec­tions of court­ing mid­dle-class mod­er­ates, which has large­ly proved unsuc­cess­ful for Democ­rats. As I not­ed before the elec­tion, there real­ly was no wing of the par­ty that opposed Abrams, mak­ing the nation­al media cov­er­age of the race some­what baffling.
Jones (a les­bian Fil­ip­ina who sup­ports Medicare for All) and Allred (a for­mer NFL play­er and civ­il rights leader) both could be con­sid­ered ​"estab­lish­ment" as each was endorsed by the Demo­c­ra­t­ic Con­gres­sion­al Cam­paign Com­mit­tee (DCCC) but in the first round of vot­ing they oust­ed can­di­dates with more estab­lish­ment cre­den­tials and ties (Jay Hul­ings and Ed Meier, respectively).
In many ways, the Demo­c­ra­t­ic estab­lish­ment has accept­ed that sup­port­ing posi­tions like Medicare for All, legal mar­i­jua­na and a $15 min­i­mum wage is where the base is at, and has essen­tial­ly con­ced­ed the point. Cen­trist busi­ness­men are out, pro­gres­sive women of col­or are in and in a cycle where the par­ty wants to mobi­lize pro­gres­sives, women, and peo­ple of col­or, that's a sen­si­ble strategy.
The most obvi­ous lessons from Tues­day are that women con­tin­ue to dra­mat­i­cal­ly over per­form and that pro­gres­sive can­di­dates are still win­ning pri­maries. For exam­ple, in Kentucky's 6th Dis­trict Amy McGrath defeat­ed Blue Dog pre­ferred Jim Gray, fol­low­ing oth­er upset pri­ma­ry wins in last week elec­tions, such as Kara East­man in Nebras­ka and Tal­ley Ser­gent in West Virginia.
And final­ly, while these elec­tions all took place in red states, the results show that grass­roots activism, a focus on health­care and a mobi­lize-the-base strat­e­gy could pro­duce big vic­to­ries, as elec­tions are increas­ing­ly decid­ed by whether a party's sup­port­ers turn out to vote, rather than per­suad­ing vot­ers of the oth­er par­ty to flip.
Below are high­lights from Tuesday's Demo­c­ra­t­ic pri­maries across the country.
Geor­gia:
Gov­er­nor: This was the mar­quee race of the night and attract­ed the most atten­tion, which was always some­what per­plex­ing. The Demo­c­ra­t­ic pri­ma­ry win­ner Stacey Abrams, who ran on a pro­gres­sive plat­form, locked down sup­port from seem­ing­ly every wing of the par­ty — from Our Rev­o­lu­tion to EMILY's List — and giv­en the polit­i­cal cli­mate and the over­whelm­ing­ly African-Amer­i­can pri­ma­ry elec­torate, she was the favorite to win. In many ways, the media was try­ing to cre­ate a race here that nev­er exist­ed. Abrams goes into Novem­ber as an under­dog, but she's bank­ing on mobi­liz­ing black vot­ers and pro­gres­sives through cam­paign­ing on issues like Med­ic­aid expan­sion, which would insure 240,000 peo­ple.
Accord­ing to recent polling, three in four Geor­gians sup­port Med­ic­aid expan­sion, includ­ing 57 per­cent of Repub­li­cans, but Repub­li­can politi­cians have refused to expand the pro­gram because of racism. Abrams will face off against either Casey Cagle or Bri­an Kemp, who have been in a com­pe­ti­tion to see who can embrace more overt­ly white suprema­cist rhetoric. The win­ner on the GOP side will be decid­ed in a July 24th run-off.
GA-01: Our Rev­o­lu­tion endorsed activist Lisa Ring won her pri­ma­ry with a major­i­ty of the vote, mean­ing she will take on Earl ​"Bud­dy" Carter in Novem­ber. Trump won this dis­trict by 15 points last November.
GA-06: Lucy McBath, whose son was mur­dered by Michael Dunn in 2012 over loud music, won a plu­ral­i­ty in the first round and is the favorite going into the run-off against busi­ness­man Kevin Abel. She'll have more time to estab­lish name iden­ti­fi­ca­tion and fundrais­ing she lacked this round due to her late entrance into the race (mak­ing her per­for­mance impres­sive). She's run­ning on health­care for all, gun safe­ty and repro­duc­tive free­dom. Incum­bent Karen Han­del, whose con­tro­ver­sial tenure at Komen for the Cure involved over­see­ing a deba­cle that com­pro­mised women's health and served as an embar­rass­ment for the orga­ni­za­tion, is the per­fect foil for McBath, a two-time breast can­cer survivor.
Sen­a­tor Kirsten Gilli­brand, an ear­ly sup­port­er of McBath, tells me, ​"I was proud to sup­port Lucy McBath because she will fight hard to make sure no one else los­es their child to sense­less gun vio­lence the way she did. As a moth­er, a busi­ness­woman and social jus­tice activist, we need more peo­ple with her life expe­ri­ence serv­ing in Congress."
GA-07: Pub­lic pol­i­cy pro­fes­sor Car­olyn Bour­deaux won a plu­ral­i­ty of the vote and is the favorite against busi­ness­man David Kim in the July run-off. The win­ner will take on Repub­li­can Bob Woodall who has raised baf­fling­ly lit­tle for an incum­bent in a dis­trict where Trump won by sin­gle-dig­its, and he will be vul­ner­a­ble in this pro-Demo­c­ra­t­ic environment.
Down-Bal­lot: Our Rev­o­lu­tion endorsed social work­er Shelly Hutchin­son won her pri­ma­ry for Georgia's 107th State House dis­trict. In Georgia's 5th state sen­ate dis­trict, Sheikh Rah­man won, set­ting him on the path to become the first immi­grant in Georgia's state senate.
Arkansas and Kentucky:
AR-02: State leg­is­la­tor Clarke Tuck­er will face French Hill in this 42 Clin­ton, 52 Trump dis­trict (the ten point dis­par­i­ty indi­cates some third-par­ty vot­ers a Demo­c­rat might be able to win in a favor­able environment).
KY-01: Our Rev­o­lu­tion endorsee Paul Walk­er hand­i­ly won the pri­ma­ry to take on James Com­er in Novem­ber. Trump won this dis­trict 72 per­cent to 24 per­cent and will be a tough pick-up even in a wave environment.
KY-06: This is a some­what baf­fling place for a $3 mil­lion Demo­c­ra­t­ic blood­bath, but here we are. This deep red dis­trict went for Trump 55 per­cent to 39 per­cent, but has some ances­tral­ly Demo­c­ra­t­ic roots (Demo­c­rat Ben Chan­dler man­aged to sur­vive the Repub­li­can wave of 2010 only to lose nar­row­ly in 2012). McGrath raised big mon­ey off of an ear­ly viral ad and was able to main­tain that momen­tum through the primary.
Down-Bal­lot: DSA-backed can­di­date Richard Beck­er lost in the 3th5 dis­trict while Run for Some­thing and Our Rev­o­lu­tion endorsee Adri­an Wal­lace will move on to the gen­er­al elec­tion for Lex­ing­ton City Coun­cil at Large.
Ken­tucky could be ripe for some Novem­ber upsets: the state has shown a will­ing­ness to vote for Democ­rats (Demo­c­rat Steve Beshear served as Gov­er­nor from 2007 to 2015) and teach­ers' strike activism will like­ly fuel anti-Repub­li­can ener­gy. Repub­li­can House Major­i­ty Leader Jonathan Shell lost to a math teacher mobi­lized by the recent teacher strike activism (please cher­ish the fol­low­ing sen­tence: ​"Shell did not answer a phone call from The Asso­ci­at­ed Press seek­ing com­ment after the race Tues­day."). Shell was a McConnell crony instru­men­tal in leg­is­la­tion gut­ting teach­ers' pen­sions. Democ­rats end­ed up with pro­gres­sives who can speak to that momentum.
Texas:
Gov­er­nor: Lupe Valdez becomes the first open­ly gay and Lati­na woman to become a major par­ty nom­i­nee for Texas Gov­er­nor. She'll face incum­bent Greg Abbott in a tough uphill slog. Valdez has around $115,282 cash on hand, com­pared with Abbott's $41 mil­lion war chest (355 times more).
TX-07: Lizzie Pan­nill Fletch­er unsur­pris­ing­ly won this race. The DCCC hap­haz­ard­ly inter­vened in this pri­ma­ry rais­ing its pro­file and like­ly giv­ing the Moser cam­paign the wind it need­ed to make the pri­ma­ry. Fletch­er will face John Cul­ber­son in this dis­trict where Clin­ton nar­row­ly won in 2016.
TX-23 and TX-32: In the 23rd and 32nd, Gina Oritz Jones and Col­in Allred eas­i­ly won their run-offs. These are two of the most excit­ing pro­gres­sives this cycle. In Novem­ber, Ortiz Jones will face Will Hurd, who has been try­ing to cut a ​"mod­er­ate" mold despite vot­ing with Trump 97 per­cent of the time while Allred will face Pete Ses­sions in a dis­trict Clin­ton nar­row­ly won in 2016.
TX-21: In the 21st, cen­trist Joseph Kopser took the nom­i­na­tion over pro­gres­sive chal­lenger Mary Wil­son. Kopser out­spent Wil­son and won 58 per­cent of the vote. He'll face for­mer Ted Cruz chief of staff Chip Roy in this dis­trict held by retir­ing rep­re­sen­ta­tive Lamar Smith.
Down-Bal­lot: Democ­rats are con­test­ing a dra­mat­ic num­ber of down-bal­lot races, set­ting them up to take a bite out of the mas­sive GOP majori­ties in the state.
Sean McEl­wee
is a co-founder of Data for Progress and tweets at @SeanMcElwee.