Don't Endorse Bernie Yet—Make Candidates Compete for the Left Vote
Keep the left lane open.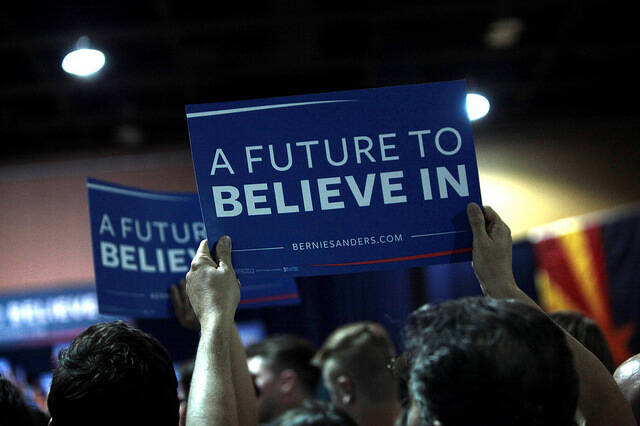 For oth­er per­spec­tives on this debate, read Peter Frase and Bri­hana Gray
Bernie Sanders stands out among poten­tial 2020 can­di­dates as hav­ing the strongest and longest-stand­ing com­mit­ment to left prin­ci­ples. But the ques­tion at hand is strat­e­gy. Should left­ist orga­ni­za­tions imme­di­ate­ly endorse Sanders and begin prepar­ing to cam­paign for him? The answer is no. There are strate­gic ben­e­fits to waiting.
All politi­cians are fun­da­men­tal­ly actors bound in a com­plex deci­sion matrix of pow­er and influ­ence. Our first pri­or­i­ty should be to change the matrix rather than pick our favorite actors.
For one, there are rea­sons to believe that endorse­ments don't cre­ate mean­ing­ful account­abil­i­ty. Look to the Work­ing Fam­i­lies Par­ty (WFP). In both 2010 and 2014, the WFP pro­vid­ed Con­necti­cut Gov. Dan­nel Mal­loy the mar­gin he need­ed to win, but Mal­loy did not gov­ern as a pro­gres­sive. In fact, he chose not to seek re-elec­tion this year because his rela­tion­ship with pro­gres­sives is so bad. In 2003, New York City Coun­cil can­di­date Leti­tia James became the first can­di­date to win a nom­i­na­tion on a WFP line. But in her cur­rent run for attor­ney gen­er­al, she aligned close­ly with Gov. Andrew Cuo­mo and announced she would not seek the WFP line.
To be clear, it is unlike­ly Sanders would aban­don his left ideals. But there are still issues where the Left is pulling him along, such as abol­ish­ing ICE— where he has moved — and sex work­ers' rights, where he is still behind. Endors­ing ear­ly would not help push him, and would make it less like­ly that oth­er can­di­dates attempt to court the left vote.
A strat­e­gy based around the pow­er and vis­i­bil­i­ty of par­tic­u­lar can­di­dates is dan­ger­ous for oth­er rea­sons. The domes­tic abuse alle­ga­tions sur­round­ing Rep. Kei­th Elli­son make clear the need for a broad bench.
The Left's goal should be two-fold: Gain the same access to can­di­dates that cor­po­rate Amer­i­ca now has, and cre­ate an influ­en­tial ide­o­log­i­cal project on the scale of the Koch Brothers'.
The Kochs have data capac­i­ty, build pipelines for can­di­dates and staffers, and gen­er­ate exten­sive pol­i­cy infor­ma­tion and polling data — all of which the Left can repli­cate. It does no good to have 30 pro­gres­sive endorsees win if they're still rely­ing on the same con­sul­tants, staffers and pol­i­cy briefs as every oth­er Demo­c­ra­t­ic politician.
The Pro­gres­sive Tal­ent Pipeline, which con­nects pro­gres­sives to leg­isla­tive posi­tions in Wash­ing­ton, D.C., is a pos­i­tive exam­ple of build­ing pol­i­cy capac­i­ty. Think tanks like People's Pol­i­cy Project and Data for Progress (which I co-found­ed) pro­vide infor­ma­tion that changes pol­i­cy and strate­gic cal­cu­la­tions. In addi­tion, the Left needs to build up capac­i­ties for block-and-tack­le pol­i­tics: run­ning NGP VAN soft­ware, field­ing polls, shoot­ing ads, buy­ing ad time. We need talk­ing points, one-pagers and think tanks that gen­er­ate influ­ence whether our can­di­dates win or lose. For the time being, those capac­i­ties should be avail­able to as broad a group of Democ­rats as pos­si­ble to encour­age all can­di­dates to lend us their ears.
We also need lit­mus tests to pow­er pri­ma­ry chal­lenges. Abol­ish ICE proved to be a flash­point for Alexan­dria Ocasio-Cortez's cam­paign. In Illinois's Third Con­gres­sion­al Dis­trict, abor­tion could be that spark against pro-life Demo­c­rat Dan Lip­in­s­ki. Pow­er comes from set­ting these stan­dards and forc­ing can­di­dates to meet them, which is active­ly under­mined by endors­ing early.
The suc­cess of left ideas attests to the real­i­ty that Medicare for All, abol­ish­ing ICE and oth­er goals have weight. If the left lane is open, can­di­dates beyond Sanders will vie for it. The Left must be posi­tioned to wield influence.
Sean McEl­wee
is a co-founder of Data for Progress and tweets at @SeanMcElwee.